100 YEARS AGO IN MUSICAL AMERICA (322)
WHERE ARE THE PRODIGIES OF YESTERYEAR?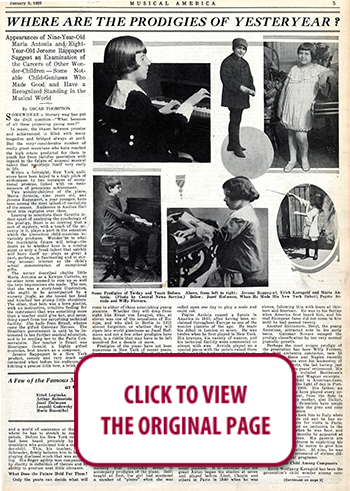 Appearances of Nine-Year-Old Maria Antonia and Eight-Year-Old Jerome Rappaport Suggest an Examination of the Careers of Other Wonder-Children—Some Notable Child-Geniuses Who Made Good and Have a Recognized Standing in the Musical World
---
SOMEWHERE
a literary wag has put the droll question—"What becomes of all these promising young men?"
In music, the chasm between promise and achievement is filled with many tragedies and bridged always at peril. But the very considerable number of really great musicians who have reached the high estate predicted for them in youth far from justifies pessimism with regard to the future of unusual musical talent that manifests itself very early in life.
Within a fortnight New York audiences have been keyed to a high pitch of enthusiasm by two instances of exceptional promise, linked with no mean measure of precocious achievement.
Two wonder-children of the piano, Maria Antonia, nine years old, and Jerome Rappaport, a year younger, have been among the most talked-of recitalists of the season. Audiences in Aeolian Hall went into raptures over them.
Leaving to scientists their favorite indoor sport of analyzing the psychology of the prodigy, there is no denying that a sort of mystery, with a touch of the uncanny in it, plays a part in the sensation which the precocious child-musician invariably produces. Wonder as to what the inscrutable future will bring—the doubt as to whether here is a coming giant or only a freak talent that quickly will burn itself up—plays as great a part, perhaps, in fascinating and in stirring unusual interest as the child's actual demonstration of exceptional gifts.
The writer described chubby little Maria Antonia as a Kewpie Carreño, as no other term seemed to sum up so well the twin impressions she made. The one, that she was a storybook illustration, who ought to be accompanied by a nursery jingle, as she tossed her head and hunched her plump little shoulders. The other, that here was a born pianist, with an instinctive, intuitive feeling for the instrument that was something more than a teacher could give her, and something apart from her surprising technical facility. She hails from Brazil, whence came the gifted Guiomar Novaes. The Brazilian government is said to be interested in her further musical education, and to be sending her to the Paris Conservatoire. Her teacher in Brazil was Henriques Oswald, a highly gifted musician, best known as a composer.
Jerome Rappaport is a New York product, comely and very much self-contained when before his audience, exhibiting a precise little bow, a brisk walk, and a world of assurance at the piano, where he has to stretch to reach the pedals. Before his New York recital he had been heard privately by noted musicians who acclaimed him a real wonder-child. This, his teacher, Henry Schroeder, firmly believes him to be. His playing disclosed much that was surprising. His finger agility was companioned by clarity in definition of themes and by ability to produce neat little climaxes.
What Does the Future Hold For Them?
Only the years can decide what will come to either of these astonishing young pianists. Whether they will drop from sight like Ernst von Lengyel, who, at eleven was one of the sensations of Europe, and who died in Berlin in 1915 almost forgotten, or whether they will ripen into world greatness as Josef Hofmann and not a few other prodigies have done, is a riddle that may have to be left unsolved for a decade or more.
Prodigies of the piano have not been numerous in New York of recent years. Last season, Magdeleine Brard attracted much attention when she came to America at fourteen, a prize winner from the Paris Conservatoire, whither Maria Antonia now is headed. The gulf between nine and fourteen is, .of course, wide. The Brard child was nine when she entered the Conservatoire, to become a pupil of Cortot. There, at twelve she won the Prix d'Excellenceand at thirteen the Prix d'Honneur. She had a repertoire of more than a hundred numbers when in New York, an illustration of the remarkable musical memory that invariably seems to accompany prodigies of the piano. Self-taught at first, the girl had mastered a number of "pieces" when she was called upon one day to play a scale and could not.
Pepito Arriola caused a furore in America in 1910, after having been acclaimed throughout Europe as one of the wonder pianists of the age. He made his début in London at seven. He was twelve when he first played in New York. His bravura, his variety of nuance, and his technical facility were commented on almost with awe. Arriola played on a special piano with the pedals raised three inches and the keyboard narrowed to enable him to encompass the reaches of the music he played. He was especially successful in Liszt numbers. America has heard little of him since his return to Europe. Alberto Jonas was his teacher.
Some Other Prodigies
New York did not know Ethel Leginska as a prodigy-recitalist, as she did not make her first appearance here until1913. She was, however, as she, herself, has described it, "One of those horrid little nuisances, a wonder child," and she confesses to never having had any childish fun. Of late she has taken to outdoor life and athletic sports and has been quoted as saying she is "just beginning to know what it is to be young."
In contrast with this, Arthur Rubinstein, who first played in America when in the prodigy class, does not seem to have missed the fun of life. Now 30 years old, he has described his life as "like a bank account of happiness, to be added to right along."
The name Rubinstein seems to be one standing for precocity as well as for unusual pianism. It is recorded that the great Anton began his studies at seven and played before Liszt, Chopin and others in Paris in 1840 when he was eleven, following this with tours at thirteen and fourteen. He was in his forties when America first heard him, and his real European fame did not come to him until he had passed twenty.
Another Rubinstein, Beryl, the young American, attracted note in his early teens. Guiomar Novaes escaped the prodigy classification by her very normal pianistic growth.
Perhaps the most unique prodigy of the generation has been Willy Ferrero, the child orchestra conductor, now 13 years old. Rome and Naples recently were in a furore over his leadership of Symphony concerts, the lad having just emerged from two years' retirement. His recent programs included Beethoven's Fifth Symphony and Wagner excerpts.
This wonder child is American-born, having first seen the light of day in Portland, Maine, in 1906. His father, an Italian, is, said to have played every orchestral instrument, from the flute to the tuba, and his mother, also Italian, was a musician. Scientists have ample room here to debate the pros and cons of pre-natal influence.
Willy's parents took him to Italy when he was two years old and he has remained there, save for visits to Paris. He first conducted an orchestra in the French capital when he was four, and for a number of months he appeared at the Folies Bergeres. His parents are reported to be adverse to exploiting his unique gifts and to desire to give him a technical education. At nine, he was credited with a command of sixteen different orchestral programs.
A Wonder Child Among Composers
Erich Wolfgang Korngold has been the generation's child wonder among composers. Living in Vienna, he dropped from sight during the world war. In 1914, theNew York Philharmonic played his "Sinfonietta," a full-fledged symphony in spite of the diminutive in its name. He was seventeen then, an age when Schubert was doing memorable composition, and when Mendelssohn had shown his genius. Chopin, as every music student knows, began composition in his early teens, and Beethoven's first published work appeared when that master of masters was eleven.
One of the boy Korngold's most remarkable achievements seems to have been his "Snowman" pantomime, produced in Vienna in 1910, as part of a double bill with Wolf-Ferrari's "Secret of Suzanne:" The composer was eleven when he wrote it, and thirteen when it was produced. The work was described by MUSICAL AMERICA'S Vienna correspondent as disclosing "truly marvelous power of characterization, combined with sense of rhythm, charm of melody and animation in the dance measures comparable to the best French school." A piano trio and a violin sonata also attracted wide attention.
If "promising young men" have maintained as high an average of success in other pursuits as musical prodigies have in "arriving," there should be many of them among the captains of industry. True as it is, that many precocious musicians have fallen by the way, their fine hopes creeping to oblivion, it is true, also, that many of the best known musicians of to-day and of other days first attracted attention as precocious children.
Prodigies Who Made Good
Among contemporary pianists, Josef Hofmann is perhaps the best known example of the prodigy who grew to greatness. He played in public at six. At nine he toured Germany, Denmark, Norway, Sweden and France. In 1887-8, when he was eleven and twelve, he toured America, giving fifty-two concerts in two and a half years. Under this strain, his health broke down and he retired for six years, reappearing again in 1894 when he was eighteen years old. Those who fear hardness and eccentricity as the result of childhood concertizing have a notable example to the contrary in Hofmann's mellow, singing tone and his normal, winning personality.
Leopold Godowsky also was a prodigy, making his debut in 1879 when he was nine years old. He first toured America when he was fourteen. Of his teachers, Saint-Saëns began study of the piano when less than three and is said to have played well at five.
Paderewski seems only to have verged on the prodigy class. He began serious study at twelve, and at sixteen entered upon his first tour, very imperfectly equipped as he since has admitted. Vladimir de Pachmann was not a prodigy, as far as public appearances went. He was of age when he first concertized, and his great success did not come to him until after two subsequent periods of retirement and continued study. Joseffy was another great pianist not a prodigy. He began his studies at eight and did not appear in public until he was eighteen. He was twenty-seven when America first heard him.
Rosenthal, however, was among the wonder-children of his time, playing in public when he was ten, although his real début did not come until four years later. He was twenty-five when he first came to America in 1887. Moszkowski did not appear in public until he was nineteen. Karl Tausig was seventeen when he made his introductory bow. Liszt began his studies at six and was heard in public at nine, before his studies with Czerny. He was twenty-two when his real career as a piano virtuoso began.
Chopin played a concerto in public at nine. At nineteen he was recognized as one of the foremost pianists of his day. It is said that Beethoven could play the clavichord well at eight. All the world knows the story of the appearance of Mozart and his sister when the boy was but six.
Among the violinists, many prodigies have grown to be giants of the bow. Fritz Kreisler is one whose prodigy days seem to have been forgotten quite generally in admiration of his mature achievement. He was a conservatory student at seven and by the time he first toured the United States, at fourteen, he had become a sensation. He subsequently abandoned music and studied medicine, afterward serving an enlistment in the Austrian army. He reappeared in Berlin in 1889 at twenty-four and his career, as the world knows it to-day, began then.
Elman, Heifetz and Seidel all are examples of boy virtuosi who have mounted to the highest rungs of violinistic artistry. Kubelik did not make his début until he was eighteen. Albert Spalding's début in Paris came when he was seventeen. Joachim began study at five and first appeared in public when he was seven, attaining genuine artistic success when he was twelve—the period when he was known as "Mendelssohn's little boy" because of that composer's paternal interest in the young wizard. Sarasate played before Queen Isabella when he was ten. Paganini, whose first instrument is said to have been a mandolin, appeared in public at eleven, but began composition even earlier, writing a sonata for violin, his biographies tell us, when he had just passed his eighth year.

RENT A PHOTO
Search Musical America's archive of photos from 1900-1992.