100 YEARS AGO IN MUSICAL AMERICA (323)
MAUD POWELL DIES SUDDENLY WHILE ON CONCERT TOUR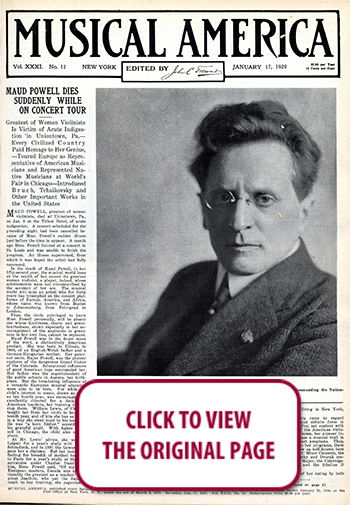 Greatest of Women Violinists Is Victim of Acute Indigestion in Uniontown, Pa. —Every Civilized Country Paid Homage to Her Genius—Toured Europe as Representative of American Musicians and Represented Native Musicians at World's Fair in Chicago—Introduced Bruch, Tchaikovsky and Other Important Works in the United States
---
MAUD POWELL
, greatest of women violinists, died at Uniontown, Pa., on Jan. 8 at the Titlow Hotel, of acute indigestion. A concert scheduled for the preceding night had been cancelled because of Mme. Powell's sudden illness just before the time to appear. A month ago Mme. Powell fainted at a concert in St. Louis and was unable to finish the program. An illness supervened, from which it was hoped the artist had fully recovered.
In the death of Maud Powell, in her fifty-second year, the musical world loses at the zenith of her career its greatest woman violinist, a player, indeed, whose achievements were not circumscribed by the accident of her sex. The musical world will miss an artist who for forty years has triumphed on the concert platforms of Europe, America, and Africa, whose name was known from Boston to Johannesburg, from Petrograd to London.
From the circle privileged to know Mme. Powell personally, will be absent one, whose kindliness, charm and great-heartedness, shown especially in her encouragement of the aspirants to greatness in her own line, cannot be replaced.
Maud Powell was in the finest sense of the word, a distinctively American product. She was born in Illinois, in 1868, of an English-Welsh father and a German-Hungarian mother. Her paternal uncle, Major Powell, was the pioneer explorer of the dangerous Grand Canon of the Colorado. Educational influences of good American type surrounded her. Her father was the superintendent of the public schools in Aurora, her birthplace. But the broadening influences of a versatile European musical education were also to be hers. For while the child's interest in music, shown as early as her fourth year, was encouraged and excellently directed for a decade by American teachers, her training did not stop there. William Lewis, of Chicago, taught her from her ninth to her thirteenth year, and of him she has said that in a way she owed most to his teaching. He was "a born fiddler," according to his grateful pupil. With Agnes Ingersoll in Chicago, the child also studied piano.
At Mr. Lewis' advice, she went to Leipsic for a year's study with Henry Schradieck, and in 1881 the Gewandhaus gave her a diploma. But her instinctive feeling for breadth of method took her to Paris for a year's study at the Conservatoire under Charles Dancla. Of him, Mme. Powell said, "Of my three European masters, Dancla was unquestionably the greatest as a teacher." The great Joachim, who put the finishing touch to her training, she regarded as supreme as violinist rather than pedagogue.
She was giving concerts in England in 1883, the year after her Conservatoire work, when Joachim heard her play. His chief delight in the young American girl's achievement was that he could already recognize her as an artist. Acclaimed as she was by distinguished circles as a phenomenon, the great violinist declined to regard her merely as a prodigy. He advised her to go to Berlin for further study; she did so, and had the privilege of a year's work with the master himself.
"The French methods taught me to become an artist. I learned in Germany to become a musician," she said of those days of study.
Her début in Berlin was made in 1885 at a Philharmonic concert, where she played the Bruch G Minor Concerto; later in the same year came her début with the New York Philharmonic Society, Theodore Thomas conducting. As she had created a furore in England and in Germany, so she did in her native country. From this time on, her life was that of the virtuoso.
Tours in England, Germany, Austria, Holland, Belgium, France, Russia, Denmark and even South Africa filled the ensuing years with the world's greatest orchestras, she played under the bâton of such conductors as Seidl, Thomas, Gencke, Arthur Nikisch and Damrosch; and once at least in every season she made a tour of the United States. In 1904 she married H. Godfrey Turner, English manager, living in New York, who survives her.
Her own country came to regard her as a unique and definite force in American music. For, not content with raising the ideal of the American virtuoso abroad and at home, her pioneer instinct led her to blaze a musical trail in her American concert programs. Thus, for the first time on her programs, there appeared works now as well-known here as the Saint-Saëns C Minor Concerto, the Tchaikovsky, Arensky and Dvorak concertos, the Lalo C Major, the Coleridge-Taylor G Minor, and the Sibelius D Minor.
It is indicative of her rating by both her own country and Europeans that Mme. Powell was chosen in 1893 to play at the World's Fair in Chicago, and that on the other hand, she should have been selected, as when she toured Germany and Austria with the New York Arion Society, to represent American art abroad.
As Artist and as Woman
In Frederick H. Martens' interesting book, "Violin Mastery," from which quotation has been made before in this article, a chapter devoted to Maud Powell has an especial appeal since it contains her views on violin technique, in what was one of the last interviews the great woman virtuoso was destined to give. In it, she says, apropos of the often discussed question of sex in music:
"The fact that I realized that my sex was against me in a way led me to be startlingly authoritative and convincing in the masculine manner when I first played. This is a mistake no woman violinist should make. . . I determined to be just myself, and play as the spirit moved me, with no further thought of sex or sex distinctions which in art, after all, are secondary." And probably to this resolve may be attributed the fact that for years Maud Powell has been honored by all classes of her hearers, first as American artist and American musician, second as American woman. With the geniuses of all time she shared the putting off all thought of self, in the infinite devotion to an ideal for whose attainment no work was too hard; and in the strain of a life whose demands are too often made the excuse for unrestraint, she wore "the white flower of a blameless life," to the honor of American womanhood.
In accordance with Mme. Powell's wish, expressed frequently in recent years, the funeral was private, only the immediate members of her family attending. It took place in her home at Great Neck, L. I. The body was cremated. —C. P.

RENT A PHOTO
Search Musical America's archive of photos from 1900-1992.