---
All material found in the Press Releases section is provided by parties entirely independent of Musical America, which is not responsible for content.
Maestro Long Yu, the Shanghai Symphony Orchestra, and the New York Philharmonic is premiering ÉMIGRÉ, a new oratorio by Aaron Zigman and Mark Campbell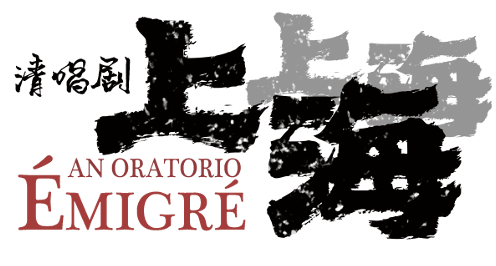 The 90-minute oratorio tells the story of refugees finding a home and community in Shanghai



Maestro Long Yu and the Shanghai Symphony Orchestra, along with musicians from the New York Philharmonic, will give the world premiere performance of Aaron Zigman's new oratorio Émigré on Friday 17 November at the Jaguar Shanghai Symphony Hall. More than 150 musicians will come together on stage to perform the premiere, including the Shanghai Symphony Orchestra, the New York Philharmonic, members of the New York Philharmonic Chorus, the Lanzhou Concert Hall Choir, and seven soloists. The soloists are Matthew White, Arnold Livingston Geis, Huiling Zhu, Meigui Zhang, Shenyang, Diana Newman, and Andrew Dwan. Shanghai Symphony Orchestra and Long Yu will also be recording the oratorio for Deutsche Grammophon, which will be released in 2024. New York Philharmonic will perform the US premiere of the piece on February 29, 2024.
Long Yu, Music Director of the Shanghai Symphony Orchestra, said: "Émigré will shed light on humanity and provide a valuable lesson to us through the immense kindness and tolerance this city once released in history. From working on the draft idea to finally premiering the work this week, this new production has been carefully crafted over four years. We have musicians of different races and beliefs gathered in Shanghai to collaborate on the stage, and the piece will be performed by other orchestras in years to come, further conveying this message of love and hope to the world. This is the power of art."

Aaron Zigman is a classically-trained American composer who has written scores for films and TV shows including The Notebook, Wakefield, Bridge to Terabithia, and the Sex & The City franchise whilst also writing, arranging, and producing songs for top recording artists such as Ray Charles, Sting, Tina Turner, Seal, and more. Zigman has also composed a number of chamber, orchestral, and vocal works, and his -award-winning piece Tango Manos has been touring the world with pianist Jean-Yves Thibaudet. Mark Campbell is a Pulitzer Prize winning librettist who has created 40 opera librettos alongside lyrics for 7 musicals and the text for 9 song cycles and 4 oratorios. The (R)evolution of Steve Jobs, an opera featuring libretto by Campbell, received a 2018 GRAMMY Award for Best Opera Recording.
About ÉMIGRÉ
Commissioned by Maestro Long Yu, Shanghai Symphony Orchestra and New York Philharmonic
Music: Aaron Zigman
Lyrics: Mark Campbell
Additional Lyrics: Brock Walsh
Cast
(In order of appearance)
Arnold Livingston Geis - Otto Bader, lyric tenor
Matthew White - Josef Bader, tenor
Huiling Zhu - Li Song, mezzo-soprano
Meigui Zhang - Lina Song, coloratura soprano
Shenyang - Wei Song, bass-baritone
Diana Newman - Tovah Odesska, lyric soprano
Andrew Dwan - Yaakov Bader, bass-baritone
A Japanese military official, speaking role
Mixed Chorus: Jewish refugees, Shanghai citizens, etc.
Duration
90 minutes (in two acts with one intermission)
Description
In the late 1930s, Jewish refugees escaping Nazi Germany found a home and a community in Shanghai, China—one of only two countries in the world that would accept them. While Shanghai had previously served as a haven for Jews escaping persecution, the many refugees who fled to the city directly after Kristallnacht arrived on the shores of a country affected by the occupation of Japan and the atrocities of the Nanjing Massacre committed less than a year before.
This moment in history is the backdrop of Émigré, an oratorio in two acts that dramatizes the experiences of two Jewish brothers who arrive in Shanghai as refugees in 1938. As the young men navigate their new life, bonds are formed between the Jewish and Shanghainese communities that test the social boundaries and traditional ideas of both. Émigré reaches its tragic conclusion in a love story that mirrors the larger world, its message emerges: that our survival as a race depends on diverse communities learning to embrace our shared humanity.

Synopsis
Act One
Two brothers—Josef and Otto Bader—escaped Nazi Germany in 1938 and arrive at Shanghai harbor on a ship with other Jewish refugees. They express their sorrow at having to suddenly leave their parents and their homeland but find hope as they approach the city that has welcomed them. Josef, a medical doctor, urges Otto, a rabbinical student, to look ahead to their new life in Shanghai.
Several weeks later, Josef seeks to expand his knowledge of Eastern medicine and visits Wei Song's herbal medicine shop where he meets two sisters, Lina and Li Song. Josef and Lina immediately feel an attraction to each other, but their flirtation is interrupted by the sudden entrance of Wei, the sisters' father, who has been attacked by soldiers. Wei rails against the devastating effects of the Japanese occupation of his beloved Shanghai.
Yaakov, a rabbi and Josef and Otto's uncle, leads a class, including Otto, in a lesson at the yeshiva. After the lesson is done, Tovah, a woman who volunteers at the yeshiva, engages in a conversation with Otto. Otto reveals his anguish at the disappearance of his parents in Germany. Tovah invites him to the Jewish Relief Fund dance and attempts to cheer him by musing on what the world might be like if women were allowed to be in power.
A few months later, while lighting candles at Longhua Temple, Lina and Josef discover parallels between their lives and cultures, deepening their relationship. Otto and Tovah attend the Jewish Relief Dance when Josef and Lina enter as a couple. Wei enters looking for his daughter and both he and Otto assail them for crossing cultural lines. Tovah, Lina, and Josef counter their attack by asking for tolerance. As the argument escalates, Japanese soldiers enter the dance hall and announce that members of the Jewish community are to move to the Hongkew District in Shanghai.
Act Two
As Tovah, Otto and Yaakov move from the yeshiva and Lina and Josef look for a place to take them in, all affirm their need to hold on to hope. Josef and Lina visit the Song household and Josef asks Wei for his daughter's hand in marriage. Wei angrily refuses and Josef leaves. Lina ardently expresses her love for Josef, then defies her father and runs after her fiancé.
Josef and Line are married and attempt to return to the Song home, but Wei shuts them out. Li implores her father to reconsider and both she and Wei go outside to search for Lina. Not long after, Josef and Lina appeal to Otto and Yaakov to shelter them at the yeshiva, but they refuse. After they leave, Tovah argues with Otto and runs into the street. A bomb explodes.
Several months later, Otto mourns the death of Tovah and Wei laments that of Li, both of whom died in the bombing. With Josef, Lina, and Yaakov, they vow to preserve the memory of the two women and live in hope again.

Composer Aaron Zigman – Programme note
In 2019 Maestro Yu Long and I worked together for the premiere of my piano concerto Tango Manos – written for Jean-Yves Thibaudet and commissioned by China Philharmonic, Orchestre de Radio France, and San Francisco Symphony – and it was a few months after this that he told me about a special project he wished to do together.
To write an Oratorio about the cultural exchange between the Jews, who were welcomed by the Chinese people in WWII with open arms, and the people of China, has such a compelling meaning for me. If not for Shanghai and the goodwill of China, some of my ancestors and someone very close to me would have perished at the hands of the Nazis during WWII.
The Chinese and the Jewish people both shared similar types of persecution – both before and after the war - and that in itself has always made me feel that the telling of this story in some way with music would be important. So I chose the idea of a multi-cultural love story to bridge the divide.
Émigré is a love story, but it only just scratches the surface of a layered history.
I learned about this particular history many years ago after reading The Rape of Nanking by Iris Chang. I then became very interested in Chinese history and the fact that we both shared a type of persecution and threat of our existence. The story of the Jewish refugees that escaped Nazi Germany to Shanghai for a better life is so important to understand. And I now understand it to a greater extent, thanks to this commission from Maestro Long Yu, the SSO, and the New York Philharmonic.
My aim was to write a piece that expressed the beauty, yet also pain and hope for a better future that both the Chinese and Jews experienced together during the 1930s and 1940s.
The indomitable spirit of both cultures will live on for generations to come.
I have a tremendous amount of respect for many wonderful Chinese Composers, such as Ding Shande and Xian Xinghai, alongside contemporary composers Qigang Chen, Tan Dun, and Leilei Tian, just to name a few. I have also been inspired by the poetry of Li Bai.
With a libretto by Mark Campbell and additional lyrics by Brock Walsh, I am so blessed to have been able to collaborate with Maestro Long Yu and the Shanghai Symphony to bring this story to life.

Librettist Mark Campbell – programme note
Émigré is either the 4th oratorio—or 41st opera—I've created. It could be defined as an oratorio in that it has a stationary chorus, soloists, a large orchestra, and text that speaks in more universal ideas than dramatic specifics. It could be defined as an opera in that there are characters rather than archetypes, a story arc, and divisions of the text into scenes and settings. To complicate things more, the score is composed of songs—real songs structured mostly in good ol' AABA—and that makes the work feel more akin to musical theatre than either oratorio or opera.
Whatever the label, Émigré's message about compassion deserves to be heard. The opportunity to help tell that message piqued my interest when Aaron asked me to collaborate on the work in March 2020. The story of a country that opened its arms to Jewish refugees in 1937 resonated profoundly with me.
There are 17 songs in Émigré. I wrote the lyrics for 12 of them and Brock Walsh wrote 5, including the work's stirring finale. I also contributed some dramaturgy to make the work cohere and give a little context for each song.
I cannot express my gratitude ardently enough to Long Yu, the Shanghai Symphony Orchestra, and the New York Philharmonic for believing in this mongrel of oratorio/opera/musical and giving me the opportunity to help deliver its message.
When Aaron first contacted me in March 2020 to collaborate with him on an opera about Jewish refugees in Shanghai in 1938, he sent me a 30-page "pitch deck" or scenario that he had created.
This scenario included many strong and exciting elements and vivid characters but was too cinematic and sprawling for a theatre work. I tightened the narrative, eliminated characters and subplots that were peripheral to the main storyline, reduced the length of the pitch deck's four acts and a prologue into two, and thus created a new story that was faithful to Aaron's original vision, but was more suited to the musical stage. After undertaking some additional research, I began creating the lyrics to the songs from this new scenario and in March 2021 presented Aaron with a final draft of the text.
Not long after, it was decided for practical reasons that Émigré would be an oratorio instead of an opera. Having written both operas and oratorios, I was able to make a few adjustments in the text to suit the new form.
Aaron chose the title of the work, conceived, created, and selected the religious lines for the opening song, and made all decisions about the assignments of text to the chorus. He also engaged his friend and past collaborator Brock Walsh to contribute lyrics for five of the seventeen songs in the oratorio: "A Woman's Hands," "In a Perfect World," "Forever," "Once Upon a Night," and "Through a Window," as well as additional lyrics for "Shanghai."

About Shanghai Symphony Orchestra
Shanghai Symphony Orchestra (SSO) is one of the earliest and best-known orchestral ensembles of its kind in Asia, through which Chinese symphonic music has developed. Originally known as the Shanghai Public Band, it was renamed the Shanghai Municipal Orchestra in 1922. The orchestra promoted Western music and trained Chinese young talents very early on in China, and was the first to introduce the first Chinese orchestral music to the audiences. The SSO has held over ten thousand concerts – giving premiere performances of several thousand musical works and has played a major role in collaborations between world-class musicians on both the international and domestic stages, gained a reputation as the most authoritative explainer of Chinese symphonic compositions while promoting them with every possible endeavor. The orchestra created a series of musical products, including the Concert Season, the Shanghai New Year's Concert, the Spring Festival Concert, and the Music in the Summer Air. The SSO made its debut at Carnegie Hall and the Berliner Philharmonie (the first Chinese symphony orchestra to play in this hall) in past years and also made its debut in the Lucerne Festival, BBC Proms, and Edinburgh Festival in Europe and America. The SSO and the music director Long Yu signed an exclusive record contract with Deutsche Grammophon in June 2018 and its second album The Song of the Earth was released on July 9, 2021.
About Long Yu
The pre-eminent Chinese conductor with an established international reputation, Long Yu is currently the Artistic Director and Chief Conductor of the China Philharmonic Orchestra, the Music Director of the Shanghai and Guangzhou Symphony Orchestras, the Artistic Director of MISA Shanghai Summer Festival, and the principal guest conductor of the Hong Kong Philharmonic Orchestra. He is the Chair of the Artistic Committee of the Beijing Music Festival, an annual autumn event that he founded in 1998 and served as Artistic Director until 2018. He is currently Vice President of the China Musicians Association and Chairman of its recently established League of China Orchestras.
Long Yu conducts the leading orchestras and opera companies around the world including the New York Philharmonic, Chicago Symphony Orchestra, Philadelphia Orchestra, Los Angeles Philharmonic, Montreal Symphony Orchestra, Washington National Symphony, Orchestre de Paris, Hamburg State Opera, Rundfunk-Sinfonieorchester Berlin, Rundfunk Sinfonie Orchester Leipzig, NDR Sinfonieorchester, Munich Philharmonic Orchestra, Sydney Symphony Orchestra, BBC Symphony Orchestra and Singapore Symphony Orchestra.
About New York Philharmonic
The New York Philharmonic connects with millions of music lovers each season through live concerts in New York and around the world, as well as broadcasts, recordings, and education programs. The 2022–23 season began a new chapter in the life of America's longest-liv­ing orchestra with the opening of the new David Geffen Hall, programming that engages with today's cultural conversations, and the premieres of 16 works.
The Philharmonic has appeared in 436 cities in 63 countries around the world; its 2022 residency in Germany marked the first European appearance by an American orchestra since the winter of 2020. The NY Phil has commissioned and/or premiered important works, from Dvorák's New World Symphony to Tania León's Pulit­zer Prize–winning Stride. Having released more than 2,000 recordings since 1917, the Orchestra recently announced a partnership with Apple Music Classical, the new standalone music streaming app. The NY Phil shares its extensive history free online through the Shelby White & Leon Levy Digital Archives.
Founded in 1842, the New York Philhar­monic is the oldest symphony orchestra in the United States and one of the oldest in the world. Jaap van Zweden became Music Director in 2018–19, following titans including Bernstein, Toscanini, and Mahler; he will be succeeded by Gustavo Dudamel (as Music Director Designate in 2025–26, and Music and Artistic Director beginning in 2026–27).

WHO'S BLOGGING


RENT A PHOTO
Search Musical America's archive of photos from 1900-1992.