---
A Pioneering Ensemble Enriches Its Path
The International Contemporary Ensemble, an invaluable new-music collective founded in 2001, used to cut a higher profile than it has lately, or at least it seems that way. In a 2007 New York Times article, founder Claire Chase spelled out the group's ambition: "We want to become the first large-scale, flexible contemporary ensemble in the United States that is as important and indispensable as a city's symphony orchestras, opera companies and theater companies."
That year, the group presented nearly 50 events, half of them in New York City. Subsequently, it assumed residencies at the Museum of Contemporary Art Chicago (2010-2015), the Ojai Festival (2015-2017), and Lincoln Center's Mostly Mozart Festival (2008-2020). Since the pandemic, though, it has given fewer concerts, farther from the center of attention.
But importance is measured by far more than visibility. In a concert hosted by the Time:Spans festival at the DiMenna Center for Classical Music on August 25, the International Contemporary Ensemble proved that it remains an essential contributor to the exploration of new music. It's a bold claim, justified already by its work under the leadership of George E. Lewis, the composer, improviser, and scholar who became its artistic director in 2022.
The ensemble spent years laying the groundwork for such an historic transformation, with high-profile performances of works by Anthony Braxton, Matana Roberts, and Lewis—Black American composers commonly pigeonholed as avant-garde jazz artists, and all linked to the Association for the Advancement of Creative Musicians (A.A.C.M.), a groundbreaking collective formed in Chicago in 1965.
That effort has continued in profound evenings devoted to music by Henry Threadgill and Douglas R. Ewart; an accomplished recording of Lewis's opera Afterword due in October; and a broader recognition that segregating and neglecting "experimentally minded post-war Black composers"—as described by Lewis and Harald Kisiedu in a vital new anthology, Composing While Black—has always been indefensible and foolish.
"The new complexity"
The Time:Spans event extended that thread with a performance of Gondwana: Earth, a Blue Sanctuary, by veteran composer and improvising trumpeter Wadada Leo Smith, another A.A.C.M. associate. But rather than presenting Smith in isolation, or strictly among similar artists, Lewis situated him among international contemporaries: Younghi Pagh-Paan, a South Korean long based in Germany; Andile Khumalo, from South Africa; and Aida Shirazi, an Iranian trained in Turkey and based now in California.
"This evening of new and innovative music exemplifies the new polyaspora that the International Contemporary Ensemble has been working toward," Lewis explained in a note read from the stage by Jennifer Kessler, the group's executive director. "We seek nothing less than a new consciousness for new music—not so much about diversity, but rather, the newest new complexity, one that aims at the greatest creative depth."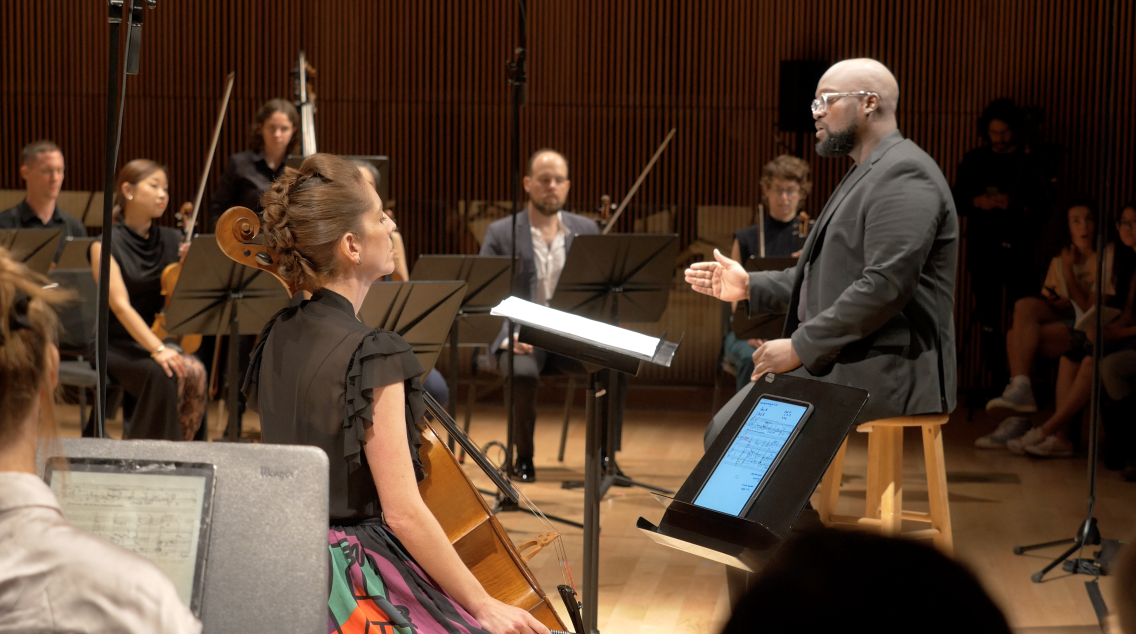 Juxtaposing these particular composers and pieces, Kessler added, formed connections involving migration, identity, and sanctuary. In Pagh-Paan's Wundgeträumt (2004-05), brittle gestures, shrill tones, stamping feet, and a chittering maraca wielded by oboist Jillian Honn proposed an unrooted ritual—and, admittedly, an entry point sufficiently forbidding to suit a title that translates as Dream Sore.
Khumalo, in Invisible Self (2020), embeds and at times engulfs a piano soloist—here, Jacob Greenberg—within a large ensemble of strings, winds, and percussion. His program notes reference a painful conflict between "migrant" Africans and local natives in South Africa; his music accordingly evokes collision with a mix of modernist and minimalist gestures, elements of jazz, instrumental idioms of South African ethnic groups (AmaXhosa and Ugandan), and more. (Scott Gleason describes the composition's workings in detail in Composing While Black.)
Perhaps surprisingly, Invisible Self is instantly, consistently appealing—and, paradoxically, the miraculous seamlessness of Khumalo's transitions among voices and styles seems to imply the possibility of cordial coexistence. Greenberg, positioned behind the ensemble, played his role with precision and abundant energy, abetted by conductor Vimbayi Kaziboni and attentive bandmates.
Shirazi's Crystalline Trees--like The shadow of a leaf in water, played by Ensemble Signal on a previous Time:Spans program--demonstrated her extraordinary capacity for instrumentation. Inspired by a Mehdi Akhavan-Sales poem that evokes political isolation and unease in wintery metaphors, the score prompts visceral engagement with a ghostly litany of murmurs and shivers.
Shirazi's "Crystalline Trees"
Smith generally eschewed unorthodox techniques and timbres in Gondwana, which surrounded a solo cellist with three ensembles: a quintet of winds and trumpet, a trio of piano and percussion, and a string octet without cellos. Assertive melodic lines and weighty ensemble passages conveyed a sense of forces in motion, judiciously punctuated with deft, transparent episodes like a splendid trio for cello, viola, and piano.
Cellist Ashley Walters, who works frequently with Smith, was an ideal soloist, matched in technique and temperament by the alert ensemble and conducting. Asked onstage by Kessler what had prompted him to compose Gondwana, Smith cited tectonic plates shifting too slowly to be observed. Africa was once at the South Pole, he noted, and one day will crash into Europe. "It'll be millions of years from now," he said. "But because we have thought and dream and imagination, we'll see it."
Too often, culture seems to move at a similarly geological rate of change. But when forces like the International Contemporary Ensemble, George E. Lewis, and Wadada Leo Smith converge, the impact is nothing less than seismic.

WHO'S BLOGGING


RENT A PHOTO
Search Musical America's archive of photos from 1900-1992.