---
The New Boss at Glimmerglass, Plus an Old Timer Returns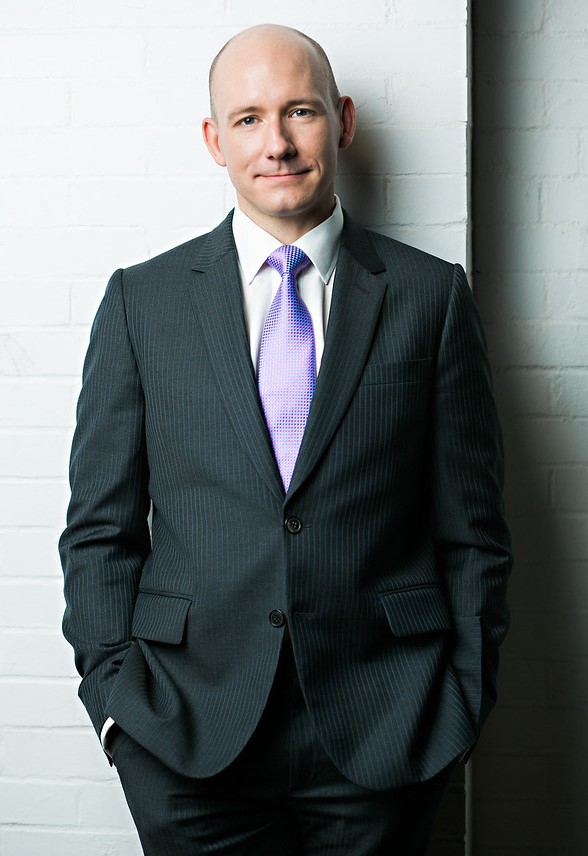 COOPERSTOWN, NY—The Glimmerglass Festival, located in a decidedly rural area of upstate New York, began rather humbly in 1975 with four performances of La Bohème in a high school auditorium. That opera returned this summer to open the first season under the company's new Artistic and General Director Rob Ainsley.
Ainsley has held leadership positions with several opera companies, most recently at Washington National Opera (WNO), where he was a protegé of Francesca Zambello, his predecessor here. An amicable Brit, he seems to have quickly settled into the role of impresario. Before the July 14th Bohème performance, he bounded onto the stage for a fund-raising appeal (like automatic standing ovations, pre-curtain speeches have increasingly imbedded themselves into American opera), enthusiastically greeting the audience and quipping that Bohème is "a cautionary tale of what happens if you don't support our starving artists."
A little history
In the early days, the company was led by Paul Kellogg. During that near three-decade era a pattern emerged, with the repertoire focused on Mozart, new operas, and rarely heard works. That changed in 2011 with the arrival of Zambello, who steered the company closer to traditional repertoire, but continued the focus on new works. She also instituted a tradition of staging a classic Broadway musical each season, a slot this summer filled by Bernstein's Candide.
"The four main titles were in place before I got here," said Ainsley in a recent interview. "I did the bells and whistles—casting, pavilion projects, lunchtime concerts—the things that make it a festival." Next summer's season, his first to plan, was just announced: Cavalli's La Calisto, Leoncavallo's Pagliacci, Gilbert & Sullivan's The Pirates of Penzance, and Kevin Puts's Elizabeth Cree, with libretto by Mark Campbell. "I think next year will remind you of Paul Kellogg," he said, "because there's a Baroque work in there, a new work, and G&S in that [Broadway] slot." The season will also feature the premiere of a youth opera, Rumpelstiltskin and the Unlovable Children, by Jens Ibsen and Cecilia Raker.
Going forward, Ainsley is committed to the four-mainstage opera season. He isn't expecting to alter the formula radically (the Broadway slot will be restored), but he does want to expand the focus on contemporary opera—understandable, since for the past six years he headed up the American Opera Initiative at WNO. "There's a health and an importance about making new work, and it's something that Americans do extremely well, more so than Europe, I think… it's a commitment to telling people's stories, and dealing with societal issues. America deals with them very quickly… not always well, but when it does something it really gets it done. I think we'll double down on it."
One way that will be happening, he pointed out, is through a "new works project pipeline. Next season will feature a couple of opportunities to come and see works in progress that may end up as commissions on our stage and may just be something that you can enjoy. There might be previews and discussions paired with a couple of arias with piano. Some may be piano workshops. Some may be concert readings on the main stage."
Financially, Glimmerglass is in pretty good shape, Ainsley stressed. "The festival model is a tricky one. Chautauqua just stopped producing mainstage operas and cancelled their season, for example. We have just eight weeks to earn money through ticket sales. So we have to really pack it in there." After having to cancel its 2020 season, the company performed a 2021 season outdoors on the festival grounds (cleverly dubbed "Glimmerglass on the Grass"), returning to the opera house last summer. The budget has remained remarkably stable, near the $10 million level. While it has a union orchestra, much of the backstage work is done by apprentices in its training program. Although each season features a small core of veteran singers listed as "Guest Artists," the bulk of the singing is done by members of the company's highly regarded Young Artists Program. And the company's 914-seat Alice Busch Opera Theater "gives us the flexibility to do everything from a Baroque piece to Aida to a chamber work."
Ainsley described Glimmerglass as "a singular experience that you don't get anywhere else. It's God's own country, as beautiful as it gets. People descend here to take in the experience, not just what goes on our stage, but what goes on in the Pavilion [artists talks, etc.], the people they will meet, and the proximity to the artists. It's what makes life worth living."
La Bohème
La Bohème is an opera especially well-suited to the young, energetic cast Glimmerglass always has on hand, and this one was especially strong in the major roles. The production, by E. Loren Meeker, is a revival from 2016, and features simple, functional sets; elaborate period costumes; and an exuberantly staged Café Momus scene.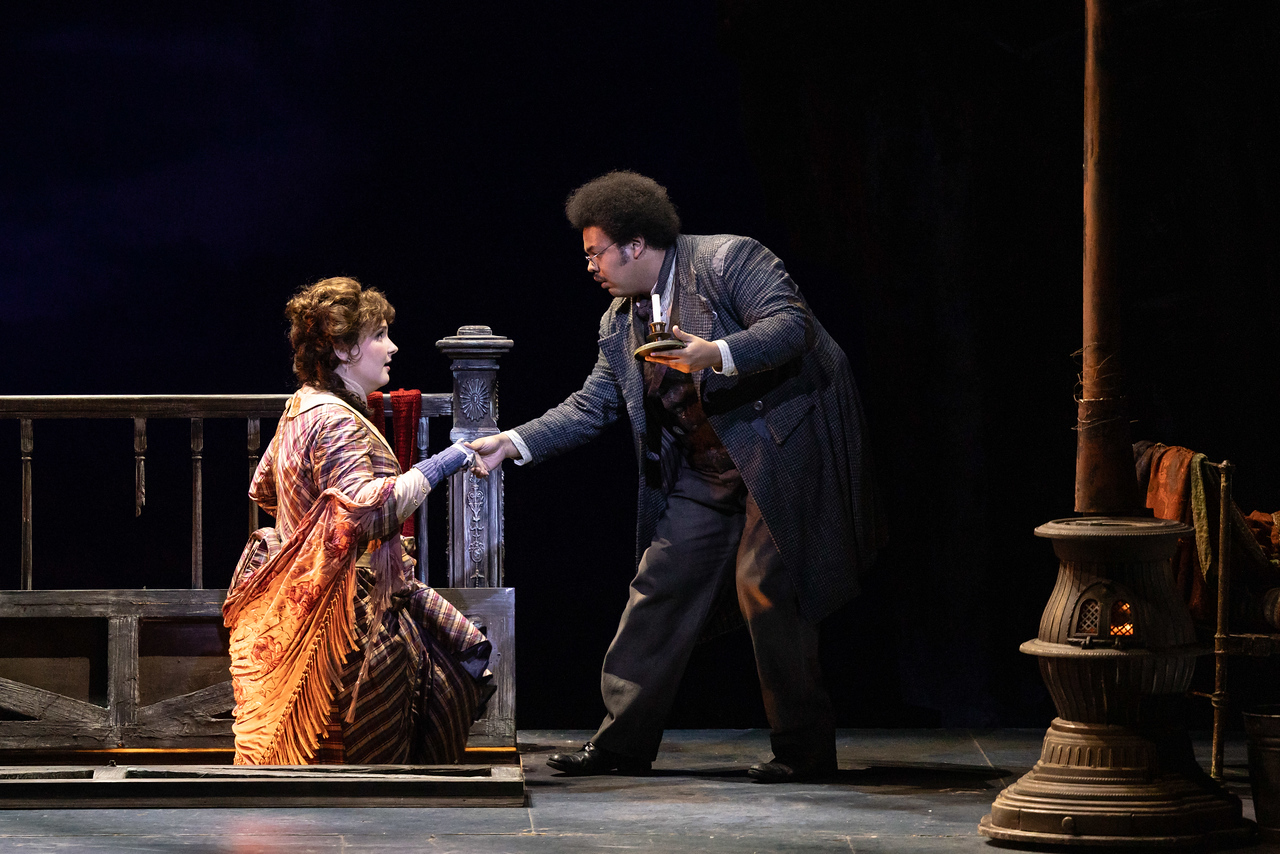 Teresa Perrotta and Joshua Blue as Mimì and Rodolfo in La Bohème at Glimmerglass
Nader Abbassi conducted what must have been the loudest Bohème I have ever heard. The effect was thrilling at times and meshed well with Meeker's boisterous production, but Bohème is essentially an intimate opera, and needs a more nuanced, restrained approach. Fortunately, Joshua Blue and Mimi Teresa Perrotta, as Rodolfo and Mimì, have powerful voices, as does Darren Lekeith Drone, who portrayed Marcello.
Blue was an exciting discovery: a distinctive ringing, pinging squillo tenor with good acting chops. He gave his character a winning, jovial personality much in keeping with the production's mood. As a cover at the Santa Fe Opera last summer, Perrotta jumped into the role of Alice Ford in Falstaff at the last minute and killed it. Her career seems to have taken off since. She has a lustrous, silvery sound with beautiful colors, and is absolutely secure across the range. She is in the Cafritz Young Artist Program at Washington National Opera, of which Blue is an alumnus, and Ainsley, having directed that program as well at WNO, knows their capabilities well.
Drone is similarly impressive, with ample power and lyricism and plenty of charisma. Emilie Kealani, from the Young Artists Program here, sang as Musetta. The voice is lovely and her portrayal was lively, but she lacked the vocal heft to suitably dominate the stage, at least in this high-decibel environment. The rest of the cast, almost all from the Young Artist Program, sang ably and their hijinks were a delight.
Reviews of Bernstein's Candide and Gounod's Romeo et Juliette will appear separately. A fourth opera, Handel's Rinaldo, will open July 28. All four operas will run in repertory through August 20. Go to www.glimmerglass.org.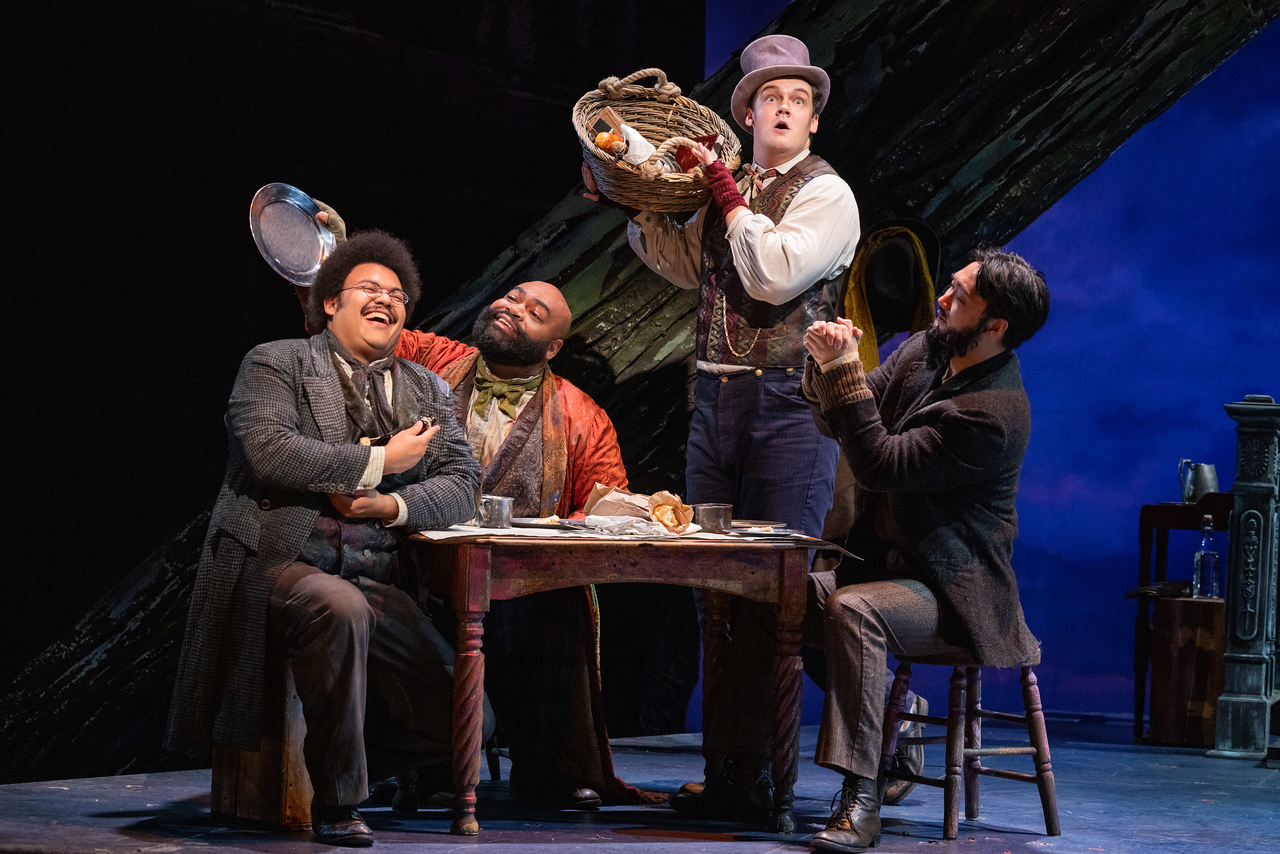 Joshua Blue, Darren Drone, Justin Burgess, Nan Wang are Rodolfo, Marcello, Schaunard, & Colline
Classical music coverage on Musical America is supported in part by a grant from the Rubin Institute for Music Criticism, the San Francisco Conservatory of Music, and the Ann and Gordon Getty Foundation. Musical America makes all editorial decisions.

WHO'S BLOGGING


RENT A PHOTO
Search Musical America's archive of photos from 1900-1992.