---
MA Top 30 Professional: Kristin Jurkscheit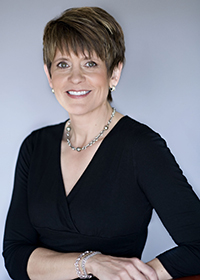 In a recent email, conductor Marin Alsop frankly described the Taki Alsop Conducting Fellowship as a "mom and pop" operation before Kristin Jurkscheit arrived as executive director in 2019.
Its founding couple, however, was hardly small time. In 2002 Alsop and Japanese textile magnate Tomio Taki established a fund to provide modest grants for rising female conductors. Today, 30 women have won Taki awards. Many have appeared with major orchestras, and 19 hold music director posts.
There is no doubt that Jurkscheit has greatly expanded the fellowship's reach. Alsop's life partner and a former horn player, she earned an Executive MBA at Johns Hopkins University before joining the Taki Fellowship. During the pandemic, when concert life shut down, Jurkscheit organized regular Zoom sessions for Taki fellows, helping them learn more about the field from guests ranging from major conductors to orchestral librarians. This past July she worked with the Ravinia Festival to host a weekend titled Breaking Barriers focused on the challenges facing female conductors. More than a dozen Taki fellows attended the panels and master classes, and three of them conducted the Chicago Symphony along with Alsop, who is Ravinia's chief conductor. To celebrate Taki's 20th anniversary, Jurkscheit is overseeing a year of concerts around the world featuring Taki winners.
It's no secret that women are woefully underrepresented on the world's classical music podiums, outnumbered by men 10 to 1, according to some estimates. But, Jurkscheit argues, exact data is also woefully missing. With an MBA's belief in hard data, she hopes to gather precise statistics that can be analyzed to pinpoint positive trends and missed opportunities.
The need is glaring.
"We usually have 50 applicants in our fellowship years," said Jurkscheit. "The last round we had 141. It was crazy. And 70 percent were in the 31–50 age range and at a very high [talent] level. It speaks to how women of a certain generation who didn't have a community are still looking for opportunities."
SOCIAL LINKS

WHO'S BLOGGING


RENT A PHOTO
Search Musical America's archive of photos from 1900-1992.