---
Musical America Names 2023 Artist(s) of the Year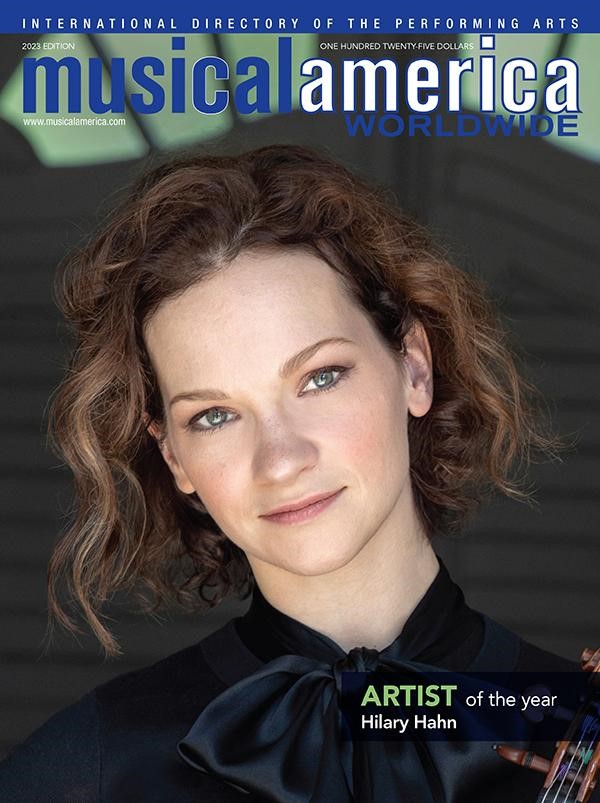 Musical America's 2023 Artist of the Year is American violinist Hilary Hahn, one of the world's most adroit interpreters, to be sure, but also an artist committed to widening the repertoire—much of which she has personally commissioned—and furthering music education. Musical America Publisher Stephanie Challener announced the 62nd annual award winners today.
Also being honored are Jessie Montgomery, as Composer of the Year; Semyon Bychkov, Conductor of the Year; and Yuval Sharon, Director of the Year. The awards, which recognize individuals who have made a significant impact on the performing arts, will be presented on December 4, 2022, on Facebook Live, in conjunction with the digital edition of the 2023 Musical America International Directory of the Performing Arts.
"Each of these incredible talents have, in their own unique ways, advanced the artform far beyond any expectations," said Challener in her comments, "and have brought entirely new perspectives and vistas to the performing arts."
The Directory includes feature articles on each honoree by Corinna da Fonseca-Wollheim on Hilary Hahn; Heidi Waleson on Jessie Montgomery; Clive Paget on Semyon Bychkov; and John Fleming on Yuval Sharon.
Musical America, which was founded as a biweekly newspaper in 1898, has included since 1998 a major website for the industry, with national and international reviews, as well as daily news updates and portions of the information published in the Directory. The Musical America Directory of the Performing Arts was launched in 1960 and quickly became known as the "bible" of the industry. Today it contains 14,000 detailed listings of worldwide arts organizations, with over 8,000 artists indexed alphabetically and by category. Leonard Bernstein was on the cover of the Directory in 1961 as MA's first Musician of the Year, a moniker that, with the industry's continuing evolution, was changed to Artist of the Year, starting with Director Peter Sellars, in 2015. Other top honorees have included Yo-Yo Ma, Yannick Nézet-Séguin, Yuja Wang, Riccardo Muti, Gustavo Dudamel, Julia Bullock, and many more. For a complete list of past honorees, click here.
Hilary Hahn photo by Dana Van Leeuwen

WHO'S BLOGGING


RENT A PHOTO
Search Musical America's archive of photos from 1900-1992.