---
All material found in the Press Releases section is provided by parties entirely independent of Musical America, which is not responsible for content.
'The Lenny Lens' – A new online course by Jamie Bernstein on IDAGIO
"The Lenny Lens" – a new online course by Jamie Bernstein on IDAGIO
Jamie Bernstein and her guests will explore her father's rich legacy through four interactive video sessions in June 2022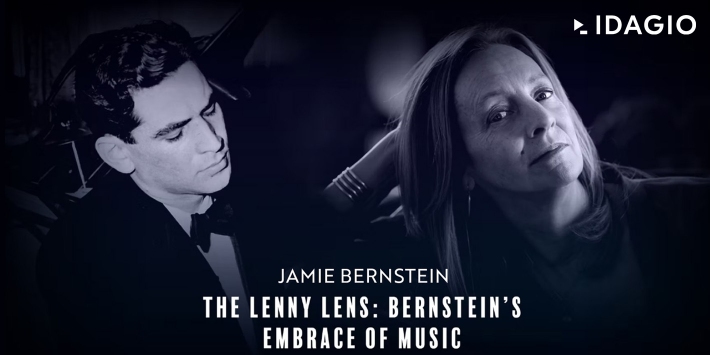 "The Lenny Lens", a new course by Jamie Bernstein, is now open for registration on IDAGIO. The course will take place over four Sundays in June 2022 — June 5, 12, 19, and 26 — and features four interactive video sessions which will dive into the legacy of Leonard Bernstein and focus on a number of his most celebrated and special works. Each session will include a presentation by Jamie about the subject of the day followed by half an hour where the floor is open to questions from participants.
Additionally, Jamie will include excerpts from video conversations with a sparkling collection of friends and colleagues, many of whom have worked with her father or are committed to preserving his legacy.
Featured guests will include Bradley Cooper, Steven Spielberg, Marin Alsop, Michael Tilson Thomas, Kristen Chenoweth, Bobby McFerrin, Julia Bullock, John Mauceri, Stephen Schwartz, Jeremy Irons, Brad Leithauser, Stephen Wadsworth, Douglas Webster, Alexander Bernstein, and Nina Bernstein Simmons.
Jamie said: "I'm really looking forward to sharing this exploration of my father's life and works — well, parts of his life and works ... he did so many things, it would take a lot more than four sessions to cover it all! But I'll be sharing some fascinating stuff, including some deep dives into his better-known works, like Candide and West Side Story. And I'm certain that viewers will enjoy hearing from my wonderful special guests. I know I sure enjoyed talking with them!"
Sign up now at JamieBernstein.Idagio.com.

WHO'S BLOGGING


RENT A PHOTO
Search Musical America's archive of photos from 1900-1992.