---
New Artist of the Month: Classical Guitarist Rupert Boyd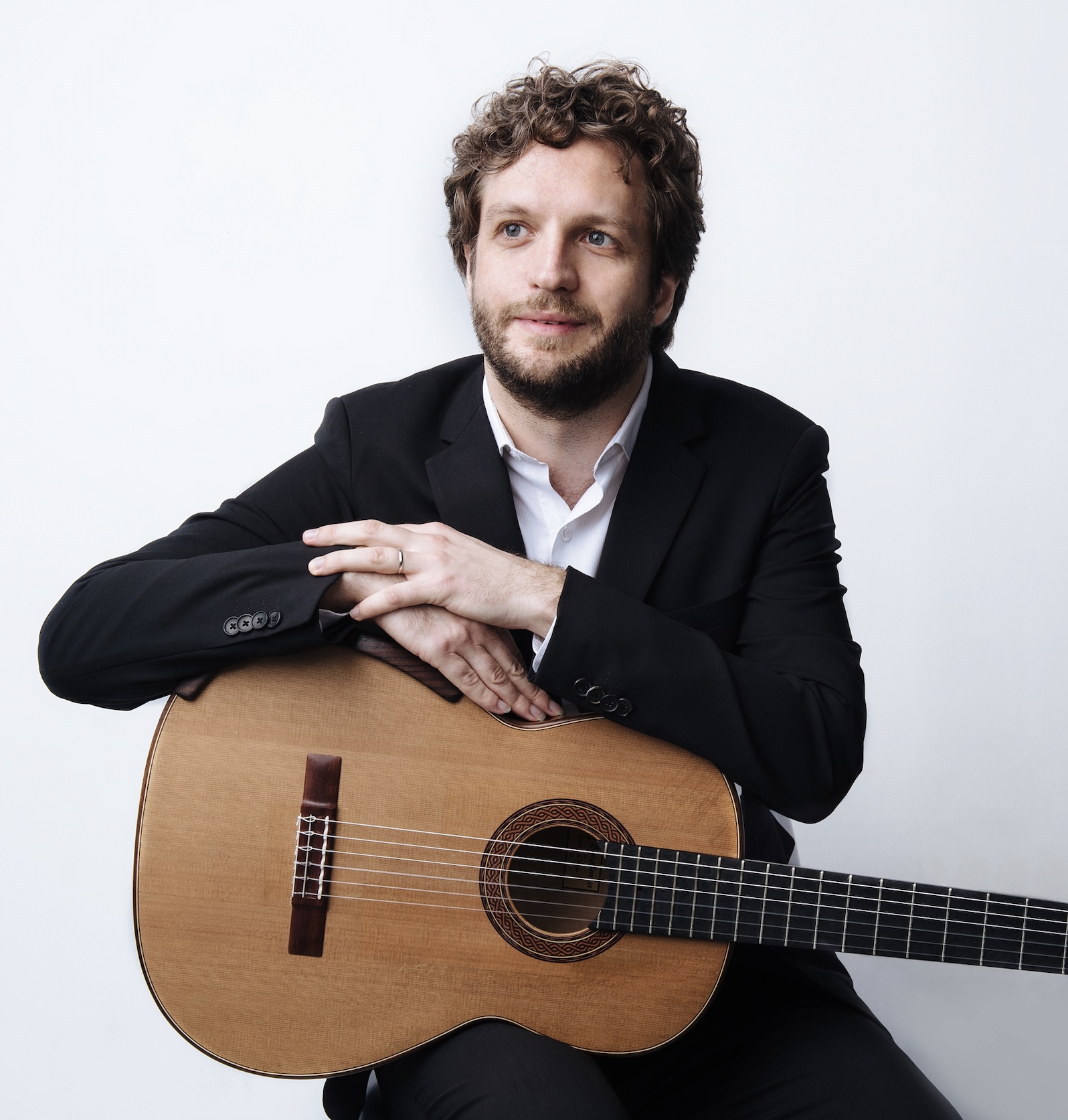 Given the shortage of guitar concertos (or at least, ones that orchestras are prepared to program), classical guitarists need to have an entrepreneurial spirit to build a successful career. Rupert Boyd is a good example. The Australian-born, New York-domiciled guitarist, who has just turned 40, has thrived in a range of co-founded ensembles, including Boyd meets Girl, the wittily monikered duo he formed with his wife, American cellist Laura Metcalf.
Four years ago, he launched an innovative Sunday morning concert series, GatherNYC, a musical and literary meeting place that complements chamber music with artisanal coffee, pastries, and a reflective dose of the spoken word. As Boyd puts it, it's "an alternative to church where the religion is music."
Growing up in the Australian capital Canberra, Boyd was your average kid, fond of cricket, swimming, and catching yabbies (that's Aussie-speak for freshwater crayfish). He traces his passion for the guitar to the day his older brother came home from school having signed up for guitar lessons. In a case of sibling rivalry, young Rupert decided to do the same. "I think he gave up two weeks later," he admits, "and here I am."
From Jimi Hendrix...
It was in his teens that he really fell for the instrument when the discovery of Jimi Hendrix led to a passing romance with electric guitar. Classical guitar, however, maintained its hold. "By this stage I'd been playing for six years," he recalls. "I got into recordings of Segovia, Julian Bream, and John Williams and found I could play some of these great pieces. But Hendrix was the gateway drug."
Ultimately it was the depth of the classical guitar repertoire that carried the day. "I loved playing blues, but after three or four minutes I would think, we're still in the same key doing the same sort of licks—although that's probably more my failing as an electric guitarist," he laughs. "Meanwhile, I was increasingly drawn to works by Bach, or great Spanish composers like Albéniz and Granados, these incredible, dense, complex pieces."
At age 16, Boyd was taken under the wing of Tim Kain, probably Australia's most respected classical guitarist. Kain had been attached to the Canberra School of Music, the institution that had run the music program in Boyd's primary school, so the young guitarist had grown up aware of this intimidating musical titan sitting at the back of the hall at end of semester recitals. Only later did he learn the great man normally only bothered with university-level students.
Two years later Boyd signed up for the four-year Bachelor of Music at Australian National University. By the time he graduated, Boyd was well aware that classical guitar was a perilously niche industry. "Playing viola would have been a smart choice," he chuckles ruefully. "For classical guitarists, there just aren't the jobs. We have to forge our own career paths."
Although he'd never been abroad, Boyd sent off a series of VHS audition tapes applying for further study overseas. In particular, he liked the idea of working with David Leisner at Manhattan School of Music, a guitarist who had developed an intriguing new playing technique to help overcome focal dystonia. "Not that I'd ever had any issues like that, but I was really curious," he explains. "I also loved the idea of New York City where so many of my idols had lived: John Lennon, Jimi Hendrix, Stanley Kubrick, Bob Dylan."
...to The Manhattan School of Music
Accepted for a two-year Master's Degree in 2004, Boyd bought a one-way ticket to New York. "I came here with a guitar on my back and a suitcase—I didn't know a single person in North America. I thought I'd be here for one or maybe two or three years."
Taking advantage of an offer of free tuition, Boyd went on to Yale School of Music for a two-year Artist Diploma. Then came the inevitable sink or swim moment. "I got back to New York, looked around and thought, 'What do I do now?'" he admits. "For years I had an agent as a soloist in Chicago, but I wouldn't be where I am if I hadn't been self-motivated. Unless you're Yo-Yo Ma, the phone isn't necessarily ringing every day. So, I've been very proactive setting up concert opportunities."
Early on, Boyd co-founded the Australian Guitar Duo with fellow Canberran Jacob Cordover. The two have regularly toured Europe, North America, and Asia. He's also worked with American dance companies and the New York Festival of Song.
It was almost ten years ago that he met Metcalf. Soon after they started dating, they had the idea of forming a duo, as much as anything so that two busy freelancers could spend some quality time together. With little existing repertoire for cello and guitar, they've had to be hands-on there as well, arranging music from Fauré and Falla to Bach and Beyoncé.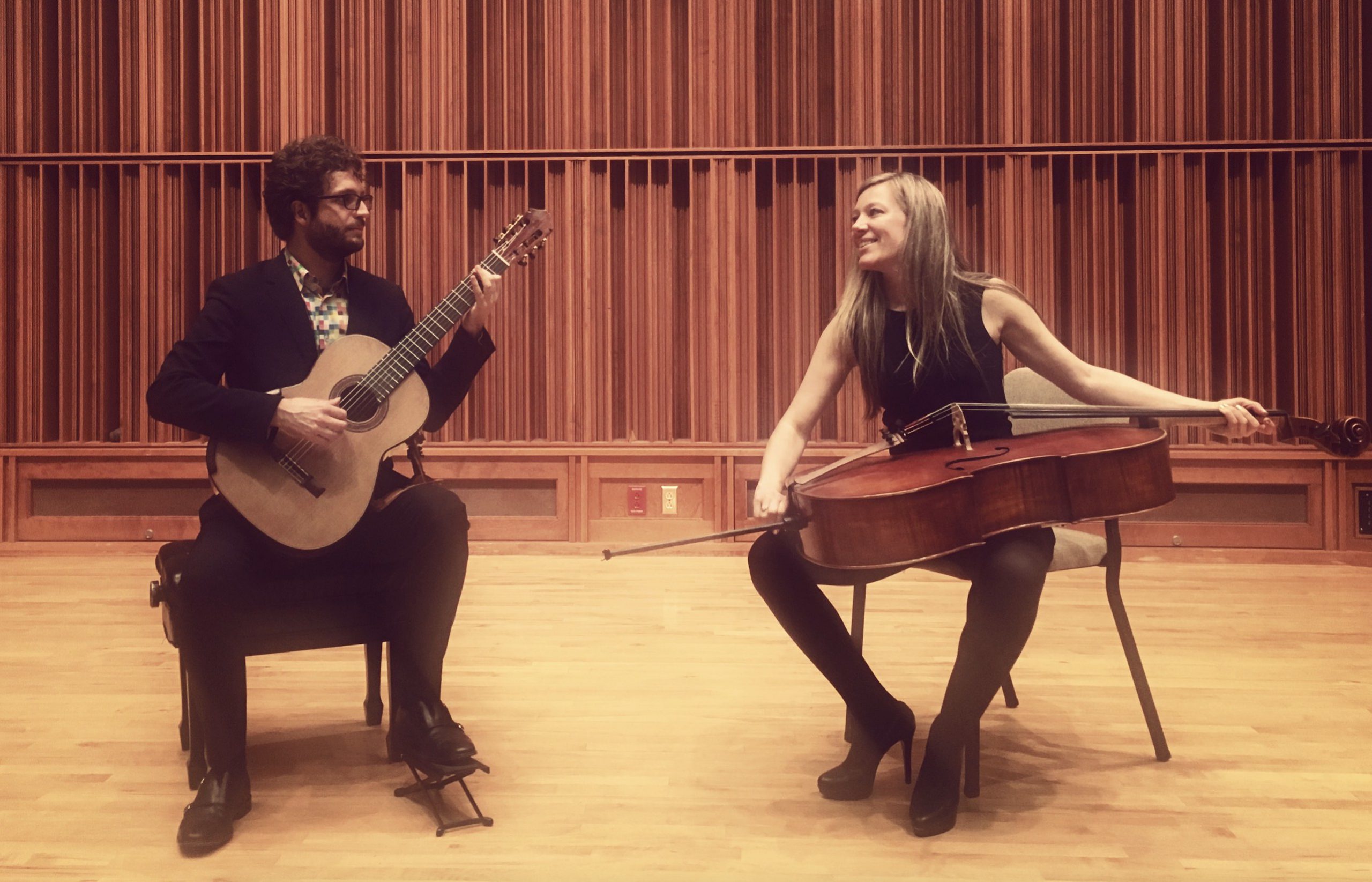 Rupert Boyd with cellist Laura Metcalf, aka Boyd Meets Girl
Today, much of Boyd's focus is getting GatherNYC back on track. The concert series has drawn increasing crowds and featured major artists including clarinetist Anthony Gill, the Dover String Quartet, and violinists Lara St. John and Rachel Barton Pine. However, the pandemic dealt it a few blows, including the loss of Subculture, its hip SoHo venue. The new season kicks off at Manhattan's Museum of Arts and Design on April 24 and runs until June 26 with a lineup that will include ETHEL, South Korean guitarist Jiji, musicians from the Met Opera Orchestra, and, of course, Boyd Meets Girl.
Beyond that, Boyd and Metcalf plan to hit the road with concerts from Austin to Albuquerque, and appearances at Festival Napa Valley, Santa Cruz's Music in May, and Caramoor in New York. They also have a new album, Songs of Love and Despair, out now on Sono Luminus. Pulling all that together takes guts and determination, but clearly it takes more than a global pandemic to keep a good entrepreneur down.

WHO'S BLOGGING


RENT A PHOTO
Search Musical America's archive of photos from 1900-1992.