---
All material found in the Press Releases section is provided by parties entirely independent of Musical America, which is not responsible for content.
Kennedy Center Presents 'Written in Stone': World Premiere of Washington National Opera Commissions Exploring Meaning of Monuments in Today's America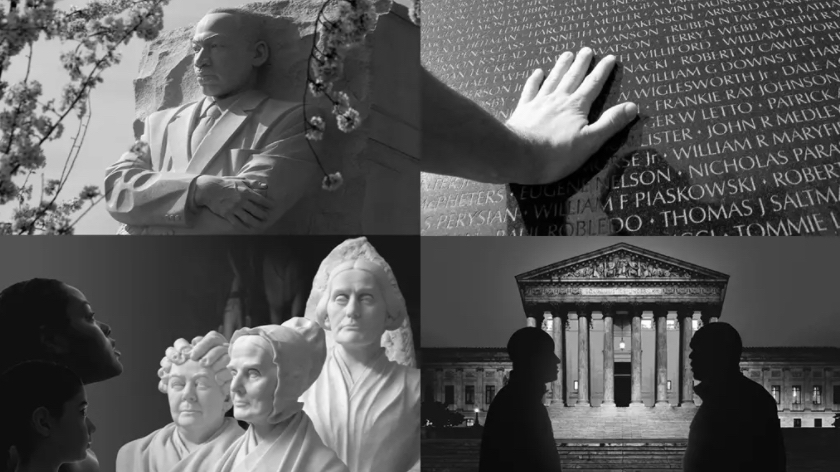 Clockwise from top left: Martin Luther King, Jr. Memorial, Vietnam Veterans Memorial, Supreme Court Building & Portrait Monument
(photos: courtesy of the Kennedy Center)
Kennedy Center Presents World Premiere Production of Written in Stone: Evening of New Washington National Opera Commissions Explores Meaning of Monuments in Today's America (March 5–25, 2022)
A surveyor ponders the meaning of memory and monuments. A young girl scout seeks a place for herself in history. A Black father and son find themselves on opposite sides of a same-sex marriage rally. And the vision of 22-year-old Asian American undergraduate Maya Lin is the catalyst for a reappraisal of the Vietnam War. Their stories come together on March 5–25, 2022, when the Kennedy Center presents the Washington National Opera (WNO)'s world premiere production of Written in Stone. A jewel in the crown of the center's landmark 50th anniversary season, this evening-length experience comprises a prologue and three short one-act operas, inspired by some of Washington, D.C.'s iconic monuments to ask timely questions about the ways we memorialize history, the stories we tell, the voices we amplify, and what our choices tell us. Commissioned by WNO from the creative pairings of Alicia Hall Moran and Jason Moran, Kamala Sankaram and A.M. Homes, Carlos Simon and Marc Bamuthi Joseph, and Huang Ruo and David Henry Hwang, these compelling new works celebrate the diversity of contemporary America while confronting some of its most divisive fault lines and offering the hope of catharsis.
As a living monument to our 35th president, the Kennedy Center has long grappled with the meaning of monuments. Perhaps, then, it is not surprising that the WNO's four new commissions should have anticipated what is a moment of national reckoning. WNO Artistic Director Francesca Zambello explains:
"A monument is a testament to what we value, and, as a relatively young country, our values are a work in progress. We often think about a monument as something static, but every person who approaches a monument brings their own history to the encounter. The Kennedy Center is a monument in which we tell stories all the time in every venue, so it is truly a living monument, ever evolving and changing. For Written in Stone, we brought together a diverse group of creators and asked them to think about how some of Washington, D.C.'s monuments, erected in the past, speak to them today. What stories can they tell about our past, our present, our future-in-progress?"
Written in Stone's first production features a stellar cast, anchored by Sphinx Medal of Excellence-winning mezzo-soprano J'Nai Bridges and two-time Grammy-nominated baritone Rod Gilfry. Its world premiere productions are by Alicia Hall Moran (see below) and acclaimed director James Robinson, two of whose hit productions (Porgy & Bess and Fire Shut Up in My Bones) opened recent Metropolitan Opera seasons. Set design is by International Opera Award finalist Erhard Rom, with costumes by Helen Hayes, Lucille Lortel and Obie Award-winner Dede Ayite; lighting by Mark McCullough, whose credits include the Met, Covent Garden and La Scala; and projections by S. Katy Tucker, whose work has graced the Met, Carnegie Hall, the Sydney Opera House and many more. Marking the four-time Grammy-winning conductor's WNO mainstage debut, Robert Spano leads from the pit.
Written in Stone
Written in Stone opens with Chantal, a short prologue from the husband-and-wife team of Jason Moran, the MacArthur award-winning composer-pianist who serves as the Kennedy Center's Artistic Director for Jazz, and Alicia Hall Moran, the multitalented composer, director and mezzo-soprano described as "an exemplar of how artists invent and reimagine ideas, connect and design ingenious performance experiences" (Valerie Coleman). Conceived as a conversation between a surveyor and an actual monument, their new work offers a meditation on what it means to commemorate people and events in stone. After listing some of the many great African Americans who have yet to be so honored, despite the significance of their contributions to our national story, surveyor Chantal concludes that "Memory is heavy."
The evening's second half is devoted to The Rift by Huang Ruo, "one of the world's leading young composers" (New Yorker), and David Henry Hwang, the three-time Pulitzer Prize finalist who was the first Asian American to win the Tony Award for Best Play. Their one-act opera explores some of the controversies surrounding the Vietnam Veterans Memorial (1982). An 82-yard wall of highly polished black granite, engraved with the names of all 58 thousand-plus U.S. servicemen and -women who lost their lives in the Vietnam War, the memorial's design was chosen blind from more than 1,400 submissions in the largest competition of its kind to date. Together with a U.S. veteran, a South Vietnamese war widow and former Defense Secretary Robert McNamara, the memorial's Chinese American designer, Maya Lin – then still a 22-year-old undergraduate – is one of the opera's four protagonists. Through their conflicted and evolving viewpoints, The Rift posits the memorial as a cathartic key to facing and healing some of the most polarizing challenges in our nation's history. As librettist Hwang puts it:
"The controversies surrounding the creation of the Vietnam Veterans Memorial in 1982 reflected the deep divisions in America over the Vietnam War itself. Yet by 2007, the memorial was ranked number ten on the American Institute of Architects' 'List of America's Favorite Architecture,' and today receives around three million visitors per year. It is therefore that rare work of public art, which has served to heal political polarization and conflict. … We hope our opera, like the Vietnam Veterans Memorial itself, can inspire a path towards reconciliation and understanding today, when our nation once again suffers from seemingly irreconcilable conflict and division."
Bookended by Chantal and The Rift are two shorter one-act operas. The first of these is Rise by Independent Music Award-winning Indian American composer Kamala Sankaram, hailed as a "new voice from whom we will surely be hearing more" (Los Angeles Times). Set to a libretto by best-selling author and D.C. native A.M. Homes, winner of the 2013 Women's Prize for Fiction, Rise pays tribute to the little-known Portrait Monument (1921). This depicts three key players in the women's suffragist movement – Lucretia Mott, Elizabeth Cady Stanton and Susan B. Anthony – together with a fourth, uncarved face, as a sign that the feminist struggle was far from over. Indeed, it was only in 1997 that the statue itself was restored to its place in the Capitol Rotunda, after being consigned to the building's crypt for the preceding 75 years. Through a witty conversation between the monument's long-forgotten sculptor, Adelaide Johnson; young girl scout Alicia Hernández, who is on a Capitol tour; and other members of the work's all-female, time-traveling cast of characters, Rise gives voice to some of the many women and girls who find their stories missing from history. The composer reflects:
"This opera is really an examination of legacy: who is represented and who is remembered. To render these complex themes musically, I drew inspiration from the instrumentation and repertoire of military wind bands. By combining this orchestral underpinning with the voices of our entirely female cast, I hope to build a new understanding of women's power and role in government."
Written in Stone's quartet of operas is completed by it all falls down, a new work from Kennedy Center Composer-in-Residence Carlos Simon, whose numerous honors include the 2021 Sphinx Medal of Excellence, and Kennedy Center VP & Artistic Director of Social Impact Marc Bamuthi Joseph, the librettist, playwright, and poet chosen as both a 2017 TED Global Fellow and an inaugural recipient of the Guggenheim Social Practice initiative. Using one family's conflict to probe the politics of queer identity within the Black church, their story concludes on the steps of the Supreme Court Building, where a father and son find themselves on opposite sides of a same-sex marriage rally. As son Bklyn pleads, "if a body is worth saving … if a body is worth praying for … ain't the love IN that body worth praying for too?" Librettist Bamuthi Joseph observes:
"I haven't lived in the nation's capital for very long, but after two years, I've seen first-hand that when the political earth quakes, the monuments shake too. Monuments made of brick and mortar, marble and glass, and, sometimes, monuments made of laws and hope. it all falls down is an American story, a Black Love Matters sermon, a coming out narrative in defense of a future norm, an opera living between the Guardian of Law and the contemplation of Justice where, in the end, love over/rules."
---
www.kennedy-center.org
https://www.facebook.com/KennedyCenter
https://twitter.com/KenCen
https://www.instagram.com/kennedycenter/
https://www.youtube.com/user/TheKennedyCenter
---
Washington National Opera presents Written in Stone (world premiere)
March 5, 9, 13, 19, 21 & 25, 2022
Eisenhower Theater
Chantal (prologue)
Music and lyrics: Jason Moran and Alicia Hall Moran
Director: Alicia Hall Moran*
Chantal: Alicia Hall Moran, mezzo-soprano*
Rise (inspired by Portrait Monument)
Music: Kamala Sankaram
Libretto: A.M. Homes
Director: James Robinson
Alicia Hernández: Vanessa Becerra, soprano
Officer Victoria Wilson: J'Nai Bridges, mezzo-soprano
A Powerful Woman/Adelaide Johnson: Daryl Freedman, mezzo-soprano
The Monument: Suzannah Waddington, soprano
Maria Hernández: Danielle Talamantes*, soprano
it all falls down (inspired by Supreme Court Building)
Music: Carlos Simon
Libretto: Marc Bamuthi Joseph
Director: James Robinson
Laurel: J'Nai Bridges, mezzo-soprano
Bklyn: Christian Mark Gibbs*, tenor
Mtchll: Alfred Walker*, bass-baritone
The Rift (inspired by Vietnam Veterans Memorial)
Music: Huang Ruo
Libretto: David Henry Hwang
Director: James Robinson
Maya Lin: Karen Vuong*, soprano
Phuong Tran: Hongni Wu*, mezzo-soprano
Grady Mitchell: Christian Mark Gibbs*, tenor
Robert McNamara: Rod Gilfry, baritone
Conductor: Robert Spano*
Set designer: Erhard Rom
Costume designer: Dede Ayite*
Lighting designer: Mark McCullough
Projection designer: S. Katy Tucker
* WNO mainstage debut

WHO'S BLOGGING


RENT A PHOTO
Search Musical America's archive of photos from 1900-1992.