---
MA's Free Guide to (Mostly) Free Streams, March 1-8
We will be updating this list weekly. Please note that all times are given in U.S. Eastern Time (ET). To calculate in other time zones or counties, British Summer Time (BST) is currently five hours ahead of ET and Central European Time (CET) is currently six hours ahead. U.S. Central Daylight Time (CDT) is one hour behind ET. Mountain Time (MT) is two hours behind ET, while Pacific Time (PT) is three hours behind. Contact editor@musicalamerica.com.
Classical music coverage on Musical America is supported in part by a grant from the Rubin Institute for Music Criticism, the San Francisco Conservatory of Music, and the Ann and Gordon Getty Foundation. Musical America makes all editorial decisions.
---
** Highly recommended
Monday, March 1
8 am ET: Wigmore Hall presents Gould Piano Trio. The piano trio performs Amy Beach's Piano Trio Op. 150 and Schubert's Piano Trio No. 1 in B flat D898. Register, view here and on demand for 30 days. LIVE
** 1 pm ET: Wiener Staatsoper presents Bizet's Carmen. Conductor: Andrés Orozco-Estrada, director: Calixto Bieito, with Anita Rachvelishvili, Piotr Beczala, Erwin Schrott, and Vera-Lotte Boecker. Production from February 21, 2021. Register for free and view here. [See Musical America review here.]

1 pm ET: Opéra National Bordeaux presents Chamayou plays Saint-Saëns. French pianist Bertrand Chamayou plays Saint-Saëns's Piano Concerto No. 2. Berlioz's Symphonie fantastique, Op. 14 completes the program. Paul Daniel conducts the ONBA orchestra. View here and on demand.
** 2:15 pm ET: Bayerische Staatsoper presents Cecil Hotel. Andrey Kaydanovskiy's "criminal ballet" is based on the mysterious stories of serial killers, criminals, and shady figures surrounding the notorious Cecil Hotel in Los Angeles. Designer Karoline Hogl has created a version of the Cecil Hotel for the theatrical stage and the sound collage by Dmitry Cheglakov includes tracks such as Que Sera, Sera, with the Hollywood Orchestra, Women's Hour by Daphne Oram, Andrea Parker and Daz Quayle, and Death Waltz Fantasy by John Zorn. View here. LIVE
2:30 pm ET: Wigmore Hall presents Septura. The brass septet performs arrangements of Ravel's Ma mère l'Oye, Debussy's Préludes Book I (La fille aux cheveux de lin and Minstrels) and Book II (Bruyères), and Gershwin's Three Preludes and An American in Paris. Register, view here and on demand for 30 days. LIVE
2:30 pm ET: Philharmonie de Paris presents Rising Stars: Quatuor Aris. In this Rising Stars of the European Concert Hall Organization concert, Quatuor Aris plays Mendelssohn, Shostakovich, Schulhoff, and a work by Misato Mochizuki. View here. LIVE
7 pm ET: Lawrence Brownlee presents The Sitdown with LB. The tenor's Facebook Live series returns with an unfiltered and honest look inside the opera industry. This week: Management, featuring Matthew Horner (IMG Artists) and Alex Fletcher (Fletcher Artist Management). View here. LIVE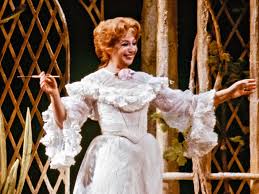 ** 7:30 pm ET: Met Opera Streams presents Donizetti's Don Pasquale. Starring Beverly Sills, Alfredo Kraus, Håkan Hagegård, and Gabriel Bacquier, conducted by Nicola Rescigno. Production by John Dexter. From January 11, 1979. View here and for 24 hours.
7:30 pm ET: SalonEra presents Jewish Diaspora. Recorder virtuoso Daphna Mor explores Sephardic song and Jewish liturgical poetry while viola da gamba player Elizabeth Weinfield highlights the contributions of 17th-century converso composer Leonora Duarte. Additional guests to be announced. View here.
7:30 pm ET: Chamber Music Society of Lincoln Center presents The Art of Interpretation: Mozart Divertimento. Violinist James Thompson, who was recently selected for CMS's Bowers Program for emerging artists, joins violist Paul Neubauer and cellist Paul Watkins to discuss and perform Mozart's Divertimento in E-flat, a six-movement string trio considered the finest work of its genre. View here and on demand for a week.
7:30 pm ET: New England Conservatory presents March (not April) in Paris. This episode of First Mondays at Jordan Hall features Laurence Lesser, artistic director, Kim Kashkashian, viola, Robert Levin, piano, Angela Bae, violin, Justin DeFilippis, violin, Benjamin Zannoni, viola, and Russell Houston, cello, playing Ravel's Cinq mélodies populaires grecques, Deux mélodies Hébraïques, and Tripatos, and Debussy's String Quartet in G Minor, op. 10. View here.
7:30 pm ET: Lansing Symphony Orchestra presents Vivaldi, Harlin & Villa-Lobos. Timothy Muffit conducts a string octet performance of Vivaldi's "Autumn" from The Four Seasons and a new work, The Art of Flight, written by LSO Composer-in-Residence Patrick Harlin. The final piece on the program is a work for 12 cellos by Heitor Villa Lobos: Bachianas Brasileiras No. 1. View here.
Tuesday, March 2
8 am ET: Wigmore Hall presents The English Concert. Recorded in February 2021, Kristian Bezuidenhout directs from the harpsichord a program of Bach, Erlbach, and Purcell. Register, view here and on demand for 30 days.
1 pm ET: Wiener Staatsoper presents Verdi's Otello. Conductor: Graeme Jenkins, director: Christine Mielitz. With Roberto Alagna, Aleksandra Kurzak, Dalibor Jenis, and Antonio Poli. Production from March 2018. Register for free and view here.
2:30 pm ET: Wigmore Hall presents Gweneth Ann Rand & Simon Lepper. The soprano performs Wagner's Wesendonck Lieder, Messiaen's Poèmes pour Mi, and Barber's Despite and Still, Op. 41. Register, view here and on demand for 30 days. LIVE
2:30 pm ET: Philharmonie de Paris presents Rising Stars: Diana Tishchenko. In this Rising Stars of the European Concert Hall Organization concert, violinist Diana Tishchenko and pianist Zoltán Fejérvári perform music by Bach, Vasco Mendonça, Sofia Goubaïdoulina, and Ravel. View here. LIVE
3 pm ET: Dallas Symphony Orchestra presents Mahler Symphony No. 4. Fabio Luisi conducts the DSO with soprano Rachel Willis-Sørensen in Mahler's Symphony No. 4 in G in its 1920 chamber ensemble version, arranged at the request of Schoenberg by Klaus Simon. Tickets $10. View here until May 31.
7 pm ET: Buffalo Philharmonic Orchestra presents Prelude to Pops. Jaman E. Dunn conducts a concert exploring works across the generations that have stood the test of time through film, television, commercials, and more. From the Can Can and In the Hall of the Mountain King to Hoedown, plus Over the Rainbow. Tickets $10. View here until March 25.
7 pm ET: Orchestre Symphonique de Montréal presents Stravinsky's The Soldier's Tale. Thomas Le Duc-Moreau conducts an OSM ensemble with actors Daniel Brière, Mani Soleymanlou, and Marie-Thérèse Fortin in Stravinsky's tale of the unfortunate adventures of a soldier struggling with the devil. Tickets $20. View here until March 17.
7:30 pm ET: Nightly Met Opera Streams presents Verdi's Falstaff. Starring Mirella Freni, Barbara Bonney, Marilyn Horne, Susan Graham, Paul Plishka, Frank Lopardo, and Bruno Pola, conducted by James Levine. Production by Franco Zeffirelli. From October 10, 1992. View here and for 24 hours.
8 pm ET: New York City Ballet presents Inside NYCB. Hosted by Principal Dancer Russell Janzen, the program features onstage rehearsals and conversations with NYCB artists. Focusing on a virtuosic male solo from Theme and Variations, this week's event will feature NYCB Principal Dancers Andrew Veyette and Joseph Gordon, both of whom have performed the ballet's principal male role, and Repertory Director Kathleen Tracey. View here until March 11.
9 pm ET: Western New Mexico University presents Neave Trio. The trio performs live from the Longy School of Music of Bard College in a concert including Rebecca Clarke's Piano Trio, Cécile Chaminade's Piano Trio No. 1, Op. 11, and "Fall" and "Spring" from Piazzolla's The Four Seasons of Buenos Aires. View here.
Wednesday, March 3
12 pm ET: Princeton Symphony Orchestra presents The Musical Offering Part 3. Musicians of the PSO perform Bach's Das Musikalische Opfer (The Musical Offering), BWV 1079 over four episodes, released weekly. PSO assistant conductor Nell Flanders curates the project, which is being individually recorded in musicians' homes then combined digitally. Each segment is hosted by Flanders who introduces the music in tandem with conversations centering on Bach and his work. View here.
** 1 pm ET: Wiener Staatsoper presents Richard Strauss's Ariadne auf Naxos. Conductor: Christian Thielemann, director: Sven-Eric Bechtolf. With Johan Botha, Soile Isokoski, Sophie Koch, Daniela Fally, and Jochen Schmeckenbecher. Production from October 2014. Register for free and view here.
2:30 pm ET: Wigmore Hall presents Leonore Piano Trio. The British ensemble performs Dvorák's Piano Trio No. 1 in B flat Op. 21 and Brahms's Piano Trio No. 2 in C Op. 87. Register, view here and on demand for 30 days. LIVE
6 pm ET: Philadelphia Chamber Music Society presents Mark Steinberg, Marcy Rosen & Jonathan Biss. Live from the American Philosophical Society's Benjamin Franklin Hall, the three musicians play Schubert's Violin Sonata in A Minor, D. 385, and Piano Trio in E-flat, D. 929. Donations gratefully received. View here for three days. LIVE
** 7:30 pm ET: Nightly Met Opera Streams presents Wagner's Die Walküre. Starring Hildegard Behrens, Jessye Norman, Christa Ludwig, Gary Lakes, James Morris, and Kurt Moll, conducted by James Levine. Production by Otto Schenk. From April 8, 1989. View here and for 24 hours.
** 7:30 pm Orchestra of St. Luke's presents Sounds & Stories: Teju Cole. Artist, critic, and photographer Teju Cole's curated concert features readings from his story Radia, with works he chose to pair with his writing. Cole describes Radia as "a story about travel and discovery, a story of affliction and affiliation, set in a melancholy time. But within it is the germ of an as yet unseen future. Music, which is such a great part of our survival, is also what will survive us." Readings by Cole will be accompanied by works including Caroline Shaw's Plan & Elevation: V. The Beech Tree, Górecki's String Quartet No. 3: V. Largo-Tranquillo, Unsuk Chin's Parametastrings: II: Andante, Saariaho's Papillons III & IV, and Hildegard von Bingen's O Virtus Sapiente. Tickets $40 (suggested). View here.
8 pm ET: Baltimore Symphony Orchestra presents BSO Sessions: Spirit of Brazil. Villa-Lobos's Bachianas Brasileiras No. 9 opens the program, followed by an arrangement of Strauss's Dance of the Seven Veils by Brazilian-American composer Clarice Assad. Santoro's Ponteio is paired with Billboard hits like Tico-Tico no fubá and Desafinado. Brazilian conductors Daniel Lima and Juliano Aniceto, both students of Marin Alsop, conduct. Tickets $10. View here and on demand.
Thursday, March 4
12 pm ET: San Francisco Performances presents Front Row Premium: Jonathan Biss. The pianist performs three Beethoven piano sonatas: the Sonata in E-flat, Op. 7, the Sonata in F-sharp, Op. 78, a Therese, and the Sonata in A-flat, Op. 110. Register and view here.
1 pm ET: Wiener Staatsoper presents Massenet's Manon. Conductor: Frédéric Chaslin, director: Andrei Serban. With Nino Machaidze, Juan Diego Flórez, and Adrian Eröd. Production from June 2019. Register for free and view here.
1:15 pm ET: Midtown Concerts presents Four Nations Ensemble. Baroque cellist Loretta O'Sullivan and harpsichordist Andrew Appel perform a program entitled "Of Two Minds," placing the noble expression aligned with the musical language of Couperin alongside the singing and emoting sonatas of Vivaldi. View here.
1:30 pm ET: Musikkollegium Winterthur presents Bach Cantatas with Ian Bostridge. Roberto González-Monjas conducts with British tenor Ian Bostridge and The Zurich Chamber Singers. Program: Bach's Lass Fürstin, lass noch einen Strahl, BWV 198, Ich armer Mensch, ich Sündenknecht, BWV 55, and Ich habe genug, BWV 82a as well as Joseph Martin Kraus's Symphonie funèbre in C-minor. Tickets from $12. View here and repeated on March 4 at 1:30 pm.
2 pm ET: London Symphony Orchestra presents Bartók, Ligeti & Haydn. Sir John Eliot Gardiner conducts Bartók's Dance Suite, Ligeti's Romanian Concerto, and Haydn's Symphony No 104, London. View here.
** 2 pm ET: Medici.tv presents Daniel Harding conducts Mahler & Schumann. Harding conducts the Bamberg Symphony with baritone Christian Gerhaher in Mahler's Rückert-Lieder. The evening concludes with Schumann's Symphony No. 2. View here.
** 2:30 pm ET: Wigmore Hall presents Kirill Gerstein. The pianist performs Haydn's Fantasia in C, HXVII 4, Beethoven's Fantasia in G minor, Op. 77, Chopin's Fantasy in F minor, Op. 49, and Schubert's Wanderer Fantasy in C, D760. Register, view here and on demand for 30 days. LIVE
2:30 pm ET: Philharmonie de Paris presents Rising Stars: Ensemble Multilatérale. In this Rising Stars of the European Concert Hall Organization concert, Léo Warynski leads Ensemble Multilatérale in new music by Elisabeth Angot, Tobias Feierabend, Henryk Golden, Tímea Hvozdíková, Manon Lepauvre, Agita Reke, and Kostas Zisimopoulos. View here. LIVE
2:30 pm ET: Concertgebouw presents Netherlands Philharmonic. Incoming chief conductor Lorenzo Viotti leads the Netherlands Philharmonic Orchestra and the Choir of The National Opera in Debussy's Nocturnes and Tchaikovsky's Symphony No. 6 in B minor, op. 74, Pathétique. Tickets Euro 12.50. View here.
5 pm ET: The Violin Channel presents Vanguard Concert: Dover Quartet. The fourth of a 10-episode digital series of hour-long concerts, shot with seven cameras in 4K. The Dover Quartet play Beethoven's String Quartet No. 16 in F, Op. 135 and the Lento from Dvorák's String Quartet No. 12 in F, American. View here.
6 pm ET: National Sawdust presents What Becomes of Love? Choreographer Sonya Tayeh and American Ballet Theatre collaborate on a film featuring music by the Canadian musician Rhye (Michael Milosh), described as "a raw medley of falsetto vocals and cascading piano, synthesizer, and violin instrumentation." Tayeh choreographed the work in tandem with her cast of ABT dancers in a quarantined "ballet bubble" in upstate New York. The event will be followed by a conversation with the artists. View here.
6:30 pm ET: Celebrity Series of Boston presents SHINE! Together. A virtual gala event featuring Wynton Marsalis and the Young Stars of Jazz presented by Jazz at Lincoln Center, Time For Three, Kelli O'Hara, and with more to be announced. Donations welcomed. View here.
7 pm ET: Yevgeny Kutik presents Finding Home. A five-episode docu-recital series based on Kutik's 2014 album Music from the Suitcase. Each 30-40-minute episode weaves personal storytelling about his family's emigration from the deteriorating Soviet Union to the U.S. with performances of music that filled their suitcases on the journey. Episode 4, Listen, is a tribute to the teachers and influences who helped Kutik and his family grow and build, and remembers Zinaida Gilels and Roman Totenberg. Featuring Prokofiev's Sonata No. 2 Op. 94a, and Darius Milhaud's Le Beouf sur le toit. Register and view here until 12 pm ET on March 6.
7:30 pm ET: Nightly Met Opera Streams presents Mozart's Die Zauberflöte. Starring Golda Schultz, Kathryn Lewek, Charles Castronovo, Markus Werba, and René Pape, conducted by James Levine. Production by Julie Taymor. From October 14, 2017. View here and for 24 hours.
7:30 pm ET: Chamber Music Society of Lincoln Center presents Front Row Mainstage: Through Schubert. Archival recordings of Haydn's String Quartet in C, Hob. III: 57, Op. 54, No. 2, selected Schubert songs and Auf dem Strom for Voice, Horn, and Piano, D. 943, Op. 119, Mendelssohn's Lied ohne Worte in D for Cello and Piano, Op. 109, and selected Brahms Hungarian Dances for Piano, Four Hands. With Nicholas Phan, Nikolay Borchev, Inon Barnatan, Michael Brown, Gloria Chien, Gilbert Kalish, Wu Han, Jakob Koranyi, Danish String Quartet, and Radovan Vlatkovic. Intermission features a Q&A with the artists. View here and on demand for one week.
7:30 pm ET: Rochester Philharmonic Orchestra presents Coleridge-Taylor & Mendelssohn. Samuel Coleridge-Taylor remains one of the greatest Black composers of the 19th century, with his Clarinet Quintet a demonstration of his gift for chamber music. A gift to his friend and violin teacher, the 16-year-old Felix Mendelssohn's Octet in E-flat provides a glimpse into the glorious mind of one of the 1800s greatest composers. Tickets $25. View here until April 4.
8 pm ET: The Philadelphia Orchestra presents A Modern Day Carmen. Yannick Nézet-Séguin conducts Shchedrin's Carmen Suite with the help of Philadelphia-based dance company Brian Sanders's JUNK. Known for its physically intense performance experiences, JUNK's innovative style transforms Shchedrin's music into an immersive, modern Carmen. Tickets $17. View here and on demand until March 11. LIVE
8 pm ET: Atlanta Symphony Orchestra presents Behind the Curtain: Bronfman plays Beethoven. Robert Spano conducts Yefim Bronfman in Beethoven's Piano Concerto No. 3. The Merian Ensemble performs the world premiere of The Book of Spells by Brazilian-American composer Clarice Assad. The Merian Ensemble is a chamber music group dedicated to the exploration of works by women, composed of ASO musicians Elisabeth Remy Johnson, Christina Smith, Emily Brebach, Marci Gurnow, and Jessica Oudin. Tickets $20. View here.
8 pm ET: New York City Ballet presents Theme and Variations. Balanchine created Theme and Variations in 1947 for Ballet Theatre (now American Ballet Theatre), and it briefly entered the NYCB repertory in 1960. In 1970 Balanchine used Tchaikovsky's complete orchestral suite to create Tchaikovsky Suite No. 3, and Theme and Variations, with a few minor revisions, returned to the repertory as the fourth and final movement of the ballet. View here until March 11.
10 pm ET: Cal Performances presents Mahan Esfahani. The harpsichordist performs Bach's Goldberg Variations, filmed at the Bach Archive in Leipzig, Germany, the city in which the composer wrote the music nearly 280 years ago. Tickets $15. View here.
Friday, March 5
8 am ET: Wigmore Hall presents Martin Roscoe. The British pianist performs Schubert's Impromptu in A flat No. 2, Klavierstück in E flat No. 2, and Piano Sonata in B flat, D960. Register, view here and on demand for 30 days. LIVE
12 pm ET: Bang on a Can presents First Fridays with Robert Black. One of a monthly series of virtual mini-concerts featuring new music for solo double bass streamed from Black's home studio in Hartford, Connecticut. Science and art intersect in James Tenney's Beast, Stuart Saunders Smith's Tunnels engages in wordplay theatrics, and Rifat Komachkov's Sonata employs a range of weird bowing techniques. View here.
1 pm ET: Wiener Staatsoper presents Janácek's Kátja Kabanová. Conductor: Tomás Netopil, director: André Engel. With Angela Denoke, Misha Didyk, Jane Henschel, and Dan Paul Dumitrscu. Production from April 2017. Register for free and view here.
1 pm ET: IDAGIO Global Concert Hall presents Boulangerie: The Students of Nadia Boulanger. The Boulanger Trio celebrates Bernstein, Piazzolla, and Copland as well as music by Quincy Jones, Jean Françaix, and Philip Glass—all of them students of Nadia Boulanger. The evening focuses on her charismatic personality as a teacher and her commitment to music as a source of inspiration for composers from all over the world. Actress Loretta Stern serve as guide. Tickets £9.90. View here until June 5. LIVE
2 pm ET: Royal Opera House presents Mozart's The Marriage of Figaro. David McVicar's production, set in a château in 1830, was recorded in 2015. It features Erwin Schrott as Figaro, Sophie Bevan as Susanna, Stéphane Degout as Count Almaviva, Ellie Dehn as Countess Almaviva, and Kate Lindsey as Cherubino. The Orchestra of the Royal Opera House and the Royal Opera Chorus are conducted by Ivor Bolton. Tickets £3. View here until April 4.
2 pm ET: DG Stage presents Bomsori Kim. Filmed at Wroclaw's National Forum of Music, the violinist plays Wieniawski's Concert Polonaise and Fantaisie brillante on themes from Gounod's Faust. Giancarlo Guerrero then conducts the NFM Wroclaw Philharmonic in Beethoven's Leonore Overture No. 3 followed by Waxman's dazzling Carmen Fantasie, which started life as part of his score for the 1946 film Humoresque. Tickets Euro 9.90. View here.
** 2 pm ET: Concertgebouworkest presents Rhapsody in Blue. In a tribute to New York, the Concertgebouworkest performs Gershwin under the baton of Alan Gilbert. Pianist Stefano Bollani performs Rhapsody in Blue in a program that also includes Gershwin's Cuban Overture and Catfish Row, the suite from his opera Porgy and Bess. View here.
** 2:30 pm ET: Wigmore Hall presents Carolyn Sampson & Joseph Middleton: Songs of Spring. The British soprano performs songs by Robert and Clara Schumann, Fauré, Gounod, Chausson, Debussy, Schubert, Copland, Britten, Barber, Ireland, and Coates. Register, view here and on demand for 30 days. LIVE
2:30 pm ET: Philharmonie de Paris presents Rising Stars: Cristina Gómez Godoy. In this Rising Stars of the European Concert Hall Organization concert, oboist Cristina Gómez Godoy and pianist Mario Häring play music by Poulenc, Debussy, Charlotte Bray, Adolphe Deslandres, and Saint-Saëns. View here. LIVE
** 3 pm ET: University of Washington's Meany Center presents Angela Hewitt: On Bach. The music of Johann Sebastian Bach is central to Canadian pianist Angela Hewitt's life. In this recital, filmed in September 2020 at London's Wigmore Hall, she plays a diverse selection of Bach pieces large and small. View here until March 12.
7 pm ET: Ukrainian Contemporary Music Festival presents Voices of the New Millennium. Streamed from the Ukrainian Museum in NYC, the Festival's opening concert features music written since the year 2000 by Ukraine's youngest generation of composers as well as compositions by established Ukrainian composers Victoria Poleva and Oleh Bezborodko. Tickets from $5. View here.
7:30 pm ET: Nightly Met Opera Streams presents Britten's Peter Grimes. Starring Patricia Racette, Anthony Dean Griffey, and Anthony Michaels-Moore, conducted by Sir Donald Runnicles. Production by John Doyle. From March 15, 2008. View here and for 24 hours.
7:30 pm ET: Piffaro presents The Musical World of Don Quixote. This 2016-2017 season event features a host of early music's most accomplished musicians: New York Polyphony, soprano Nell Snaidas, percussionist Glen Velez, Spanish dulcian specialist Josep Boras, and guitarist Charles Weaver. Tickets $15. View here.
8 pm ET: Washington Performing Arts presents Home Delivery Plus. Saxophonist Steven Banks with Xak Bjerken, piano and Omer Quartet appear in a performance recorded in New York City. Program: Mozart's Oboe Quartet in F, K.370/368b, Schumann's Fantasiestücke, Op. 73, Steven Banks's As I Am, and three world premieres: Carlos Simon's Hear Them, a new work by Saad Haddad, and Steven Banks's Gift of the Spirit. There will be a panel discussion after the performance. View here.
8 pm ET: Detroit Symphony Orchestra presents Jazz at Lincoln Center Orchestra. Performing with former DSO Erb Jazz Chair Wynton Marsalis, the Jazz at Lincoln Center Orchestra returns to Orchestra Hall. Please note: The DSO does not appear on this program. Tickets $12. View here.
8 pm ET: UChicago presents Axiom Brass. The brass quintet plays Augusta Read Thomas's Avian Capriccio, Evan Williams's Lux Aeterna, and Alvin Etler's Quintet for Brass Instruments. Tickets $15. View here until March 7. LIVE
** 9 pm ET: Minnesota Orchestra presents Soaring Strings. Conductor Juraj Valcuha leads the orchestra in Prokofiev's Second Violin Concerto, performed by violinist James Ehnes, and Mendelssohn's sparkling Italian Symphony. This concert opens with two works for string quartet by Jessie Montgomery: Source Code and Voodoo Dolls. View here. LIVE
Saturday, March 6
12 pm ET: Bavarian Radio Symphony Orchestra presents Sir Simon Rattle Conducts. In the first of two concerts from the Gasteig Philharmonie, Rattle leads the orchestra in the world premiere of Ondrej Adámek's Where are You? with his wife, mezzo-soprano Magdalena Kožená, and Messiaen's Et exspecto resurrectionem mortuorum for woodwind, brass, and metal percussion instruments. View here.
1 pm ET: Wiener Staatsoper presents Verdi's Aida. Conductor: Marco Armiliato, director: Nicolas Joel. With Elena Guseva, Gregory Kunde, Ekaterina Gubanova, and Simone Piazzola. Production from June 2019. Register for free and view here.
1 pm ET: San Francisco Opera presents Wagner's Das Rheingold. Francesca Zambello's staging of Wagner's Der Ring des Nibelungen was filmed at the War Memorial Opera House in summer 2018 and streams across four weekends accompanied by complementary live Ring-related events. Donald Runnicles conducts with Iréne Theorin as Brünnhilde, Greer Grimsley as Wotan, Daniel Brenna as Siegfried, Brandon Jovanovich as Froh and Siegmund, Karita Mattila as Sieglinde, Falk Struckmann as Alberich, Jamie Barton as Fricka, the Second Norn and Waltraute and Ronnita Miller as Erda and the First Norn. View here until midnight the following day.
** 1 pm ET: Berliner Philharmoniker Digital Concert Hall presents Paavo Järvi & Igor Levit. The Estonian maestro leads the BPO with pianist Igor Levit in Beethoven's Piano Concerto No. 5 in E flat, Emperor. Prokofiev's Symphony No. 6 in E flat minor completes the program. Tickets EUR 9.90. View here. LIVE
1 pm ET: OperaVision presents Strauss & Strauss & Co. The ensemble of the Gärtnerplatztheater Munich mixes opera with operetta in selection of arias, duets and ensembles from both genres by not only Richard and Oscar Straus(s) but also Mozart, Tauber, Leoncavallo, Verdi, Lehár, Rossini, and Donizetti. View here for two months.
1:45 pm ET: Budapest Festival Orchestra presents A Baroque Concert. Violinist Midori Seiler leads players of the BFO and soprano Emöke Baráth in a concert of music by J. B. Bach, W. F. Bach, C. P. E. Bach, and J. S. Bach. Tickets Euro 10. View here.
2 pm ET: Bang on a Can presents Dance Company Sasha Waltz & Guests. The Berlin-based dance company offers a live viewing of a new and innovative artistic process incorporating both digitally recorded and live formats. Based on the musical foundation of Terry Riley's In C, Waltz and her dancers have developed choreographic material that follows a similarly variable structure and is deliberately designed not to be a finished stage piece. The performance will be set to Bang on a Can's 2001 recording. View here.
2 pm ET: Elbphilharmonie presents Tempus Fugit. Alan Gilbert and the NDR Elbphilharmonie Orchestra put on a concert of a rather different kind: Magnus Lindberg's orchestral work Tempus fugit as a large-scale video production, after which will be performed the trumpet concerto ...miramondo multiplo... by Austrian composer Olga Neuwirth with soloist Håkan Hardenberger. View here.
2:15 pm ET: Rotterdam Philharmonic Orchestra presents Symphonic Dances. Conductor Lahav Shani conducts the RPO in Rachmaninov's Symphonic Dances. Tickets Euro 15. View here until June 1.
3 pm ET: Shriver Hall presents Xavier Foley. Xavier Foley, double bass, and Kelly Yu-Chieh Lin, piano, perform Vivaldi's Sonata for Cello and Continuo No. 3 in A minor, RV 43, Ruhollah Khaleghi's Tasnif Khooshe Chin (arr. Foley), Xavier Foley's Irish Fantasy for Solo Double Bass, Bach's Suite No. 2 in D minor for Solo Cello, BWV 1008, Bottesini's Elegy No. 1 in D for Double Bass and Piano, Saint-Saëns's Allegro appassionato for Solo Cello, Op. 43 (arr. Foley), and Xavier Foley's Always on the Move for Double Bass and Piano. Tickets $15. View here until March 13.
3:30 pm ET: Bavarian Radio Symphony Orchestra presents Sir Simon Rattle Conducts. In the second of two musica viva concerts from the Gasteig Philharmonie, Rattle leads the orchestra in Purcell's Funeral Music for Queen Mary and Georg Friedrich Haas's in vain for 24 instruments. With the Bavarian Radio Chorus and Zoro Babel, lighting design. View here.
7:30 pm ET: Nightly Met Opera Streams presents Dvorák's Rusalka. Starring Renée Fleming, Emily Magee, Dolora Zajick, Piotr Beczala, and John Relyea, conducted by Yannick Nézet-Séguin. Production by Otto Schenk. From February 8, 2014. View here and for 24 hours.
7:30 pm ET: Ukrainian Contemporary Music Festival presents The Kyiv Avant-Garde. Streamed from Kaufman Music Center's Merkin Hall, a concert showcasing pivotal works of the Kyiv Avant-Garde, also known as the Sixtiers or shistdesyatnyky. Peter Schmelz will introduce the performance with a pre-concert talk about this period of creativity. Tickets from $5. View here.
7:30 pm ET: Charlotte Symphony presents Mozart + Wirén. Christopher Warren-Green conducts Mozart's Divertimento in D, Jessica Meyer's Slow Burn, and Wirén's Serenade for Strings. Tickets $20. View here until March 13.
7:30 pm ET: Peoples' Symphony Concerts presents Garrick Ohlsson. The Canadian pianist plays Chopin's Nocturne in F, Op. 15 No. 1, Nocturne in B, Op. 9 No. 3, Barcarolle in F sharp, Op. 60, Mazurka in A minor, Op. 7 No. 2, Mazurka in C sharp minor, Op. 50 No. 3, and Piano Sonata No. 3 in B minor. Tickets $50 for five concerts. View here.
7:30 pm ET: Detroit Symphony Orchestra presents Classical Roots. The Jazz at Lincoln Center Orchestra with Wynton Marsalis perform with the DSO, clarinetist Anthony McGill, and conductor William Eddins. This Classical Roots Celebration concert features Marsalis's own composition Meeelaan with DSO Acting Principal Bassoon Michael Ke Ma, Stravinsky's Ebony Concerto for Clarinet and Jazz Band, and Bernstein's Prelude, Fugue, and Riffs. Tickets $12. View here. LIVE
7:30 pm ET: Louisville Symphony Orchestra presents Homecomings. Teddy Abrams conducts Bartoók's Romanian Folk Dances, Gabriela Lena Frank's Leyendas: An Andean Walkabout, with songs performed by singer-songwriter Sarah Jarosz who also plays mandolin, banjo, and guitar. Four-concert subscription $75. View here. LIVE
7:30 pm ET: 92nd St Y presents Ana Vidovic. An elite guitarist and student of the legendary Manuel Barrueco, Vidovic returns to the stage where she gave her U.S. debut with a program showcasing a range of music for guitar with selections by Bach, Torroba, Giuliani, Barrios, and others. Tickets $20. View here.
9 pm ET: Houston Symphony presents Beethoven's Pastoral & Bronfman. Fabien Gabel leads the orchestra is Beethoven's Symphony No. 6, Pastoral while Yefim Bronfman joins for Beethoven's Piano Concerto No. 3. The concert begins with Stella Sung's Fanfare for Brass Ensemble. Tickets $20. View here. LIVE
9 pm ET: St Paul Chamber Orchestra presents Musician Appreciation Concert. A virtual celebration of the musicians of The Saint Paul Chamber Orchestra. Program: Selections from Schubert's Symphony No. 2, Ginastera's Variaciones concertantes, Piazzolla's Oblivian and Histoire du Tango, the finale from Beethoven's Violin Concerto with introduction by Concertmaster Steven Copes, the finale from Mozart's Symphony No. 29 with commentary by the SPCO horn section, and Ridout's Ferdinand the Bull featuring SPCO musicians and their families. Donations requested, which will go directly to SPCO musicians. Register, view here and repeated at 11 pm ET.
Sunday, March 7
** 12 pm ET: Wiener Staatsoper presents Verdi's La Traviata. Conductor: Giacomo Sagripanti, director: Simon Stone. With Pretty Yende, Juan Diego Flórez, Igor Golovatenko, and Margaret Plummer. Register for free and view here. LIVE
2 pm ET: London Symphony Orchestra presents Rattle conducts Stravinsky. Sir Simon Rattle conducts the LSO in Stravinsky's Octet for Wind Instruments, Symphonies of Wind Instruments (1920), Four Norwegian Moods, Suite No 1, and Suite No 2. View here.
2 pm ET: VOCES8 Live from London, Spring presents Joanna MacGregor. To celebrate International Women's Day, pianist Joanna MacGregor curates a journey from the Deep South to New York, from Russian poetry to an African paradise. The program includes Florence Price's spiritual arrangements, Margaret Bond's Troubled Water, and MacGregor's own explorations of Deep River and Sometimes I Feel Like a Motherless Child, as well as Mary Lou Williams's jazz solos from the Zodiac Suite and Eleanor Alberga's work based on Pushkin's It's time, my friend, it's time. The recital ends with Nina Simone's Blackbird, Little Girl Blue, and her take on Good Bait, a melding of Bach, Liszt, and jazz. Tickets $15 and view here.
2 pm ET: IDAGIO Global Concert Hall presents Basel Composition Competition. The final concert of the Basel Composition Competition, one of the most important prizes for contemporary music worldwide. The event includes performances of nominated works, plus interviews with the composers and the prize announcement. A total of seven works for symphony orchestra and five for chamber orchestra were selected from more than 260 submitted scores. Ollu Frank conducts. Tickets £5. View here.
2 pm ET: Teatro alla Scala presents Ludovic Tézier in Recital. Baritone Ludovic Tézier and pianist Helmut Deutsch perform music by Schubert, Schumann, Liszt, Mozart, Ibert, Fauré, and Berlioz. View here.
2 pm ET: A Far Cry presents Feeling New Strength. Program: Josquin des Prez's Ave Christe immolate, arr. A Far Cry, Jessie Montgomery's Source Code, Matana Roberts's Borderlands, Caroline Shaw's Litany of the Displaced from To the Hands, arr. A Far Cry, and Beethoven's Heiliger Dankgesang, from Quartet Op. 132, arr. A Far Cry. View here.
2 pm ET: The Orchestra NOW presents 1950s European String Music. TON assistant conductor Andrés Rivas leads three works for string orchestra from the 1950s—by English composer Bruce Montgomery, Welsh composer William Mathias, and Swedish composer Ingvar Lidholm—along with the 1934 piece Impresión nocturna from Spanish composer Andrés Gaos. View here.
2:30 pm ET: Ukrainian Contemporary Music Festival presents Electroacoustic Voices. Streamed from DiMenna Center's Cary Hall, the concert is introduced by Ukraine's foremost composer of electronic music, Alla Zahaykevych, and presents electro-acoustic works by Ukrainian composers. Tickets from $5. View here.
3 pm ET: Spivey Hall presents George Li. A recital by 2015 International Tchaikovsky Competition winner George Li performs Beethoven's Eroica Variations, Op. 35 and Liszt's Sonata in B minor, followed by a post-concert talk. Tickets $15. View here.
3 pm ET: Bang on a Can presents Watch Party for Michael Gordon's Sonatra. The video premiere of Bang on a Can All-Star Vicky Chow's performance of Michael Gordon's Sonatra as a Watch Party. The program will include a Q & A with Chow and Gordon, moderated by Ethan Iverson. Aside from Chow's 2018 album release of the work, this new video made by writer and cinematographer Souki Mehdaoui is the only other recording of the piece. The Watch Party will include demonstrations of the work's difficulty by way of brief excerpts performed by Chow in her home, alongside a display of the score. View here.
3 pm ET: The Cliburn presents Cliburn Masterpiece: Ravel's Gaspard de la nuit. Cliburn laureates and other specialists join host Buddy Bray to discuss the composer, the background, the narrative, the characters, and the technical difficulties of a particular work. Each episode ends with a full performance from a past Van Cliburn International Piano Competition. This week: Ravel's Gaspard de la nuit featuring Haochen Zhang (2009 gold medal) and Marc-André Hamelin. View here and on demand.
4 pm ET: Princeton Symphony presents Alexander Boldachev. The harpist performs two of his own compositions alongside arrangements of Smetana's The Moldau and Piazzolla's Libertango. Bookending these are Respighi's Ancient Airs and Dances, Suite III and Puccini's Crisantemi. Rossen Milanov conducts. Tickets $15. View here.
4 pm ET: Our Concerts Live presents Concertos from the Inside: Week 9: Prokofiev No. 1. In a 24-part series, Rachel Barton Pine performs the entire solo violin part of the greatest violin concertos unaccompanied and shares her perspective on each, explaining how she prepares and how her performance connects to the work's historical and musical context. The series is geared towards career violinists, advanced students, violin teachers, and violin aficionados. Tickets $20. Register and view here.
4 pm ET: Brooklyn Public Library presents Curtis Stewart. Told through video, violin, verse and electronics, Of Power grapples with themes of resilience, resistance, and the nature of power, weaving a confessional narrative, through the lens of a Black man searching for authenticity in classical music. Original compositions and virtuosic re-compositions of Charlie Parker, J.S. Bach, John Coltrane, Eugene Ysaye, Stevie Wonder, Childish Gambino, and Coleridge Taylor-Perkinson serve as vehicles for a post-classical visual album inspired by personal adversity and bolstered by the #BlackLivesMatter movement. Register and view here.
** 7:30 pm ET: Met Opera Streams presents Verdi's La Forza del Destino. Starring Leontyne Price, Giuseppe Giacomini, Leo Nucci, and Bonaldo Giaiotti, conducted by James Levine. Production by John Dexter. From March 24, 1984. View here and for 24 hours.
Monday, March 8
8 am ET: Wigmore Hall presents Isata Kanneh-Mason. The British pianist plays music by Clara Schumann, Natalie Klouda, and Sofia Gubaidulina. Register, view here and on demand for 30 days. LIVE
1 pm ET: Wiener Staatsoper presents Minkus's Don Quixote. Conductor: Kevin Rhodes, chorography: Rudolf Nurejev. With Maria Yakovleva, Denys Cherevychko, Ketevan Papava, Roman Lazik, Olga Esina, and the Corps des ballet des Wiener Staatsballetts. Production from May 2016. Register for free and view here. LIVE
2 pm ET: Medici.tv presents Marin Alsop conducts Skrowaczewski, Panufnik & Prokofiev. One of the most prominent women in the conducting field, Alsop marks the occasion of International Women's Day while paying tribute to Polish musical genius. The Polish National Radio Symphony Orchestra performs Stanislaw Skrowaczewski's Concerto for English Horn and Orchestra, Four Hands, a piece for double string orchestra by Roxana Panufnik, and Prokofiev's Symphony No. 1, Classical. View here. LIVE
2:30 pm ET: Wigmore Hall presents Apartment House. The Wigmore Hall Associate Ensemble plays music by Satie, Cage, Mindaugas Urbaitis, Christian Wolff, John Lely, Walter Zimmermann, Jim O'Rourke, and Gerhard Rühm. Register, view here and on demand for 30 days. LIVE
3 pm ET: St John's Smith Square presents A Century of Music by British Women. For International Women's Day, the London Chamber Ensemble is led by conductor and violinist Madeleine Mitchell in a program that includes Rebecca Clarke's Piano Trio, Judith Weir's Atlantic Drift for two violins and The Bagpiper's String Trio, Helen Grime's Miniatures for oboe and piano, Cheryl-Frances Hoad's Invocation for cello and piano, Thea Musgrave's Colloquy, Ruth Gipps's Prelude for bass clarinet, the world premiere of a new piece by Errollyn Wallen, and Grace Williams's Suite for Nine Instruments. View here.
7 pm ET: Lawrence Brownlee presents The Sitdown with LB. The tenor's Facebook Live series returns with an unfiltered and honest look inside the opera industry. This week: Casting Directors, featuring Diane Zola (The Metropolitan Opera) and Joshua Winograde (Los Angeles Opera). View here. LIVE
** 7:30 pm ET: Met Opera Streams presents Puccini's Manon Lescaut. Starring Renata Scotto, Plácido Domingo, Pablo Elvira, and Renato Capecchi, conducted by James Levine. Production by Gian Carlo Menotti. From March 29, 1980. View here and for 24 hours.
7:30 pm ET: Chamber Music Society of Lincoln Center presents Composers in Focus: Jessie Montgomery. Composer and violinist Jessie Montgomery talks with violinist Benjamin Beilman about motivation, influences, inspiration and her work Duo for Violin and Cello, which Montgomery calls an "ode to friendship." Beilman and cellist Nicholas Canellakis perform the piece, which was newly recorded this season. View here and on demand for a week.
Artists and Organizations Offering Free Content
The following are all accessible during the coronavirus pandemic:
Academy of Ancient Music
The most listened-to period instrument ensemble, directed by Richard Egarr, has made a number of streams available on its website. Guest artists include Louise Alder, soprano, Nicola Benedetti, violin, Mary Bevan, soprano, David Blackadder, trumpet, Iestyn Davies, countertenor, Tim Mead, countertenor, Christopher Purvis, bass, and Tenebrae, directed by Nigel Short. Explore here.
Alternative Classical
Humans of Classical Music is a video series in which musicians, actors, comedians, and podcasters from around the world recommend their favorite piece of classical music in one minute. A new video will go live every Thursday during 2021, starting on February 4, accompanied with a link on Spotify. Each video is free of musical jargon and is suitable for anyone interested in exploring the world of classical music. The list includes countertenor Anthony Roth Costanzo, three-time Edinburgh Comedy Award nominee Kieran Hodgson, Principal Conductor of Glyndebourne on Tour Ben Glassberg-Frost, Chief Executive of Manchester Collective Adam Szabo, and composers Anna Clyne, Gabriel Prokofiev, and Missy Mazzoli. Explore here.
American Lyric Theater: Opera Writers Symposium
ALT is recruiting musicians and for a series of workshops and mini-seminars taking place February 27 – April 24. ALT seeks to introduce musicians and writers from diverse racial and artistic backgrounds to opera and explore how they might use the tools of the art form to tell their stories. ALT also hopes to encourage applications to the Composer Librettist Development Program (CLDP), the country's only full-time paid mentorship for emerging opera composers, librettists and dramaturgs. No previous experience in writing opera is necessary. Classes will address timely topics like Dramatizing History and Opera as Activism led by composer Anthony Davis and dramaturg Cori Ellison; Opera, Technology and Innovation with composers Kamala Sankaram and Jorge Sosa; From Erased to Self-Empowered: Celebrating BIPOC Opera Composers and Librettists led by ALT's Associate Artistic Director Kelly Kuo; The Architecture of Opera led by composer/librettist Mark Adamo. Guest speakers include composers Missy Mazzoli, Daniel Bernard Roumain, Huang Ruo and Errollyn Wallen; and librettists Mark Campbell, Thulani Davis (also a poet and playwright), David Henry Hwang, and Andrea Davis Pinkney.
American Opera Project
First Glimpse is a video album of 20 songs created during the first year of AOP's 2019-21 fellowship program, Composers & the Voice. Originally intended as a live concert, the videos will be released every Friday beginning October 23 and for the following six weeks. The composers are Alaina Ferris, Matt Frey, Michael Lanci, Mary Prescott, Jessica Rudman and Tony Solitro, with librettists Amanda Hollander and Jonathan Douglass Turner. Videos will be free for one week following their release, after which they will be available to rent or purchase, individually or as a full set through AOP's Website. Explore here.
American Symphony Orchestra
American Symphony Orchestra releases weekly recordings from its archives with content alternating between live video recordings of SummerScape operas and audio recordings from previous ASO concerts. Ethel Smyth's The Wreckers, Richard Strauss's Die Liebe aus Danae, and Korngold's Das Wunder der Heliane, all conducted by Leon Botstein, are all highly recommended and available now.
Apollo's Fire: Music for the Soul
The Cleveland-based baroque orchestra founded by Artistic Director Jeannette Sorrell is offering a series of video streams entitled "Music for the Soul." New episodes are posted here.
Atlanta Opera
The Atlanta Opera has released the first four episodes of Orfano Mondo, a world premiere film series by bass-baritone Ryan McKinny and filmmaker Felipe Barral. Taking its title from the prologue to Leoncavallo's Pagliacci, Orfano Mondo ("orphan world") addresses the fears surrounding live performance during the pandemic though exclusive behind-the-scenes footage, material filmed expressly for the series, and scenes from Atlanta's live fall productions of Pagliacci and of Viktor Ullmann and Peter Kien's The Kaiser of Atlantis. Performed in Italian and German with English subtitles available, each Orfano Mondo episode is 10-15 minutes long, and four more episodes are scheduled for release over the next two months. Explore here through April.
Baltimore Symphony Orchestra
BSO Sessions continues to bring the stories of BSO musicians, conductors, and collaborators to life through a documentary-style narrative. Real stories are paired with powerful music, including the elevation of unheard voices in classical music. Episodes premiere weekly on Wednesdays at 8 pm ET and are available through June 2021. Explore here.
Bard SummerScape & Fisher Center
Archival works highlight Bard's wealth and breadth of programming, including performances from its SummerScape Opera and BMF archives. Recent include Bard SummerScape's 2011 production of Strauss's rarely performed Die Liebe der Danae and last year's Daniel Fish directed staging of Michael Gordon's Acquanetta. More details here.
Bergen Philharmonic
Bergen's outstanding orchestra enjoys national status in Norway with a history dating back to 1765. Its free streaming service was established as part of 250-year anniversary in 2015 and offers a fine selection of works from its concert series in Grieghallen, Bergen. Conductors include Edward Gardner, James Gaffigan, Thierry Fischer, David Zinman, Neeme Järvi, Jukka Pekka Saraste, Nathalie Stutzmann, and Christian Zacharias with soloists including Leif Ove Andsnes, Lise Davidsen, Truls Mørk, Mari Eriksmoen, and Freddy Kempf. Well worth exploring here.
Carnegie Hall
More than 200 teen musicians hailing from 41 states across the US came together in July 2020 as an online virtual community to form three musical ensembles: the National Youth Orchestra of the United States of America (NYO-USA), NYO2, and NYO Jazz. All three ensembles recorded exuberant virtual performance videos during the residency, directed by Emmy Award-winner Habib Azar. The first four videos—Valerie Coleman's Umoja by the musicians of NYO-USA; a unique adaptation of Grieg's Morning Mood by NYO2; and Thad Jones's Cherry Juice and Wycliffe Gordon's We're Still Here by NYO Jazz—are now available for viewing. Explore here.
Chatham Baroque
Chatham Baroque is releasing high-quality monthly videos featuring leading baroque performers including gambist Jaap ter Linden, lutenists Nigel North and Stephen Stubbs, and countertenor Reginald Mobley. Once posted, videos are available on demand through June 30, 2021. Each program includes artist interviews and are available for as little as $18 per program. Explore here.
Cliburn Kids
Cliburn Kids is a growing collection of entertaining 7- to 10-minute videos designed to introduce children to the fun of classical music. How does music paint pictures, tell stories, express feelings? Host Buddy Bray and guest artists use individual pieces to explore topics that delve into the way music is organized and structured, counting and rhythm, expressive elements, and sometimes just lighthearted enjoyment. Programs are geared towards elementary-aged children, and activities are provided for each episode that are perfect for in-classroom or at-home studies. New episodes and lesson plans are released every Tuesday. Explore here.
Daniel Hope: Europe@Home
Streaming live each Friday, Saturday and Sunday in February and March, this newest incarnation of the violinist's show celebrates Europe and its rich musical and cultural diversity. With each episode devoted to a different one of the European Union's 27 member states, Hope invites young musicians into his Berlin home to collaborate on music by composers from their respective countries. Conceived as "DIY TV" for socially distanced times, the Hope@Home series combine high-quality audio with the intimacy and immediacy of live, world-class home music-making. Together with its sequels, Hope@Home on Tour! and Hope@Home Next Generation, the original show ran to almost 120 episodes, was streamed more than ten million times, and raised tens of thousands of Euros for artists in need. View here with episodes archived here.
Days & Nights Festival
The annual multidisciplinary Days and Nights Festival—which since 2011 has taken place in and around Big Sur, California and has brought together luminaries and pioneers in fields including music, dance, theater, literature, film and the sciences—launches its premiere streaming portal featuring exclusive films of a selection of its landmark performances and events. Films slated for release, from February to May 2021, includes contributions by such wide-ranging figures as JoAnne Akalaitis, Tibetan artist Tenzin Choegyal, Danny Elfman, Molissa Fenley, María Irene Fornés, Allen Ginsberg, Dev Hynes (Blood Orange), Jerry Quickley, and Glass himself. Featured performers and ensembles include Dennis Russell Davies, Ira Glass, Matt Haimovitz, Tara Hugo, Lavinia Meijer, Maki Namekawa, Gregory Purnhagen, Third Coast Percussion, Opera Parallèle, and Glass and his Philip Glass Ensemble. Explore here.
Detroit Symphony Orchestra
The Detroit Symphony Orchestra has made its webcast archive available for free. The collection features 200+ works going back three years, and highlights include Leonard Slatkin conducting John Luther Adams's climate change-inspired Become Ocean from 2019, several world premieres, and a host of bite-sized encores. Explore here.
Deutsche Grammophon Yellow Lounge
The German classical music giant is streaming Yellow Lounge broadcasts from its archives. Recent additions include clarinetist Andreas Ottensamer, pianists Alice Sara Ott and Chihiro Yamanaka, and cellist Mischa Maisky. Performances are broadcast in rotation, one video at a time, adding a new performance every few days. DG communicates the start of each new performance by newsletter at the start of each week. To keep updated sign up here.
English Symphony Orchestra
The English Symphony Orchestra's ESO Digital is an expanding digital archive of music, performed by English Symphony Orchestra and its partners, that you are unlikely to hear anywhere else. Access is free with a monthly donation; however Musical America readers can get a free trial of one week when setting up a new donation by using the coupon code MusicalAmerica2021. Register here.
Finnish National Opera
Finnish National Opera presents Stage24, a series of streamed archived performances on its website, which are then available for the next six months. Recent content includes a staged version of Sibelius's Kullervo, Stravinsky's The Rake's Progress, Caspar Holten's staging of Wagner's Der Fliegende Holländer with Camilla Nylund, and Christoff Loy's Tosca. An excellent company and some interesting and original work worth investigating. Explore here.
Handel and Haydn Society
Boston's Handel and Haydn Society has created the H+H Listening Room where you can hear and watch H+H performances including Mozart's Requiem, Handel's Messiah, and Purcell's Dido and Aeneas filmed at New York's Met Museum. There are also more than a dozen videos of musicians performing from their homes, a special video of principal flutist Emi Ferguson teaching people how to make their own baroque flute, and a new podcast called "Tuning In". In the first episode Principal Cellist Guy Fishman interviews Artistic Director Harry Christophers about Bach's St. Matthew Passion. Explore here.
Kennedy Center: Arts Across America: Winter Traditions.
As millions across the United States will be altering traditions to keep friends, loved ones, and neighbors safe, the Kennedy Center will be sharing performances from across the country and numerous communities and cultures to celebrate traditions held dear. Highlights include performances from Renée Fleming, Amythyst Kiah, Broadway's Austin Colby, Caroline Bowman, and Nicholas Ward, Los Texmaniacs celebrating their own Texas miracle following a battle with COVID-19, and D.C. favorites DuPont Brass, Aaron Myers, and Chuck Redd. Explore Winer Traditions here and other Kennedy Center regular online releases via their digital stage here.
La Scala/RAI
Italy's RAI presents five productions from La Scala Milan including the world premiere of Kurtág's Fin de Partie, Daniel Barenboim conducting Götterdämmerung, Lisette Oropesa in Verdi's I Masnadieri, Montedervi's Orfeo conducted by Rinaldo Alessandrini, and Les Vêpres Siciliennes conducted by Daniele Gatti. A wide range of concerts are also available. Explore and register here.
Les Arts Florissants
Les Arts Florissants's annual Festival in Thiré, France included a series of 10- to 15-minute "Meditation" concerts recorded earlier this summer. Now available to enjoy online, the Meditations include performances by students of Juilliard's Historical Performance program in the spirit of their annual participation in the Festival. View here.
Lincoln Center Lincoln Center Passport to the Arts
A variety of virtual classes, performances, and bonus content designed for children, teens and adults with disabilities and their families. Offerings include programs with Chamber Music Society of Lincoln Center, Jazz at Lincoln Center, the Metropolitan Opera Guild, New York City Ballet, the New York Philharmonic, and The New York Public Library for the Performing Arts. Families can attend dance, music or drama classes, watch exclusive performances, check out behind-the-scenes content, and even meet performers—all from their homes. Families will receive pre-visit materials, including social narratives, photos, and links before each program. All programs take place via Zoom. Register here.
Los Angeles Chamber Orchestra
LACO AT HOME offers streaming and on demand performances, including a full showing of the orchestra's critically acclaimed West Coast premiere of Dark with Excessive Bright for double bass and strings by LACO Artist-in-Residence Missy Mazzoli. View streaming here and on demand here.
Los Angeles Master Chorale
Videos recorded as part of the "Offstage with the Los Angeles Master Chorale" series from April 24 to June 19 included interviews conducted by Artistic Director Grant Gershon and Associate Conductor Jenny Wong with notable performers—including special guests Reena Esmail, Morten Lauridsen, Anna Schubert, Peter Sellars, Derrick Spiva—as well as Master Chorale singers. Available on demand here.
Mark Morris Dance Group 40th Anniversary Digital Season
MMDG continues to celebrate its 40th Anniversary with a new archival collection featuring three excerpts from Mark Morris dances?I Don't Want to Love, Rhymes With Silver, and V?and one full-length work, Rock of Ages, selected by veteran MMDG company members Joe Bowie and Lauren Grant. Viewers are also able to watch the full performances of the excerpted works on demand. Each work is preceded by video introductions by Joe Bowie and Lauren Grant. Explore here.
Metropolitan Opera Live In Schools
The Metropolitan Opera's HD Live in Schools program has launched a new series for the 2020–21 school year, creating cross-disciplinary educational opportunities across the country. For the 2020–21 school year, students and teachers will receive free subscriptions to the Met Opera on Demand service, with a catalogue of more than 700 Live in HD presentations, classic telecasts, and radio broadcasts. Ten operas have been selected for the HD Live in Schools program, and will be presented in five educational units, with two thematically paired operas per unit. The series opens with Beethoven's Fidelio and Donizetti's La Fille du Régiment (September 28–October 16), both of which explore the intersection of music and politics. The Met will continue to offer teachers HD Live in Schools Educator Guides and access to Google Classroom materials that can be adapted for virtual learning lesson plans. In addition, the Met's National Educators Conference will be hosted on a virtual platform this year and take place on five Saturdays throughout the 2020–21 school year. Two conferences, scheduled for October 10, 2020, and October 17, 2020, will also feature live conversations with Met artists. More information here.
Minnesota Orchestra
Minnesota Orchestra at Home shares video, audio, and educational materials through the categories of Watch, Listen and Learn, including videos from the orchestra's archives and newly created "mini-concerts" directly from the homes of Orchestra musicians. Explore and view here.
National Sawdust Digital Discovery Festival, Volume One
With more than 65 events, featuring over 100 artists premiering in a four-month span, National Sawdust Digital Discovery Festival: Volume One was a bright spot in NYC's post-COVID live music world. Featuring post-COVID performances from Robert Wilson, Julian Lage, Tyondai Braxton, Emel Mathlouthi, Matthew Whitaker, Dan Tepfer, Ashley Bathgate, Emily Wells, Brooklyn Rider, Joel Ross, Conrad Tao, Andrew Yee, and Lucy Dhegrae, and recently recorded Masterclasses with Tania León, Ted Hearne, Vijay Iyer, Jamie Barton, Lawrence Brownlee, Trimpin, and Lara St. John. Archival performances include David Byrne, Lara Downes and Rhiannon Giddens, and Ryuichi Sakamoto. Explore here.
New World Symphony
The New World Symphony presents a web-based series called NWS Archive+. Michael Tilson Thomas moderates discussions with NWS Fellows, alumni, guest artists, and visiting faculty about archived recordings. Performances will be available here. NWS Fellows also play live, informal chamber music concerts from their homes in Miami Beach and broadcast via Facebook Live. In addition, the NWS online archive contains master classes, tutorials and town halls, which can be found here. Finally, for the past 10 years, the Fellows have performed one-hour concerts for local school children. These concerts and preparatory material will be available free to students and parents. NWS Educational concerts can be found here.
Opera Australia
OA | TV: Opera Australia on Demand is the Sydney-based company's new digital space. Alongside the world's largest collection of Dame Joan Sutherland on video, OA will offer exclusive content from the OA back catalogue, productions from Handa Opera on Sydney Harbour, and a new series of chat show-style interviews conducted by AD Lyddon Terracini. The first posted full show is Sutherland in The Merry Widow, and the fileted aria's in the section labelled "The Best of Dame Joan Sutherland" are even better. View here.
Opéra National de Paris
The Palais Garnier and Bastille Opera have made their digital stage, "The 3e Scène," free. The platform is a pure place of artistic adventure and exploration, giving free rein to photographers, filmmakers, writers, illustrators, visual artists, composers, and choreographers to create original works. Visit here. Some of Opéra National de Paris's productions are accessible on the company's Facebook Page. In addition, Octave, the Paris Opera's online magazine, is posting articles, videos, and interviews here.
Opera North
One of Britain's most respected smaller opera companies, Opera North has put its acclaimed semi-staged concerts of Wagner's epic Ring Cycle online. "Beg, borrow, or be like Wotan and steal a ticket for this show," said the UK's Times of Das Rheingold. "You'd be lucky to hear as good at Bayreuth," said The Telegraph of Die Walküre. Richard Farnes proves a seriously impressive Wagner conductor. Watch here.
OperaVision
OperaVision offers livestreams of operas available for free and online for up to six months. Previous offerings include Barrie Kosky's visually spectacular Moses und Aron, David McVicar's superb Die Entführung aus dem Serail from Glyndebourne, and Deborah Warner's thoughtful Death in Venice for English National Opera. View upcoming and past content here.
Rotterdam Philharmonic Orchestra: Beethoven at Home
RPO brought Beethoven to living rooms in December playing all nine symphonies. The musicians performed the first eight symphonies in small chamber ensembles varying from a string sextet to a 15-strong brass ensemble. The Grand Finale took place on New Year's Eve: Beethoven's Ninth, played by the full orchestra with chorus and soloists. View here.
Orli Shaham Bach Yard Playdates
Pianist Orli Shaham brings her acclaimed interactive concert series for kids to the internet. Bach Yard Playdates introduces musical concepts, instruments, and the experience of concert-going to a global audience of children and their families. A number of 10-minute episodes are already available for on-demand streaming. Programs and performances range from Bach's Two-Part Invention to Steve Reich's Clapping Music. Explore here.
The Sixteen Choral Odyssey
Actor Sir Simon Russell Beale, Harry Christophers and The Sixteen have recorded a special, five-part series. A Choral Odyssey explores choral music from across the ages in iconic, relevant surroundings—from Byrd in Elizabeth I's childhood home of Hatfield House, to Purcell in the reconstructed 17th-century theatre of the Sam Wanamaker Playhouse at London's Globe Theatre. With a mix of conversation, music demonstration and performance, these programs reunite Harry Christophers and Simon Russell Beale—a partnership which proved successful in the popular BBC Sacred Music series—and feature performers from The Sixteen. Tickets £10 per episode. View here until March 31.
Trinity Wall Street
New York's Trinity Church Wall Street introduces daily weekday "Comfort at One" (1 pm ET) streaming performances on Facebook with full videos posted here. Tune in for encore performances of favorite Trinity concerts, professionally filmed in HD, along with current at-home performances from Trinity's extended artistic family.
University of Colorado Boulder
University of Colorado Boulder College of Music faculty artists perform with students and colleagues in Faculty Tuesdays, chamber music recitals featuring world premieres alongside classics. Free most Tuesdays from September 2020 through March 2021. Upcoming performers include violinist Harumi Rhodes, violist Richard O'Neill, cellist David Requiro, pianist David Korevaar, harpist Janet Harriman, and more. Explore here.
Voices of Ascension
New York choir Voices of Ascension, which celebrates its 30th anniversary next season, is posting a daily offering of choral beauty on its website. Music is chosen by staff, members of the chorus and orchestra, and listeners. View here.
Warsaw Philharmonic
The Warsaw Philharmonic has made a selection of video recordings available on its YouTube channel. Recent offerings include Saint-Saëns's Organ Symphony and Arvo Pärt's Swansong conducted by Artistic Director Andrzej Boreyko, as well as rarities by Polish composers like Grazyna Bacewicz. It's an excellent orchestra very much in the Eastern European tradition and concerts have been master edited for posting online.
Paid Digital Arts Services
Berlin Philharmonic Digital Concert Hall
The BPO Digital Concert Hall contains over 600 orchestra concerts covering more than ten years, including 15 concerts with the orchestra's new Chief Conductor Kirill Petrenko, interviews, backstage footage. Subscriptions or single tickets available.
Medici TV
Thousands of classical music videos are available by subscription, as well as hundreds of events that are broadcast live for free each year, available for 90 days. Subscriptions cost $83.85 per year but single tickets are also available. www.medici.tv
Pictured: The late Beverly Sills in the Met Opera's Don Pasquale

WHO'S BLOGGING


RENT A PHOTO
Search Musical America's archive of photos from 1900-1992.