---
For a Change, Calixto Bieito Offers More Insight than Outrage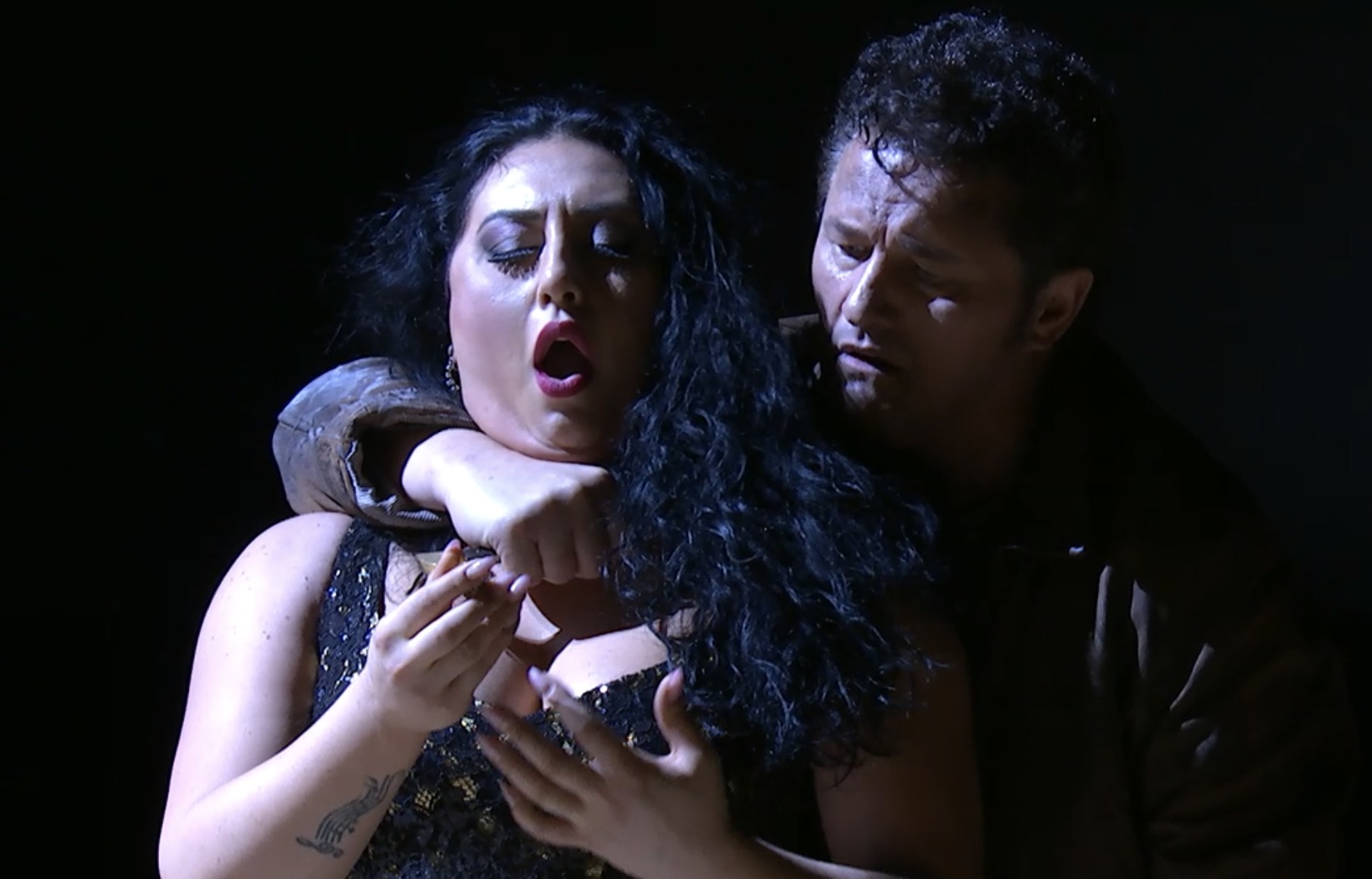 It's over 20 years since Calixto Bieito outraged the British tabloids with his staging of Verdi's Un Ballo in Maschera at English National Opera. Reports of 14 men sitting on the John in transparent cubicles had opera lovers choking on their cornflakes. Four years later, Berlin's Komische Oper lost sponsors over Bieito's representation of masturbation and golden showers in Mozart's Die Entführung aus dem Serail. It's surprising, therefore, that the Catalan director's latest reworking of his 1999 modern-dress Carmen—an opera with sex and violence at its core—comes across as a relatively polite, if often insightful affair. There are a few moments of simulated violence, some of them unconvincingly handled, and a dimly lit, beautifully choreographed nude dancer—blink and you'll miss him—but little to suggest that the production should carry any advisory.
The Vienna State Opera's first presentation of a Bieito production has drawn fewer headlines than the health of its cast. In January, a COVID cluster that some blamed on poor workplace precautions, struck down both leads, postponing the premiere by weeks until February 21. While Anita Rachvelishvili, the show's Carmen, recovered in time, its Don José, Charles Castronovo, wound up in hospital, his place taken at short notice by Polish tenor Piotr Beczala. More recently, Ukrainian soprano Olga Kulchynska was replaced as Micaëla by Vera-Lotte Boecker.
Bieito's Carmen replaces the company's venerable 1978 Zeffirelli production and the two couldn't be more different. Set in a spare, barren arena (design by Alfons Flores), and flooded with starkly atmospheric lighting (Alberto Rodriguez Vega), Bieito's vision is the antithesis of lavish.
The stage is dominated at first by a phallic flagpole, to which Carmen is momentarily strapped. Later, a titanic two-dimensional bull looms over the arena. Floodlights spill onto the stage from behind, intensifying the focus and the sense of ritual drama. In a world of alpha male post-Franco soldiery, Bieito's Carmen is an outsider who makes her own rules. Instead of responding to the testosterone-fueled captain of the local militia, she seeks out the uptight and dangerous Don José, the one man she will be least able to control. There's a powerful feeling that she is doomed from the start, and once she's worked this out for herself, she goes to the slaughter almost willingly. Her fate is juxtaposed with that of a young girl, first seen during the music one of Bizet's most innocent entr'actes playing with a traditional flamenco doll. Her reinvention, as later she is made over by Carmen's girlfriends as a sexually provocative teenager, is a disturbing reminder of how society imposes gender stereotypes while forcing children to grow up way too soon.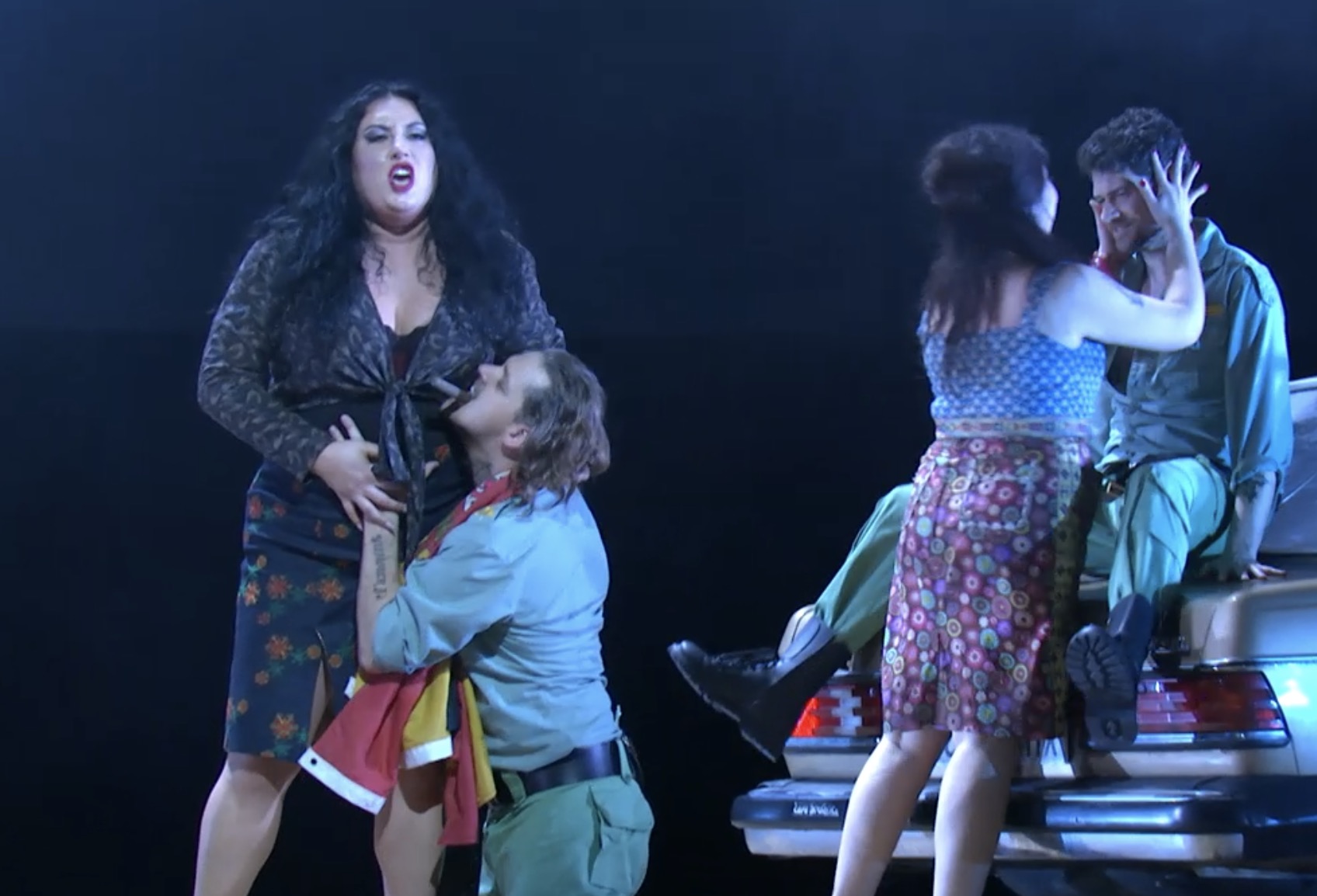 Vienna Staatsoper Carmen: Anita Rachvelishvili, Peter Kellner, Szilvia Vörös & Martin Häßler
While the precise period here is vague—the smugglers drip with contemporary bling but Micaëla carries a camera containing old-fashioned film—there's a timeless modernity to it all that outweighs any inconsistencies. The production contains plenty of the usual "updated opera" tropes—José and Micaëla take selfies to send to his mother; Carmen makes her entrance from a phone booth; factory girls flick through Hola! magazine—but Bieito is seldom gimmicky, relying on intensity of acting to make his points. Carmen and José's horrific final confrontation as he cuts her throat and drags her corpse through the dirt is riveting. Chorus work is effective too. Far from the usual excuse for stage pageantry, the arrival of the toreadors, conveyed through the simple exuberance of the front-facing crowd, courses with adrenalin. Another masterstroke is the cutting of all but a handful of the opera's awkward spoken dialogue. The drama flows like a dream and turns out to work perfectly well without it.
A "golden instrument"
Rachvelishvili is an outstanding Carmen, her dark, sultry mezzo plummeting into a thrusting bottom register that raises goosebumps. An occasional pitch issue notwithstanding, hers is a gold star instrument that blends perfectly with Beczala's suavely sung, ardent Don José. Her Habañera and Seguidilla are finely shaded, his Flower Song is textbook, smooth, lyrical, and impassioned. That said, there are moments when he, especially, might have stepped into this production from any traditional staging of Carmen. As a violent gang of men strings up a screaming girl at the end of Act One, Bieito seems to be insisting on a darker vision, one with a more visceral edge. Rachvelishvili is more consistently effective at embodying the work's sensuality, but if too many of their caresses feel conventional, both rise to the demands of the final scene, which crackles with the kind of flare lacking earlier on.
With his animal swagger, Erwin Schrott promises more than he delivers. The voice is in decent shape, but he's often just behind the beat and his French pronunciation doesn't always convince. His Escamillio seems off color somehow, his personality, like his face, overshadowed by a grey fedora. Boecker's animated Micaëla is well sung, her bright soprano matched by a lively stage presence. The smaller roles are all well taken, especially the rough and ready Frasquita and Mercédès of Slávka Zámecníková and Szilvia Vörös, and the leery Zuniga of Peter Kellner.
In the pit, Andrés Orozco-Estrada brings the blazing heat of the Mediterranean to his brisk, punchy reading. From the primary colors of the prelude to the work's dynamite final chords, he reminds us all over again why this overfamiliar score deserves its place at the top. Well-filmed and in excellent sound, this is definitely worth a look when the Staatsoper rescreens an encore performance next Friday (26) at 1 pm EST.
Top photo: Anita Rachvelishvili, Piotr Beczala as Carmen and Don José

WHO'S BLOGGING


RENT A PHOTO
Search Musical America's archive of photos from 1900-1992.