---
MA's Free Guide to (Mostly) Free Streams, Feb. 22-March 1
We will be updating this list weekly. Please note that all times are given in U.S. Eastern Time (ET). To calculate in other time zones or counties, British Summer Time (BST) is currently five hours ahead of ET and Central European Time (CET) is currently six hours ahead. U.S. Central Daylight Time (CDT) is one hour behind ET. Mountain Time (MT) is two hours behind ET, while Pacific Time (PT) is three hours behind. Contact editor@musicalamerica.com.
Classical music coverage on Musical America is supported in part by a grant from the Rubin Institute for Music Criticism, the San Francisco Conservatory of Music, and the Ann and Gordon Getty Foundation. Musical America makes all editorial decisions.
---
** Highly recommended
Monday, February 22
1 pm ET: Wiener Staatsoper presents Donizetti's L'Elisir d'Amore. Conductor: Marco Armiliato, director: Otto Schenk. With Valentina Nafornita, Stephen Costello, Marco Caria, and Erwin Schrott. Production from June 2016. Register for free and view here.
1 pm ET: Trinity Wall Street presents Comfort at One. Julian Wachner conducts The Choir of Trinity Wall Street and Trinity Baroque Orchestra with Avi Stein on continuo, concertmaster Robert Mealy, and vocal soloists Sherezade Panthaki, Jonathan Woody, Steven Caldicott Wilson, and Timothy Parsons in three Bach cantatas: Wer mich liebet, der wird mein Wort halten, BWV 59, O Ewigkeit, du Donnerwort, BWV 60, and Also hat Gott die Welt geliebt, BWV 68 (Performance from 2015). View here.
1 pm ET: Copland House presents Underscored: Musto's Cello Sonata. In his new Cello Sonata, John Musto brings together the erudition of a contrapuntal master, the groove of a jazz instrumentalist, and the rhythmic ebullience of a Brazilian dancer. Cellist Alexis Pia Gerlach and pianist Michael Boriskin—performing from the studio in Aaron Copland's National Historic Landmark home in Westchester County—give the virtual premiere with the composer introducing the piece and a live Q&A afterwards. Register and view here.
1:30 pm ET: Ensemble Modern presents Unsuk Chin: Gougalon. A composer portrait, streamed from the Deutsche Ensemble Modern Akademie in Frankfurt. The concert features a conversation with the composer alongside a performance of Gougalon (Scenes from a Street Theater), which Chin describes as "imaginary folk music" linked to her memories of street theater performances in Seoul. View here. LIVE
2 pm ET: Teatro alla Scala presents Vittorio Grigolo in Recital. Pianist Vincenzo Scalera accompanies the tenor in a program of arias by Donizetti, Verdi, Gounod, Massenet, Cilea, Bizet, and Puccini, as well as songs by Leoncavallo, De Curtis, Tosti, and D'Annibale. View here.
** 2:15 pm ET: Bayerische Staatsoper presents Starry Heavens. Baritone Edwin Crossley-Mercer interprets a selection of Beethoven's Scottish songs with a piano trio from the ranks of the Bayerische Staatsorchester. The Praetorius Quartet, a fusion of Bayerisches Staatsorchester members, plays selections from the String Quartet Op. 132. General Manager Nikolaus Bachler reads from the Heiligenstadt Testament, and soprano Lise Davidsen sings the Gellert songs with Sophie Raynaud on piano. Tickets Euro 4.90. View here. LIVE
2:30 pm ET: Wigmore Hall presents Doric String Quartet. The British quartet performs Mozart's String Quartet No. 23 in F K590, Prussian and Beethoven's Razumovsky Quartet, Op. 59 No. 1. Register, view here and on demand for 30 days. LIVE
7 pm ET: Kaufman Music Center presents Orli Shaham. The pianist explores the deep musical connections between her favorite Mozart piano sonatas and other works for the keyboard. In this program, she performs Schubert's Piano Sonata in A, D. 664 and Mozart's Piano Sonata No. 15 in F, K.533/494, demonstrating the later composer's response to Mozart's craft in two works written 30 years apart. Tickets $15. View here.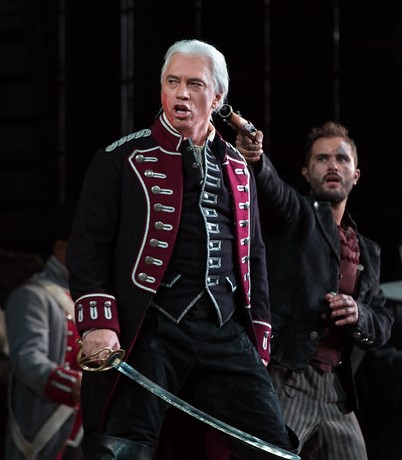 ** 7:30 pm ET: Met Opera Streams presents Verdi's Il Trovatore. Starring Sondra Radvanovsky, Dolora Zajick, Marcelo Álvarez, and Dmitri Hvorostovsky, conducted by Marco Armiliato. Production by Sir David McVicar. From April 30, 2011. View here and for 24 hours.
7:30 pm ET: Chamber Music Society of Lincoln Center presents Musical Heritage: Guarneri Quartet. The Calidore Quartet hosts an exploration of the Guarneri Quartet, whose sea-changing artistry spanned a 45-year career. The Calidore Quartet, once mentored by the Guarneri, is joined by special guests: the Guarneri's founding first violinist Arnold Steinhardt with Peter Wiley and John Dalley. View here and on demand for a week.
7:30 pm ET: Cecilia Chorus of New York presents Staycation: Mexico!, a Free Singposium. Music Director Mark Shapiro leads a viaje virtual to Mexico traversing three centuries (17th, 18th and 19th). Works by Juan de Lienas, Ignacio de Jerusalem, and Maria Grever—Mexico's first woman composer to achieve international renown—showcase the origins, influences and cultural richness of Mexican music. Shapiro will discuss de Lienas's Salve Regina, De Jerusalem's Que admirais, and Grever's Tipitipitin, and lead singalongs of all three works. Register and view here.
Tuesday, February 23
8 am ET: Wigmore Hall presents Sean Shibe. Recorded in February 2021, the guitarist performs Dowland's Preludium, Forlorn Hope Fancy, and Fantasia, Bach's Fugue, and Allegro in E flat for Lute BWV998, Adès's Habanera from The Exterminating Angel, Falla's Homenaje: pièce de guitare écrite pour Le Tombeau de Claude Debussy, Poulenc's Sarabande, and Britten's Nocturnal after John Dowland Op. 70. Register, view here and on demand for 30 days.
12 pm ET: Young Concert Artists presents Maxim Lando. From The Morgan Library & Museum's Gilder Lehrman Hall the pianist and January 2020 Musical America New Artist of the Month plays Sibelius's Piano Sonata in F, Op. 12, and Khachaturian's Piano Sonata in E-flat. View here. LIVE
1 pm ET: Wiener Staatsoper presents Janácek's Katya Kabanova. Conductor: Tomás Netopil, director André Engel. With Angela Denoke, Misha Didyk, Jane Henschel, and Dan Paul Dumitrscu. Production from April 2017. Register for free and view here.
1 pm ET: Trinity Wall Street presents Comfort at One. Tuesdays throughout Lent feature the Lamentatio series from 2014, with Director of Music Julian Wachner conducting the Choir of Trinity Wall Street, NOVUS NY, and guest artists in music by Glass, Shostakovich, Ginastera, Tallis, Dufay, Ockeghem, and Nathan Shields. This week: works by Ockeghem, Ginastera, di Lassus, and Krenek. View here.
** 1 pm ET: Berliner Philharmoniker Digital Concert Hall presents The Golden Twenties: A Night at the Moka Efti. In a celebration of a legendary Berlin coffee house, members of the Berliner Philharmoniker play dance music of the 1920s—foxtrots, shimmies, tangos, and blues ballads. Kurt Weill is represented with three works, among them the Kleine Dreigroschenmusik. Stefan Wolpe's Suite from the Twenties and Mátyás Seiber's Two Jazzolettes reflect the jazz craze of the time. Between the works, Dagmar Manzel reads texts by Trude Hesterberg, Lotte Lenya, and Josephine Baker. Tickets EUR 9.90. View here. LIVE
** 2:30 pm ET: Wigmore Hall presents Dunedin Consort. The Edinburgh-based early music consort performs Bach's Brandenburg Concertos No. 5 in D, BWV1050, No. 6 in B flat, BWV1051, and No. 4 in G, BWV1049. Register, view here and on demand for 30 days. LIVE
7 pm ET: Buffalo Philharmonic Orchestra presents JoAnn Falletta conducts Haydn. JoAnn Falletta conducts the BPO in Arensky's Variations on a Theme of Tchaikovsky, Shostakovich's Chamber Symphony for Strings in C minor, and Haydn's Symphony No. 44 in E minor, Trauer. Tickets $10. View here until March 25.
** 7:30 pm ET: Nightly Met Opera Streams presents Tchaikovsky's The Queen of Spades. Starring Galina Gorchakova, Elisabeth Söderström, Plácido Domingo, Dmitri Hvorostovsky, and Nikolai Putilin, conducted by Valery Gergiev. Production by Elijah Moshinsky. From April 15, 1999. View here and for 24 hours.
8 pm ET: New York City Ballet presents Inside NYCB. Hosted by Principal Dancer Russell Janzen, each week's presentation will feature onstage rehearsals and conversations with NYCB artists. This week: A look at The Siren, the leading female role in Prodigal Son, featuring a rehearsal and conversation with Principal Dancer Maria Kowroski, who has performed the role for many years, NYCB Repertory Director Lisa Jackson, and corps de ballet member Christina Clark, who will be learning the role. View here until March 4.
Wednesday, February 24
12 pm ET: Princeton Symphony Orchestra presents The Musical Offering Part 2. Musicians of the PSO perform Bach's Das Musikalische Opfer (The Musical Offering), BWV 1079 over four episodes, released weekly. PSO assistant conductor Nell Flanders curates the project, which is being individually recorded in musicians' homes then combined digitally. Each segment is hosted by Flanders who introduces the music in tandem with conversations centering on Bach and his work. View here.
** 1 pm ET: Wiener Staatsoper presents Janácek's The Makropulos Case. Conductor: Jakub Hrusa, director: Peter Stein. With Laura Aikin, Ludovit Ludha, Thomas Ebenstein, and Margarita Gritskova. Production from December 2015. Register for free and view here.
2:30 pm ET: Wigmore Hall presents Benjamin Baker & Daniel Lebhardt. The violinist and pianist perform Copland's Sonata for violin and piano, Janácek's Violin Sonata, and Brahms's Violin Sonata No. 3 in D minor, Op. 108. Register, view here and on demand for 30 days. LIVE
5 pm ET: American Composers Orchestra presents Composer to Composer. Conor Brown talks with Joan Tower about her work Sequoia, first performed on May 18, 1981 in Alice Tully Hall by ACO with ACO co-founder, conductor Dennis Russell Davies. Sequoia was Tower's first major orchestral composition and remains one of her most performed works. Attendees will gain insight into the work's genesis, sound, influence on the American orchestral canon, and will be invited to ask questions of the artists. Register and view here.
** 6:30 pm ET: MasterVoices presents Adam Guettel's Myths and Hymns. Inspired by Greek myths and a 19th-century Presbyterian hymnal, Guettel's 1998 cycle is a kaleidoscopic collection of musical genres exploring the nature of faith and longing in a secular world. In an online staging conceived by Ted Sperling, short musical films illustrate the protagonist's exploration of Flight, Work, Love, and Faith. The second chapter, Work, features the MasterVoices chorus, singers Shoshana Bean, Daniel Breaker, Anthony Roth Costanzo, Michael McElroy, Ailyn Pérez, and Nicholas Phan, and Actor John Lithgow. View here.
7 pm ET: Lawrence Brownlee presents The Sitdown with LB. The tenor's Facebook Live series returns with an unfiltered and honest look inside the opera industry. This week: Media & Critics, featuring Anthony Tommasini (The New York Times), F. Paul Driscoll (Opera News), and David Shengold. View here.
** 7:30 pm ET: Nightly Met Opera Streams presents Tchaikovsky's Eugene Onegin. Starring Renée Fleming, Ramón Vargas, and Dmitri Hvorostovsky, conducted by Valery Gergiev. Production by Robert Carsen. From February 24, 2007. View here and for 24 hours.
7:30 pm ET: Carnegie Hall presents Ensemble Connect. What Does it Mean to be Moved? explores music's power to physically and emotionally move listeners, featuring works by Boulanger, Boulogne, Paquito D'Rivera, Hindemith, Koechlin, Komitas, and Villa-Lobos. The performance features the nine Ensemble Connect fellows each performing remotely from their own spaces. While exploring how music inspires movement and how movement inspires music, the program also includes structured improvisation based on body movements in collaboration with contemporary dance artist Wendell Gray II. View here.
8 pm ET: Baltimore Symphony Orchestra presents BSO Sessions: Name That Tune. Guess the piece being performed by the BSO alongside BSO musicians sharing tales of composers who took a chance and created works outside of their norm. Tickets $10. View here and on demand.
Thursday, February 25
6:15 am ET: Royal Stockholm Philharmonic presents Beethoven's Fourth Piano Concerto. Chinese-American pianist Eric Lu makes his debut with the RSPO in Beethoven's Piano Concerto No. 4. Mirga Gražinyte-Tyla also leads the orchestra in English composer Dorothy Howell's symphonic poem Lamia and Weinberg's Sinfonietta No. 1. View here and on demand.
12 pm ET: Boston Symphony Orchestra presents BSO Online. Andris Nelsons leads the BSO in Beethoven's Symphony No. 5, Carlos Simon's Fate Now Conquers, and Beethoven's Symphony No. 7. A chamber music performance of Schoenberg's Phantasy for violin and piano, Op, 47 completes the program. Donate $100 for full access and view here for 30 days.
12 pm ET: Chicago Symphony Orchestra presents CSO Sessions Episode 14: Beethoven & Price. Florence Price, the first African American woman to be recognized as a symphonic composer, weaves familiar spiritual melodies into her technically challenging Five Folksongs in Counterpoint. Bookending this work are two chamber pieces by Beethoven: the humorous Duet with Two Obligato Eyeglasses and his dramatic sextet for strings and horns. Tickets $15. View here until March 25.
1 pm ET: Wiener Staatsoper presents Janácek's The Cunning Little Vixen. Conductor: Tomás Netopil, director: Otto Schenk. With Chen Reiss, Roman Trekel, Hyuna Ko, Joseph Dennis, Paolo Rumetz, and Marcus Pelz. Production from April 2016. Register for free and view here.
1 pm ET: IDAGIO presents Thursdays with Thomas. Join Thomas Hampson in conversation with colleagues, friends, and other major personalities of the classical music world. In this episode: violinist David Garrett. View here. LIVE
1 pm ET: Trinity Wall Street presents Comfort at One. Thursdays in Lent feature Julian Wachner performing a variety of improvisations, some drawn from the Lamentatio series and others from service preludes and postludes. View here.
1:30 pm ET: Musikkollegium Winterthur presents Mahler's Symphony No. 3. Pierre-Alain Monot conducts Mahler's Symphony No. 3 in D Minor in a 2019 arrangement for chamber orchestra by Klaus Simon. With mezzo-soprano Isabel Pfefferkorn. View here.
2 pm ET: London Symphony Orchestra presents Ginastera, Gerhard & Dvorák. Duncan Ward conducts the LSO with oboist Juliana Koch in Bacewicz's Music for Strings, Trumpet & Percussion, Strauss's Oboe Concerto, and Schreker's Chamber Symphony. View here.
** 2:30 pm ET: Wigmore Hall presents Fretwork. The viol consort performs music by Antony Holborne, Matthew Locke, John Jenkins, Orlando Gibbons, William Lawes, Henry Purcell, Robert White, and pianist-composer Shai Wosner. Register, view here and on demand for 30 days. LIVE
2:30 pm ET: Orchestra Svizzera Italiana presents Beethoven & Mozart. Charles Dutoit conducts the OSI in Cimarosa's Il Matrimonio Segreto Overture, Mozart's Violin Concerto No. 5, KV 219, and Stravinsky's Pulcinella. With Alena Baeva violin, Michela Antenucci soprano, David Ferri Dura tenor, and Enrico di Geronimo bass. View here.
5 pm ET: The Violin Channel presents Vanguard Concert: Charles Yang & Peter Dugan. The third of a 10-episode digital series of hour-long concerts, shot with seven cameras in 4K. Charles Yang, violin, and Peter Dugan, piano, perform House of the Rising Sun (Trad. arr. Yang/Dugan), Monti's Czardas, Ravel's Blues from Violin Sonata No. 2 in G, The Beatles's Blackbird (Arr. Yang & Dugann), Arlen's Somewhere Over the Rainbow), Yang and Dugan's Loopy, and Rachmaninov's Vocalise. View here.
6 pm ET: National Sawdust presents Galya Bisengalieva & Sana Serkebaeva. Bisengalieva presents the premiere performance of two tracks from her new album Aralkum. The work is an elegy for the former Aral Sea, now the Aralkum Desert, in Kazakhstan. Her tribute to the barren sea, desecrated by Soviet irrigation projects, is laid out in three parts: Pre Disaster, Calamity and Future. It is the future that Bisengalieva focuses on here, partnering with fellow Kazakh artist Sana Serkebaeva. The event will be followed by a conversation with the artist. View here. LIVE
7 pm ET: Kaufman Music Center presents Performance as Process with Conrad Tao. Kaufman Music Center Artist-in-Residence, pianist, and composer Conrad Tao invites audiences into his creative practice as he develops programming for his May 6 Ecstatic Music performance in Merkin Hall. Streamed from his home in Manhattan, this event will give the audience a deeper look into his work in piano, electronics, composition, and improvisation. View here.
7 pm ET: Philadelphia International Music Camp & Festival presents All Instruments Master Class. As part of a series featuring principal players of The Philadelphia Orchestra, Erina Yashima will present a live 60-minute master class followed by a 30-minute Q&A in which audience members can interact directly. Reserve tickets here.
7 pm ET: The Cleveland Orchestra presents In Focus: Alisa Weilerstein plays Bach. The cellist plays Bach's complete cycle of Solo Cellos Suites recorded live at Severance Hall in January 2021. In addition to the concert, In Focus includes behind-the-scenes interviews and features about the music and musicmaking. View here via TCO's streaming platform Adella.
7 pm ET: New England Conservatory presents Poulenc's La Voix Humaine. Based on the play by Jean Cocteau, La Voix Humaine is the story of a desperate woman on the phone with the man who has just abandoned her. The telephone becomes her last means of connection as she wavers between reverie and frenzy, rage and tenderness. Soprano Elaine Daiber performs the role, accompanied by pianist J.J. Penna. Joshua Major directs. View here.
7 pm ET: Yevgeny Kutik presents Finding Home. A five-episode docu-recital series based on Kutik's 2014 album Music from the Suitcase. Each 30-40-minute episode weaves personal storytelling about his family's emigration from the deteriorating Soviet Union to the U.S. with performances of music that filled their suitcases on the journey. In Episode 3, Begin Again, Kutik's family arrives in America to rebuild everything from nothing. Featuring Rubinstein's Romance, Achron's Hebrew Lullaby, Shostakovich's Romance from Ovod, Prokofiev's Waltz from Cinderella, and Sviridov's Children's Album. Register and view here until 12 pm ET on February 28.
** 7:30 pm ET: Nightly Met Opera Streams presents Verdi's Ernani. Starring Angela Meade, Marcello Giordani, Dmitri Hvorostovsky, and Ferruccio Furlanetto, conducted by Marco Armiliato. Production by Pier Luigi Samaritani. From February 25, 2012. View here and for 24 hours.
** 7:30 pm ET: Chamber Music Society of Lincoln Center presents Front Row Mainstage: Modern Voices. Archival recordings of selected Scriabin Preludes (arr. for Clarinet and Piano), Debussy's String Quartet in G minor, Op. 10, and Shostakovich's From Jewish Folk Poetry for Soprano, Alto, Tenor, and Piano, Op. 79. With Mané Galoyan soprano, Sara Couden alto, Miles Mykkanen tenor, Gloria Chien piano, Gilbert Kalish piano, Escher String Quartet, and Anthony McGill clarinet. Intermission features a Q&A with the artists. View here and on demand for one week.
7:30 pm ET: Detroit Symphony Orchestra presents Nothin' But The Blues Part I. The Blues is at the heart and soul of nearly every form of music in the past 100 years. Featuring the vocals of Shayna Steele, the DSO pays tribute to musical legends including Bessie Smith, Billie Holiday, Ma Rainey, Louis Armstrong, and more. Tickets $12. View here.
7:30 pm ET: BroadBand presents Karen Ouzounian: In Motion. Through the lens of family history and solo cello, Ouzounian explores the constant movement and evolution that comes with immigration. The event will be followed by a live Q&A. Tickets $15. View here.
7:30 pm ET: Celebrity Series of Boston presents Quartet Kalos. Maria Finkelmeier, marimba, Angela Shankar, clarinet, Francesca McNeeley, cello, and Mary Mackenzie, soprano perform Maria Finkelmeier's Solstice, Clone, and Not My Home, Beau Kenyon's I Will, Simple Gifts (arr. Quartet Kalos), and I'll Fly Away (arr. Angela Shankar). The streaming concert takes place from Futura Productions in Roslindale. View here.
8 pm ET: New York City Ballet presents Prodigal Son. The last of Balanchine's works for Ballets Russes premiered in 1929, opening what was to be the company's final Paris season. Diaghilev commissioned Prokofiev to write the score and Georges Rouault to design the Fauvist sets and costumes. The ballet's story comes from the biblical parable, but Boris Kochno added much dramatic material and, to emphasize the themes of sin and redemption, ended the story with the Prodigal's return home. Featuring Daniel Ulbricht and Teresa Reichlen. View here until March 4.
8:30 pm ET: Aspen Music Festival presents Jennifer Koh's Alone Together. In spring 2020, Jennifer Koh premiered new micro-works for solo violin by more than 40 composers, an artistic response to the pandemic and the financial hardship it has placed on many in the music community. The online commissioning project brought composers together in support of the many freelancers among them. Fourteen of these works are featured here and Koh performs Bach's Sonata No. 3 in C to close the program. View here and on demand.
9 pm ET: Grand Teton Music Festival presents GTMF On Location: Salt Lake City. From Salt Lake City, the latest in the festival's digital chamber music series featuring small ensembles, recorded and produced remotely in the home cities of Festival Orchestra musicians across the country. Madeline Adkins, violin, Whittney Thomas, viola, Matthew Johnson, cello, Corbin Johnston, bass, Keith Carrick, marimba, and Jason Hardink, piano perform Turina's Piano Trio, No. 2, Op. 76, Still's Summerland, Unsuk Chin's Piano Etude No. 4, Scalen, Golijov's Mariel, and Schubert's Piano Quintet in A Major, D. 667, Trout (Mvts 3, 4 & 5). View here.
10 pm ET: Cal Performances presents Takács Quartet. Takács Quartet performs Haydn's String Quartet in G, No. 1, Op. 77, Britten's String Quartet No. 3, and Brahms's String Quartet No. 3 in B-flat, Op. 67. Tickets $15. View here.
10:30 pm ET: Seattle Symphony presents Beethoven & Ravel. Jonathon Heyward conducts the Seattle Symphony with pianist Conrad Tao in Beethoven's Piano Concerto No. 4. Hannah Kendall's Kanashibari (U.S. Premiere) and Ravel's Mother Goose Suite complete the program. View here. LIVE
Friday, February 26
12 pm ET: Angel Blue presents Faithful Friday. The American soprano welcomes tenor Russell Thomas, newly named Artist in Residence at LA Opera, for the final episode in season two of her topical talk show broadcast live every Friday. The series aims to help people "keep the faith," believe in themselves, get motivated, and support each other during unsettling times. View here and on demand. LIVE
12 pm ET: Princeton Symphony Orchestra presents Buskaid: A Musical Miracle. Soloists from South Africa's Buskaid perform a range of works showcasing piano and violin with music from Mozart's Eine kleine Nachtmusik, Bloch's Nigun, Sarasate's Navarra, and Saint-Saëns's Wedding Cake Caprice (with pianist Melvyn Tan). Buskaid's vocalists also present popular and traditional songs. Tickets: $5. View here for three days.
** 1 pm ET: Wiener Staatsoper presents Bizet's Carmen. Conductor: Andrés Orozco-Estrada, director: Calixto Bieito. With Anita Rachvelishvili, Piotr Beczala, Erwin Schrott, and Vera-Lotte Boecker. Production from February 21, 2021. Register for free and view here.
1 pm ET: Krannert Center presents Reflection and Renewal: Jupiter Quartet. A series exploring diverse composers and themes with each concert moving from a quartet masterpiece in a minor key to a more hopeful, major-key contemporary work. This week: Mendelssohn's String Quartet No. 1 in E-flat, Op. 12, Walker's Lyric for Strings, and Bolcom's Incineratorag from Three Rags for String Quartet. View here.
1:30 pm Elbphilharmonie presents Ensemble Resonanz. The Hamburg ensemble celebrates Baroque music with six Concerti Grossi by Arcangelo Corelli. The solo part is played by Russian violinist Ilya Gringolts, who also plays virtuoso solo pieces by Locatelli, Tartini, Paganini, and Sciarrino. The concert is conducted by Baroque specialist Riccardo Minasi. View here.
2 pm ET: Frankfurt Radio Symphony Orchestra presents Teoton & Ocean. Dima Slobodeniouk conducts the FRSO with sheng virtuoso Wu Wei and organist Iveta Apkalna in Milica Djordjevic's Quicksilver, Jukka Tiensuu's Teoton (Concerto for Sheng and Orchestra), and Eriks Ešenvalds's Voice of the Ocean (Concerto for Organ and Strings). View here.
2 pm ET: Royal Opera House presents Tchaikovsky's The Sleeping Beauty. February 20 marks 75 years since the Royal Opera House opened after World War II with this classic ballet. This 2020 recording of the landmark production, restored to its original staging by Monica Mason and Christopher Newton in 2006, features choreography by Marius Petipa, and additional choreography by Frederick Ashton, Anthony Dowell and Christopher Wheeldon. Fumi Kaneko stars as Princess Aurora, with Federico Bonelli as Prince Florimund, Kristen McNally as Carabosse, and Gina Storm-Jensen as the Lilac Fairy. Simon Hewett conducts. Tickets £3. View here until March 27.
** 2 pm ET: DG Stage presents Gražinyte-Tyla conducts Weinberg & Shchedrin. Mirga Gražinyte-Tyla conducts a concert recorded at LSO St Luke's and broadcast on the 25th anniversary of the death of Mieczyslaw Weinberg. In Weinberg's Second Symphony, one of his earliest works, he contrasts dissonance and tension with more lyrical episodes. Shchedrin's 13-movement Carmen Suite is written for strings and percussion. Inspired by Bizet's opera, the suite was conceived for the Bolshoi Ballet. Tickets Euro 4.90. View here.
2 pm ET: Concertgebouworkest presents Mozart's Jupiter. The Concertgebouworkest performs two masterpieces by Mozart. Young violinist Sylvia Huang is the soloist in Mozart's Violin Concerto No. 4, while Andrew Manze conducts Mozart's Jupiter Symphony. View here.
2:30 pm ET: Wigmore Hall presents Tim Horton. The pianist performs Mozart's Fantasia in C minor K396, Chopin's Four Ballades, and two of Szymanowski's Masques Op. 34. Register, view here and on demand for 30 days. LIVE
2:30 pm ET: Philharmonie de Paris presents Ensemble Intercontemporain. Musicians from the world-renowned ensemble play Druckman's Valentine, Aperghis's Fidélité, Globokar's Corporel, Ligeti's Musica Ricercata, and Saariaho's Je sens un deuxième cœur. View here. LIVE
2:30 pm ET: English Symphony Orchestra presents Composer Portrait: Steven R. Gerber. A celebration of the music of the late American composer who passed away in 2015. The ESO give the first performances of his two Sinfoniettas for Orchestra, his two Sinfonias for String Orchestra, and his Two Lyric Pieces for Violin and Strings. The Sinfoniettas and Sinfonias are arrangements of Gerber's chamber music by composers Adrian Williams and Daron Hagen. Conducted by Kenneth Woods with violinist Emily Davis. View here.
3 pm ET: Virtual Circle presents Manchester Camerata. Conducted by Pekka Kuusisto, the concert—All Time Is Eternally Present—features saxophonist and BBC Radio 3 broadcaster, Jess Gillam performing Michael Nyman's Where the Bee Dances and a new piece from composer Daniel Kidane commissioned by Manchester Camerata: Be Still. Completing the program are Dobrinka Tabakova's Dawn and Copland's Appalachian Spring. The concert will be interspersed with interviews with both Gillam and Kuusisto. Tickets £10. View here.
3 pm ET: Dallas Symphony Orchestra presents Mozart & Strauss. Fabio Luisi conducts the DSO with Concertmaster Alexander Kerr the soloist in Mozart's G Major violin concerto. Inspired by the tongue-in-cheek theatrical writings of Molière, Strauss's comedic ballet suite entitled The Bourgeois Gentleman is also on the program. Tickets $10. View here until May 31.
7 pm ET: Mannes Sounds Festival presents A Musical Journey through American History Part I. A series of four concerts that represent a musical journey through American history. Part 1 features repertoire that reflects the emergence and development of American styles with works by Foster, Gottschalk, Burleigh, Joplin, Beach, Foote, MacDowell, Chadwick, Parker, Grant Still Jr., Price, Porter, Griffes, Copland, and Gershwin. View here.
** 7:30 pm ET: Nightly Met Opera Streams presents Verdi's La Traviata. Starring Natalie Dessay, Matthew Polenzani, and Dmitri Hvorostovsky, conducted by Fabio Luisi. Production by Willy Decker. From April 14, 2012. View here and for 24 hours.
** 7:30 pm ET: Celebrity Series of Boston presents Emerson Quartet. The Emerson String Quartet play George Walker's Lyric for Strings, Mozart's String Quartet in D, K.575, and Shostakovich's String Quartet No. 14. Pre-recorded at Drew University Concert Hall in Madison, NJ with a live artist Q&A immediately following the performance. Tickets $20. View here until March 5.
7:30 pm ET: Warren Miller Performing Arts Center presents Metamorphosis. Third Coast Percussion joins forces with the choreography of Movement Art Is (co-founded by Lil Buck and Jon Boogz) for an evening-length program that explores the duality of human nature. Two disparate styles of street dance blend with new music by Jlin and Tyondai Braxton, as well as Third Coast Percussion's arrangements of Philip Glass's Aguas da Amazonia. In this hybrid presentation, TCP perform the music live along with a filmed version of the choreography. Tickets $10. View here. LIVE
8 pm ET: Boston Early Music Festival presents Stile Antico: The Golden Renaissance, Josquin des Prez. The British ensemble celebrates the 500th anniversary of the death of Josquin with a program featuring his Missa Pange lingua and several of his best-loved motets and chansons. View here until March 12.
8 pm ET: Opera Philadelphia presents Courtney Bryan's Blessed. A multi-layered exploration of darkness and light, hope and love, weaving together musical recordings and film footage from New Orleans, New York, and Philadelphia. Created as a response to events of 2020—the uprising in response to police brutality against Black men and women and the November election—Blessed reflects on the Bible's avowal that the meek will "inherit the earth." The constraints of creating new opera during a pandemic resulted in a cross-country collaboration amongst Bryan (who also plays piano for the film), filmmaker Tiona Nekkia McClodden, soprano Janinah Burnett, vocalist Damian Norfleet, and sound designer Rob Kaplowitz. Tickets from $10. View here.
8 pm ET: Washington Performing Arts presents Ballet Folklórico de México de Amalia Hernández. The iconic company was founded in 1952 by its late, visionary namesake with a focus on championing the indigenous cultures of Mexico. Recorded in the company's home base of Mexico City, the stream presents never-before-aired performances from the company's 2017 centennial tribute to Hernández. Tickets $25. View here and on demand.
8 pm ET: UChicago presents Seth Parker Woods. The cellist reflects on the unabashed celebration of identities, acts of translation, the Great Migration, and the embodied Black and Brown experience in America. Program: Monty Adkins's Winter Tendrils, Nathalie Joachim's The Race: 1915, Alvin Singleton's Argoru II, and Fredrick Gifford's Difficult Grace. Tickets $15. View here until February 28. LIVE
8 pm ET: DACAMERA presents Weinberg's Piano Quintet. In commemoration of the 25th anniversary of the death of Polish-Russian composer Mieczyslaw Weinberg, pianist Sarah Rothenberg is joined by the Daedalus Quartet for a performance of his powerful 1944 Piano Quintet, a testament to the historical moment in which it was composed. Register and view here and for one week.
8 pm ET: Detroit Symphony Orchestra presents Nothin' But The Blues Part II. The Blues is at the heart and soul of nearly every form of music in the past 100 years. Featuring the vocals of Shayna Steele, the DSO pays tribute to musical legends including Bessie Smith, Billie Holiday, Ma Rainey, Louis Armstrong, and more. Tickets $12. View here. LIVE
Saturday, February 27
1 pm ET: The Metropolitan Opera presents Sonya Yoncheva. Soprano Sonya Yoncheva performs a live concert from the Schussenried Cloister in southwest Germany accompanied by Malcolm Martineau. The program features arias from Verdi's Aida and Il Trovatore, Puccini's Madama Butterfly, La Bohème, and the rarely performed Le Villi, Dvorák's Rusalka, Handel's Rinaldo, and the 15-minute mad scene from Bellini's Il Pirata. Shot with multiple cameras, the concert will be linked by satellite to New York City and hosted by soprano Christine Goerke. Tickets $20. View here for 12 days. LIVE
1 pm ET: Wiener Staatsoper presents Adam's Giselle. Conductor: Valery Ovsyanikov, choreography: Elena Tschernischova after Jean Coralli, Jules Perrot and Marius Petipa. With Nina Poláková, Masayu Kimoto, and Solists and Corps de ballet of the Wiener Staatsballetts. Production from September 2017. Register for free and view here.
1 pm ET: San Francisco Opera presents Verdi's Falstaff. Welsh bass-baritone Bryn Terfel sings the title role in a production from Lyric Opera of Chicago. Olivier Tambosi directs an international ensemble, including Spanish soprano Ainhoa Arteta as Alice, Italian baritone Fabio Capitanucci as her husband, Ford, and American soprano Heidi Stober as their daughter Nannetta. Nicola Luisotti leads the San Francisco Opera Orchestra. View here until midnight the following day.
** 1 pm ET: Berliner Philharmoniker Digital Concert Hall presents The Golden Twenties with Christian Thielemann. Three contrasting musical worlds: that of Paul Hindemith, who brilliantly combined his music with jazz elements in his parodistic opera Neues vom Tage (News of the Day), that of Ferruccio Busoni, the bridge builder between Romanticism and Modernism, and the musical world of Richard Strauss, who cultivated a late Romantic musical language in his orchestral songs and the cycle Die Tageszeiten (The Times of Day). Tickets EUR 9.90. View here. LIVE
1 pm ET: OperaVision presents Love & Politics. Recorded in October 2020. Dan Turdén embarks as artistic director of Norrlandsoperan with a performance combining four Verdi operas based on Friedrich Schiller's plays—Don Carlo, I Masnadieri, Luisa Miller, and Giovanna d'Arco—in a reflection on the many faces of love caught up in political power games. Ville Matvejeff conducts. View here for six months.
1:45 pm ET: Budapest Festival Orchestra presents Fauré, Saint-Saëns & Schumann. Gergely Madaras conducts the BFO with cellist Perényi Miklós in Fauré's Pelléas and Mélisande Suite, Op. 80, Saint-Saëns's Cello Concerto No. 1 in A minor, Op. 33, and Schumann's Symphony No. 3 in E-flat, Rhenish, Op. 97. Tickets Euro 10. View here.
2:15 pm ET: Rotterdam Philharmonic Orchestra presents Matthias Goerne: Im Grossen Schweigen. Conductor Lahav Shani and baritone Matthias Goerne perform Wagner's Siegfried Idyll, Diepenbrock's Im grossen Schweigen, and Wagner's Tannhäuser Overture. Tickets Euro 5. View here until June 1.
5 pm ET: Paracademia presents The Atterbury House Sessions: Ulysses Quartet. Violinist Lara St. John curates a series of chamber music concerts celebrating the 150th anniversary of New York's iconic Atterbury House. This week, Xavier Foley (bassist and Sphinx competition winner) plays Bach's Cello Suite No. 1, a series of his own double bass solos, and The Spirit of the Ice Bear for violin and double bass. View here.
7 pm ET: Princeton Symphony Orchestra presents Hot Music for a Cold Night. A virtual Gala hosted by Rossen Milanov with a line-up of popular PSO guest artists: cellist Pablo Ferrández, piano duo Christina and Michelle Naughton, violin and cello duo Daniel Rowland and Maja Bogdanovic, hip-hop percussionist Christylez Bacon, cello and piano duo Zuill Bailey and Natasha Paremski, composer and clarinetist Derek Bermel, and the Signum Quartet. Attendees can interact in real time through a live-chat feature. All proceeds benefit the orchestra and its PSO BRAVO! education programs. Donations from $125 required for access. View here.
** 7:30 pm ET: Nightly Met Opera Streams presents Verdi's Un Ballo in Maschera. Starring Sondra Radvanovsky, Kathleen Kim, Stephanie Blythe, Marcelo Álvarez, and Dmitri Hvorostovsky, conducted by Fabio Luisi. Production by David Alden. From December 8, 2012. View here and for 24 hours.
7:30 pm ET: Société de Musique Contemporaine du Québec presents Ana Sokolovic: Jeu des Portraits. Jean-Michaël Lavoie conducts Jeu des Portraits as part of its Montreal / New Musics Festival. The work's four movements each pay tribute to different influential Quebecois composers: Rodolphe Mathieu, Jean Papineau-Couture, Serge Garant, and Claude Vivier. View here.
7:30 pm ET: Pittsburgh Symphony Orchestra presents 125th Anniversary Celebration. On the night of the actual 125th anniversary of Pittsburgh Symphony's first concert, the celebration will showcase the 125-year history of the PSO, chamber music performances with PSO musicians, and more. View here and for six months.
7:30 pm ET: Peoples' Symphony Concerts presents McGill & Polonsky. Anthony McGill and Anna Polonsky perform Bernstein's Sonata for clarinet and piano, James Lee III's Ad Anah?, Telemann's Fantasies Nos. 1, 2 and 6, Jessie Montgomery's Peace, and Brahms's Clarinet Sonata No. 2 in E-flat. Tickets $50 for five concerts. View here.
** 8:30 pm ET: Chicago Opera Theater presents Taking Up Serpents. Kamala Sarankam and Jerre Dye's opera is a story of power, purpose, and salvation in the American South. Written for chamber orchestra, Serpents incorporates unusual orchestration—electric guitar, whirly tubes, waterphone—and elements of honky-tonk, bluegrass, and Appalachian shape-note singing into a classical idiom. Michael Mayes is a Pentecostal snake handler and Alexandra Loutsion is his daughter Kayla, who returns home to rural Alabama when he is bitten by a venomous snake. Lidiya Yankovskaya, who led the work's world premiere at Washington National Opera in 2019, conducts a newly expanded version. Strict COVID protocols and a "bubble" for the principals has allowed COT to offer a staged production by Jerre Dye. Tickets $20. View here.
10 pm ET: Chamber Music Northwest presents Wintereisse. Mezzo-soprano Fleur Barron, the winner of Tanglewood Festival's 2016 Jackson Prize, joins pianist Julius Drake for a performance of Schubert's song cycle Winterreise. Tickets $20. View here.
Sunday, February 28
9:30 am ET: Opera Streaming presents Monteverdi's Orfeo. Live from the Teatro Alighieri di Ravenna. Conductor: Ottavio Dantone, director Pier Luigi Pizzi. With Accademia Bizantina and Coro Costanzo Porta. View here. LIVE
1 pm ET: Wiener Staatsoper presents Mozart's Le Nozze di Figaro. Conductor: Philippe Jordan, director: Jean-Pierre Ponnelle. With Andrè Schuen, Federica Lombardi, Philippe Sly, Louise Alder, and Virginie Verrez. Production from February 2021. Register for free and view here.
** 1 pm ET: OperaVision presents Korngold's Die Tote Stadt. Recorded in September 2018. Working with General Music Director Ainars Rubikis, Canadian director Robert Carsen stages his production at the Komische Oper Berlin. Korngold's musical psycho-thriller was one of the greatest hits of the 1920s. View here for one month.
2 pm ET: VOCES8 Live from London, Spring presents Carducci Quartet. The award-winning quartet's program combines Philip Glass's meditative Third Quartet, Mishima with Dvorák's String Quartet No. 12, American and Samuel Barber's 'Dover Beach performed by bass-baritone Frederick Long. VOCES8 performing Sacred Heart by Ola Gjeilo completes the program. Tickets $15 and view here.
2 pm ET: National Philharmonic presents Music That Inspires. A concert that speaks to the interconnectedness of visual and aural art. Composer Barbara York finds inspiration from the paintings of Grant Wood. Saint-Saëns's Danse Macabre takes its origin from illustrated sermon texts. With Laura Colgate, violin, Elizabeth Hill, piano, Willie Clark, tuba, and Cheryl Hill, clarinet. Music by Bach, Schumann, and Florence Price completes the program. View here.
2:30 pm ET: Philharmonie de Paris presents Levinas's Passion selon Marc. Chamber Orchestra of Paris and Ensemble Le Balcon perform The Passion According to Mark (A Passion after Auschwitz), which premiered in April 2017. The project was commissioned from French composer Michaël Levinas as part of events commemorating the 500th anniversary of Luther's reform. This oratorio references Bach's Passions in order to face the irreconcilable nature of the Passion and the Holocaust. View here. LIVE
3 pm ET: Spivey Hall presents Jerusalem Quartet. The Jerusalem Quartet play Mozart's String Quartet in D, K. 575 and Schubert's String Quartet in D minor, D. 810, Death and the Maiden. Tickets $15. View here.
4 pm ET: Our Concerts Live presents Concertos from the Inside: Week 8: Saint-Georges in A Major. In a 24-part series, Rachel Barton Pine performs the entire solo violin part of the greatest violin concertos unaccompanied and shares her perspective on each, explaining how she prepares and how her performance connects to the work's historical and musical context. The series is geared towards career violinists, advanced students, violin teachers, and violin aficionados. Tickets $20. Register and view here.
4 pm ET: Washington National Cathedral presents King's Singers New Music Prize Online Concert. Using one of five texts chosen by The King's Singers and historian, poet and lyricist Charles Anthony Silvestri, composers submitted an original choral piece. The King's Singers (from the UK) and members of the Cathedral's choirs conducted by Director of Music at Washington National Cathedral, Michael McCarthy give premiere performances of each of the winning works woven within a wider program of choral music. Tickets $10. Register and view here.
6 pm ET: Santa Rosa Symphony presets SRS@Home. Recorded on February 13, 2021 at Weill Hall at the Green Music Center, Francesco Lecce-Chong conducts the SFS in William Grant Still's Serenade, Wagner's Siegfried Idyll, Ellen Taaffe Zwilich's Prologue and Variations for String Orchestra, and Dvorák's Czech Suite. View here.
7 pm ET: New England Conservatory presents Sphinx + NEC: A Celebration. The Sphinx Organization is a social justice organization dedicated to transforming lives through the power of diversity in the arts. In celebration of the organization and its mission, this cello quartet concert features former and current NEC students who were each also first-prize winners in past years of the annual Sphinx Competition. They came together virtually from New York, Berlin, Chicago, and Boston to perform and create this concert. Program: Stravinsky, transcribed by Piatogorsky's Suite italienne and George Walker, arr. Eunghee Cho's Molto adagio from String Quartet No. 1. View here.
7:30 pm ET: Met Opera Streams presents Verdi's Il Trovatore. Starring Anna Netrebko, Dolora Zajick, Yonghoon Lee, and Dmitri Hvorostovsky, conducted by Marco Armiliato. Production by Sir David McVicar. From October 3, 2015. View here and for 24 hours.
7:30 pm ET: Close Encounters With Music presents Bach's Cello Suites. Cellist Yehuda Hanani performs all six of Bach's Cello Suites, construction of temples of sound in time and works that are blueprints for cellists of all generations. View here.
10 pm ET: Noe Music presents Telegraph Quartet. Filmed at the Noe Valley Ministry home, the quartet's program includes Korngold's String Quartet No. 3 and Brahms's String Quartet in A minor, Op. 51 No. 2, to be followed by a live Q&A. Tickets $20. View here until March 7
10 pm ET: New West Symphony presents A Tour of China. Michael Christie leads the orchestra in a concert with pipa virtuoso Wu Man, mezzo-soprano Sasha Cooke, and Hong Wang playing erhu and Chinese wind instruments. The program includes Hua Yanjun's Ah Bing, Wu Ziqiang's Moon Reflecting in the Second Spring, Wu Man's Two Chinese Paintings, Tan Dun's Concerto for Pipa and Strings, Beethoven's String Quartet No. 10 in E-flat Major. Op. 74, Harp Quartet, and Mahler's Das Lied von der Erde (arr. A. Schoenberg). Festival passes $25. View here.
Monday, March 1
8 am ET: Wigmore Hall presents Gould Piano Trio. The piano trio performs Amy Beach's Piano Trio Op. 150 and Schubert's Piano Trio No. 1 in B flat D898. Register, view here and on demand for 30 days. LIVE
12 pm ET: Apollo's Fire presents Elegance: The Harper's Voice. Virtuoso Harpists of the British Isles are led by Parker Ramsay with soprano Amanda Powell. The harp was the voice of the marginalized peoples of the British Isles—Irish, Welsh, and Scots. Ramsay weaves their stories and music into an evening's event. Six Apollo's Fire musicians on violins, flute, cello, hammered dulcimer, and plucked instruments join in the music of O'Carolan, Purcell, William Lawes, and Handel. Tickets $20. View here and for 30 days.
2:30 pm ET: Wigmore Hall presents Septura. The brass septet performs arrangements of Ravel's Ma mère l'Oye, Debussy's Préludes Book I (La fille aux cheveux de lin and Minstrels) and Book II (Bruyères), and Gershwin's Three Preludes and An American in Paris. Register, view here and on demand for 30 days. LIVE
7 pm ET: Lawrence Brownlee presents The Sitdown with LB. The tenor's Facebook Live series returns with an unfiltered and honest look inside the opera industry. This week: Management, featuring Matthew Horner (IMG Artists) and Alex Fletcher (Fletcher Artist Management). View here. LIVE
** 7:30 pm ET: Met Opera Streams presents Donizetti's Don Pasquale. Starring Beverly Sills, Alfredo Kraus, Håkan Hagegård, and Gabriel Bacquier, conducted by Nicola Rescigno. Production by John Dexter. From January 11, 1979. View here and for 24 hours.
7:30 pm ET: SalonEra presents Jewish Diaspora. Recorder virtuoso Daphna Mor explores Sephardic song and Jewish liturgical poetry while viola da gamba player Elizabeth Weinfield highlights the contributions of 17th-century converso composer Leonora Duarte. Additional guests to be announced. View here.
7:30 pm ET: Chamber Music Society of Lincoln Center presents The Art of Interpretation: Mozart Divertimento. Violinist James Thompson, who was recently selected for CMS's Bowers Program for emerging artists, joins violist Paul Neubauer and cellist Paul Watkins to discuss and perform Mozart's Divertimento in E-flat, a six-movement string trio considered the finest work of its genre. View here and on demand for a week.
7:30 pm ET: New England Conservatory presents March (not April) in Paris. This episode of First Mondays at Jordan Hall features Laurence Lesser, artistic director, Kim Kashkashian, viola, Robert Levin, piano, Angela Bae, violin, Justin DeFilippis, violin, Benjamin Zannoni, viola, and Russell Houston, cello playing Ravel's Cinq mélodies populaires grecques, Deux mélodies Hébraïques, and Tripatos, and Debussy's String Quartet in G Minor, op. 10. View here.
7:30 pm ET: Lansing Symphony Orchestra presents Vivaldi, Harlin & Villa-Lobos. Timothy Muffit conducts a string octet performance of Vivaldi's Autumn from The Four Seasons and a new work, The Art of Flight, written by LSO Composer-in-Residence Patrick Harlin. The final piece on the program is a work for 12 cellos by Heitor Villa Lobos: Bachianas Brasileiras No. 1. View here.
Artists and Organizations Offering Free Content
The following are all accessible during the coronavirus pandemic:
Academy of Ancient Music
The most listened-to period instrument ensemble, directed by Richard Egarr, has made a number of streams available on its website. Guest artists include Louise Alder, soprano, Nicola Benedetti, violin, Mary Bevan, soprano, David Blackadder, trumpet, Iestyn Davies, countertenor, Tim Mead, countertenor, Christopher Purvis, bass, and Tenebrae, directed by Nigel Short. Explore here.
Alternative Classical
Humans of Classical Music is a video series in which musicians, actors, comedians, and podcasters from around the world recommend their favorite piece of classical music in one minute. A new video will go live every Thursday during 2021, starting on February 4, accompanied with a link on Spotify. Each video is free of musical jargon and is suitable for anyone interested in exploring the world of classical music. The list includes countertenor Anthony Roth Costanzo, three-time Edinburgh Comedy Award nominee Kieran Hodgson, Principal Conductor of Glyndebourne on Tour Ben Glassberg-Frost, Chief Executive of Manchester Collective Adam Szabo, and composers Anna Clyne, Gabriel Prokofiev, and Missy Mazzoli. Explore here.
NEW: American Lyric Theater: Opera Writers Symposium
ALT is recruiting musicians and for a series of workshops and mini-seminars taking place February 27 – April 24. ALT seeks to introduce musicians and writers from diverse racial and artistic backgrounds to opera and explore how they might use the tools of the art form to tell their stories. ALT also hopes to encourage applications to the Composer Librettist Development Program (CLDP), the country's only full-time paid mentorship for emerging opera composers, librettists and dramaturgs. No previous experience in writing opera is necessary. Classes will address timely topics like Dramatizing History and Opera as Activism led by composer Anthony Davis and dramaturg Cori Ellison; Opera, Technology and Innovation with composers Kamala Sankaram and Jorge Sosa; From Erased to Self-Empowered: Celebrating BIPOC Opera Composers and Librettists led by ALT's Associate Artistic Director Kelly Kuo; The Architecture of Opera led by composer/librettist Mark Adamo. Guest speakers include composers Missy Mazzoli, Daniel Bernard Roumain, Huang Ruo and Errollyn Wallen; and librettists Mark Campbell, Thulani Davis (also a poet and playwright), David Henry Hwang, and Andrea Davis Pinkney.
American Opera Project
First Glimpse is a video album of 20 songs created during the first year of AOP's 2019-21 fellowship program, Composers & the Voice. Originally intended as a live concert, the videos will be released every Friday beginning October 23 and for the following six weeks. The composers are Alaina Ferris, Matt Frey, Michael Lanci, Mary Prescott, Jessica Rudman and Tony Solitro, with librettists Amanda Hollander and Jonathan Douglass Turner. Videos will be free for one week following their release, after which they will be available to rent or purchase, individually or as a full set through AOP's Website. Explore here.
American Symphony Orchestra
American Symphony Orchestra releases weekly recordings from its archives with content alternating between live video recordings of SummerScape operas and audio recordings from previous ASO concerts. Ethel Smyth's The Wreckers, Richard Strauss's Die Liebe aus Danae, and Korngold's Das Wunder der Heliane, all conducted by Leon Botstein, are all highly recommended and available now.
Apollo's Fire: Music for the Soul
The Cleveland-based baroque orchestra founded by Artistic Director Jeannette Sorrell is offering a series of video streams entitled "Music for the Soul." New episodes are posted here.
Atlanta Opera
The Atlanta Opera has released the first four episodes of Orfano Mondo, a world premiere film series by bass-baritone Ryan McKinny and filmmaker Felipe Barral. Taking its title from the prologue to Leoncavallo's Pagliacci, Orfano Mondo ("orphan world") addresses the fears surrounding live performance during the pandemic though exclusive behind-the-scenes footage, material filmed expressly for the series, and scenes from Atlanta's live fall productions of Pagliacci and of Viktor Ullmann and Peter Kien's The Kaiser of Atlantis. Performed in Italian and German with English subtitles available, each Orfano Mondo episode is 10-15 minutes long, and four more episodes are scheduled for release over the next two months. Explore here through April.
Baltimore Symphony Orchestra
BSO Sessions continues to bring the stories of BSO musicians, conductors, and collaborators to life through a documentary-style narrative. Real stories are paired with powerful music, including the elevation of unheard voices in classical music. Episodes premiere weekly on Wednesdays at 8 pm ET and are available through June 2021. Explore here.
Bard SummerScape & Fisher Center
Archival works highlight Bard's wealth and breadth of programming, including performances from its SummerScape Opera and BMF archives. Recent include Bard SummerScape's 2011 production of Strauss's rarely performed Die Liebe der Danae and last year's Daniel Fish directed staging of Michael Gordon's Acquanetta. More details here.
Bergen Philharmonic
Bergen's outstanding orchestra enjoys national status in Norway with a history dating back to 1765. Its free streaming service was established as part of 250-year anniversary in 2015 and offers a fine selection of works from its concert series in Grieghallen, Bergen. Conductors include Edward Gardner, James Gaffigan, Thierry Fischer, David Zinman, Neeme Järvi, Jukka Pekka Saraste, Nathalie Stutzmann, and Christian Zacharias with soloists including Leif Ove Andsnes, Lise Davidsen, Truls Mørk, Mari Eriksmoen, and Freddy Kempf. Well worth exploring here.
Carnegie Hall
More than 200 teen musicians hailing from 41 states across the US came together in July 2020 as an online virtual community to form three musical ensembles: the National Youth Orchestra of the United States of America (NYO-USA), NYO2, and NYO Jazz. All three ensembles recorded exuberant virtual performance videos during the residency, directed by Emmy Award-winner Habib Azar. The first four videos—Valerie Coleman's Umoja by the musicians of NYO-USA; a unique adaptation of Grieg's Morning Mood by NYO2; and Thad Jones's Cherry Juice and Wycliffe Gordon's We're Still Here by NYO Jazz—are now available for viewing. Explore here.
Chatham Baroque
Chatham Baroque is releasing high-quality monthly videos featuring leading baroque performers including gambist Jaap ter Linden, lutenists Nigel North and Stephen Stubbs, and countertenor Reginald Mobley. Once posted, videos are available on demand through June 30, 2021. Each program includes artist interviews and are available for as little as $18 per program. Explore here.
The Cleveland Orchestra
Concert videos filmed at restaurants, shops, Cleveland Clinic, and iconic locations throughout Greater Cleveland will be released weekly on social media starting November 23. Cleveland Orchestra assistant concertmaster Jessica Lee and her colleagues created these videos to share the power of music with healthcare workers, patients, and the community affected by the COVID-19 pandemic. This series of 7-10 videos will be released weekly as part of the Music Medicine Initiative: The Power of Music for Health and Well-Being, a community collaboration between The Cleveland Orchestra and Cleveland Clinic's Art + Design Institute. Explore here.
Cliburn Kids
Cliburn Kids is a growing collection of entertaining 7- to 10-minute videos designed to introduce children to the fun of classical music. How does music paint pictures, tell stories, express feelings? Host Buddy Bray and guest artists use individual pieces to explore topics that delve into the way music is organized and structured, counting and rhythm, expressive elements, and sometimes just lighthearted enjoyment. Programs are geared towards elementary-aged children, and activities are provided for each episode that are perfect for in-classroom or at-home studies. New episodes and lesson plans are released every Tuesday. Explore here.
Daniel Hope: Europe@Home
Streaming live each Friday, Saturday and Sunday in February and March, this newest incarnation of the violinist's show celebrates Europe and its rich musical and cultural diversity. With each episode devoted to a different one of the European Union's 27 member states, Hope invites young musicians into his Berlin home to collaborate on music by composers from their respective countries. Conceived as "DIY TV" for socially distanced times, the Hope@Home series combine high-quality audio with the intimacy and immediacy of live, world-class home music-making. Together with its sequels, Hope@Home on Tour! and Hope@Home Next Generation, the original show ran to almost 120 episodes, was streamed more than ten million times, and raised tens of thousands of Euros for artists in need. View here with episodes archived here.
Days & Nights Festival
The annual multidisciplinary Days and Nights Festival—which since 2011 has taken place in and around Big Sur, California and has brought together luminaries and pioneers in fields including music, dance, theater, literature, film and the sciences—launches its premiere streaming portal featuring exclusive films of a selection of its landmark performances and events. Films slated for release, from February to May 2021, includes contributions by such wide-ranging figures as JoAnne Akalaitis, Tibetan artist Tenzin Choegyal, Danny Elfman, Molissa Fenley, María Irene Fornés, Allen Ginsberg, Dev Hynes (Blood Orange), Jerry Quickley, and Glass himself. Featured performers and ensembles include Dennis Russell Davies, Ira Glass, Matt Haimovitz, Tara Hugo, Lavinia Meijer, Maki Namekawa, Gregory Purnhagen, Third Coast Percussion, Opera Parallèle, and Glass and his Philip Glass Ensemble. Explore here.
Detroit Symphony Orchestra
The Detroit Symphony Orchestra has made its webcast archive available for free. The collection features 200+ works going back three years, and highlights include Leonard Slatkin conducting John Luther Adams's climate change-inspired Become Ocean from 2019, several world premieres, and a host of bite-sized encores. Explore here.
Deutsche Grammophon Yellow Lounge
The German classical music giant is streaming Yellow Lounge broadcasts from its archives. Recent additions include clarinetist Andreas Ottensamer, pianists Alice Sara Ott and Chihiro Yamanaka, and cellist Mischa Maisky. Performances are broadcast in rotation, one video at a time, adding a new performance every few days. DG communicates the start of each new performance by newsletter at the start of each week. To keep updated sign up here.
English Symphony Orchestra
The English Symphony Orchestra's ESO Digital is an expanding digital archive of music, performed by English Symphony Orchestra and its partners, that you are unlikely to hear anywhere else. Access is free with a monthly donation; however Musical America readers can get a free trial of one week when setting up a new donation by using the coupon code MusicalAmerica2021. Register here.
Finnish National Opera
Finnish National Opera presents Stage24, a series of streamed archived performances on its website, which are then available for the next six months. Recent content includes a staged version of Sibelius's Kullervo, Stravinsky's The Rake's Progress, Caspar Holten's staging of Wagner's Der Fliegende Holländer with Camilla Nylund, and Christoff Loy's Tosca. An excellent company and some interesting and original work worth investigating. Explore here.
Handel and Haydn Society
Boston's Handel and Haydn Society has created the H+H Listening Room where you can hear and watch H+H performances including Mozart's Requiem, Handel's Messiah, and Purcell's Dido and Aeneas filmed at New York's Met Museum. There are also more than a dozen videos of musicians performing from their homes, a special video of principal flutist Emi Ferguson teaching people how to make their own baroque flute, and a new podcast called "Tuning In". In the first episode Principal Cellist Guy Fishman interviews Artistic Director Harry Christophers about Bach's St. Matthew Passion. Explore here.
Kennedy Center: Arts Across America: Winter Traditions
As millions across the United States will be altering traditions to keep friends, loved ones, and neighbors safe, the Kennedy Center will be sharing performances from across the country and numerous communities and cultures to celebrate traditions held dear. Highlights include performances from Renée Fleming, Amythyst Kiah, Broadway's Austin Colby, Caroline Bowman, and Nicholas Ward, Los Texmaniacs celebrating their own Texas miracle following a battle with COVID-19, and D.C. favorites DuPont Brass, Aaron Myers, and Chuck Redd. Explore Winer Traditions here and other Kennedy Center regular online releases via their digital stage here.
La Scala/RAI
Italy's RAI presents five productions from La Scala Milan including the world premiere of Kurtág's Fin de Partie, Daniel Barenboim conducting Götterdämmerung, Lisette Oropesa in Verdi's I Masnadieri, Montedervi's Orfeo conducted by Rinaldo Alessandrini, and Les Vêpres Siciliennes conducted by Daniele Gatti. A wide range of concerts are also available. Explore and register here.
Les Arts Florissants
Les Arts Florissants's annual Festival in Thiré, France included a series of 10- to 15-minute "Meditation" concerts recorded earlier this summer. Now available to enjoy online, the Meditations include performances by students of Juilliard's Historical Performance program in the spirit of their annual participation in the Festival. View here.
Lincoln Center Lincoln Center Passport to the Arts
A variety of virtual classes, performances, and bonus content designed for children, teens and adults with disabilities and their families. Offerings include programs with Chamber Music Society of Lincoln Center, Jazz at Lincoln Center, the Metropolitan Opera Guild, New York City Ballet, the New York Philharmonic, and The New York Public Library for the Performing Arts. Families can attend dance, music or drama classes, watch exclusive performances, check out behind-the-scenes content, and even meet performers—all from their homes. Families will receive pre-visit materials, including social narratives, photos, and links before each program. All programs take place via Zoom. Register here.
Los Angeles Chamber Orchestra
LACO AT HOME offers streaming and on demand performances, including a full showing of the orchestra's critically acclaimed West Coast premiere of Dark with Excessive Bright for double bass and strings by LACO Artist-in-Residence Missy Mazzoli. View streaming here and on demand here.
Los Angeles Master Chorale
Videos recorded as part of the "Offstage with the Los Angeles Master Chorale" series from April 24 to June 19 included interviews conducted by Artistic Director Grant Gershon and Associate Conductor Jenny Wong with notable performers—including special guests Reena Esmail, Morten Lauridsen, Anna Schubert, Peter Sellars, Derrick Spiva—as well as Master Chorale singers. Available on demand here.
Mark Morris Dance Group 40th Anniversary Digital Season
MMDG continues to celebrate its 40th Anniversary with a new archival collection featuring three excerpts from Mark Morris dances?I Don't Want to Love, Rhymes With Silver, and V?and one full-length work, Rock of Ages, selected by veteran MMDG company members Joe Bowie and Lauren Grant. Viewers are also able to watch the full performances of the excerpted works on demand. Each work is preceded by video introductions by Joe Bowie and Lauren Grant. Explore here.
Metropolitan Opera Live In Schools
The Metropolitan Opera's HD Live in Schools program has launched a new series for the 2020–21 school year, creating cross-disciplinary educational opportunities across the country. For the 2020–21 school year, students and teachers will receive free subscriptions to the Met Opera on Demand service, with a catalogue of more than 700 Live in HD presentations, classic telecasts, and radio broadcasts. Ten operas have been selected for the HD Live in Schools program, and will be presented in five educational units, with two thematically paired operas per unit. The series opens with Beethoven's Fidelio and Donizetti's La Fille du Régiment (September 28–October 16), both of which explore the intersection of music and politics. The Met will continue to offer teachers HD Live in Schools Educator Guides and access to Google Classroom materials that can be adapted for virtual learning lesson plans. In addition, the Met's National Educators Conference will be hosted on a virtual platform this year and take place on five Saturdays throughout the 2020–21 school year. Two conferences, scheduled for October 10, 2020, and October 17, 2020, will also feature live conversations with Met artists. More information here.
Minnesota Orchestra
Minnesota Orchestra at Home shares video, audio, and educational materials through the categories of Watch, Listen and Learn, including videos from the orchestra's archives and newly created "mini-concerts" directly from the homes of Orchestra musicians. Explore and view here.
National Sawdust Digital Discovery Festival, Volume One
With more than 65 events, featuring over 100 artists premiering in a four-month span, National Sawdust Digital Discovery Festival: Volume One was a bright spot in NYC's post-COVID live music world. Featuring post-COVID performances from Robert Wilson, Julian Lage, Tyondai Braxton, Emel Mathlouthi, Matthew Whitaker, Dan Tepfer, Ashley Bathgate, Emily Wells, Brooklyn Rider, Joel Ross, Conrad Tao, Andrew Yee, and Lucy Dhegrae, and recently recorded Masterclasses with Tania León, Ted Hearne, Vijay Iyer, Jamie Barton, Lawrence Brownlee, Trimpin, and Lara St. John. Archival performances include David Byrne, Lara Downes and Rhiannon Giddens, and Ryuichi Sakamoto. Explore here.
New World Symphony
The New World Symphony presents a web-based series called NWS Archive+. Michael Tilson Thomas moderates discussions with NWS Fellows, alumni, guest artists, and visiting faculty about archived recordings. Performances will be available here. NWS Fellows also play live, informal chamber music concerts from their homes in Miami Beach and broadcast via Facebook Live. In addition, the NWS online archive contains master classes, tutorials and town halls, which can be found here. Finally, for the past 10 years, the Fellows have performed one-hour concerts for local school children. These concerts and preparatory material will be available free to students and parents. NWS Educational concerts can be found here.
Opera Australia
OA | TV: Opera Australia on Demand is the Sydney-based company's new digital space. Alongside the world's largest collection of Dame Joan Sutherland on video, OA will offer exclusive content from the OA back catalogue, productions from Handa Opera on Sydney Harbour, and a new series of chat show-style interviews conducted by AD Lyddon Terracini. The first posted full show is Sutherland in The Merry Widow, and the fileted aria's in the section labelled "The Best of Dame Joan Sutherland" are even better. View here.
Opéra National de Paris
The Palais Garnier and Bastille Opera have made their digital stage, "The 3e Scène," free. The platform is a pure place of artistic adventure and exploration, giving free rein to photographers, filmmakers, writers, illustrators, visual artists, composers, and choreographers to create original works. Visit here. Some of Opéra National de Paris's productions are accessible on the company's Facebook Page. In addition, Octave, the Paris Opera's online magazine, is posting articles, videos, and interviews here.
Opera North
One of Britain's most respected smaller opera companies, Opera North has put its acclaimed semi-staged concerts of Wagner's epic Ring Cycle online. "Beg, borrow, or be like Wotan and steal a ticket for this show," said the UK's Times of Das Rheingold. "You'd be lucky to hear as good at Bayreuth," said The Telegraph of Die Walküre. Richard Farnes proves a seriously impressive Wagner conductor. Watch here.
OperaVision
OperaVision offers livestreams of operas available for free and online for up to six months. Previous offerings include Barrie Kosky's visually spectacular Moses und Aron, David McVicar's superb Die Entführung aus dem Serail from Glyndebourne, and Deborah Warner's thoughtful Death in Venice for English National Opera. View upcoming and past content here.
Rotterdam Philharmonic Orchestra: Beethoven at Home
RPO brought Beethoven to living rooms in December playing all nine symphonies. The musicians performed the first eight symphonies in small chamber ensembles varying from a string sextet to a 15-strong brass ensemble. The Grand Finale took place on New Year's Eve: Beethoven's Ninth, played by the full orchestra with chorus and soloists. View here.
Orli Shaham Bach Yard Playdates
Pianist Orli Shaham brings her acclaimed interactive concert series for kids to the internet. Bach Yard Playdates introduces musical concepts, instruments, and the experience of concert-going to a global audience of children and their families. A number of 10-minute episodes are already available for on-demand streaming. Programs and performances range from Bach's Two-Part Invention to Steve Reich's Clapping Music. Explore here.
The Sixteen Choral Odyssey
Actor Sir Simon Russell Beale, Harry Christophers and The Sixteen have recorded a special, five-part series. A Choral Odyssey explores choral music from across the ages in iconic, relevant surroundings—from Byrd in Elizabeth I's childhood home of Hatfield House, to Purcell in the reconstructed 17th-century theatre of the Sam Wanamaker Playhouse at London's Globe Theatre. With a mix of conversation, music demonstration and performance, these programs reunite Harry Christophers and Simon Russell Beale—a partnership which proved successful in the popular BBC Sacred Music series—and feature performers from The Sixteen. Tickets £10 per episode. View here until March 31.
Trinity Wall Street
New York's Trinity Church Wall Street introduces daily weekday "Comfort at One" (1 pm ET) streaming performances on Facebook with full videos posted here. Tune in for encore performances of favorite Trinity concerts, professionally filmed in HD, along with current at-home performances from Trinity's extended artistic family.
University of Colorado Boulder
University of Colorado Boulder College of Music faculty artists perform with students and colleagues in Faculty Tuesdays, chamber music recitals featuring world premieres alongside classics. Free most Tuesdays from September 2020 through March 2021. Upcoming performers include violinist Harumi Rhodes, violist Richard O'Neill, cellist David Requiro, pianist David Korevaar, harpist Janet Harriman, and more. Explore here.
Voices of Ascension
New York choir Voices of Ascension, which celebrates its 30th anniversary next season, is posting a daily offering of choral beauty on its website. Music is chosen by staff, members of the chorus and orchestra, and listeners. View here.
Warsaw Philharmonic
The Warsaw Philharmonic has made a selection of video recordings available on its YouTube channel. Recent offerings include Saint-Saëns's Organ Symphony and Arvo Pärt's Swansong conducted by Artistic Director Andrzej Boreyko, as well as rarities by Polish composers like Grazyna Bacewicz. It's an excellent orchestra very much in the Eastern European tradition and concerts have been master edited for posting online.
Paid Digital Arts Services
Berlin Philharmonic Digital Concert Hall
The BPO Digital Concert Hall contains over 600 orchestra concerts covering more than ten years, including 15 concerts with the orchestra's new Chief Conductor Kirill Petrenko, interviews, backstage footage. Subscriptions or single tickets available.
Medici TV
Thousands of classical music videos are available by subscription, as well as hundreds of events that are broadcast live for free each year, available for 90 days. Subscriptions cost $83.85 per year but single tickets are also available. www.medici.tv
Pictured: Dmitri Hvorostovsky in the Metropolitan Opera production of Il Trovatore

WHO'S BLOGGING


RENT A PHOTO
Search Musical America's archive of photos from 1900-1992.