---
MA's Free Guide to (Mostly) Free Streams, Feb. 8-15
We will be updating this list weekly. Please note that all times are given in U.S. Eastern Time (ET). To calculate in other time zones or counties, British Summer Time (BST) is currently five hours ahead of ET and Central European Time (CET) is currently six hours ahead. U.S. Central Daylight Time (CDT) is one hour behind ET. Mountain Time (MT) is two hours behind ET, while Pacific Time (PT) is three hours behind. Contact editor@musicalamerica.com.
Classical music coverage on Musical America is supported in part by a grant from the Rubin Institute for Music Criticism, the San Francisco Conservatory of Music, and the Ann and Gordon Getty Foundation. Musical America makes all editorial decisions.
---

** Highly recommended
Monday, February 8
12 pm ET: Mark Morris Dance Group presents Dido and Aeneas. A screening of the 1995 film directed by Barbara Willis Sweete who recreated the Dido and Aeneas set on a sound stage in Toronto and filmed it without the constraints of a proscenium stage and with Morris in his critically acclaimed role. The screening will be followed by a live Q&A with Morris and Sweete and launches a week of activities including talks with dancers and artistic collaborators. Dance with MMDG classes for all levels to learn excerpts of the work; Dance for PD classes appropriate for anyone with mobility concerns. View here and on demand for one week.
1 pm ET: Wiener Staatsoper presents Tchaikovsky's The Nutcracker. Conductor: Paul Connelly, choreographer: Rudolf Nureyev. With Liudmila Konovalova, Vladimir Shishov, and Solists and Corps de ballet of the Wiener Staatsballetts. Production from October 2012. Register for free and view here.
1 pm ET: Trinity Wall Street presents Comfort at One. Julian Wachner conduc the Choir of Trinity Wall Street and Trinity Baroque Orchestra with Avi Stein on continuo and vocal soloists Melissa Attebury, Dashon Burton, Melanie Russell, and Owen McIntosh in three Bach cantatas: Es ist euch gut, daß ich hingehe, BWV 108; Der Herr ist mein getreuer Hirt, BWV 112; and Du Friedefürst, Herr Jesu Christ, BWV 116. Recorded April 2015. View here.
2 pm ET: DG Stage presents John Williams in Vienna. John Williams and the Wiener Philharmoniker perform music from the composer's classic film scores in the Golden Hall of Vienna's Musikverein. He is joined by Anne-Sophie Mutter who performs a series of virtuosic adaptations Williams has written specially for her. Tickets Euro 4.90. View here.
2:15 pm ET: Bayerische Staatsoper presents Monday Concert. Tenor Pavol Breslik and pianist Robert Pechanec perform Janácek's song cycle The Diary of One Who Disappeared with mezzo-soprana Daria Proszek and Sarah Gilford, Mirjam Mesak, and Yajie Zhang. Tickets Euro 4.90. View here.
2:30 pm ET: Wigmore Hall presents The Nash Ensemble. By the time Dvorák composed his Piano Quartet in E flat he was an international celebrity. Wigmore Hall's Chamber Ensemble in Residence also performs one of the classics of the chamber music repertory, Schubert's Trout Quintet. Register, view here and on demand for 30 days.
4 pm ET: Max Lifchitz plays his B-A-C-H Fantasia alongside works by composers from the Americas. The pianist kicks-off North/South Consonance's 2021 season with a virtual recital at the National Opera Center featuring recent compositions inspired by 18th- and 19th-century conventions. Works by Gilberto Mendes, Mikhail Johnson, Douglas Ovens, Harold Schiffman, William Toutant, Jorge Vidales, and Karl Weigl will be heard. View here, further info here.
7:30 pm ET: Met Opera Streams presents Wagner's Das Rheingold. Starring Wendy Bryn Harmer, Stephanie Blythe, Patricia Bardon, Richard Croft, Gerhard Siegel, Dwayne Croft, Bryn Terfel, Eric Owens, Franz-Josef Selig, and Hans-Peter König, conducted by James Levine. Production by Robert Lepage. From October 9, 2010. View here and for 24 hours.
Tuesday, February 9
1 pm ET: Wiener Staatsoper presents Mozart's Don Giovanni. Conductor: Adam Fischer, director: Jean-Louis Martinoty. With Mariusz Kwiecien, Erwin Schrott, Marina Rebeka, Juliane Banse, and Benjamin Bruns. Production from November 2015. Register for free and view here.
1 pm ET: Trinity Wall Street presents Comfort at One. The Choir of Trinity Wall Street performs Clytus Gottwald's 16-voice arrangements from Mahler's Rückert-Lieder and the Fifth Symphony. View here.
1:30 pm ET: Bergen Philharmonic presents Wintermezzo: Sandra Lied Haga plays Tchaikovsky. Juanjo Mena conducts with Christian Stene, clarinet, Sandra Lied Haga, cello, and Ragnhild Hemsing, hardanger fiddle. Program: Penderecki's Prelude for Solo Clarinet, Halvorsen's Maskerade Suite, Tchaikovsky's Variations on a Rococo Theme, and Tveitt's Three Fjords, Concerto No. 2 for Hardanger fiddle and Orchestra. View here.
1:30 pm ET: Musikkollegium Winterthur presents An Argentine Evening with José Cura. The tenor sings arias and songs by Argentine composers including Hilda Herrera, Carlos Guastavino, Felipe Boero, Carlos Lopez Buchardo, and Alberto Ginastera. View here.
7 pm ET: Buffalo Philharmonic Orchestra presents Zwilich, Bologne, Debussy & Mozart. JoAnn Falletta conducts the BFO with violinist Randall Goosby in Ellen Taafe Zwilich's Prologue and Variations, Joseph Bologne's Violin Concerto No. 9, Debussy's Danses sacrée et danse profane, and Mozart's Symphony No. 29 in A. Tickets $10. View here until March 11.
7 pm ET: Orchestre Symphonique de Montréal presents Symphonic Love Stories. Alexander Shelley conducts the OSM with soloist concertmaster Andrew Wan in a program of Tchaikovsky's Romeo and Juliet Overture, Bernstein's Serenade for Violin after Plato's Symposium, and Wagner's Tristan und Isolde, Prelude and Liebestod. Tickets $20. View here.
7 pm ET: Lyric Opera of Chicago presents Creating the Factotum. Will Liverman and DJ/recording artist K-Rico reimagine Rossini's The Barber of Seville by placing their work in a present-day Black barbershop in Chicago while combining operatic singing with hip-hop, barbershop, gospel, funk, neo soul, and R&B music. The behind-the-scenes process of creating the new work has been documented by filmmaker Raphael Nash. View here.
** 7:30 pm ET: Nightly Met Opera Streams presents Verdi's Ernani. Starring Leona Mitchell, Luciano Pavarotti, Sherrill Milnes, and Ruggero Raimondi, conducted by James Levine. Production by Pier Luigi Samaritani. From December 17, 1983. View here and for 24 hours.
8 pm ET: DACAMERA presents Solzhenitsyn plays Prokofiev. Pianist Ignat Solzhenitsyn performs two of Prokofiev's sonatas, written after the composer's return home to Stalinist Russia following 18 years of exile. Solzhenitsyn joins Sarah Rothenberg in a post-concert discussion about growing up Russian in Vermont, the life and career of Prokofiev, and the life and work of the pianist's father, Alexander Solzhenitsyn. Register and view here and for one week.
Wednesday, February 10
10:45 am ET: Peabody presents The Next Normal: Arts Innovation and Resilience in a Post-COVID World. An online, daylong symposium focused on the long-term impact of the pandemic, the path forward for the industry, and implications and opportunities for artists and organizations. In addition to three panel discussions of varying perspectives, attendees will have the opportunity to network in small group breakouts and participate in a session on design thinking. Panelists include Marin Alsop, Du Yun, Stephen Hough, Peter Sellars, Afa Dworkin, Margaret Lioi, Deborah Rutter, and Farouk Dey. Register here.
12 pm ET: Kronberg Academy presents Kirill Gerstein in an online seminar with actor Simon McBurney and composer Gerard McBurney to discuss turning "Opera into Drama". What happens when a brilliant actor and theatre-maker like Simon McBurney, who comes from a tradition of devised work and physical performance rooted in freedom and improvisation, is invited to direct an opera, where text and score are almost completely fixed by composer and librettist, and the typical traditions of performance associated with the art-form are encrusted with apparent inflexibilities? How can two brothers, approaching the problem but from different sides—one as a maker of theatre, the other as a maker of music—help one another in this situation? Register here for the free Zoom seminar. LIVE
1 pm ET: Wiener Staatsoper presents Mozart's La Clemenza di Tito. Conductor: Adam Fischer, director: Jürgen Flimm. With Benjamin Bruns, Caroline Wenborne, Margarita Gritskova, Hila Fahima, Miriam Albano. Production from April 2016. Register for free and view here.
1 pm ET: Scottish Opera presents Humperdinck's Hansel & Gretel. Daisy Evans's new staging features Kathleen Ferrier Award-winner Kitty Whately as Hansel and Rhian Lois as Gretel alongside Nadine Benjamin, Phillip Rhodes, Charlie Drummond, and a small chorus. Conductor David Parry leads the Scottish Opera Orchestra. Filmed on December 19, 2020, all performers observe current physical distancing guidelines. English translation by David Pountney, reduced orchestration by Derek Clark. View here.
1 pm ET: Trinity Wall Street presents Comfort at One. NOVUS NY's principal oboist Stuart Breczinski gives a virtual performance of Transient Meditation, the improvisation with electronic effects that he created especially for Comfort at One. View here.
1:30 pm ET: Bergen Philharmonic presents Wintermezzo: Music and the Brain. Neuroscientist Professor Stefan Kölsch talks with Leif Ove Andsnes about music and the brain. View here.
2 pm ET: IDAGIO presents Classical (R)evolution with Rachel. Join soprano Rachel Fenlon as she explores what breaking the rules, embracing uncertainty, and thinking "outside the box" does for classical music-making. In this episode: soprano Simone Osborne. View here. LIVE
6 pm ET: Philadelphia Chamber Music Society presents Anthony McGill, Milena Pajaro-van de Stadt, and Gloria Chien. Three exceptional musicians unite for a concert of Brahms's Viola Sonata in E-flat, Op. 120, No. 2, Clarinet Sonata in F Minor, Op. 120, No. 1, and Mozart's Trio in E-flat, K. 498, Kegelstatt. View here.
7:30 pm ET: Nightly Met Opera Streams presents Rossini's Il Barbiere di Siviglia. Starring Kathleen Battle, Rockwell Blake, Leo Nucci, Enzo Dara, and Ferruccio Furlanetto, conducted by Ralf Weikert. Production by John Cox. From December 3, 1988. View here and for 24 hours.
8 pm ET: Baltimore Symphony Orchestra presents BSO Sessions: Love Letters. Learn about the love stories behind the music, including Wagner's Siegfried Idyll, a birthday present to his second wife; the fourth movement of Mahler's Symphony No. 5, a love poem to his wife; Elgar's Sospiri, a passionate piece dedicated to his long-time friend, violinist W.H. Reed; and Sibelius's Rakastava (The Lover), inspired by a Finnish poem about a muse. Tickets $10. View here and on demand.
9 pm ET: Philharmonic Society of Orange County presents Joshua Bell. The violinist joins pianist Peter Dugan for a virtual program that includes violin sonatas by Beethoven and Brahms, as well as Bloch's Baal Shem, Wieniawski's Polonaise de Concert No. 1, and an arrangement of Chopin's Nocturne in E-flat. Tickets $20. View here and for one week.
Thursday, February 11
7 am ET: The Hallé presents Winter Season: Movie Classics. From pirouetting hippos and the high-kicking chorus line of can-can dancers to the sweeping plains of Africa and the devastation on the beaches of Dunkirk, the music of Ponchielli, Offenbach, Mozart, and Elgar accompany these memorable cinematic moments. The full forces of the orchestra reveal these, and many more soundtracks conducted by Stephen Bell. Tickets £14. View here until May 11.
12 pm ET: Chicago Symphony Orchestra presents CSO Sessions Episode 13: Coleridge-Taylor & Bach. Inspired by Dvorák, Samuel Coleridge-Taylor draws on his African heritage and applies those influences to his Clarinet Quintet, while Bach elevates the harpsichord to a starring role in his Brandenburg Concerto No. 5. Tickets $15. View here.
12 pm ET: Boston Symphony Orchestra presents BSO Online. Andris Nelsons leads the BSO in Beethoven's Symphony No. 3, Eroica, and Hannah Kendall's Disillusioned Dreamer. A chamber music performance of Caroline Shaw's Blueprint, featuring BSO musicians Xin Ding and Catherine French, violins, Mary Ferrillo, viola, and Mickey Katz, cello, completes the program. View here for 30 days.
1 pm ET: Wiener Staatsoper presents Mozart's Le Nozze di Figaro. Conductor: Philippe Jordan, director: Jean-Pierre Ponnelle. With Andrè Schuen, Federica Lombardi, Philippe Sly, Louise Alder, and Virginie Verrez. Production from February 4, 2021. Register for free and view here.
1 pm ET: IDAGIO presents Thursdays with Thomas. Join Thomas Hampson in conversation with colleagues, friends, and other major personalities of the classical music world. In this episode: Renée Fleming. View here. LIVE
1:30 pm ET: Bergen Philharmonic presents Wintermezzo: Beethoven 7. Edward Gardner conducts the BPO in a performance of Beethoven's Symphony No. 7. View here.
2:30 pm ET: Philharmonie de Paris presents Esa-Pekka Salonen conducts the Orchestre de Paris in an all-Sibelius program including the Death of Mélisande and the Symphonies Nos. 6 and No. 7. View here. LIVE
2:30 pm ET: Orchestra Svizzera Italiana presents Beethoven & Mozart. Markus Poschner conducts the OSI with pianist Francesco Piemontesi in Beethoven's Coriolan Overture and Symphony No. 7, as well as Mozart's Piano Concerto No. 27, KV 595. View here.
** 5 pm ET: The Violin Channel presents Vanguard Concert. A new 10-episode digital series of hour-long concerts, shot with seven cameras in 4K, each with its own digitally customized look, and featuring leading string players Joshua Bell, Tessa Lark, Dover Quartet, Junction Trio, Sophia Bacelar, Charles Yang, Nathan Meltzer, Jordan Bak, Kevin Zhu, and Philippe Quint. The first episode features all artists on the series, each performing a short work. Repertoire ranges from Beethoven, Ravel, and Kreisler to Jessie Montgomery, Joan Tower, and John Zorn, as well as original arrangements of standards by Harold Arlen and The Beatles. View here.
6 pm ET: National Sawdust presents Jang Dan: Breath Conversation. We are all breathing the same air and we are all connected. Live from a theater in Seoul, percussionist Kim So Ra experiments with rhythm and movement alongside contemporary dancers Kim Young Mi and Hong Kyeong Hwa, percussionist Hyun Seung Hun, and piri (bamboo reed flute) player Hong Ji Hye on the eve of Seollal, the Korean Lunar New Year. View here. LIVE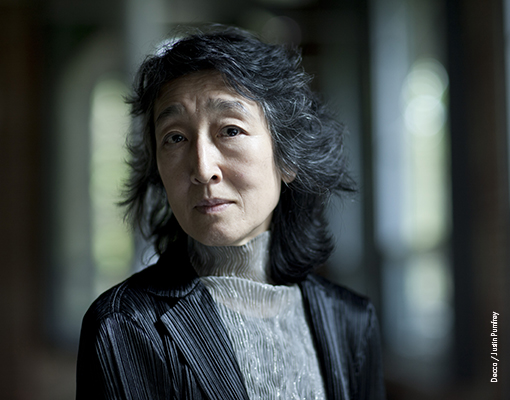 7 pm ET: The Cleveland Orchestra presents In Focus Bonus Episode: Mitsuko Uchida. The pianist performs Schubert's Piano Sonata in C, D.840 (recorded live at London's Wigmore Hall in January 2021) as well as The Cleveland Orchestra and Music Director Franz Welser-Möst performing Mozart's Eine kleine Nachtmusik, K.525 (recorded at Severance Hall in fall 2020). View here via TCO's streaming platform Adella.
7 pm ET: Kaufman Music Center & Los Angeles Chamber Orchestra presents Luna Lab. The world premieres of eight works by 2019-20 Fellows in KMC's Luna Composition Lab program, plus participants in Luna Lab with LACO. The virtual program, filmed in Zipper Hall at The Colburn School in Los Angeles, includes music by teen composers Olivia Bennett, KiMani Bridges, Madeline Clara Cheng, Ebunoluwa Oguntola, Anya Lagman, Sage Shurman, Chloe Villamayor, and Emily Webster-Zuber. View here.
7 pm ET: Yevgeny Kutik presents Finding Home. A five-episode docu-recital series filmed at the Shalin Liu Performance Center in Rockport, MA, and based on Kutik's 2014 album Music from the Suitcase. Each 30-40-minute episode weaves personal storytelling about his family's emigration from the deteriorating Soviet Union to the U.S. with performances of music that filled their suitcases on the journey. In Episode 1, The Fifth Line, Kutik looks at the structural, historical anti-Semitism in the former USSR. As his family decides to leave, music includes Achron's Hebrew Melody, Shostakovich's Sonata No. 2, and Stravinsky's Divertimento from The Fairy's Kiss. Register and view here until 12 pm ET on February 14.
7:30 pm ET: BroadBand presents Kinan Azmeh: A Window to the Blue. Clarinetist and composer Kinan Azmeh curates a program of music and conversation with composer Osvaldo Golijov. The event will be followed by a live Q&A. Tickets $15. View here.
** 7:30 pm ET: Nightly Met Opera Streams presents Verdi's Un Ballo in Maschera. Starring Aprile Millo, Harolyn Blackwell, Florence Quivar, Luciano Pavarotti, and Leo Nucci, conducted by James Levine. Production by Piero Faggioni. From January 26, 1991. View here and for 24 hours.
7:30 pm ET: Chamber Music Society of Lincoln Center presents Roaring Twenties. Archival recordings of Ravel's Sonata for Violin and Piano and Korngold's Suite for Piano Left Hand, Two Violins, and Cello. With Alessio Bax, Benjamin Beilman, Wu Qian, Sean Lee, Danbi Um, and Mihai Marica. Intermission features a Q&A with the artists. View here and on demand for one week.
7:30 pm ET: Detroit Symphony Orchestra presents Prokofiev's Classical Symphony. John Storgårds returns to the DSO stage to conduct his Finnish compatriot Magnus Lindberg's Souvenir followed by Prokofiev's Classical Symphony. Tickets $12. View here.
7:30 pm ET: Celebrity Series of Boston presents Alyssa Wang. The violinist shares a program of solo works from her home including Bach's Preludio from Partita No. 3 in E, Chen Yi's Memories, Tárrega's Recuerdos de la Alhambra, arr. for solo violin by Ruggiero Ricci, and Corigliano's The Red Violin Caprices. View here. LIVE
Friday, February 12
12 pm ET: Angel Blue presents Faithful Friday. The American soprano welcomes mezzo-soprano J'Nai Bridges for the latest episode in season two of her topical talk show broadcast live every Friday. This is the latest installment of a series that aims to help people "keep the faith," believe in themselves, get motivated, and support each other during unsettling times. View here and on demand. LIVE
12 pm ET: Toronto Symphony Orchestra presents Beethoven's Septet. Members of the TSO perform Beethoven's most crowd-pleasing contribution to the chamber music repertoire—his Septet—alongside the only complete movement from the String Trio in B-flat Major, D. 471 by Schubert. A Beethoven-inspired reorchestration of Emilie LeBel's woodwind quintet, Haareis auf Morschem Holz (hair ice on rotten wood) rounds out the program. Tickets $20. View here until March 4.
1 pm ET: Wiener Staatsoper presents Mozart's Die Zauberflöte. Conductor: Adam Fischer, director: Moshe Leiser, Patrice Caurier. With Benjamin Bruns, Olga Bezsmertna, Íride Martínez, Markus Werba, and Annika Gerhards. Production from January 2015. Register for free and view here.
1 pm ET: OperaVision presents Massenet's Manon. Recorded at Hamburg State Opera in January 2021, German stage director David Bösch, known for his modern, enigmatic productions that uncover psychological depths, makes his Hamburg debut with Massenet's Parisian Belle Époque opera, featuring Elsa Dreisig in the title role. View here for one month.
1 pm ET: Krannert Center presents Reflection and Renewal: Jupiter Quartet. A series exploring diverse composers and themes with each concert moving from a quartet masterpiece in a minor key to a more hopeful, major-key contemporary work. This week: Schubert's String Quartet No. 14 in D Minor, D. 810, Death and the Maiden and Wiancko's To Unpathed Waters, Undreamed Shores. View here.
1 pm ET: Trinity Wall Street presents Comfort at One. Baritone Christopher Dylan Herbert, a former member of the Choir of Trinity Wall Street, joins NOVUS NY pianist Charity Wicks for an 'at-home' performance of Fauré's last song cycle, L'horizon chimérique, which sets poems by Jean de La Ville de Mirmont. View here.
1:30 pm ET: Bergen Philharmonic presents Wintermezzo: Brahms 4 with. Edward Gardner conducts the BPO in a performance of Brahms's Symphony No. 4. View here.
** 2 pm ET: Concertgebouworkest presents Bychkov conducts Tchaikovsky. The Concertgebouworkest perform Tchaikovsky's Symphony No. 5 conducted by Semyon Bychkov in the Main Hall of the Concertgebouw. Performance from June 19, 2020. View here.
2:30 pm ET: Academy of Ancient Music presents Laurence Cummings directs Bach, Telemann & Handel. Dance was an integral part of life in the 18th century, informing all manner of social and political discourse and forming a necessary part of any respectable education. Music Director designate Laurence Cummings joins AAM leader Bojan Cicic for a sequence celebrating the many forms of dance in works by Muffat, Bach, Telemann, and Handel. Tickets £12.50. View here and on demand.
3 pm ET: Dallas Symphony Orchestra presents Leonidas & Luisi. Fabio Luisi conducts the DSO with violinist Leonidas Kavakos in Beethoven's Violin Concerto in D, the world premiere of DSO Composer-in-Residence Angélica Negrón's En otra noche, en otro mundo (On Another Night, In Another World), and Beethoven's Overture to Leonore, No. 1. Tickets $10. View here until May 31.
3 pm ET: University of Washington's Meany Center presents Simone Dinnerstein. A virtual performance of music from her new album, A Character of Quiet. In this recital, filmed at her piano in her Brooklyn home, Dinnerstein performs Etudes No. 16 and No. 2 by Philip Glass, and the monumental Sonata in B-flat, D. 960, by Franz Schubert. View here until February 19.
4 pm ET: Minnesota Orchestra presents Musical Menagerie. Connect music with animals—thanks to a partnership with the Minnesota Zoo—in a live concert that presents a variety of composers and styles of music as well as film elements and guests from the Zoo. Host and conductor Sarah Hicks, along with animal conservationists, will introduce viewers to brown bears, gibbons, tropical fish, and more. Recommended for grades 1–6. View here. LIVE
7:30 pm ET: University of Cincinnati College-Conservatory of Music presents Joining Hands. This 30-minute-long concert features the Ariel Quartet and CCM's Diversity Fellowship students Cristian Diaz and Denielle Wilson. Program includes excerpts from Brahms's String Sextet in B-flat Major, Mendelssohn's String Quartet in D Major, and Mozart's String Quintet in G Minor. View here and on demand.
7:30 pm ET: Nightly Met Opera Streams presents Glass's Akhnaten. Starring Dísella Lárusdóttir, J'Nai Bridges, Anthony Roth Costanzo, Aaron Blake, Will Liverman, Richard Bernstein, and Zachary James, conducted by Karen Kamensek. Production by Phelim McDermott. From November 23, 2019. View here and for 24 hours.
8 pm ET: Detroit Symphony Orchestra presents Regina Carter & Xavier Davis. Hailed as the foremost jazz violinist of her generation, Detroit native and MacArthur genius fellow Regina Carter returns to Orchestra Hall for an duo set with jazz pianist and MSU professor Xavier Davis. Tickets $12. View here. LIVE
8 pm ET: The Town Hall presents Judy Collins. The singer recreates her legendary 1964 New York City concert hall debut with music by Bob Dylan, Tom Paxton, and Billy Ed Wheeler, among others. The show was filmed onstage at The Town Hall. Tickets $40. View here.
8 pm ET: Opera Philadelphia presents Tyshawn Sorey's Save the Boys. The Opera Philadelphia Composer in Residence and Newark-born multi-instrumentalist and composer premieres his new work inspired by "Save the Boys," an 1887 poem by abolitionist, writer, and Black women's rights activist Frances Ellen Watkins Harper. Save the Boys is performed by countertenor John Holiday accompanied on piano by Grant Loehnig. Annual subscription $99. View here.
8 pm ET: Boston Pops presents Boston Pops in Love. Keith Lockhart leads a Valentine's Day-inspired program featuring music inspired by love and romance. The concert will feature three Boston-based dance companies: dancers from Hybridmotion will perform a pandemic-inspired tango to Gade's Jalousie; Lakaï Dance Theatre will perform pieces from Bizet's Carmen and de Falla's El Amor brujo; and dancers from Subject:Matter will bring their style to the music of Fats Waller. Other highlights include Duke Ellington's Sophisticated Lady, Puccini's Che gelida manina, and Tchaikovsky's Romeo and Juliet Overture-Fantasy. Tickets $14. View here for 30 days.
9 pm ET: California State University San Marcos presents Chinese New Year Celebration. Pipa virtuoso Wu Man helps to ring in the Year of the Ox performing music spanning centuries—from traditional folk songs, to 19th-century pipa music, to contemporary pieces, including one of her own compositions. The performance is followed by a live Q&A. View here.
10 pm ET: CAP UCLA presents Nels Cline & Aizuri Quartet. Douglas J. Cuomo's Seven Limbs is based on the Tibetan Buddhist practice of purification. It juxtaposes Cline's inventive guitar playing and use of electronic effects with the Aizuri Quartet's classically based but forward-thinking musical style. View here.
Saturday, February 13
** 1 pm ET: Bayerische Staatsoper presents Weber's Der Freischütz. Antonello Manacorda conducts Dmitri Tcherniakov's production with Pavel Cernoch as Max, Golda Schultz as Agathe, Anna Prohaska as Ännchen, and Kyle Ketelsen as Kaspar. With the Bayerisches Staatsorchester and Chorus of the Bayerische Staatsoper. View here. LIVE
1 pm ET: Wiener Staatsoper presents Mozart's Die Entführung aus dem Serail. Conductor: Antonello Manacorda, director: Hans Neuenfels. With Lisette Oropesa, Christian Nickel, Regula Mühlemann, Emanuela von Frankenberg, Stella Roberts, Daniel Behle, Michael Laurenz, Christian Natter, Ludwig Blochberger, and Goran Juric. Production from October 2020. Register for free and view here.
1 pm ET: San Francisco Opera presents Mozart's Così fan tutte. SFO's 2013 presentation features staging by Jose Maria Condemi of John Cox's concept, which reimagines the opera in a Mediterranean beach town on the eve of World War I. The ensemble cast all make role debuts. Marco Vinco portrays the philosopher Don Alfonso, Ferrando (Francesco Demuro) and Guglielmo (Philippe Sly). Ellie Dehn portrays Fiordiligi and Dorabella is performed by Christel Lötzsch with Susannah Biller as the maid, Despina. Nicola Luisotti conducts. View here until midnight the following day.
** 1 pm ET: Berliner Philharmoniker Digital Concert Hall presents Kirill Petrenko conducts Weill & Stravinsky. The influence of Liszt, Mahler, and Strauss on Kurt Weill can be heard in his rarely performed First Symphony. Stravinsky's neoclassical opera-oratorio Oedipus Rex, composed in 1927, completes the program. With Michael Spyres (Oedipus), Ekaterina Semenchuk (Jocasta), Shenyang (Creon), and Andrea Mastroni (Tiresias). Tickets EUR 9.90. View here. LIVE
1:30 pm ET: Elbphilharmonie presents Concerti & Caprices. Ensemble Resonanz, violinist Ilya Gringolts, and conductor Riccardo Minasi lead a program of Corelli's 12 Concerti Grossi, Op. 6 and a series of caprices for solo violin by Locatelli, Tartini, Paganini, and Salvatore Sciarrino. View here.
1:45 pm ET: Budapest Festival Orchestra presents Fischer conducts Wagner, Wolf & Mahler. Iván Fischer conducts the BFO in the Preludes to Acts I and III of Wagner's Lohengrin, seven songs by Hugo Wolf with mezzo-soprano Elisabeth Kulman, and Mahler's Symphony No. 7 in E minor. Tickets Euro 10. View here.
** 2 pm ET: VOCES8 Live from London, Spring presents VOCES8. Music rooted in nature, from Elizabethan idylls, styled for their queen 'Oriana', to Alec Roth's soaring Stargazer, Kate Rusby's Underneath the Stars, and Jonathan Dove's song cycle The Passing of the Year, which evokes the beauty and mystic power of the changing seasons. The composer himself will accompany VOCES8 on the piano. Tickets $15 and view here.
7 pm ET: Our Concerts Live presents It's Love That Keeps Us Together with Stephanie Blythe. Celebrate love and love songs with Blythe and her blue ukulele as she hosts a Valentine's Day weekend special performing a selection of songs from the American Songbook, with a very special appearance by her drag alter ego, Blythely Oratonio. Tickets $20. View here.
7:30 pm ET: New World Symphony presents Heart Strings. Musicians of the New World Symphony and pianist Michelle Cann play Florence Price's music alongside Brahms in an evening of sweeping melodies in the Romantic tradition. This concert is part of NWS's commitment to performing works across the repertoire especially those which have been traditionally left out of the spotlight. Program: Price's String Quartet No. 2, Brahms's Mvt. II from Piano Trio No. 1, Ballade No. 2, and Mvt V from Serenade No. 2, and Price's Piano Quintet. View here.
7:30 pm ET: 92nd St Y presents Richard Goode plays Bach & Debussy. Goode brings his artistry to a program that begins with one of Bach's greatest works for keyboard, the Fourth Partita, and concludes with selections from Debussy's Preludes. Tickets $20. View here.
7:30 pm ET: Detroit Symphony Orchestra presents Brandenburg No. 6. Bach's Brandenburg Concerto No. 6 is led by DSO Principal and Assistant Principal Violas Eric Nowlin and James VanValkenburg. English composer Anna Clyne's Stride, named for the leaping bass notes in Beethoven's Pathétique, completes the program. Tickets $12. View here.
** 7:30 pm ET: Nightly Met Opera Streams presents Berlioz's Les Troyens. Starring Tatiana Troyanos, Jessye Norman, Plácido Domingo, and Allan Monk, conducted by James Levine. Production by Fabrizio Melano. From October 8, 1983. View here and for 24 hours.
7:30 pm ET: Louisville Symphony Orchestra presents Classical Pairing: John Adams + WA Mozart. In his Chamber Symphony, John Adams stirs up an earful of layered tunes and textures that bounce and skitter like the soundtrack of a classic cartoon. Mozart's Symphony No. 39 completes the program. Teddy Abrams conducts. Four concert subscription $75. View here and then on demand February 26 to April 11. LIVE
7:30 pm ET: Peoples' Symphony Concerts presents Emanuel Ax. The pianist performs an all-Beethoven concert including Bagatelle No. 25 in A minor WoO 59, Für Elise, Piano Sonata No. 2 in A, Op. 2 No. 2, and Piano Sonata No. 3 in C, Op. 2, No. 3. Tickets $50 for five concerts. View here.
7:30 pm ET: Maryland Opera presents Love in the Time of COVID. Soprano Amy Shoremount-Obra, tenor Matthew Vickers, and baritone Jarrod Lee present arias and duets from A Masked Ball, Madama Butterfly, Manon Lescaut, and others with a theme of love, but love that comes with challenges. Selections will be accompanied on the piano by Maryland Opera Artistic Director James Harp. View here.
8 pm ET: Bard College presents Sound of Spring. Hosted by pipa virtuoso Wu Man and Institute director Jindong Cai, the concert from Bard's Fisher Center features performances by Wu Man, The Orchestra Now conducted by Jindong Cai, the Central Conservatory of Music Chinese Chamber Orchestra, the China NCPA Orchestra, and the Hong Kong Chinese Orchestra. The musical selections aim to send a message of hope, renewal, and new beginnings, in the spirit of the Chinese New Year tradition of the Spring Festival. View here.
8 pm ET: Duke Performances presents Kodo. From communicating with wartime troops to providing the soundscape for religious ceremonies, taiko drums have played a significant role in Japanese traditions for centuries. Kodo is a pioneering taiko drumming troupe that has performed internationally since 1981. Tickets $10. View here until February 15.
9 pm ET: Houston Symphony presents Virtual Reality in Concert. What happens when music, dance, and technology meet? In an event featuring Google's virtual reality technology, the Houston Symphony performs favorites like Clair de Lune and Carnival of the Animals while artist Topher Sipes dreams up life-sized art that responds to the music in real time and takes on a life of its own. Tickets $20. View here. LIVE
9:30 pm ET: Boulder Philharmonic presents Mozart & Mendelssohn. Pianist Simone Dinnerstein conducts a string quintet orchestration of Mozart's Piano Concerto No. 21. The evening opens with two works by American trailblazer, Scott Joplin, and concludes with the Mendelssohn Octet. Tickets $40. View here until February 6. LIVE
10 pm ET: Chamber Music Northwest presents Catalyst Quartet: Uncovered. The Catalyst Quartet celebrates the music of important black composers in a concert that includes Coleridge-Taylor's Fantasiestücke for String Quartet, Op. 5, Florence Price's Five Folksongs in Counterpoint, and Perkinson's String Quartet No. 1, Calvary. Tickets $20. View here.
10 pm ET: LA Opera presents A Night of Love. In celebration of Valentine's Day, Russell Thomas welcomes Ashley Faatoalia, Tiffany Townsend, Alaysha Fox, and pianist Leonard Hayes for the first episode in an After Hours series, "Black Love". The program of love songs from Black composers is curated by Thomas himself and includes works by H.T. Burleigh, Undine Smith Moore, Margaret Bonds, and more. View here.
Sunday, February 14
10 am ET: Royal Stockholm Philharmonic presents Chalumeaux. The chalumeau, the predecessor to today's clarinet, is the focus of a concert that moves from the Baroque to the Classical period with music by Telemann and Wilhelm Friedemann Bach. The soloists in Telemann's Concerto for Two Chalumeaux are the RSPOs clarinetist Alf Hörberg and Lorenzo Coppola, who will also lead Orpheus Baroque. Haydn's Symphony No. 53, L'imperiale, completes the program. View here.
10 am ET: Opera Fuoco presents Figaro in the City. A modern-day retelling of Mozart's Marriage of Figaro set in Paris's ateliers, streets, and gardens. Filmed in playback to allow for theatrical intimacy, the characters move fluidly from the opening opera rehearsal atmosphere to a real-life scenario. Like a television series, each of the 14 episodes of Figaro in the City was created to heighten the dramatic tension and leave the audience waiting to see what happens next. Conductor David Stern has collaborated with videographer and stage-director Alexandre Camerlo and with Laurent Naouri making his debut Opera Fuoco performance as Bartolo. View all episodes here and on demand.
2 pm ET: National Philharmonic presents Music That Feeds the Soul. Laura Colgate and Linda Leanza, violins, Julius Wirth, viola, Todd Thiel, cello, and Elizabeth Hill, piano play Elena-Katz Chernin's Cocktail Rag, Puccini's Crisantemi, Amy Beach's Three Pieces for Violin and Piano, Op. 40, Eleanor Alberga's Remember, Rebecca Clarke's Dumka, and Brahms's Piano Quartet No. 1 in G minor, Op. 25: Andante con moto and Rondo alla Zingarese. View here.
3 pm ET: Spivey Hall presents Alan Morrison. The organist performs Florence Price's Sonata for Organ No. 1, Dan Locklair's Angels (Two Short Tone Poems for Organ), William Grant Still's Elegy, and Duruflé's Suite, Op. 5. Tickets $15. View here.
4 pm ET: Our Concerts Live presents Concertos from the Inside: Week 5: Khachaturian. In a 24-part series, Rachel Barton Pine performs the entire solo violin part of the greatest violin concertos unaccompanied and shares her perspective on each, explaining how she prepares and how her performance connects to the work's historical and musical context. The series is geared towards career violinists, advanced students, violin teachers, and violin aficionados. Tickets $20. Register and view here.
7 pm ET: Dercum Center for the Arts & Humanities presents Carpe Diem String Quartet. A Valentine's Day program to celebrate the final concert of the Snake River Music Festival including Akshaya Avril Tucker's In Whose Mouth, the Stars, Korine Fujiwara's Through a 2020 Lens, Coleridge-Taylor Perkinson's Sinfonietta No. 1, and concludes with Schubert's String Quartet in A minor, Rosamund. View here.
** 7:30 pm ET: Met Opera Streams presents Wagner's Die Walküre. Starring Hildegard Behrens, Jessye Norman, Christa Ludwig, Gary Lakes, James Morris, and Kurt Moll, conducted by James Levine. Production by Otto Schenk. From April 8, 1989. View here and for 24 hours.
8 pm ET: Music@Menlo presents Emerson String Quartet. The quartet plays music by Purcell alongside Beethoven's String Quartet in A minor, op. 132. Tickets $25. View here and for one week.
8 pm ET: Portland Chamber Music Festival presents Love Notes. A concert for Valentine's Day. Program: Vivaldi's Sonata for Cello and Harpsichord in A Minor, RV 43, Corigliano's The Red Violin Caprices for Violin, Quinn Mason's In Memory for Solo Viola , Iman Habibi's Relics; V. "Of the Northern Breeze" for Viola and Cello, Jean Ahn's Blush for Solo Oboe, and Beethoven's Kreutzer Sonata for Violin and Piano; I. Adagio sostenuto. With James Wilson, cello, Carsten Schmidt, harpsichord, Tai Murray, violin, Melissa Reardon, viola, Raman Ramakrishnan, cello, James Austin Smith, oboe, Jesse Mills, violin, and Rieko Aizawa, piano. Tickets from $10. View here and for one week.
Monday, February 15
** 12 pm ET: Deutsche Oper Berlin presents Zemlinsky's Der Zwerg. Adapted from The Birthday of the Infanta by Oscar Wilde, Zemlinsky's opera takes on autobiographical undertones, alluding to Zemlinsky's love affair with the young Alma Schindler—later Alma Mahler. As a prelude to the one-act opera, Adelle Eslinger-Runnicles and Evgeny Nikiforov take on the roles of Alexander and Alma, set to Schoenberg's Begleitmusik zu einer Lichtspielszene (Accompanying Music to a Film Scene). Music director Donald Runnicles conducts with the Dwarf marvelously performed by Mick Morris Mehnert and sung by tenor David Butt Philip. Elena Tsallagova is the infanta with Emily Magee and Philipp Jekal in Tobias Kratzer's fascinating staging. View here (requires Medici.tv subscription).
1 pm ET: Wiener Staatsoper presents Minkus's Don Quixote. Choreography: Rudolf Nureyev. With Maria Yakovleva, Denys Cherevychko, Ketevan Papava, Roman Lazik, Olga Esina, and the Corps des ballet of the Vienna State Opera. Production from May 2016. Register for free and view here.
2:15 pm ET: Bayerische Staatsoper presents Stravinsky's The Soldier's Tale. Actor Dagmar Manzel narrates Stravinsky's tale of one man against the devil with the help of a trio of dancers. Vladimir Jurowski conducts an ensemble of seven. Tickets Euro 4.90. View here. LIVE
** 2:30 pm ET: Wigmore Hall presents The Sixteen. Recorded this month, Harry Christophers conducts The Sixteen in Renaissance music by John Browne, Richard Davy, King Henry VIII, Walter Lambe, William Cornysh, and good old Anon. Register, view here and on demand for 30 days.
5 pm ET: Baryshnikov Arts Center presents Justin Hicks: Use Your Head For More. Presented as a series of audio-visual portraits, Use Your Head For More regenerates the transcript of a conversation between composer Justin Hicks and his mother, engaging found sound and personal archive in a performance of reimagining, remembering, and reminding. Film Location: The artist's home in Bronx, NY. View here until March 1.
7:30 pm ET: Chamber Music Society of Lincoln Center presents The Art of Interpretation: Debussy & Stravinsky. CMS musicians showcase how artists interpret specific musical passages and prepare to perform a piece of music. Here, Alessio Bax and Lucille Chung explore Debussy's Prélude à l'après-midi d'un faune for Piano, Four Hands (arr. Ravel) and Stravinsky's Petrushka for Piano, Four Hands. View here and on demand for a week.
7:30 pm ET: Met Opera Streams presents Puccini's La Bohème. Starring Angela Gheorghiu, Ainhoa Arteta, Ramón Vargas, Ludovic Tézier, and Oren Gradus, conducted by Nicola Luisotti. Production by Franco Zeffirelli. From April 5, 2008. View here and for 24 hours.
7:30 pm ET: SalonEra presents Stylus Fantasticus. Harpist Maria Cleary joins baritone Jonathan Woody and violinists Julie Andrijeski and Tekla Cunningham to unveil a cabinet of 17th-century musical wonders. View here.
Artists and Organizations Offering Free Content
The following are all accessible during the coronavirus pandemic:
Academy of Ancient Music
The most listened-to period instrument ensemble, directed by Richard Egarr, has made a number of streams available on its website. Guest artists include Louise Alder, soprano, Nicola Benedetti, violin, Mary Bevan, soprano, David Blackadder, trumpet, Iestyn Davies, countertenor, Tim Mead, countertenor, Christopher Purvis, bass, and Tenebrae, directed by Nigel Short. Explore here.
NEW: Alternative Classical
Humans of Classical Music is a video series in which musicians, actors, comedians, and podcasters from around the world recommend their favorite piece of classical music in one minute. A new video will go live every Thursday during 2021, starting on February 4, accompanied with a link on Spotify. Each video is free of musical jargon and is suitable for anyone interested in exploring the world of classical music. The list includes countertenor Anthony Roth Costanzo, three-time Edinburgh Comedy Award nominee Kieran Hodgson, Principal Conductor of Glyndebourne on Tour Ben Glassberg-Frost, Chief Executive of Manchester Collective Adam Szabo, and composers Anna Clyne, Gabriel Prokofiev, and Missy Mazzoli. Explore here.
American Opera Project
First Glimpse is a video album of 20 songs created during the first year of AOP's 2019-21 fellowship program, Composers & the Voice. Originally intended as a live concert, the videos will be released every Friday beginning October 23 and for the following six weeks. The composers are Alaina Ferris, Matt Frey, Michael Lanci, Mary Prescott, Jessica Rudman and Tony Solitro, with librettists Amanda Hollander and Jonathan Douglass Turner. Videos will be free for one week following their release, after which they will be available to rent or purchase, individually or as a full set through AOP's Website. Explore here.
American Symphony Orchestra
American Symphony Orchestra releases weekly recordings from its archives with content alternating between live video recordings of SummerScape operas and audio recordings from previous ASO concerts. Ethel Smyth's The Wreckers, Richard Strauss's Die Liebe aus Danae, and Korngold's Das Wunder der Heliane, all conducted by Leon Botstein, are all highly recommended and available now.
NEW: American Traditions Vocal Competition
With 28 contestants in its 28th year, ATC has pivoted to present the competition online. Performances will broadcast online at 7 pm ET each evening from February 9 to 19. The Quarterfinal rounds are slated for February 9 to 12 and will be followed by Semifinals on February 17 and 18. The competition will conclude with the Final Round on February 19. There will be a special concert on February 16 at 7 pm ET featuring performances by this year's judges: singer, actress, songwriter, and recording artist Kate Baldwin; jazz vocalist, Kurt Elling; and opera singer Lawrence Brownlee. Tickets $50. View here.
Apollo's Fire: Music for the Soul
The Cleveland-based baroque orchestra founded by Artistic Director Jeannette Sorrell is offering a series of video streams entitled "Music for the Soul." New episodes are posted here.
Atlanta Opera
Atlanta Opera has released three Love Letters to Atlanta, the first in a new video series featuring the company's ensemble singing their favorite songs in places woven into the fabric of Atlanta's musical history. The first videos feature Atlanta Opera Company Players members Jamie Barton, Kevin Burdette, and Morris Robinson. Barton, a Georgia native, chose Hoagy Carmichael's Georgia On My Mind because it reminded her of the importance of home. Burdette makes a connection with the city's past by performing Jerome Kern's If Ever I Would Leave You at the Atlanta Civic Center Auditorium. Robinson, a lifelong Atlanta-area resident, chose The Impossible Dream because it was the song he sang in his chorus audition at North Atlanta High School. Each video runs between 11 minutes to 15 minutes, including a short interview and the performance. are offered free now Explore here through February 14.
Baltimore Symphony Orchestra
BSO Sessions continues to bring the stories of BSO musicians, conductors, and collaborators to life through a documentary-style narrative. Real stories are paired with powerful music, including the elevation of unheard voices in classical music. Episodes premiere weekly on Wednesdays at 8 pm ET and are available through June 2021. Explore here.
Bard SummerScape & Fisher Center
Archival works highlight Bard's wealth and breadth of programming, including performances from its SummerScape Opera and BMF archives. Recent include Bard SummerScape's 2011 production of Strauss's rarely performed Die Liebe der Danae and last year's Daniel Fish directed staging of Michael Gordon's Acquanetta. More details here.
Bergen Philharmonic
Bergen's outstanding orchestra enjoys national status in Norway with a history dating back to 1765. Its free streaming service was established as part of 250-year anniversary in 2015 and offers a fine selection of works from its concert series in Grieghallen, Bergen. Conductors include Edward Gardner, James Gaffigan, Thierry Fischer, David Zinman, Neeme Järvi, Jukka Pekka Saraste, Nathalie Stutzmann, and Christian Zacharias with soloists including Leif Ove Andsnes, Lise Davidsen, Truls Mørk, Mari Eriksmoen, and Freddy Kempf. Well worth exploring here.
Carnegie Hall
More than 200 teen musicians hailing from 41 states across the US came together in July 2020 as an online virtual community to form three musical ensembles: the National Youth Orchestra of the United States of America (NYO-USA), NYO2, and NYO Jazz. All three ensembles recorded exuberant virtual performance videos during the residency, directed by Emmy Award-winner Habib Azar. The first four videos—Valerie Coleman's Umoja by the musicians of NYO-USA; a unique adaptation of Grieg's Morning Mood by NYO2; and Thad Jones's Cherry Juice and Wycliffe Gordon's We're Still Here by NYO Jazz—are now available for viewing. Explore here.
NEW: Chatham Baroque
Chatham Baroque are releasing high-quality monthly videos featuring leading baroque performers including gambist Jaap ter Linden, lutenists Nigel North and Stephen Stubbs, and countertenor Reginald Mobley. Once posted, videos are available on demand through June 30, 2021. Each program includes artist interviews and are available for as little as $18 per program. Explore here.
The Cleveland Orchestra
Concert videos filmed at restaurants, shops, Cleveland Clinic, and iconic locations throughout Greater Cleveland will be released weekly on social media starting November 23. Cleveland Orchestra assistant concertmaster Jessica Lee and her colleagues created these videos to share the power of music with healthcare workers, patients, and the community affected by the COVID-19 pandemic. This series of 7-10 videos will be released weekly as part of the Music Medicine Initiative: The Power of Music for Health and Well-Being, a community collaboration between The Cleveland Orchestra and Cleveland Clinic's Art + Design Institute. Explore here.
NEW: Cliburn Kids
Cliburn Kids is a growing collection of entertaining 7- to 10-minute videos designed to introduce children to the fun of classical music. How does music paint pictures, tell stories, express feelings? Host Buddy Bray and guest artists use individual pieces to explore topics that delve into the way music is organized and structured, counting and rhythm, expressive elements, and sometimes just lighthearted enjoyment. Programs are geared towards elementary-aged children, and activities are provided for each episode that are perfect for in-classroom or at-home studies. New episodes and lesson plans are released every Tuesday. Explore here.
Daniel Hope: Hope@Home, Next Generation
With the return of restrictions throughout Europe, violinist Daniel Hope is once again playing live from his Berlin living room every evening. As he explains: "I think it is important now for established artists to use their influence to help the next generation, so that they have a chance in the future. That is why I have decided to restart Hope@Home, as well as to reconnect to people in lockdown around the world. Selected mentors will present young, freelance artists. All artists will receive a fee for their performances, and we will adhere to all COVID-19 regulations." Mentors—performing either virtually or live—include Christoph Eschenbach, Anne-Sophie Mutter, Renaud Capuçon, Sol Gabetta, and Sarah Willis. View here with episodes archived here.
NEW: Days & Nights Festival
The annual multidisciplinary Days and Nights Festival—which since 2011 has taken place in and around Big Sur, California and has brought together luminaries and pioneers in fields including music, dance, theater, literature, film and the sciences—launches its premiere streaming portal featuring exclusive films of a selection of its landmark performances and events. Films slated for release, from February to May 2021, includes contributions by such wide-ranging figures as JoAnne Akalaitis, Tibetan artist Tenzin Choegyal, Danny Elfman, Molissa Fenley, María Irene Fornés, Allen Ginsberg, Dev Hynes (Blood Orange), Jerry Quickley, and Glass himself. Featured performers and ensembles include Dennis Russell Davies, Ira Glass, Matt Haimovitz, Tara Hugo, Lavinia Meijer, Maki Namekawa, Gregory Purnhagen, Third Coast Percussion, Opera Parallèle, and Glass and his Philip Glass Ensemble. Explore here.
Detroit Symphony Orchestra
The Detroit Symphony Orchestra has made its webcast archive available for free. The collection features 200+ works going back three years, and highlights include Leonard Slatkin conducting John Luther Adams's climate change-inspired Become Ocean from 2019, several world premieres, and a host of bite-sized encores. Explore here.
Deutsche Grammophon Yellow Lounge
The German classical music giant is streaming Yellow Lounge broadcasts from its archives. Recent additions include clarinetist Andreas Ottensamer, pianists Alice Sara Ott and Chihiro Yamanaka, and cellist Mischa Maisky. Performances are broadcast in rotation, one video at a time, adding a new performance every few days. DG communicates the start of each new performance by newsletter at the start of each week. To keep updated sign up here.
English Symphony Orchestra
The English Symphony Orchestra's ESO Digital is an expanding digital archive of music, performed by English Symphony Orchestra and its partners, that you are unlikely to hear anywhere else. Access is free with a monthly donation; however Musical America readers can get a free trial of one week when setting up a new donation by using the coupon code MusicalAmerica2021. Register here.
Finnish National Opera
Finnish National Opera presents Stage24, a series of streamed archived performances on its website, which are then available for the next six months. Recent content includes a staged version of Sibelius's Kullervo, Stravinsky's The Rake's Progress, Caspar Holten's staging of Wagner's Der Fliegende Holländer with Camilla Nylund, and Christoff Loy's Tosca. An excellent company and some interesting and original work worth investigating. Explore here.
Handel and Haydn Society
Boston's Handel and Haydn Society has created the H+H Listening Room where you can hear and watch H+H performances including Mozart's Requiem, Handel's Messiah, and Purcell's Dido and Aeneas filmed at New York's Met Museum. There are also more than a dozen videos of musicians performing from their homes, a special video of principal flutist Emi Ferguson teaching people how to make their own baroque flute, and a new podcast called "Tuning In". In the first episode Principal Cellist Guy Fishman interviews Artistic Director Harry Christophers about Bach's St. Matthew Passion. Explore here.
Kennedy Center: Arts Across America: Winter Traditions.
As millions across the United States will be altering traditions to keep friends, loved ones, and neighbors safe, the Kennedy Center will be sharing performances from across the country and numerous communities and cultures to celebrate traditions held dear. Highlights include performances from Renée Fleming, Amythyst Kiah, Broadway's Austin Colby, Caroline Bowman, and Nicholas Ward, Los Texmaniacs celebrating their own Texas miracle following a battle with COVID-19, and D.C. favorites DuPont Brass, Aaron Myers, and Chuck Redd. Explore Winer Traditions here and other Kennedy Center regular online releases via their digital stage here.
La Scala/RAI
Italy's RAI presents five productions from La Scala Milan including the world premiere of Kurtág's Fin de Partie, Daniel Barenboim conducting Götterdämmerung, Lisette Oropesa in Verdi's I Masnadieri, Montedervi's Orfeo conducted by Rinaldo Alessandrini, and Les Vêpres Siciliennes conducted by Daniele Gatti. A wide range of concerts are also available. Explore and register here.
Leipzig Gewandhaus
Instead of the traditional New Year's Eve Concert with the Gewandhausorchester playing Beethoven's Ninth Symphony, Piano Duo Shalamov played Liszt's version for two pianos, here expanded with Beethoven's original timpani part played by Gewandhaus timpanist Tom Greenleaves. The performance is available here.
Les Arts Florissants
Les Arts Florissants's annual Festival in Thiré, France included a series of 10- to 15-minute "Meditation" concerts recorded earlier this summer. Now available to enjoy online, the Meditations include performances by students of Juilliard's Historical Performance program in the spirit of their annual participation in the Festival. View here.
Lincoln Center Lincoln Center Passport to the Arts
A variety of virtual classes, performances, and bonus content designed for children, teens and adults with disabilities and their families. Offerings include programs with Chamber Music Society of Lincoln Center, Jazz at Lincoln Center, the Metropolitan Opera Guild, New York City Ballet, the New York Philharmonic, and The New York Public Library for the Performing Arts. Families can attend dance, music or drama classes, watch exclusive performances, check out behind-the-scenes content, and even meet performers—all from their homes. Families will receive pre-visit materials, including social narratives, photos, and links before each program. All programs take place via Zoom. Register here.
Los Angeles Chamber Orchestra
LACO AT HOME offers streaming and on demand performances, including a full showing of the orchestra's critically acclaimed West Coast premiere of Dark with Excessive Bright for double bass and strings by LACO Artist-in-Residence Missy Mazzoli. View streaming here and on demand here
Los Angeles Master Chorale
Videos recorded as part of the "Offstage with the Los Angeles Master Chorale" series from April 24 to June 19 included interviews conducted by Artistic Director Grant Gershon and Associate Conductor Jenny Wong with notable performers—including special guests Reena Esmail, Morten Lauridsen, Anna Schubert, Peter Sellars, Derrick Spiva—as well as Master Chorale singers. Available on demand here.
NEW: Mark Morris Dance Group 40th Anniversary Digital Season
MMDG continues to celebrate its 40th Anniversary with a new archival collection featuring three excerpts from Mark Morris dances?I Don't Want to Love, Rhymes With Silver, and V?and one full-length work, Rock of Ages, selected by veteran MMDG company members Joe Bowie and Lauren Grant. Viewers are also able to watch the full performances of the excerpted works on demand. Each work is preceded by video introductions by Joe Bowie and Lauren Grant. Explore here.
Metropolitan Opera Live In Schools
The Metropolitan Opera's HD Live in Schools program has launched a new series for the 2020–21 school year, creating cross-disciplinary educational opportunities across the country. For the 2020–21 school year, students and teachers will receive free subscriptions to the Met Opera on Demand service, with a catalogue of more than 700 Live in HD presentations, classic telecasts, and radio broadcasts. Ten operas have been selected for the HD Live in Schools program, and will be presented in five educational units, with two thematically paired operas per unit. The series opens with Beethoven's Fidelio and Donizetti's La Fille du Régiment (September 28–October 16), both of which explore the intersection of music and politics. The Met will continue to offer teachers HD Live in Schools Educator Guides and access to Google Classroom materials that can be adapted for virtual learning lesson plans. In addition, the Met's National Educators Conference will be hosted on a virtual platform this year and take place on five Saturdays throughout the 2020–21 school year. Two conferences, scheduled for October 10, 2020, and October 17, 2020, will also feature live conversations with Met artists. More information here.
Minnesota Orchestra
Minnesota Orchestra at Home shares video, audio, and educational materials through the categories of Watch, Listen and Learn, including videos from the orchestra's archives and newly created "mini-concerts" directly from the homes of Orchestra musicians. Explore and view here.
National Sawdust Digital Discovery Festival, Volume One
With more than 65 events, featuring over 100 artists premiering in a four-month span, National Sawdust Digital Discovery Festival: Volume One was a bright spot in NYC's post-COVID live music world. Featuring post-COVID performances from Robert Wilson, Julian Lage, Tyondai Braxton, Emel Mathlouthi, Matthew Whitaker, Dan Tepfer, Ashley Bathgate, Emily Wells, Brooklyn Rider, Joel Ross, Conrad Tao, Andrew Yee, and Lucy Dhegrae, and recently recorded Masterclasses with Tania León, Ted Hearne, Vijay Iyer, Jamie Barton, Lawrence Brownlee, Trimpin, and Lara St. John. Archival performances include David Byrne, Lara Downes and Rhiannon Giddens, and Ryuichi Sakamoto. Explore here.
New World Symphony
The New World Symphony presents a web-based series called NWS Archive+. Michael Tilson Thomas moderates discussions with NWS Fellows, alumni, guest artists, and visiting faculty about archived recordings. Performances will be available here. NWS Fellows also play live, informal chamber music concerts from their homes in Miami Beach and broadcast via Facebook Live. In addition, the NWS online archive contains master classes, tutorials and town halls, which can be found here. Finally, for the past 10 years, the Fellows have performed one-hour concerts for local school children. These concerts and preparatory material will be available free to students and parents. NWS Educational concerts can be found here.
Opera Australia
OA | TV: Opera Australia on Demand is the Sydney-based company's new digital space. Alongside the world's largest collection of Dame Joan Sutherland on video, OA will offer exclusive content from the OA back catalogue, productions from Handa Opera on Sydney Harbour, and a new series of chat show-style interviews conducted by AD Lyddon Terracini. The first posted full show is Sutherland in The Merry Widow, and the fileted aria's in the section labelled "The Best of Dame Joan Sutherland" are even better. View here.
Opéra National de Paris
The Palais Garnier and Bastille Opera have made their digital stage, "The 3e Scène," free. The platform is a pure place of artistic adventure and exploration, giving free rein to photographers, filmmakers, writers, illustrators, visual artists, composers, and choreographers to create original works. Visit here. Some of Opéra National de Paris's productions are accessible on the company's Facebook Page. In addition, Octave, the Paris Opera's online magazine, is posting articles, videos, and interviews here.
Opera North
One of Britain's most respected smaller opera companies, Opera North has put its acclaimed semi-staged concerts of Wagner's epic Ring Cycle online. "Beg, borrow, or be like Wotan and steal a ticket for this show," said the UK's Times of Das Rheingold. "You'd be lucky to hear as good at Bayreuth," said The Telegraph of Die Walküre. Richard Farnes proves a seriously impressive Wagner conductor. Watch here.
OperaVision
OperaVision offers livestreams of operas available for free and online for up to six months. Previous offerings include Barrie Kosky's visually spectacular Moses und Aron, David McVicar's superb Die Entführung aus dem Serail from Glyndebourne, and Deborah Warner's thoughtful Death in Venice for English National Opera. View upcoming and past content here.
Rotterdam Philharmonic Orchestra: Beethoven at Home
RPO brought Beethoven to living rooms in December playing all nine symphonies. The musicians performed the first eight symphonies in small chamber ensembles varying from a string sextet to a 15-strong brass ensemble. The Grand Finale took place on New Year's Eve: Beethoven's Ninth, played by the full orchestra with chorus and soloists. View here.
Orli Shaham Bach Yard Playdates
Pianist Orli Shaham brings her acclaimed interactive concert series for kids to the internet. Bach Yard Playdates introduces musical concepts, instruments, and the experience of concert-going to a global audience of children and their families. A number of 10-minute episodes are already available for on-demand streaming. Programs and performances range from Bach's Two-Part Invention to Steve Reich's Clapping Music. Explore here.
The Sixteen Choral Odyssey
Actor Sir Simon Russell Beale, Harry Christophers and The Sixteen have recorded a special, five-part series. A Choral Odyssey explores choral music from across the ages in iconic, relevant surroundings—from Byrd in Elizabeth I's childhood home of Hatfield House, to Purcell in the reconstructed 17th-century theatre of the Sam Wanamaker Playhouse at London's Globe Theatre. With a mix of conversation, music demonstration and performance, these programs reunite Harry Christophers and Simon Russell Beale—a partnership which proved successful in the popular BBC Sacred Music series—and feature performers from The Sixteen. Tickets £10 per episode. View here until March 31.
Trinity Wall Street
New York's Trinity Church Wall Street introduces daily weekday "Comfort at One" (1 pm ET) streaming performances on Facebook with full videos posted here. Tune in for encore performances of favorite Trinity concerts, professionally filmed in HD, along with current at-home performances from Trinity's extended artistic family.
University of Colorado Boulder
University of Colorado Boulder College of Music faculty artists perform with students and colleagues in Faculty Tuesdays, chamber music recitals featuring world premieres alongside classics. Free most Tuesdays from September 2020 through March 2021. Upcoming performers include violinist Harumi Rhodes, violist Richard O'Neill, cellist David Requiro, pianist David Korevaar, harpist Janet Harriman, and more. Explore here.
Voices of Ascension
New York choir Voices of Ascension, which celebrates its 30th anniversary next season, is posting a daily offering of choral beauty on its website. Music is chosen by staff, members of the chorus and orchestra, and listeners. View here.
Warsaw Philharmonic
The Warsaw Philharmonic has made a selection of video recordings available on its YouTube channel. Recent offerings include Saint-Saëns's Organ Symphony and Arvo Pärt's Swansong conducted by Artistic Director Andrzej Boreyko, as well as rarities by Polish composers like Grazyna Bacewicz. It's an excellent orchestra very much in the Eastern European tradition and concerts have been master edited for posting online.
Paid Digital Arts Services
Berlin Philharmonic Digital Concert Hall
The BPO Digital Concert Hall contains over 600 orchestra concerts covering more than ten years, including 15 concerts with the orchestra's new Chief Conductor Kirill Petrenko, interviews, backstage footage. Subscriptions or single tickets available.
Medici TV
Thousands of classical music videos are available by subscription, as well as hundreds of events that are broadcast live for free each year, available for 90 days. Subscriptions cost $83.85 per year but single tickets are also available. www.medici.tv
Pictured: Pianist Mitsuko Uchida

WHO'S BLOGGING


RENT A PHOTO
Search Musical America's archive of photos from 1900-1992.