---
MA's Free Guide to (Mostly) Free Streams, Jan. 4-11
We will be updating this list weekly. Please note that all times are given in U.S. Eastern Time (ET). To calculate in other time zones or counties, British Summer Time (BST) is currently five hours ahead of ET and Central European Time (CET) is currently six hours ahead. U.S. Central Daylight Time (CDT) is one hour behind ET. Mountain Time (MT) is two hours behind ET, while Pacific Time (PT) is three hours behind. Contact editor@musicalamerica.com.
Classical music coverage on Musical America is supported in part by a grant from the Rubin Institute for Music Criticism, the San Francisco Conservatory of Music, and the Ann and Gordon Getty Foundation. Musical America makes all editorial decisions.
---
** Highly recommended
Monday, January 4
8 am ET: Wigmore Hall presents Ema Nikolovska & Malcolm Martineau. Macedonian mezzo-soprano Ema Nikolovska, a BBC Radio 3 New Generation Artist, opens the Wigmore Hall spring season with a lunchtime program with songs by Schubert, Dvorák, and 20th-century Czech composer Vítezslava Kaprálová. The program includes two songs from Britten's A Charm of Lullabies before ending with Slonimsky's witty Five Advertising Songs. Register, view here and on demand for 30 days. LIVE
1 pm ET: Wiener Staatsoper presents Tchaikovsky's The Nutcracker. Conductor: Kevin Rhodes, choreography: Rudolf Nureyev. With Natascha Mair, Robert Gabdullin, and soloists and corps de ballet of Wiener Staatsballetts. Production from December 2018. Register for free and view here.
2 pm ET: Teatro alla Scala presents Markus Werba in Recital. The German baritone performs Schumann's Dichterliebe Op. 48 and Liederkreis Op. 39 with pianist Michele Gamba. View here.
7:30 pm ET: Met Opera Streams presents Cilea's Adriana Lecouvreur. Starring Anna Netrebko, Anita Rachvelishvili, Piotr Beczala, Carlo Bosi, Ambrogio Maestri, and Maurizio Muraro, conducted by Gianandrea Noseda. From January 12, 2019. View here and for 24 hours.
Tuesday, January 5
1 pm ET: Wiener Staatsoper presents Rossini's La Cenerentola. Conductor: Jean-Christophe Spinosi, director: Sven-Eric Bechtolf. With Isabel Leonard, Maxim Mironov, Alessio Arduini, and Luca Pisaroni. Production from February 2018. Register for free and view here.
7:30 pm ET: Nightly Met Opera Streams presents Rossini's La Donna del Lago. Starring Joyce DiDonato, Daniela Barcellona, Juan Diego Flórez, John Osborn, and Oren Gradus, conducted by Michele Mariotti. From March 14, 2015. View here and for 24 hours.
7:30 pm ET: Piffaro presents Twelfth Night. Celebrate the 12th day of Christmas with mystery, mischief, and humor. The concert features English Masque music from the early 17th century, much of it designated or composed for a 12th Night event. Instrumental color comes with the addition of krumhorns, douçaine, and the three big basses: octave bass dulcian, contrabass recorder, and bass sackbut. Tickets $13. View here.
Wednesday, January 6
1 pm ET: Wiener Staatsoper presents Dvorák's Rusalka. Conductor: Tomás Hanus, director: Sven-Eric Bechtolf. With Piotr Beczala, Olga Bezsmertna, Jongmin Park, Elena Zhidkova, and Monika Bohinec. Production from February 2020. Register for free and view here.
2 pm ET: VOCES8 Live from London presents Gabrieli Consort & Players. Bach's Christmas Oratorio BWV248 Part VI: The Three Kings. Cantata VI, Herr, wenn die stolzen Feinde schnauben, is performed by the Gabrieli Consort & Players conducted by Paul McCreesh with Carolyn Sampson soprano, Helen Charlston mezzo-soprano, Hugo Hymas tenor, and Ashley Riches bass-baritone. Tickets £12.50 and view here.
2 pm ET: IDAGIO Global Concert Hall presents Venezia Stravagante. Filmed at Teatro Goldoni in Bagnacavallo, Italy, Accademia Bizantina presents Venezia Stravagante, an all-Vivaldi program marking the new season of their "Libera La Musica" series. Tickets $13. View here.
2:30 pm Bournemouth Symphony Orchestra presents Past Reflections. Kirill Karabits conducts the BSO in Ravel's Le Tombeau de Couperin—a memorial to the fallen in the First World War. Couperin in turn depicts Lully's elevation to Mount Parnassus while Lully's music for Le Bourgeois Gentilhomme is enlivened by Strauss's colorful orchestration and countermelodies. Tickets £9 and view here. LIVE
7:30 pm ET: Nightly Met Opera Streams presents Bizet's Les Pêcheurs de Perles. Starring Diana Damrau, Matthew Polenzani, Mariusz Kwiecien, and Nicolas Testé, conducted by Gianandrea Noseda. From January 16, 2016. View here and for 24 hours.
Thursday, January 7
11 am ET: London Symphony Orchestra presents The Clerkenwell Ballad Walk. As part of Baroque at the Edge, Vivien Ellis, folksinger, and Dafydd Wyn Phillips, historian, explore the streets and open spaces surrounding the LSO's Old Street venue, LSO St Luke's, in a virtual tour lent musical colour by some of the popular ballads of years gone by. Tickets: £5. View here.
1 pm ET: Wiener Staatsoper presents Wagner's Die Walküre. Conductor: Adam Fischer, director: Sven-Eric Bechtolf. With Christopher Ventris, Ain Anger, Waltraud Meier, Linda Watson, and Tomasz Konieczny. Production from January 2016. Register for free and view here.
2 pm ET: VOCES8 Live from London presents Intrada: A Russian Christmas. Celebrate the Great Feast of Orthodox Christmas with Russian ensemble Intrada from the Elokhovo Cathedral in Moscow. The concert includes Orthodox chant and premieres of 12-part Russian baroque music alongside masterpieces by Bortnyanski, Rachmaninov, Stravinsky, fragments from Galina Grigoryeva's choral concerto Svyatki and the Ukranian folk song "Schedrik" or "The little Swallow". Tickets £12.50 and view here.
2:30 pm ET: Wigmore Hall presents Sir András Schiff. Details TBA. Register, view here and on demand for 30 days. LIVE **
6 pm ET: National Sawdust presents Ferus Festival: Ash Koosha with YONA. From the underground punk scene in a repressive Tehran to the creation of an auxiliary human named YONA, polymath performer and self-described "software humanist" Ash Koosha uses software that creates sentences, melodies, and singing to produce original compositions via a complex text-to-speech process. Ash and YONA will perform "self-generated" love songs. Stay for the talk-back with Paola Prestini. View here.
6 pm ET: Philadelphia Chamber Music Society presents Hsin-Yun Huang, Misha Amory & Thomas Sauer. Husband-and-wife violists Misha Amory (Brentano Quartet) and Hsin-Yun Huang (formerly of the Borromeo Quartet) and pianist Thomas Sauer perform Leclair's Duo for Two Violas, Walker's Viola Sonata, Bridge/Bowen's Lament and Duo, Benjamin's Viola Viola, a selection of Chopin/Adès's Mazurkas, Still/Vaughan-Williams's Here's One and Romance, and Berio's Duos for Two Violas. View here and for 72 hours.
7:30 pm ET: Nightly Met Opera Streams presents Bellini's I Puritani. Starring Anna Netrebko, Eric Cutler, Franco Vassallo, and John Relyea, conducted by Patrick Summers. From January 6, 2007. View here and for 24 hours.
10:30 pm ET: Seattle Symphony presents Shostakovich Cello Concerto No. 2. Alisa Weilerstein is the soloist for Shostakovich's Cello Concerto No. 2. Conductor Emeritus Ludovic Morlot leads the program, which opens with Caroline Shaw's Haydn-inspired Entr'acte and concludes with Beethoven's Symphony No. 8. View here.
Friday, January 8
11 am ET: London Symphony Orchestra presents Synthesizer Demonstration with Art of Moog. As part of Baroque at the Edge, two members of Art of Moog offer an introduction to the sound-world of electronic Bach. A practical showing of the capabilities of the synthesizer, the electronic instrument synonymous with '80s pop and famous in the 1960s for its role in Switched on Bach. Tickets: £5. View here.
12 pm ET: Medici.TV presents Maxim Emelyanychev conducts Schumann. Three classics by Schumann live from Toulouse's Halle aux Grains. The program kicks off with the Overture from Genoveva, before Adam Laloum joins the Orchestre national du Capitole de Toulouse for the Piano Concerto. The evening closes with the Fourth Symphony, whose main theme is based on the C-L-A-R-A anagram, a tribute to the composer's wife. Tickets $10. View here. LIVE
1 pm ET: OperaVision presents Mozart's The Magic Flute. Recorded on July 29, 2018, Macerata Opera Festival's Italian language version of Mozart's opera is directed by Graham Vick. Conducted by Daniel Cohen, it stars Giovanni Sala, Guido Loconsolo, Tetiana Zhuravel, Valentina Mastrangelo, and Antonio Di Matteo. With the Orchestra Regionale delle Marche. View here for six months.
1 pm ET: Wiener Staatsoper presents Giselle. Conductor: Paul Connelly, choreography: Elena Tschernischova after Jean Coralli, Jules Perrot, and Marius Petipa. With Maria Yakovleva, Masayu Kimoto, Kiyoka Hashimoto, Andrey Teterin, Elena Bottaro, Arne Vandervelde, and soloists and corps de ballet of Wiener Staatsballetts. Production from October 2018. Register for free and view here.
2 pm ET: Medici.TV presents New Year's Concert. Gergely Madaras leads the Liège Royal Philharmonic in the Salle Philharmonique in Liège, Belgium, in an all-Gershwin program. Pianist Yeol Eum Son plays I Got Rhythm and Rhapsody in Blue and the concert ends with Catfish Row, the symphonic suite from the opera Porgy and Bess. Tickets $10. View here. LIVE
2 pm ET: DG Stage presents Albrecht Mayer explores the Baroque. Oboist Albrecht Mayer and harpsichordist Vital Julian Frey perform works by Bach and Vivaldi. Together they explore oboe concertos and trio sonatas as well as famous arias transcribed for oboe d'amore. Recorded at the Siemens-Villa Berlin. Tickets Euro 9.90. View here.
2:30 pm ET: London Symphony Orchestra presents Sean Shibe's Danse Eternelle. As part of Baroque at the Edge, the classical guitarist mixes dance-based compositions by 20th-century French figures such as Ravel and Poulenc with real dance tunes from the 1600s, played on the guitar's ancestor, the lute. Tickets: £5. View here.
2:30 pm ET: Wigmore Hall presents Wigmore Soloists: Schubert Octet. The debut for new ensemble the Wigmore Soloists. Isabelle van Keulen and Michael Collins are joined by a roster of top musicians for Schubert's 1824 Octet. The work was conceived using Beethoven's Opus 20 Septet as a model, adding a second violin, and is the epitome of the divertimento in variety and tunefulness. Register, view here and on demand for 30 days. LIVE
2:30 pm ET: IDAGIO Global Concert Hall presents Nature and Life 1. Live from Rome, Daniele Gatti joins the Orchestra dell'Accademia Nazionale di Santa Cecilia in a pair of concerts celebrating the Austrian musical landscape with baritone Markus Werba. The first program couples Beethoven's Egmont Overture, Haydn's Military Symphony, and a selection from Mahler's songs from Des Knaben Wunderhorn. Tickets $7. View here. LIVE
5 pm ET: National Sawdust FERUS Festival presents Active Hope with Kamilah Forbes, Marc Bamthi Joseph & Paola Prestini. A Broadway director, a poet, and a composer lead a salon to explore the greatest and most tangled concerns of the modern era, including immigration, borders, beauty, erasure and appropriation, censorship, prison reform and wealth equality. Join arts leaders Kamilah Forbes of The Apollo Theater, Marc Bamthi Joseph of The Kennedy Center and Paola Prestini of National Sawdust for a public conversation about how artists can responsibly and inclusively build a more equitable and truer path into the future. View here.
7:30 pm ET: Nightly Met Opera Streams presents Mascagni's Cavalleria Rusticana. Starring Eva-Maria Westbroek, Jane Bunnell, Marcelo Álvarez, George Gagnidze, Patricia Racette, Marcelo Álvarez, George Gagnidze, and Lucas Meachem, conducted by Fabio Luisi. From April 25, 2015. View here and for 24 hours.
7:30 pm ET: Detroit Symphony Orchestra presents Rock 'n Roll Radio. From timeless classics to contemporary favorites, the DSO journeys across the airwaves for some of radio's greatest hits. Tickets $12. View here.
8 pm ET: Music Worcester presents Simone Dinnerstein. A solo performance, filmed at Dinnerstein's home studio in Brooklyn, NY, will feature works by Schumann, Glass, Satie, and Couperin. Tickets $20. View here until January 10.
8 pm ET: Prototype Festival presents Modulation. A ground-breaking exploration of how opera and theater can adapt to the digital format. Audience members choose their path through a series of musical and visual experiences that grapple with themes of isolation, identity, and fear. The digital and design experience is created in partnership with Imaginary Places and the 13 works that make up the experience are composed by some of the most provocative voices in contemporary music: Jojo Abot, Sahba Aminikia, Juhi Bansal, Raven Chacon, Carmina Escobar, Yvette Jackson, Molly Joyce, Jimmy López, Angelica Negrón, Paul Pinto, Daniel Bernard Roumain, Joel Thompson, and Bora Yoon. Tickets $25. View here and available until January 16.
8 pm ET: Opera Philadelphia presents Bon Appetit. Lee Hoiby's opera showcases Julia Child and is adapted from one of her classic television broadcasts during which she bakes a chocolate cake. Opera Philadelphia has partnered with Houston Grand Opera for a new production starring mezzo-soprano Jamie Barton. Opera Philadelphia has also partnered with chef Pierre Calmels, owner of Bibou Boutique, who will provide a three-course French dinner to gala guests in the Philadelphia region (at the Benefactor level and above). A digital fundraiser: details here and on demand.
8:30 pm ET: Third Coast Percussion presents Metamorphosis. A re-broadcast of the world premiere performance of Metamorphosis, originally presented by La Jolla Music Society on November 7, 2020, blending street dance and percussion ensemble performance. Choreography by Movement Art Is co-founders Jon Boogz and Lil Buck is featured alongside new music composed by Jlin and Tyondai Braxton and TCP's arrangements of Philip Glass's Aguas da Amazonia. View here.
Saturday, January 9
6:30 am ET: Wigmore Hall presents Apartment House: Feldman I. Feldman was a major figure in 20th-century music and, influenced by abstract painting, helped pioneer indeterminate music, a development associated with the experimental New York School of composers. Program: Last Pieces, For Aaron Copland, Vertical Thoughts 4, Projection 1, Extensions 3, Durations 4, Intersection III, Extensions 1, Intermission VI, and The King of Denmark. Register, view here and on demand for 30 days. LIVE
10 am ET: Wigmore Hall presents Apartment House: Feldman II. Feldman was a major figure in 20th-century music and, influenced by abstract painting, helped pioneer indeterminate music, a development associated with the experimental New York School of composers. Program: Piano and String Quartet. Register, view here and on demand for 30 days. LIVE
10 am ET: Prototype Festival presents Times x Times x Times. Composer Pamela Z and theater artist Geoff Sobelle collaborate on a site-specific sonic journey through Times Square, past, present and imagined. In a work of sound and space, the listener is brought into a realm where the city and score come together and fall apart and come together again. View here and available until January 16 with artist conversation January 12 at 5 pm ET.
11 am ET: London Symphony Orchestra presents Baroque Music as Speech. As part of Baroque at the Edge, Rachel Podger (and her violin) explain how baroque composers used the ancient techniques of classical rhetoric to make their music talk. Tickets: £5. View here. LIVE
11 am ET: Detroit Symphony Orchestra presents Family Film Favorites. From lions and superheroes to mermaids, discover how music brings characters from the stage and screen to life. Tickets $12. View here.
1 pm ET: Wiener Staatsoper presents Janácek's The Makropulos Case. Conductor: Jakub Hrusa, director: Peter Stein. With Laura Aikin, Ludovit Ludha, Thomas Ebenstein, Margarita Gritskova, Markus Marquardt, and Heinz Zednik. Production from December 2015. Register for free and view here. **
2:30 pm ET: Wigmore Hall presents Apartment House: Feldman III. Feldman was a major figure in 20th-century music and, influenced by abstract painting, helped pioneer indeterminate music, a development associated with the experimental New York School of composers. Program: Palais de Mari, Four Instruments, Two Instruments, The O'Hara Songs, Durations 2, and For Franz Kline. Register, view here and on demand for 30 days. LIVE **
4:30 pm ET: London Symphony Orchestra presents Bach's Friends Electric. As part of Baroque at the Edge, a contemporary re-imagining of the creative new sound-world for the music of Bach pioneered in the 60s by original synth genius Wendy Carlos, performed live by four synth-players. Tickets: £5. View here.
6 pm ET: National Sawdust FERUS Festival presents Mozart's Requiem: A Digital Short. When choreographer Kyle Abraham and producer Jlin began working on a commission exploring death and reincarnation through a reimagining of Mozart's Requiem, the pre-pandemic world looked very different. While most commissions and public performances are on hold, National Sawdust has invited two of this generation's most exciting and genre-fluid artists to create a new film featuring dancers from Abraham's company A.I.M, and musical excerpts by Jlin. A short discussion with the artists follows the screening. View here.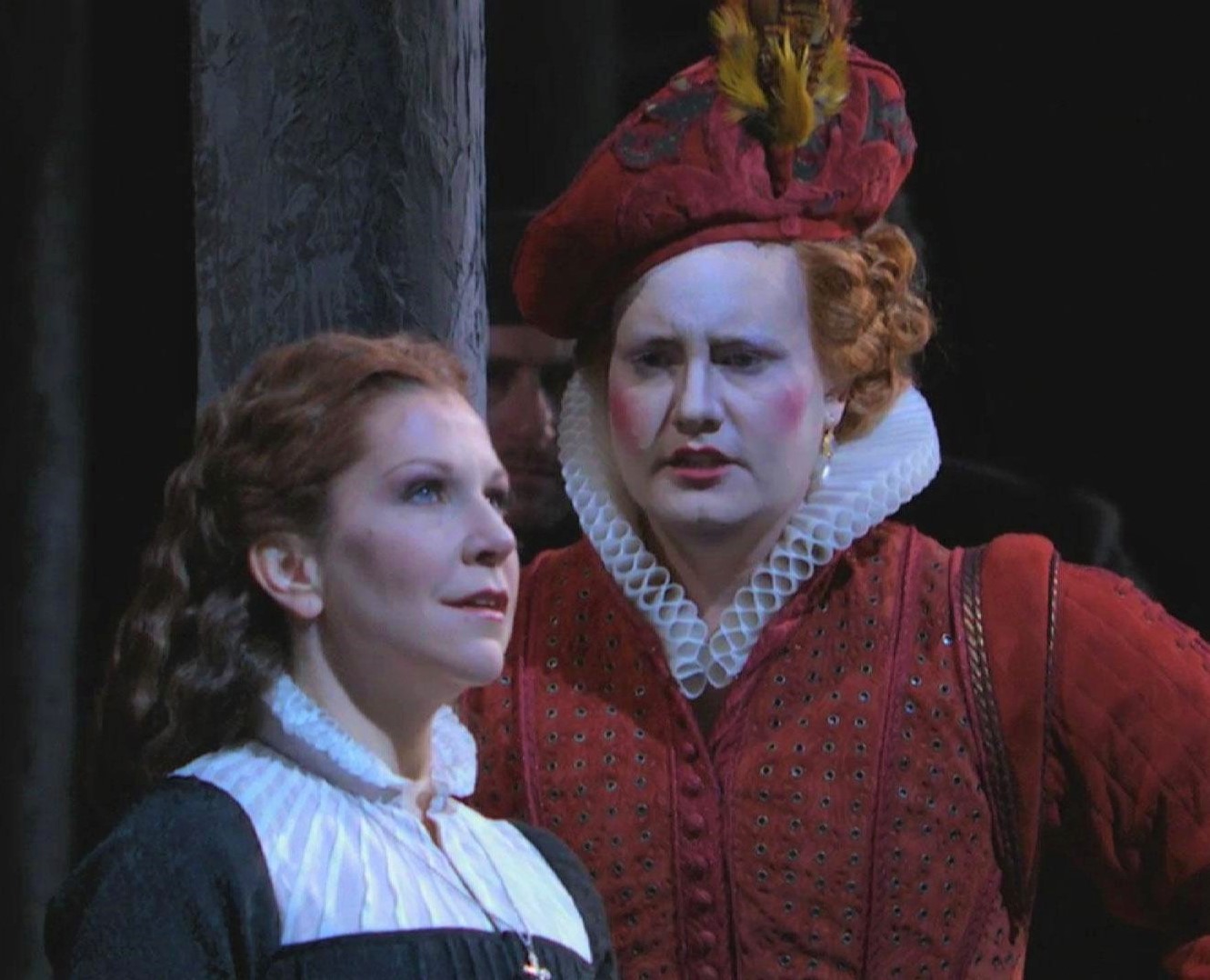 7:30 pm ET: Nightly Met Opera Streams presents Donizetti's Maria Stuarda. Starring Elza van den Heever, Joyce DiDonato, Matthew Polenzani, Joshua Hopkins, and Matthew Rose, conducted by Maurizio Benini. From January 19, 2013. From January 26, 1991. View here and for 24 hours.
8 pm ET: Wallis Annenberg Center for Performing Arts presents Anne Akiko Meyers & Fabio Bidini. Violinist Anne Akiko Meyers and pianist Fabio Bidini herald the New Year with a musical journey to France. The program includes Gounod's Ave Mari, Massanet's Méditation from Thais, and Ravel's jazz-inflected Sonata No. 2 in G. Tickets $25 per household. Register and view here.
10 pm ET: Kontrapunktus presents The Red Priest: A Portrait of Antonio Vivaldi. A virtual baroque experience in a program that includes six rarely performed concertos that are a departure from the familiar Four Seasons. View here.
Sunday, January 10
6 am ET: Elbphilharmonie presents New Year Concert. Performed without audience, Sylvain Cambreling conducts Symphoniker Hamburg and violinist Viviane Hagner in Mozart's Overture to Le Nozze di Figaro, KV 492, Mendelssohn's Violin Concerto in E Minor, and Beethoven's Symphony No. 7 in A. View here and on demand. LIVE
11 am ET: London Symphony Orchestra presents Cubaroque. As part of Baroque at the Edge, Nicholas Mulroy tenor, Elizabeth Kenny lute, and Toby Carr guitar explore how songs of love, loss, religion and politics by Purcell, Monteverdi and Strozzi speak across the oceans and centuries to modern Latin-American 'standards' by the likes of Silvio Rodríguez, Caetano Veloso, Pablo Milanés, and Victor Jara. Tickets: £10. View here.
12 pm ET: Prototype Festival presents The Murder of Halit Yozgat. Yozgat, 21, was assassinated in his parents' internet café on April 6, 2006 in Kassel, Germany. Five witnesses were present in the 77 square metre space when Halit was shot twice in the head. With sound art, electronics, and dark metal, Ben Frost musicalizes the structural racism and institutional blindness that affects the country's immigrant communities. When work had to be suspended due to COVID-19, Frost, with Trevor Tweeten, resumed rehearsal and released a film about the project. The result is a cinematic portrait on the borderline between documentation and fiction about the reconstruction of a murder case. View here and available until January 16 with artist conversation January 16 at 3 pm ET. **
12 pm ET: Prototype Festival presents The Planet: A Lament. Garin Nugroho's staged song cycle merges film with live dance and a 14-voice choir to impart a story of creation set against the backdrop of environmental disaster. Nugroho, expands his canvas to portray a destroyed community struggling in the aftermath of a devastating tsunami collaborating with the Mazmur Chorale from Kupang and an artistic team from across the Indonesian archipelago of composers, choreographers and Papuan dancers. View here and available until January 16 with artist conversation January 10 at 9 pm ET.
12 pm ET: Prototype Festival presents Wide Slumber for Lepidopterists. Inspired by the award-winning book by poet a.rawlings, Wide Slumber for Lepidopterists pairs sleep and dream studies with lepidoptery, the study of butterflies and moths. Composed by Valgeir Sigurðsson and directed by Sara Martí, the work was produced by VaVaVoom Theatre and Bedroom Community, the work premiered in May 2014 at the Reykjavik Arts Festival. View here and available until January 16 with artist conversation January 16 at 12 pm ET.
1 pm ET: Wiener Staatsoper presents Wagner's Siegfried. Conductor: Adam Fischer, director: Sven-Eric Bechtolf. With Christian Franz, Linda Watson, Tomasz Konieczny, Herwig Pecoraro, and Jochen Schmeckenbecher. Production from January 2016. Register for free and view here.
2:30 pm ET: Orchestre Symphonique de Montréal presents Payare conducts Brahms. The OSM's new Music Director Designate, Venezuelan conductor Rafael Payare, conducts Brahms's First Symphony as well as Berlioz's Roman Carnival. View here.
2:30 pm ET: Wigmore Hall presents Kristian Bezuidenhout. The fortepianist plays an all-Mozart program comprising Piano Sonata in C K309, Rondo in A minor K511, Fantasia in C minor K475, and Piano Sonata in C minor K457. Register, view here and on demand for 30 days. LIVE **
2:30 pm ET: London Symphony Orchestra presents Folk Baroque. As part of Baroque at the Edge, leading classical and folk musicians combine styles and skills in a celebration of the major role folk song and dance has played in European art music, from the Celtic fringe to the French court. With Lucy Crowe soprano, John Dipper fiddle, The Askew Sisters, and La Nuova Musica. David Bates directs. Tickets: £10. View here.
4 pm ET: Our Concerts Live presents Concertos from the Inside: Mendelssohn. In this weekly 24-part series, Rachel Barton Pine performs the entire solo violin part of the greatest violin concertos unaccompanied and shares her perspective on each, explaining how she prepares to play it and how her performance connects to the work's historical and musical context. The series is geared towards career violinists, advanced students, violin teachers, and violin aficionados. Tickets $20. Register and view here.
6 pm ET: CAP UCLA presents Philip Glass's Piano Sonata. Pre-recorded live in Austria, Maki Namekawa performs Glass's Piano Sonata. The work premiered on July 4, 2019, at Piano Festival Ruhr in Germany and was performed by long-time collaborator Namekawa. View here.
7 pm ET: 92nd St Y presents Piazzolla to Joplin—Music of the Americas. Violinist Juliet Kurtzman and jazz pianist Pete Malinverni perform music from their new recording, Candlelight: Love in the Time of Cholera, featuring music of the Americas in its broadest sense, with tangos by Piazzolla and Gardel, a Joplin rag, a Brazilian choriño, selections from cornetist Bix Beiderbecke, and more. View here.
7:30 pm ET: Met Opera Streams presents Verdi's Il Trovatore. Starring Sondra Radvanovsky, Dolora Zajick, Marcelo Álvarez, Dmitri Hvorostovsky, and Stefan Kocán, conducted by Marco Armiliato. From April 30, 2011. View here and for 24 hours.
Monday, January 11
8 am ET: Wigmore Hall presents Steven Isserlis & Friends. Steven Isserlis cello, Irène Duval violin, Vashti Hunter cello, Jonian Ilias Kadesha violin, Pablo Hernán Benedi viola, Maggie Cole harpsichord, and Lucy Cole double bass play an all-Boccherini program comprising String Quintet Op. 13 No. 4 in D minor G280, Cello Sonata in C minor G2b, and Cello Concerto in G G480. Register, view here and on demand for 30 days. LIVE
1 pm ET: Wiener Staatsoper presents Verdi's Don Carlos. Conductor: Marco Armiliato, director: Daniele Abbado. With Stefano Secco, Ferruccio Furlanetto, Dmitri Hvorostovsky, Maria Pia Piscitelli, Béatrice Uria-Monzon. Production from February 2015. Register for free and view here. **
2 pm ET: Lincoln Center at Home presents Les Arts Florissants: Haydn's Symphony No. 87. William Christie conducts the virtual premiere of the orchestra's performance of Haydn's Symphony No. 87, the last of his six so-called "Paris" symphonies. The concert was recorded on October 27 at the Philharmonie de Paris and the 30-minute film includes a short introduction by Christie and first violinist Hiro Kurosaki. View here and for three months.
2:15 pm ET: Bayerischen Staatsoper presents Eight Songs for a Mad King. Baritone Holger Falk stars as King George III in Andreas Weirich production of Sir Peter Maxwell Davies's monodrama. The eight poems by Randolph Stow are based on original texts by the king, while the score notoriously calls for the destruction of a violin on stage. View here. LIVE
2:30 pm ET: Wigmore Hall presents Quatuor Danel. Continuing their long-term focus on the relationship between two composers who were mutual supporters as well as friends, Quatuor Danel performs the Fourth String Quartets by both Shostakovich (1949) and Weinberg (1945). Register, view here and on demand for 30 days. LIVE
7:30 pm ET: Met Opera Streams presents Mozart's Le Nozze di Figaro. Starring Renée Fleming, Cecilia Bartoli, Susanne Mentzer, Dwayne Croft, and Bryn Terfel, conducted by James Levine. From November 11, 1998. View here and for 24 hours.
Artists and Organizations Offering Free Content
The following are all accessible during the coronavirus pandemic:
Academy of Ancient Music
The most listened-to period instrument ensemble, directed by Richard Egarr, has made a number of streams available on its website. Guest artists include Louise Alder, soprano, Nicola Benedetti, violin, Mary Bevan, soprano, David Blackadder, trumpet, Iestyn Davies, countertenor, Tim Mead, countertenor, Christopher Purvis, bass, and Tenebrae, directed by Nigel Short. Explore here.
American Opera Project
First Glimpse is a video album of 20 songs created during the first year of AOP's 2019-21 fellowship program, Composers & the Voice. Originally intended as a live concert, the videos will be released every Friday beginning October 23 and for the following six weeks. The composers are Alaina Ferris, Matt Frey, Michael Lanci, Mary Prescott, Jessica Rudman and Tony Solitro, with librettists Amanda Hollander and Jonathan Douglass Turner. Videos will be free for one week following their release, after which they will be available to rent or purchase, individually or as a full set through AOP's Website. Explore here.
American Symphony Orchestra
American Symphony Orchestra releases weekly recordings from its archives with content alternating between live video recordings of SummerScape operas and audio recordings from previous ASO concerts. Ethel Smyth's The Wreckers, Richard Strauss's Die Liebe aus Danae, and Korngold's Das Wunder der Heliane, all conducted by Leon Botstein, are all highly recommended and available now.
Apollo's Fire: Music for the Soul
The Cleveland-based baroque orchestra founded by Artistic Director Jeannette Sorrell is offering a series of video streams entitled "Music for the Soul." New episodes are posted here.
Baltimore Symphony Orchestra
BSO Sessions continues to bring the stories of BSO musicians, conductors, and collaborators to life through a documentary-style narrative. In addition to the first three episodes currently available upcoming episodes celebrate a responsible return of winds and brass to the stage, as well as the series debut of Music Director Marin Alsop and Principal Pops Conductor Jack Everly. Assistant Conductor Jonathan Rush interviews film composer Michael Abels and Artistic Partner Wordsmith joins in a special holiday episode with a new rendition of "'Twas the Night Before Christmas." Explore here.
Bard SummerScape & Fisher Center
Archival works highlight Bard's wealth and breadth of programming, including performances from its SummerScape Opera and BMF archives. Recent include Bard SummerScape's 2011 production of Strauss's rarely performed Die Liebe der Danae and last year's Daniel Fish directed staging of Michael Gordon's Acquanetta. More details here.
Bergen Philharmonic
Bergen's outstanding orchestra enjoys national status in Norway with a history dating back to 1765. Its free streaming service was established as part of 250-year anniversary in 2015 and offers a fine selection of works from its concert series in Grieghallen, Bergen. Conductors include Edward Gardner, James Gaffigan, Thierry Fischer, David Zinman, Neeme Järvi, Jukka Pekka Saraste, Nathalie Stutzmann, and Christian Zacharias with soloists including Leif Ove Andsnes, Lise Davidsen, Truls Mørk, Mari Eriksmoen, and Freddy Kempf. Well worth exploring here.
Carnegie Hall
More than 200 teen musicians hailing from 41 states across the US came together in July 2020 as an online virtual community to form three musical ensembles: the National Youth Orchestra of the United States of America (NYO-USA), NYO2, and NYO Jazz. All three ensembles recorded exuberant virtual performance videos during the residency, directed by Emmy Award-winner Habib Azar. The first four videos—Valerie Coleman's Umoja by the musicians of NYO-USA; a unique adaptation of Grieg's Morning Mood by NYO2; and Thad Jones's Cherry Juice and Wycliffe Gordon's We're Still Here by NYO Jazz—are now available for viewing. Explore here.
The Cleveland Orchestra
Concert videos filmed at restaurants, shops, Cleveland Clinic, and iconic locations throughout Greater Cleveland will be released weekly on social media starting November 23. Cleveland Orchestra assistant concertmaster Jessica Lee and her colleagues created these videos to share the power of music with healthcare workers, patients, and the community affected by the COVID-19 pandemic. This series of 7-10 videos will be released weekly as part of the Music Medicine Initiative: The Power of Music for Health and Well-Being, a community collaboration between The Cleveland Orchestra and Cleveland Clinic's Art + Design Institute. Explore here.
Cliburn Kids
The Cliburn launches its expanded, robust online music education program for elementary-school students. Created as a resource for school districts, teachers, and parents, the initiative includes 27 lesson plans to date, each with a seven- to ten-minute video, and corresponding individual and class activities that meet objectives of the Texas Essential Knowledge and Skills (TEKS). New episodes and lesson plans are released every Tuesday of the 2020–2021 school year for a total of more than 50 by May 2021. Explore here.
Daniel Hope: Hope@Home, Next Generation
With the return of restrictions throughout Europe, violinist Daniel Hope is once again playing live from his Berlin living room every evening. As he explains: "I think it is important now for established artists to use their influence to help the next generation, so that they have a chance in the future. That is why I have decided to restart Hope@Home, as well as to reconnect to people in lockdown around the world. Selected mentors will present young, freelance artists. All artists will receive a fee for their performances, and we will adhere to all COVID-19 regulations." Mentors—performing either virtually or live—include Christoph Eschenbach, Anne-Sophie Mutter, Renaud Capuçon, Sol Gabetta, and Sarah Willis. View here with episodes archived here.
Detroit Symphony Orchestra
The Detroit Symphony Orchestra has made its webcast archive available for free. The collection features 200+ works going back three years, and highlights include Leonard Slatkin conducting John Luther Adams's climate change-inspired Become Ocean from 2019, several world premieres, and a host of bite-sized encores. Explore here.
Deutsche Grammophon Yellow Lounge
The German classical music giant is streaming Yellow Lounge broadcasts from its archives. Recent additions include clarinetist Andreas Ottensamer, pianists Alice Sara Ott and Chihiro Yamanaka, and cellist Mischa Maisky. Performances are broadcast in rotation, one video at a time, adding a new performance every few days. DG communicates the start of each new performance by newsletter at the start of each week. To keep updated sign up here.
Finnish National Opera
Finnish National Opera presents Stage24, a series of streamed archived performances on its website, which are then available for the next six months. Recent content includes a staged version of Sibelius's Kullervo, Stravinsky's The Rake's Progress, Caspar Holten's staging of Wagner's Der Fliegende Holländer with Camilla Nylund, and Christoff Loy's Tosca. An excellent company and some interesting and original work worth investigating. Explore here.
Handel and Haydn Society
Boston's Handel and Haydn Society has created the H+H Listening Room where you can hear and watch H+H performances including Mozart's Requiem, Handel's Messiah, and Purcell's Dido and Aeneas filmed at New York's Met Museum. There are also more than a dozen videos of musicians performing from their homes, a special video of principal flutist Emi Ferguson teaching people how to make their own baroque flute, and a new podcast called "Tuning In". In the first episode Principal Cellist Guy Fishman interviews Artistic Director Harry Christophers about Bach's St. Matthew Passion. Explore here.
Kennedy Center: Arts Across America: Winter Traditions.
As millions across the United States will be altering traditions to keep friends, loved ones, and neighbors safe, the Kennedy Center will be sharing performances from across the country and numerous communities and cultures to celebrate traditions held dear. Highlights include performances from Renée Fleming, Amythyst Kiah, Broadway's Austin Colby, Caroline Bowman, and Nicholas Ward, Los Texmaniacs celebrating their own Texas miracle following a battle with COVID-19, and D.C. favorites DuPont Brass, Aaron Myers, and Chuck Redd. Explore Winer Traditions here and other Kennedy Center regular online releases via their digital stage here.
La Scala/RAI
Italy's RAI presents five productions from La Scala Milan including the world premiere of Kurtág's Fin de Partie, Daniel Barenboim conducting Götterdämmerung, Lisette Oropesa in Verdi's I Masnadieri, Montedervi's Orfeo conducted by Rinaldo Alessandrini, and Les Vêpres Siciliennes conducted by Daniele Gatti. A wide range of concerts are also available. Explore and register here.
Les Arts Florissants
Les Arts Florissants's annual Festival in Thiré, France included a series of 10- to 15-minute "Meditation" concerts recorded earlier this summer. Now available to enjoy online, the Meditations include performances by students of Juilliard's Historical Performance program in the spirit of their annual participation in the Festival. View here.
Lincoln Center Lincoln Center Passport to the Arts
A variety of virtual classes, performances, and bonus content designed for children, teens and adults with disabilities and their families. Offerings include programs with Chamber Music Society of Lincoln Center, Jazz at Lincoln Center, the Metropolitan Opera Guild, New York City Ballet, the New York Philharmonic, and The New York Public Library for the Performing Arts. Families can attend dance, music or drama classes, watch exclusive performances, check out behind-the-scenes content, and even meet performers—all from their homes. Families will receive pre-visit materials, including social narratives, photos, and links before each program. All programs take place via Zoom. Register here.
Los Angeles Chamber Orchestra
LACO AT HOME offers streaming and on demand performances, including a full showing of the orchestra's critically acclaimed West Coast premiere of Dark with Excessive Bright for double bass and strings by LACO Artist-in-Residence Missy Mazzoli. View streaming here and on demand here.
Los Angeles Master Chorale
Videos recorded as part of the "Offstage with the Los Angeles Master Chorale" series from April 24 to June 19 included interviews conducted by Artistic Director Grant Gershon and Associate Conductor Jenny Wong with notable performers—including special guests Reena Esmail, Morten Lauridsen, Anna Schubert, Peter Sellars, Derrick Spiva—as well as Master Chorale singers. Available on demand here.
Metropolitan Opera Live In Schools
The Metropolitan Opera's HD Live in Schools program has launched a new series for the 2020–21 school year, creating cross-disciplinary educational opportunities across the country. For the 2020–21 school year, students and teachers will receive free subscriptions to the Met Opera on Demand service, with a catalogue of more than 700 Live in HD presentations, classic telecasts, and radio broadcasts. Ten operas have been selected for the HD Live in Schools program, and will be presented in five educational units, with two thematically paired operas per unit. The series opens with Beethoven's Fidelio and Donizetti's La Fille du Régiment (September 28–October 16), both of which explore the intersection of music and politics. The Met will continue to offer teachers HD Live in Schools Educator Guides and access to Google Classroom materials that can be adapted for virtual learning lesson plans. In addition, the Met's National Educators Conference will be hosted on a virtual platform this year and take place on five Saturdays throughout the 2020–21 school year. Two conferences, scheduled for October 10, 2020, and October 17, 2020, will also feature live conversations with Met artists. More information here.
Minnesota Orchestra
Minnesota Orchestra at Home shares video, audio, and educational materials through the categories of Watch, Listen and Learn, including videos from the orchestra's archives and newly created "mini-concerts" directly from the homes of Orchestra musicians. Explore and view here.
National Sawdust Digital Discovery Festival, Volume One
With more than 65 events, featuring over 100 artists premiering in a four-month span, National Sawdust Digital Discovery Festival: Volume One was a bright spot in NYC's post-COVID live music world. Featuring post-COVID performances from Robert Wilson, Julian Lage, Tyondai Braxton, Emel Mathlouthi, Matthew Whitaker, Dan Tepfer, Ashley Bathgate, Emily Wells, Brooklyn Rider, Joel Ross, Conrad Tao, Andrew Yee, and Lucy Dhegrae, and recently recorded Masterclasses with Tania León, Ted Hearne, Vijay Iyer, Jamie Barton, Lawrence Brownlee, Trimpin, and Lara St. John. Archival performances include David Byrne, Lara Downes and Rhiannon Giddens, and Ryuichi Sakamoto. Explore here.
New World Symphony
The New World Symphony presents a web-based series called NWS Archive+. Michael Tilson Thomas moderates discussions with NWS Fellows, alumni, guest artists, and visiting faculty about archived recordings. Performances will be available here. NWS Fellows also play live, informal chamber music concerts from their homes in Miami Beach and broadcast via Facebook Live. In addition, the NWS online archive contains master classes, tutorials and town halls, which can be found here. Finally, for the past 10 years, the Fellows have performed one-hour concerts for local school children. These concerts and preparatory material will be available free to students and parents. NWS Educational concerts can be found here.
Opera Australia
OA | TV: Opera Australia on Demand is the Sydney-based company's new digital space. Alongside the world's largest collection of Dame Joan Sutherland on video, OA will offer exclusive content from the OA back catalogue, productions from Handa Opera on Sydney Harbour, and a new series of chat show-style interviews conducted by AD Lyddon Terracini. The first posted full show is Sutherland in The Merry Widow, and the fileted aria's in the section labelled "The Best of Dame Joan Sutherland" are even better. View here.
Opéra National de Paris
The Palais Garnier and Bastille Opera have made their digital stage, "The 3e Scène," free. The platform is a pure place of artistic adventure and exploration, giving free rein to photographers, filmmakers, writers, illustrators, visual artists, composers, and choreographers to create original works. Visit here. Some of Opéra National de Paris's productions are accessible on the company's Facebook Page. In addition, Octave, the Paris Opera's online magazine, is posting articles, videos, and interviews here.
Opera North
One of Britain's most respected smaller opera companies, Opera North has put its acclaimed semi-staged concerts of Wagner's epic Ring Cycle online. "Beg, borrow, or be like Wotan and steal a ticket for this show," said the UK's Times of Das Rheingold. "You'd be lucky to hear as good at Bayreuth," said The Telegraph of Die Walküre. Richard Farnes proves a seriously impressive Wagner conductor. Watch here.
OperaVision
OperaVision offers livestreams of operas available for free and online for six months. Previous offerings include Barrie Kosky's visually spectacular Moses und Aron, David McVicar's superb Die Entführung aus dem Serail from Glyndebourne, and Deborah Warner's thoughtful Death in Venice for English National Opera. View upcoming and past content here.
Rotterdam Philharmonic Orchestra: Beethoven at Home
RPO bring Beethoven to living rooms in December playing all nine symphonies. The musicians will perform the first eight symphonies in small chamber ensembles varying from a string sextet to a 15-strong brass ensemble. The Grand Finale takes place on New Year's Eve: Beethoven's Ninth, played by the full orchestra with chorus and soloists. View here.
Orli Shaham Bach Yard Playdates
Pianist Orli Shaham brings her acclaimed interactive concert series for kids to the internet. Bach Yard Playdates introduces musical concepts, instruments, and the experience of concert-going to a global audience of children and their families. A number of 10-minute episodes are already available for on-demand streaming. Programs and performances range from Bach's Two-Part Invention to Steve Reich's Clapping Music. Explore here.
The Sixteen
The Sixteen and founder Harry Christophers launched Quarantine with The Sixteen, a regular schedule of digital content. The Sixteen Virtual Choir's performance of Sheppard's Libera nos involved each part being recorded at each singer's home. Other features include: Choral Chihuahua, a podcast by The Sixteen and I Fagiolini; Stay at Home Choir performing Sir James MacMillan's O Radiant Dawn; Archive performances, including MacMillan's Stabat Mater performed in the Sistine Chapel and Bach's St Matthew Passion with Streetwise Opera; Recipes for isolation; Video diaries providing insight into daily lives during lockdown; Weekly playlists. Explore here.
The Sphinx Organization
Dedicated to transforming lives through the power of diversity in the arts, Sphinx is presenting SphinxConnect 2021: UNITY! online from January 28 to 30. This year's convening features over 70 speakers. Highlights include an opening session with Elizabeth Alexander, Andrew W. Mellon Foundation President, and a closing session with pianist and 2014 Sphinx Medalist Damien Sneed. Panels include: Artful Resilience: How Musicians Innovate in Crisis, Socially Vocal: A Discussion on Race and Identity in the Arts, This is Everyone's Fight: How Philanthropic Institutions Stepped Forth to Support Artists and BIPOC Institutions with speakers including Jenny Bilfield, Clive Gillinson, and Deborah Rutter. Th Digital sessions are interactive, and participants will have opportunities for one-on-one networking with panelists during the three-day conference. Tickets are $150 as well as a "Pay What You Are Able" option to minimize attendance barriers. Explore here.
Trinity Wall Street
New York's Trinity Church Wall Street introduces daily weekday "Comfort at One" (1 pm ET) streaming performances on Facebook with full videos posted here. Tune in for encore performances of favorite Trinity concerts, professionally filmed in HD, along with current at-home performances from Trinity's extended artistic family.
University of Colorado Boulder
University of Colorado Boulder College of Music faculty artists perform with students and colleagues in Faculty Tuesdays, chamber music recitals featuring world premieres alongside classics. Free most Tuesdays from September 2020 through March 2021. Upcoming performers include violinist Harumi Rhodes, violist Richard O'Neill, cellist David Requiro, pianist David Korevaar, harpist Janet Harriman, and more. Explore here.
Vertical Player Repertory: The Constitution
VPR is releasing of a series of videos from Benjamin Yarmolinsky's oratorio The Constitution, a work which played six sold-out live performances in 2019 and was called "an important work," and "uniformly excellent," by Musical America. First up is Voting Rights, which sets the text "The right of citizens of the United States, who are 18 years of age or older, to vote shall not be denied or abridged by the United States, or by any state, on account of age, by reason of failure to pay any poll tax or other tax, on account of sex, on account of race, on account of color, or of previous condition of servitude." Future releases will include The First Amendment (Treason), The Fifth Amendment (Self-Incrimination), The Sixth Amendment (Impartial Jury), The Eighth Amendment (Cruel and Unusual Punishment), The Thirteenth Amendment (Abolition of Slavery), and The Miranda Warning (a world premiere). Explore here.
Voices of Ascension
New York choir Voices of Ascension, which celebrates its 30th anniversary next season, is posting a daily offering of choral beauty on its website. Music is chosen by staff, members of the chorus and orchestra, and listeners. View here.
Warsaw Philharmonic
The Warsaw Philharmonic has made a selection of video recordings available on its YouTube channel. Recent offerings include Saint-Saëns's Organ Symphony and Arvo Pärt's Swansong conducted by Artistic Director Andrzej Boreyko, as well as rarities by Polish composers like Grazyna Bacewicz. It's an excellent orchestra very much in the Eastern European tradition and concerts have been master edited for posting online.
Paid Digital Arts Services
Berlin Philharmonic Digital Concert Hall
The BPO Digital Concert Hall contains over 600 orchestra concerts covering more than ten years, including 15 concerts with the orchestra's new Chief Conductor Kirill Petrenko, interviews, backstage footage. Subscriptions or single tickets available.
Medici TV
Thousands of classical music videos are available by subscription, as well as hundreds of events that are broadcast live for free each year, available for 90 days. Subscriptions cost $83.85 per year but single tickets are also available. www.medici.tv
Pictured: Joyce DiDonato and Elza van den Heever in the Met Opera's 2013 Maria Stuarda, streaming Sunday January 10.

WHO'S BLOGGING


RENT A PHOTO
Search Musical America's archive of photos from 1900-1992.