---
MA's Free Guide to (Mostly) Free Streams, Dec. 28-Jan. 4
We will be updating this list weekly. Please note that all times are given in U.S. Eastern Time (ET). To calculate in other time zones or counties, British Summer Time (BST) is currently five hours ahead of ET and Central European Time (CET) is currently six hours ahead. U.S. Central Daylight Time (CDT) is one hour behind ET. Mountain Time (MT) is two hours behind ET, while Pacific Time (PT) is three hours behind. Contact editor@musicalamerica.com.
Classical music coverage on Musical America is supported in part by a grant from the Rubin Institute for Music Criticism, the San Francisco Conservatory of Music, and the Ann and Gordon Getty Foundation. Musical America makes all editorial decisions.
---
** Highly recommended
Monday, December 28
12 pm ET: Academy of St Martins in the Fields presents A Baroque Christmas Celebration. An hour's sequence of baroque music for Christmas from St Martin's Voices and St Martin's Players including choruses from Handel's Messiah from home. Tickets £10. View here and on demand until December 31.
1 pm ET: Wiener Staatsoper presents Mozart's Die Zauberflöte. Conductor: Adam Fischer, Director: Moshe Leiser, Patrice Caurier. With Jörg Schneider, Olga Bezsmertna, René Pape, Hila Fahima, Thomas Tatzl. Production from December 2017. Register for free and view here.
7:30 pm ET: Met Opera Streams presents Puccini's La Bohème. Starring Renata Scotto, Maralin Niska, Luciano Pavarotti, Ingvar Wixell, and Paul Plishka, conducted by James Levine. From March 15, 1977. View here and for 24 hours. **
Tuesday, December 29
12 pm ET: Academy of St Martins in the Fields presents Festive Family Carols. An hour of readings and music for families from St Martin's Voices including much loved favorites: Jingle Bells, Little Donkey and We Wish you a Merry Christmas. Tickets £10. View here and on demand until December 31.
1 pm ET: Wiener Staatsoper presents Tchaikovsky's The Nutcracker. Conductor: Kevin Rhodes, choreography: Rudolf Nureyev. With Natascha Mair, Robert Gabdullin, and soloists and corps de ballet of Wiener Staatsballetts. Production from December 2018. Register for free and view here.
1:30 pm ET: IDAGIO Global Concert Hall presents Festival WØD-Weinberg 2020, Concert 1. From the Orchesterhaus Salzburg, Austria, comes the first concert of a two-part celebration of the composer Mieczyslaw Weinberg, with performances featuring the Mozarteum Orchestra Salzburg and Mirga Gražinyte-Tyla, the Stadler Quartett, and more. Festival WØD-Weinberg 2020 programs a work by Norbert Sterk as well as traditional Arabic music alongside works by Weinberg, including his String Quartets Nos. 7, 8, 13, his Second Cello Sonata, and movements from his Second Symphony and Concertino for Violin and String Orchestra. From December 11 and 12, 2020.Tickets $13. View here.
7:30 pm ET: Nightly Met Opera Streams presents Puccini's Tosca. Starring Shirley Verrett, Luciano Pavarotti, and Cornell MacNeil, conducted by James Conlon. From December 19, 1978. View here and for 24 hours. **
Wednesday, December 30
12 pm ET: Academy of St Martins in the Fields presents Carols for Christmas. St Martin's Voices and presenter Zeb Soanes offer an hour of favorite carols and readings in a celebration of the Christmas season. Tickets £10. View here and on demand until December 31.
1 pm ET: Wiener Staatsoper presents Humperdinck's Hänsel und Gretel. Conductor: Christian Thielemann, director: Adrian Noble. With Daniela Sindram, Ileana Tonca, Michaela Schuster, Adrian Eröd, and Janina Baechle. Production from 2015. Register for free and view here.
1:30 pm ET: IDAGIO Global Concert Hall presents Festival WØD-Weinberg 2020, Concert 2. From the Orchesterhaus Salzburg, Austria, comes the first concert of a two-part celebration of the composer Mieczyslaw Weinberg, with performances featuring the Mozarteum Orchestra Salzburg and Mirga Gražinyte-Tyla, the Stadler Quartett, and more. Festival WØD-Weinberg 2020 programs a work by Norbert Sterk as well as traditional Arabic music alongside works by Weinberg, including his String Quartets Nos. 7, 8, 13, his Second Cello Sonata, and movements from his Second Symphony and Concertino for Violin and String Orchestra. From December 11 and 12, 2020. Tickets $13. View here.
2 pm ET: DG Stage presents L'Été de Beethoven. Humankind's divine spark shines through Beethoven's Ninth Symphony. Yannick Nézet-Séguin conducts the Orchestre Métropolitain de Montréal. Tickets Euro 9.90. View here.
2 pm ET: Opera Streaming presents Rossini's La Cenerentola. From the Luciano Pavarotti Opera House, Modena. Conductor: Aldo Sisillo, director: Nicola Berloffa. With Antonino Siragusa, Paola Gardina, Nicola Alaimo, Nikolay Borchev, Floriana Cicio, Ana Victória Pitts, Ugo Guagliardo, and Orchestra Filarmonica Italiana. View here. LIVE
2 pm ET: IDAGIO presents Classical (R)evolution with Rachel. Join soprano Rachel Fenlon as she explores what breaking the rules, embracing uncertainty, and thinking "outside the box" does for classical music-making. In this episode: Canadian conductor and founding Artistic Director of Pacific Opera, Timothy Vernon. View here. LIVE
2:30 pm ET: New York Gilbert & Sullivan Players present Cox and Box. An original film shot and fully staged at South Orange Performing Arts Center with an Actors Equity Association-approved COVID-19 safety plan. Mr. Cox and Mr. Box dig in their heels when they discover the mischievous scheme of their landlord, Sgt. Bouncer, in this early score by Sir Arthur Sullivan. The film is brought to life by director Matthew Wages with a vision in-line with situational comedy and 21st-century sensibilities. Ticket $25 per-household on December 30; also on December 31 at 8 pm ET. View here.
3 pm ET: London Philharmonic Orchestra presents Interrupted Stories. In 1720, Vivaldi composed a dazzling overture for a carnival. In 1820, Louis Spohr salutes his hero Beethoven in a symphony that pulses with drama. In 1920, Arthur Honegger watches sunrise over the Swiss Alps, and Arthur Bliss throws a riotous cocktail party. James MacMillan's Sinfonietta is a musical tale of hope shattered and restored. Vladimir Jurowski conducts with soprano
Mary Bevan. View here.
7 pm ET: Composers Concordance presents Pandemic Dances. A 2020 farewell concert featuring compositions written as duets for electric guitar and distanced music collaborators. Composers/performers: Bruce Arnold, Greg Baker, Dan Cooper, Mark Kostabi, Alon Nechushtan, Thomas Piercy, Gene Pritsker, Jay Rodriguez, Sean Satin. Featured Compositions include Pritsker's Pandemic Dances Nos. 4, 7, 9, 11, 21, Jay Rodriguez's Breath, and Mark Kostabi's Mystery on 62nd Street. View here.
7 pm ET: Opera Saratoga presents America Sings. Featuring soprano Brandie Sutton with pianist and composer Damien Sneed, both debuting with the Opera Saratoga at the turn of the new year. Program details to be announced. View here.
7:30 pm ET: Nightly Met Opera Streams presents Verdi's Rigoletto. Starring Christiane Eda-Pierre, Isola Jones, Luciano Pavarotti, Louis Quilico, and Ara Berberian, conducted by James Levine. From December 15, 1981. View here and for 24 hours.
8 pm ET: A Far Cry presents Face to Face. Duo repertoire exclusively written by living composers including Errollyn Wallen's Five Postcards, Karl Doty's Violin and Bass Duo, Kenji Bunch's Violin Duos, and Jesse Montgomery's Duo for violin and cello. View here.
Thursday, December 31
8 am ET: Rotterdam Philharmonic Orchestra presents Beethoven's Ninth Symphony. The RPO's video of the work's final chorus went viral back in March. Now the complete work has now been recorded in the RTM Stage, a new concert hall at Ahoy Rotterdam, where the Orchestra and Rotterdam Symphony Chorus were led by conductor Andrew Manze. Soloists are soprano Susanne Bernhard, mezzo-soprano Olivia Vermeulen, tenor Benjamin Bruns and bass Tareq Nazmi. Register and view here.
11 am ET: Berliner Philharmoniker Digital Concert Hall presents New Year's Eve with Kirill Petrenko. The BPO chief conductor leads ballet music by de Falla and Rodrigo's Concierto de Aranjuez, featuring guitarist Pablo Sáinz-Villegas. There is a detour to South America with Villa-Lobos's Bachianas Brasileiras No. 4 and finally Rimsky-Korsakov's Capriccio Espagnol. As a tribute to Beethoven, the concert opens with the Leonore Overture No. 3. Tickets EUR 9.90. View here. LIVE
11 am ET: Teatro Massimo presents Omer Meir Wellber conducts Concerto di San Silvestro. From Teatro Massimo in Palermo, Omer Meir Wellber conducts arias and songs by Haydn, Mozart, Spontini, Wagner, Lehár, Brel, and Verdi. With soprano Carmen Giannattasio and baritone Christoph Pohl. View here.
11 am ET: Wiener Staatsoper presents Johann Strauss's Die Fledermaus. Conductor: Cornelius Meister, director: Otto Schenk. With Camilla Nylund, Georg Nigl, Okka von der Damerau, Michael Laurenz, Regula Mühlemann, and Peter Simonischek. Register for free and view here. LIVE
4 pm ET: Metropolitan Opera presents Met Stars Live in Concert: New Year's Eve Gala. Angel Blue, Javier Camarena, Matthew Polenzani, and Pretty Yende perform live from the Parktheater in Augsburg, Germany. The program will include arias, duets, and ensembles from Donizetti to Puccini, as well as arrangements of operetta and Neapolitan songs. The gala will be shot with multiple cameras, linked by satellite to a control room in New York City and host Christine Goerke. Tickets $20. LIVE
5 pm ET: Concert Artists Guild presents New Yoonah's Eve. Clarinetist Yoonah Kim performs a homage to Bach, a special rendition of Verdi's Rigoletto, and Mozart Duos (arranged by Yoonah) with special guest violinist Stefan Jackiw. The evening will be paired with a surprise cocktail recipe. View here. LIVE
7:30 pm ET: Nightly Met Opera Streams presents Verdi's Ernani. Starring Leona Mitchell, Luciano Pavarotti, Sherrill Milnes, and Ruggero Raimondi, conducted by James Levine. From December 17, 1983. View here and for 24 hours. **
8:30 pm ET: PBS presents United in Song: Celebrating the Resilience of America. Filmed at Mount Vernon and the Kennedy Center, a celebration of our irrepressible strength to welcome 2021,featuring performances by Joshua Bell, Renée Fleming, Denyce Graves, Patti LaBelle, Yo-Yo Ma, Audra McDonald, Juanes, and many more. View here.
9 pm ET: Minnesota Orchestra presents Vänskä conducts A New Year Celebration. Osmo Vänskä conducts a program of hope for the year ahead including Stephenson's Fanfare for an Angel, Richard Strauss arr. Sheppard Suite of Waltzes from Der Rosenkavalier, Beethoven arr. Schulhoff Rondo and Capriccio, and music by Dvorák, Morricone, and Johann Strauss. View here. LIVE
9 pm ET: St Paul Chamber Orchestra presents New Year's Eve with SPCO. An eclectic program of performances from past SPCO concerts. Highlights include several pieces featuring SPCO musicians as soloists, as well as a collaboration between Artistic Partner Pekka Kuusisto and singer Sam Amidon combining folk songs with excerpts from orchestral and chamber music works by Scandinavian composers. The program will be streamed twice on New Year's Eve and will be hosted by violinist Eunice Kim, whose performance of Beethoven's Romance for Violin will also be featured. View here and repeated at 11 pm ET.
10:30 pm ET: Opera San José presents The Parting Glass. A New Year's Eve program of drinking songs. It's late, New Year's Eve. Barkeeper Patrick (Nathan Stark) eyes his establishment, transformed by plexiglass and signs marking social distance, and wonders what happens next. Scooter (Christopher James Ray), the pub's piano player, is joined by a French wine lover, a Russian drunkard, an Italian Opera Singer, a British professor, and the pub's German regular, all eager to sing, drink, and bid good riddance to 2020. View here.
10:30 pm ET: San Diego Symphony presents New Year's Eve Celebration. Music Director Rafael Payare leads Viennese waltzes and jazz-influenced works to ring in the New Year. The program begins with Brahms's Hungarian Dances, Duke Ellington's Sophisticated Lady, and pianist Ray Ushikubo performing Gershwin's Rhapsody in Blue. The celebration ends with Strauss's Emperor Waltz and the Radetzky March. Suggested donation $25. Register and view here.
11 pm ET: Cal Performances at U.C. Berkeley present New Year's Eve Musical Celebration. An evening of exclusive performances recorded for the occasion. Soloists, recitalists, jazz artists, and chamber ensembles featured in Cal's fall online streaming series have each contributed a special musical selection to help usher in 2021. Tickets from $15. View here and on demand for 30 days.
Friday, January 1
9 am ET: DG Stage presents Nelsons & Cho perform Beethoven & Liszt. Korean pianist Seong-Jin Cho joins the Berliner Philharmoniker and Andris Nelsons in Liszt's Piano Concerto No. 2. Framing the concerto are two masterpieces by Beethoven: the Coriolan Overture and the Fifth Symphony, a work that travels a path from darkness to light, tragedy to triumph. Tickets Euro 9.90. View here.
1 pm ET: Wiener Staatsoper presents Johann Strauss's Die Fledermaus. Conductor: Franz Welser-Möst, director: Otto Schenk. With Michaela Kaune, Kurt Streit, Zoryana Kushpler, Rainer Trost, Daniela Fally, and Peter Simonischek. Production from December 2011. Register for free and view here.
2 pm ET: VOCES8 Live from London presents Gabrieli Consort & Players. Bach's Christmas Oratorio BWV248 Part IV: The Naming of Jesus. Cantata IV, Fallt mit Danken, fallt mit Loben, is performed by the Gabrieli Consort & Players conducted by Paul McCreesh with Carolyn Sampson, soprano, Tim Mead, countertenor, Jeremy Budd, tenor, and Ashley Riches, bass-baritone. Tickets £12.50 and view here.
7:30 pm ET: Nightly Met Opera Streams presents Verdi's Il Trovatore. Starring Eva Marton, Dolora Zajick, Luciano Pavarotti, Sherrill Milnes, and Jeffrey Wells, conducted by James Levine. From October 15, 1988. View here and for 24 hours.
9 pm ET: Vienna Philharmonic presents New Year's Concert 2021. Hosted remotely from England by actor Hugh Bonneville, Riccardo Muti conducts the annual event without an audience in the Golden Hall of the Musikverein in Vienna. Muti, whose musical partnership with the VPO has lasted nearly 50 years, will be conducting the event for the sixth time. The program includes music by Suppé, Zeller, Millöcker, Komzák, and favorites by the Strauss Family, and features the Vienna State Ballet dancing on location from notable Vienna landmarks. View on PBS (check local listings) and online here.
Saturday, January 2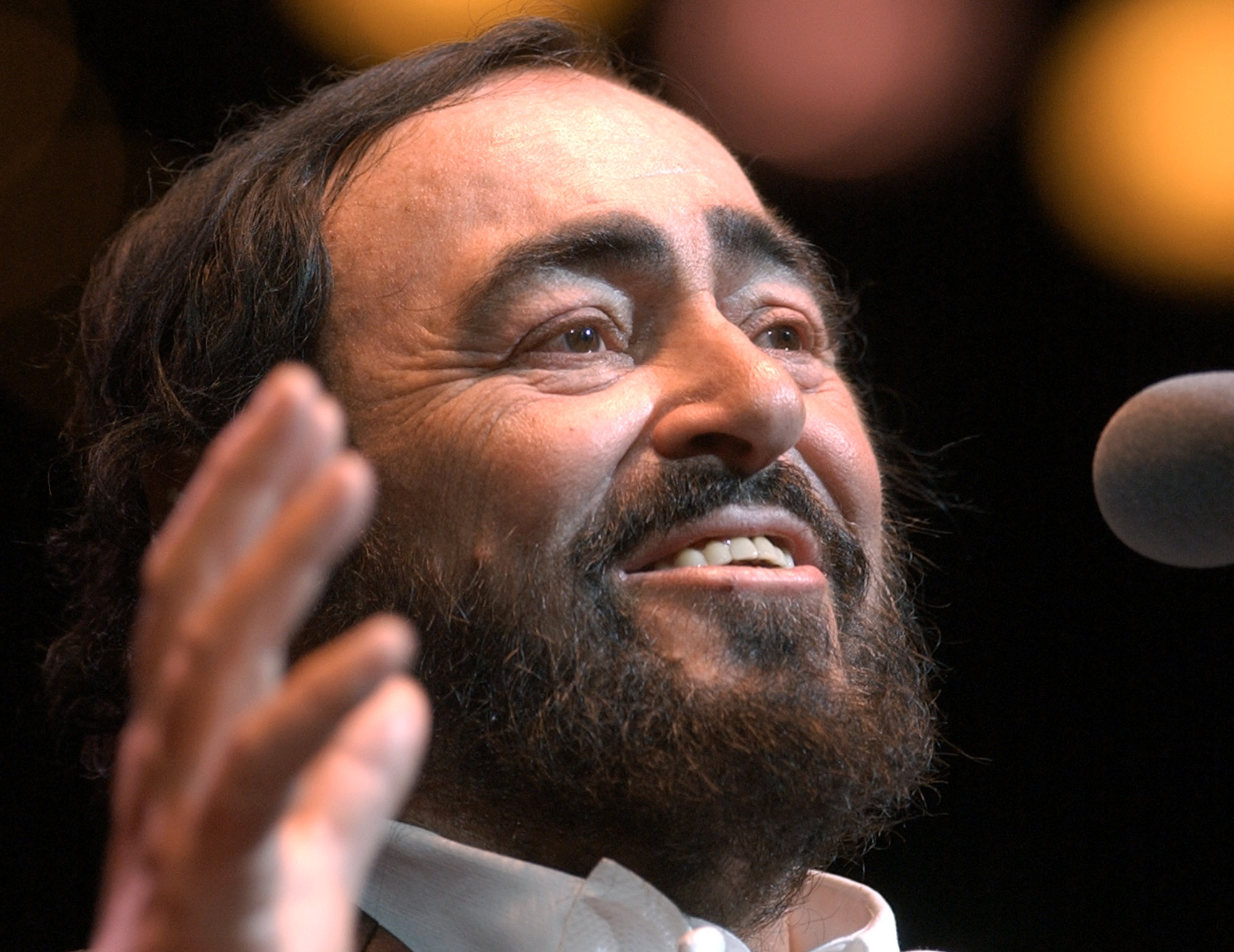 7:30 pm ET: Nightly Met Opera Streams presents Verdi's Un Ballo in Maschera. Starring Aprile Millo, Harolyn Blackwell, Florence Quivar, Luciano Pavarotti, and Leo Nucci, conducted by James Levine. From January 26, 1991. View here and for 24 hours. **
1 pm ET: Wiener Staatsoper presents Wagner's Das Rheingold. Conductor: Adam Fischer, director: Sven-Eric Bechtolf. With Tomasz Konieczny, Norbert Ernst, Jochen Schmeckenbecher, Herwig Pecoraro, and Michaela Schuster. Production from January 2016. Register for free and view here.
Sunday, January 3
1 pm ET: OperaVision presents Handel's Semele. First streamed on OperaVision at its premiere in Berlin on May 12, 2018. Barrie Kosky's production returns as part of the Komische Oper winter streaming festival. Konrad Junghänel conducts a cast including Philipp Meierhöfer, Nicole Chevalier, Katarina Bradic, Eric Jurenas, Allan Clayton, Ezgi Kutlu, and Nora Friedrichs. View here for one month.
1 pm ET: Wiener Staatsoper presents Rossini's L'Italiana in Algeri. Conductor: Jesús López Cobos, director: Jean-Pierre Ponnelle. With Anna Bonitatibus, Ildar Abdrazakov, Edgardo Rocha, Aida Garifullina, and Paolo Rumetz. Production from April 2015. Register for free and view here.
2 pm ET: VOCES8 Live from London presents Gabrieli Consort & Players. Bach's Christmas Oratorio BWV248 Part V: Herod. Cantata V, Ehre sei dir, Gott, gesungen, is performed by the Gabrieli Consort & Players conducted by Paul McCreesh with Anna Dennis, soprano, Helen Charlston, mezzo-soprano, Jeremy Budd, tenor, Roderick Williams, bass-baritone. Tickets £12.50 and view here.
7:30 pm ET: Met Opera Streams presents Donizetti's L'Elisir d'Amore. Starring Kathleen Battle, Luciano Pavarotti, Juan Pons, and Enzo Dara, conducted by James Levine. From November 16, 1991. View here and for 24 hours.
Monday, January 4
8 am ET: Wigmore Hall presents Ema Nikolovska & Malcolm Martineau. Macedonian mezzo-soprano Ema Nikolovska, a BBC Radio 3 New Generation Artist, opens the Wigmore Hall spring season with a lunchtime program with songs by Schubert, Dvorák, and 20th-century Czech composer Vítezslava Kaprálová. The program includes two songs from Britten's A Charm of Lullabies before ending with Slonimsky's witty Five Advertising Songs. Register, view here and on demand for 30 days. LIVE
1 pm ET: Wiener Staatsoper presents Tchaikovsky's The Nutcracker. Conductor: Kevin Rhodes, choreography: Rudolf Nureyev. With Natascha Mair, Robert Gabdullin, and soloists and corps de ballet of Wiener Staatsballetts. Production from December 2018. Register for free and view here.
2 pm ET: Teatro alla Scala presents Markus Werba in Recital. The German baritone performs Schumann's Dichterliebe Op. 48 and Liederkreis Op. 39 with pianist Michele Gamba. View here.
7:30 pm ET: Met Opera Streams presents Cilea's Adriana Lecouvreur. Starring Anna Netrebko, Anita Rachvelishvili, Piotr Beczala, Carlo Bosi, Ambrogio Maestri, and Maurizio Muraro, conducted by Gianandrea Noseda. From January 12, 2019. View here and for 24 hours.
Artists and Organizations Offering Free Content
The following are all accessible during the coronavirus pandemic:
Academy of Ancient Music
The most listened-to period instrument ensemble, directed by Richard Egarr, has made a number of streams available on its website. Guest artists include Louise Alder, soprano, Nicola Benedetti, violin, Mary Bevan, soprano, David Blackadder, trumpet, Iestyn Davies, countertenor, Tim Mead, countertenor, Christopher Purvis, bass, and Tenebrae, directed by Nigel Short. Explore here.
American Opera Project
First Glimpse is a video album of 20 songs created during the first year of AOP's 2019-21 fellowship program, Composers & the Voice. Originally intended as a live concert, the videos will be released every Friday beginning October 23 and for the following six weeks. The composers are Alaina Ferris, Matt Frey, Michael Lanci, Mary Prescott, Jessica Rudman and Tony Solitro, with librettists Amanda Hollander and Jonathan Douglass Turner. Videos will be free for one week following their release, after which they will be available to rent or purchase, individually or as a full set through AOP's Website. Explore here.
American Symphony Orchestra
American Symphony Orchestra releases weekly recordings from its archives with content alternating between live video recordings of SummerScape operas and audio recordings from previous ASO concerts. Ethel Smyth's The Wreckers, Richard Strauss's Die Liebe aus Danae, and Korngold's Das Wunder der Heliane, all conducted by Leon Botstein, are all highly recommended and available now.
Apollo's Fire: Music for the Soul
The Cleveland-based baroque orchestra founded by Artistic Director Jeannette Sorrell is offering a series of video streams entitled "Music for the Soul." New episodes are posted here.
Baltimore Symphony Orchestra
BSO Sessions continues to bring the stories of BSO musicians, conductors, and collaborators to life through a documentary-style narrative. In addition to the first three episodes currently available upcoming episodes celebrate a responsible return of winds and brass to the stage, as well as the series debut of Music Director Marin Alsop and Principal Pops Conductor Jack Everly. Assistant Conductor Jonathan Rush interviews film composer Michael Abels and Artistic Partner Wordsmith joins in a special holiday episode with a new rendition of "'Twas the Night Before Christmas." Explore here.
NEW: Bang On A Can
Bang on a Can will stream performances from all four 2020 Online Marathons for on-demand viewing from December 24, 2020 - January 1, 2021. Each online Marathon featured performances from musicians's homes around the country and across the world—a total of 95 performances including 31 world premieres of new commissions and over 130 composers and performers. All performers and composers have been compensated and Bang on a Can signed more than 150 paychecks to working artists to create and play on these marathons. The online collection also includes dozens of artist conversations with Bang on a Can Co-Founders and Artistic Directors Michael Gordon, David Lang, and Julia Wolfe. All videos will be free to stream but viewers are encouraged to consider purchasing a ticket as doing so will enable Bang on a Can to do more performances, pay more players, commission more composers, and share more music worldwide. View here.
Bard SummerScape & Fisher Center
Archival works highlight Bard's wealth and breadth of programming, including performances from its SummerScape Opera and BMF archives. Recent include Bard SummerScape's 2011 production of Strauss's rarely performed Die Liebe der Danae and last year's Daniel Fish directed staging of Michael Gordon's Acquanetta. More details here.
NEW: Bergen Philharmonic
Bergen's outstanding orchestra enjoys national status in Norway with a history dating back to 1765. Its free streaming service was established as part of 250-year anniversary in 2015 and offers a fine selection of works from its concert series in Grieghallen, Bergen. Conductors include Edward Gardner, James Gaffigan, Thierry Fischer, David Zinman, Neeme Järvi, Jukka Pekka Saraste, Nathalie Stutzmann, and Christian Zacharias with soloists including Leif Ove Andsnes, Lise Davidsen, Truls Mørk, Mari Eriksmoen, and Freddy Kempf. Well worth exploring here.
Carnegie Hall
More than 200 teen musicians hailing from 41 states across the US came together in July 2020 as an online virtual community to form three musical ensembles: the National Youth Orchestra of the United States of America (NYO-USA), NYO2, and NYO Jazz. All three ensembles recorded exuberant virtual performance videos during the residency, directed by Emmy Award-winner Habib Azar. The first four videos—Valerie Coleman's Umoja by the musicians of NYO-USA; a unique adaptation of Grieg's Morning Mood by NYO2; and Thad Jones's Cherry Juice and Wycliffe Gordon's We're Still Here by NYO Jazz—are now available for viewing. Explore here.
The Cleveland Orchestra
Concert videos filmed at restaurants, shops, Cleveland Clinic, and iconic locations throughout Greater Cleveland will be released weekly on social media starting November 23. Cleveland Orchestra assistant concertmaster Jessica Lee and her colleagues created these videos to share the power of music with healthcare workers, patients, and the community affected by the COVID-19 pandemic. This series of 7-10 videos will be released weekly as part of the Music Medicine Initiative: The Power of Music for Health and Well-Being, a community collaboration between The Cleveland Orchestra and Cleveland Clinic's Art + Design Institute. Explore here.
Cliburn Kids
The Cliburn launches its expanded, robust online music education program for elementary-school students. Created as a resource for school districts, teachers, and parents, the initiative includes 27 lesson plans to date, each with a seven- to ten-minute video, and corresponding individual and class activities that meet objectives of the Texas Essential Knowledge and Skills (TEKS). New episodes and lesson plans are released every Tuesday of the 2020–2021 school year for a total of more than 50 by May 2021. Explore here.
Daniel Hope: Hope@Home, Next Generation
With the return of restrictions throughout Europe, violinist Daniel Hope is once again playing live from his Berlin living room every evening. As he explains: "I think it is important now for established artists to use their influence to help the next generation, so that they have a chance in the future. That is why I have decided to restart Hope@Home, as well as to reconnect to people in lockdown around the world. Selected mentors will present young, freelance artists. All artists will receive a fee for their performances, and we will adhere to all COVID-19 regulations." Mentors—performing either virtually or live—include Christoph Eschenbach, Anne-Sophie Mutter, Renaud Capuçon, Sol Gabetta, and Sarah Willis. View here with episodes archived here.
Detroit Symphony Orchestra
The Detroit Symphony Orchestra has made its webcast archive available for free. The collection features 200+ works going back three years, and highlights include Leonard Slatkin conducting John Luther Adams's climate change-inspired Become Ocean from 2019, several world premieres, and a host of bite-sized encores. Explore here.
Deutsche Grammophon Yellow Lounge
The German classical music giant is streaming Yellow Lounge broadcasts from its archives. Recent additions include clarinetist Andreas Ottensamer, pianists Alice Sara Ott and Chihiro Yamanaka, and cellist Mischa Maisky. Performances are broadcast in rotation, one video at a time, adding a new performance every few days. DG communicates the start of each new performance by newsletter at the start of each week. To keep updated sign up here.
Finnish National Opera
Finnish National Opera presents Stage24, a series of streamed archived performances on its website, which are then available for the next six months. Recent content includes a staged version of Sibelius's Kullervo, Stravinsky's The Rake's Progress, Caspar Holten's staging of Wagner's Der Fliegende Holländer with Camilla Nylund, and Christoff Loy's Tosca. An excellent company and some interesting and original work worth investigating. Explore here.
Handel and Haydn Society
Boston's Handel and Haydn Society has created the H+H Listening Room where you can hear and watch H+H performances including Mozart's Requiem, Handel's Messiah, and Purcell's Dido and Aeneas filmed at New York's Met Museum. There are also more than a dozen videos of musicians performing from their homes, a special video of principal flutist Emi Ferguson teaching people how to make their own baroque flute, and a new podcast called "Tuning In". In the first episode Principal Cellist Guy Fishman interviews Artistic Director Harry Christophers about Bach's St. Matthew Passion. Explore here.
NEW: Kennedy Center: Arts Across America: Winter Traditions
As millions across the United States will be altering traditions to keep friends, loved ones, and neighbors safe, the Kennedy Center will be sharing performances from across the country and numerous communities and cultures to celebrate traditions held dear. Highlights include performances from Renée Fleming, Amythyst Kiah, Broadway's Austin Colby, Caroline Bowman, and Nicholas Ward, Los Texmaniacs celebrating their own Texas miracle following a battle with COVID-19, and D.C. favorites DuPont Brass, Aaron Myers, and Chuck Redd. Explore Winer Traditions here and other Kennedy Center regular online releases via their digital stage here.
La Scala/RAI
Italy's RAI presents five productions from La Scala Milan including the world premiere of Kurtág's Fin de Partie, Daniel Barenboim conducting Götterdämmerung, Lisette Oropesa in Verdi's I Masnadieri, Montedervi's Orfeo conducted by Rinaldo Alessandrini, and Les Vêpres Siciliennes conducted by Daniele Gatti. A wide range of concerts are also available. Explore and register here.
Les Arts Florissants
Les Arts Florissants's annual Festival in Thiré, France included a series of 10- to 15-minute "Meditation" concerts recorded earlier this summer. Now available to enjoy online, the Meditations include performances by students of Juilliard's Historical Performance program in the spirit of their annual participation in the Festival. View here.
Lincoln Center Lincoln Center Passport to the Arts
A variety of virtual classes, performances, and bonus content designed for children, teens and adults with disabilities and their families. Offerings include programs with Chamber Music Society of Lincoln Center, Jazz at Lincoln Center, the Metropolitan Opera Guild, New York City Ballet, the New York Philharmonic, and The New York Public Library for the Performing Arts. Families can attend dance, music or drama classes, watch exclusive performances, check out behind-the-scenes content, and even meet performers—all from their homes. Families will receive pre-visit materials, including social narratives, photos, and links before each program. All programs take place via Zoom. Register here.
Los Angeles Chamber Orchestra
LACO AT HOME offers streaming and on demand performances, including a full showing of the orchestra's critically acclaimed West Coast premiere of Dark with Excessive Bright for double bass and strings by LACO Artist-in-Residence Missy Mazzoli. View streaming here and on demand here.
Los Angeles Master Chorale
Videos recorded as part of the "Offstage with the Los Angeles Master Chorale" series from April 24 to June 19 included interviews conducted by Artistic Director Grant Gershon and Associate Conductor Jenny Wong with notable performers—including special guests Reena Esmail, Morten Lauridsen, Anna Schubert, Peter Sellars, Derrick Spiva—as well as Master Chorale singers. Available on demand here.
Metropolitan Opera Live In Schools
The Metropolitan Opera's HD Live in Schools program has launched a new series for the 2020–21 school year, creating cross-disciplinary educational opportunities across the country. For the 2020–21 school year, students and teachers will receive free subscriptions to the Met Opera on Demand service, with a catalogue of more than 700 Live in HD presentations, classic telecasts, and radio broadcasts. Ten operas have been selected for the HD Live in Schools program, and will be presented in five educational units, with two thematically paired operas per unit. The series opens with Beethoven's Fidelio and Donizetti's La Fille du Régiment (September 28–October 16), both of which explore the intersection of music and politics. The Met will continue to offer teachers HD Live in Schools Educator Guides and access to Google Classroom materials that can be adapted for virtual learning lesson plans. In addition, the Met's National Educators Conference will be hosted on a virtual platform this year and take place on five Saturdays throughout the 2020–21 school year. Two conferences, scheduled for October 10, 2020, and October 17, 2020, will also feature live conversations with Met artists. More information here.
Minnesota Orchestra
Minnesota Orchestra at Home shares video, audio, and educational materials through the categories of Watch, Listen and Learn, including videos from the orchestra's archives and newly created "mini-concerts" directly from the homes of Orchestra musicians. Explore and view here.
National Sawdust Digital Discovery Festival, Volume One
With more than 65 events, featuring over 100 artists premiering in a four-month span, National Sawdust Digital Discovery Festival: Volume One was a bright spot in NYC's post-COVID live music world. Featuring post-COVID performances from Robert Wilson, Julian Lage, Tyondai Braxton, Emel Mathlouthi, Matthew Whitaker, Dan Tepfer, Ashley Bathgate, Emily Wells, Brooklyn Rider, Joel Ross, Conrad Tao, Andrew Yee, and Lucy Dhegrae, and recently recorded Masterclasses with Tania León, Ted Hearne, Vijay Iyer, Jamie Barton, Lawrence Brownlee, Trimpin, and Lara St. John. Archival performances include David Byrne, Lara Downes and Rhiannon Giddens, and Ryuichi Sakamoto. Explore here.
New World Symphony
The New World Symphony presents a web-based series called NWS Archive+. Michael Tilson Thomas moderates discussions with NWS Fellows, alumni, guest artists, and visiting faculty about archived recordings. Performances will be available here. NWS Fellows also play live, informal chamber music concerts from their homes in Miami Beach and broadcast via Facebook Live. In addition, the NWS online archive contains master classes, tutorials and town halls, which can be found here. Finally, for the past 10 years, the Fellows have performed one-hour concerts for local school children. These concerts and preparatory material will be available free to students and parents. NWS Educational concerts can be found here.
Opera Australia
OA | TV: Opera Australia on Demand is the Sydney-based company's new digital space. Alongside the world's largest collection of Dame Joan Sutherland on video, OA will offer exclusive content from the OA back catalogue, productions from Handa Opera on Sydney Harbour, and a new series of chat show-style interviews conducted by AD Lyddon Terracini. The first posted full show is Sutherland in The Merry Widow, and the fileted aria's in the section labelled "The Best of Dame Joan Sutherland" are even better. View here.
Opéra National de Paris
The Palais Garnier and Bastille Opera have made their digital stage, "The 3e Scène," free. The platform is a pure place of artistic adventure and exploration, giving free rein to photographers, filmmakers, writers, illustrators, visual artists, composers, and choreographers to create original works. Visit here. Some of Opéra National de Paris's productions are accessible on the company's Facebook Page. In addition, Octave, the Paris Opera's online magazine, is posting articles, videos, and interviews here.
Opera North
One of Britain's most respected smaller opera companies, Opera North has put its acclaimed semi-staged concerts of Wagner's epic Ring Cycle online. "Beg, borrow, or be like Wotan and steal a ticket for this show," said the UK's Times of Das Rheingold. "You'd be lucky to hear as good at Bayreuth," said The Telegraph of Die Walküre. Richard Farnes proves a seriously impressive Wagner conductor. Watch here.
OperaVision
OperaVision offers livestreams of operas available for free and online for six months. Previous offerings include Barrie Kosky's visually spectacular Moses und Aron, David McVicar's superb Die Entführung aus dem Serail from Glyndebourne, and Deborah Warner's thoughtful Death in Venice for English National Opera. View upcoming and past content here.
Rotterdam Philharmonic Orchestra: Beethoven at Home
RPO bring Beethoven to living rooms in December playing all nine symphonies. The musicians will perform the first eight symphonies in small chamber ensembles varying from a string sextet to a 15-strong brass ensemble. The Grand Finale takes place on New Year's Eve: Beethoven's Ninth, played by the full orchestra with chorus and soloists. View here.
Orli Shaham Bach Yard Playdates
Pianist Orli Shaham brings her acclaimed interactive concert series for kids to the internet. Bach Yard Playdates introduces musical concepts, instruments, and the experience of concert-going to a global audience of children and their families. A number of 10-minute episodes are already available for on-demand streaming. Programs and performances range from Bach's Two-Part Invention to Steve Reich's Clapping Music. Explore here.
The Sixteen
The Sixteen and founder Harry Christophers launched Quarantine with The Sixteen, a regular schedule of digital content. The Sixteen Virtual Choir's performance of Sheppard's Libera nos involved each part being recorded at each singer's home. Other features include: Choral Chihuahua, a podcast by The Sixteen and I Fagiolini; Stay at Home Choir performing Sir James MacMillan's O Radiant Dawn; Archive performances, including MacMillan's Stabat Mater performed in the Sistine Chapel and Bach's St Matthew Passion with Streetwise Opera; Recipes for isolation; Video diaries providing insight into daily lives during lockdown; Weekly playlists. Explore here.
NEW: The Sphinx Organization
Dedicated to transforming lives through the power of diversity in the arts, Sphinx is presenting SphinxConnect 2021: UNITY! online from January 28 to 30. This year's convening features over 70 speakers. Highlights include an opening session with Elizabeth Alexander, Andrew W. Mellon Foundation President, and a closing session with pianist and 2014 Sphinx Medalist Damien Sneed. Panels include: Artful Resilience: How Musicians Innovate in Crisis, Socially Vocal: A Discussion on Race and Identity in the Arts, This is Everyone's Fight: How Philanthropic Institutions Stepped Forth to Support Artists and BIPOC Institutions with speakers including Jenny Bilfield, Clive Gillinson, and Deborah Rutter. Th Digital sessions are interactive, and participants will have opportunities for one-on-one networking with panelists during the three-day conference. Tickets are $150 as well as a "Pay What You Are Able" option to minimize attendance barriers. Explore here.
Trinity Wall Street
New York's Trinity Church Wall Street introduces daily weekday "Comfort at One" (1 pm ET) streaming performances on Facebook with full videos posted here. Tune in for encore performances of favorite Trinity concerts, professionally filmed in HD, along with current at-home performances from Trinity's extended artistic family.
University of Colorado Boulder
University of Colorado Boulder College of Music faculty artists perform with students and colleagues in Faculty Tuesdays, chamber music recitals featuring world premieres alongside classics. Free most Tuesdays from September 2020 through March 2021. Upcoming performers include violinist Harumi Rhodes, violist Richard O'Neill, cellist David Requiro, pianist David Korevaar, harpist Janet Harriman, and more. Explore here.
Vertical Player Repertory: The Constitution
VPR is releasing of a series of videos from Benjamin Yarmolinsky's oratorio The Constitution, a work which played six sold-out live performances in 2019 and was called "an important work," and "uniformly excellent," by Musical America. First up is Voting Rights, which sets the text "The right of citizens of the United States, who are 18 years of age or older, to vote shall not be denied or abridged by the United States, or by any state, on account of age, by reason of failure to pay any poll tax or other tax, on account of sex, on account of race, on account of color, or of previous condition of servitude." Future releases will include The First Amendment (Treason), The Fifth Amendment (Self-Incrimination), The Sixth Amendment (Impartial Jury), The Eighth Amendment (Cruel and Unusual Punishment), The Thirteenth Amendment (Abolition of Slavery), and The Miranda Warning (a world premiere). Explore here.
Voices of Ascension
New York choir Voices of Ascension, which celebrates its 30th anniversary next season, is posting a daily offering of choral beauty on its website. Music is chosen by staff, members of the chorus and orchestra, and listeners. View here.
Warsaw Philharmonic
The Warsaw Philharmonic has made a selection of video recordings available on its YouTube channel. Recent offerings include Saint-Saëns's Organ Symphony and Arvo Pärt's Swansong conducted by Artistic Director Andrzej Boreyko, as well as rarities by Polish composers like Grazyna Bacewicz. It's an excellent orchestra very much in the Eastern European tradition and concerts have been master edited for posting online.
Paid Digital Arts Services
Berlin Philharmonic Digital Concert Hall
The BPO Digital Concert Hall contains over 600 orchestra concerts covering more than ten years, including 15 concerts with the orchestra's new Chief Conductor Kirill Petrenko, interviews, backstage footage.
Medici TV
Thousands of classical music videos are available by subscription, as well as hundreds of events that are broadcast live for free each year, available for 90 days. Subscriptions cost $83.85 per year. www.medici.tv
Pictured: Luciano Pavarotti, circa 2001

WHO'S BLOGGING


RENT A PHOTO
Search Musical America's archive of photos from 1900-1992.