---
Top 10 Pandemic Pivots, No. 1:
Miracle in Motown, USA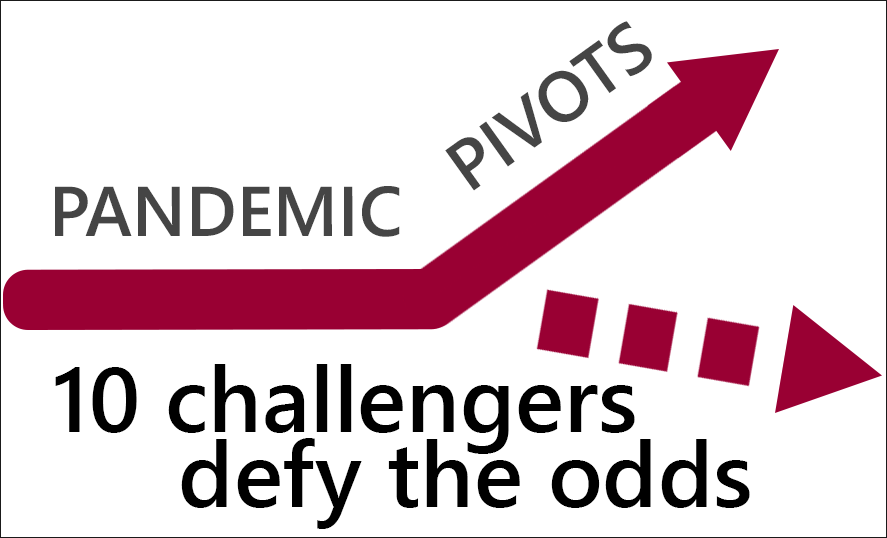 In the Year 2020, performing artists and the stages on which they were trained to ply their trade have been devastated—financially, artistically, emotionally.
Devastated but, in a great many cases, not defeated. If there has been anything positive about the plague of 2020, it has been the explosion of ingenuity and creativity among artists, their determination to keep on keeping on, often in brilliant and totally wacky ways.
Most groups have by now built a robust online presence, at first to fill the void, but eventually to supplement their live offerings. But there have also been some live,
in-person alternatives that demonstrate the out-of-the box (and out of the concert hall) thinking. For our year-end accolades, we have chosen ten groups, five in the U.S., five abroad, that we think have come up with the most creative and often courageous alternatives to business as usual. We'll be rolling them out as the year 2020, thank God, comes to a close.
One: Miracle in Motown, USA
Last April, Yuval Sharon began talking with Michigan Opera Theater (MOT) officials about doing some sort of site-specific, socially distanced production for the company as a way to perform during the coronavirus pandemic.
The conversations (over Zoom) soon turned to a larger issue. MOT had been in a long-term search for a successor to its founder and artistic director David DiChiera, who died in 2018.
"We went from talking with Yuval about the site-specific work to whether he might be interested in the company and the city of Detroit," said Wayne S. Brown, the opera's president and CEO. "One thing led to another and within 90 days we had a signed agreement with him to be artistic director."
A concept born on the back of a napkin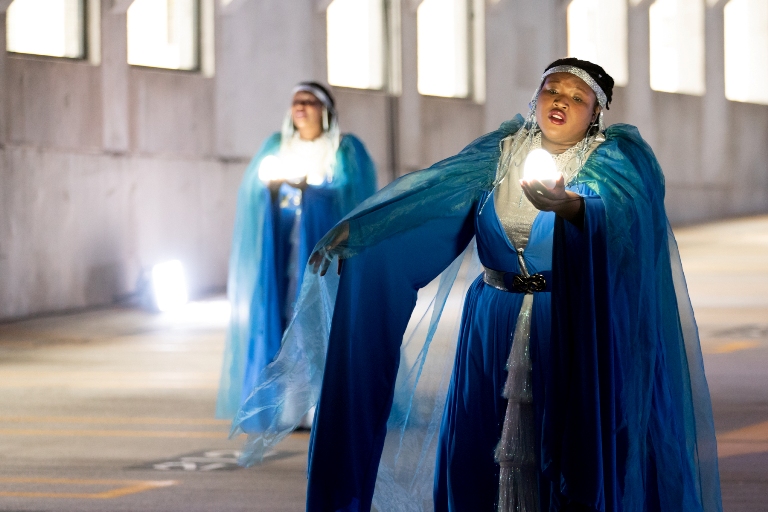 "Twilight:Gods began on a napkin when Yuval first shared with me his concept," said Brown, at MOT since 2014 after top-level positions with the National Endowment for the Arts, the Cultural Olympiad of the 1996 Olympic Games in Atlanta, and the Louisville Orchestra. "What ultimately occurred was quite a journey. It was unlike anything I've ever experienced in my professional lifetime."
The site Sharon had in mind for the project was the Detroit Opera House Parking Center. Among its advantages, the seven-story garage is open on the sides, allowing for plenty of air circulation.
"Then the question became, What piece are we going to put in it?" Sharon said in an interview. "When I flew to Detroit in June to talk with the board about the artistic director position, I had pretty much figured out it was going to be Götterdämmerung, which would be absolutely appropriate for that structure but also and more importantly for our times. I started thinking about what it would mean to experience this opera as people stayed in cars and heard it on the radio while moving through all the levels of the parking center, and of course thinking about the safety of everyone involved, both artists and audience."
Along with its new leader, MOT gained the makings of a bold project to stage what became the world's first drive-through opera. The adaptation of Wagner's Götterdämmerung (Twilight of the Gods), was conceived, abridged, translated into English, and directed by Sharon – all under what seemed like the impossible circumstances of the pandemic's shutdown of live performances.
The announcement of the new MOT artistic director was made on Sept. 9, and the world premiere of Twilight:Gods was less than six weeks later, on Oct. 17. Some work had begun on the production over the summer, but the time frame was still incredibly tight. "To incorporate all the elements that Yuval wanted was a big hurdle," Brown said. "He was literally writing the script as we were building the production."
Sharon, a MacArthur Foundation "genius" grant recipient in 2017, is known for his visionary ideas. As founder and artistic director of The Industry, his experimental opera company in Los Angeles, he created a string of wildly innovative works, including Hopscotch, whose audience traveled in limousines from scene to scene in downtown LA, and Invisible Cities, set in Union Station. Sharon's Wagner credentials are impeccable: In 2018, he became the first American director at the Bayreuth Festival with his staging of Lohengrin as a kind of feminist fable.
The ideal Brünnhilde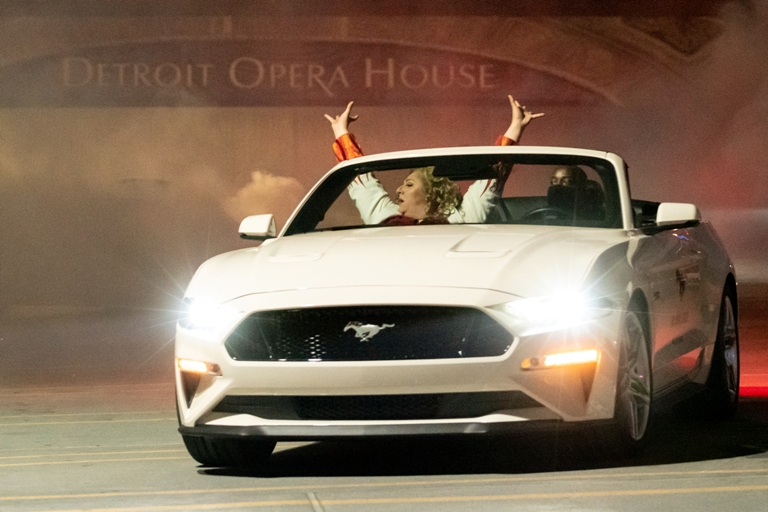 "One of the motivations for doing Götterdämmerung was knowing that Christine Goerke was really interested in coming to Detroit," Sharon said. The great soprano and renowned interpreter of Wagner's heroine, Brünnhilde, has a fond relationship with MOT, having made her title role debut there in Richard Strauss' Elektra in 2015. Said Sharon: "I thought, well, if I can work with Christine, I really want to hear her do the Immolation Scene in this parking garage." [Goerke was Musical America's 2015 Vocalist of the Year.]
The production also featured Catherine Martin as Waltraute, Donnie Ray Albert as Alberich, Morris Robinson as Hagen, and Sean Panikkar as Siegfried; these are singers usually in demand who were available during the pandemic's idling of opera. A good proportion of the cast were performers of color. "I knew that because of Covid there had to be very little interaction between singers on this project," Sharon said. "One of the hardest things was getting excited during rehearsal and wanting to hug or talk intimately, and that couldn't happen in quite the same way, but we worked through it."
His adaptation of Götterdämmerung, the finale of Wagner's Ring cycle that takes up to six hours with intermissions in a full performance, is about an hour long, distilled into a video Prologue that audiences viewed on a LED wall plus five scenes, each staged on a different level of the garage. The libretto was a combination of the director's English translations and Motown-flavored narrative transitions written by Detroit poet Marsha Music, who also performed them as Queen Erda.
Managing the traffic flow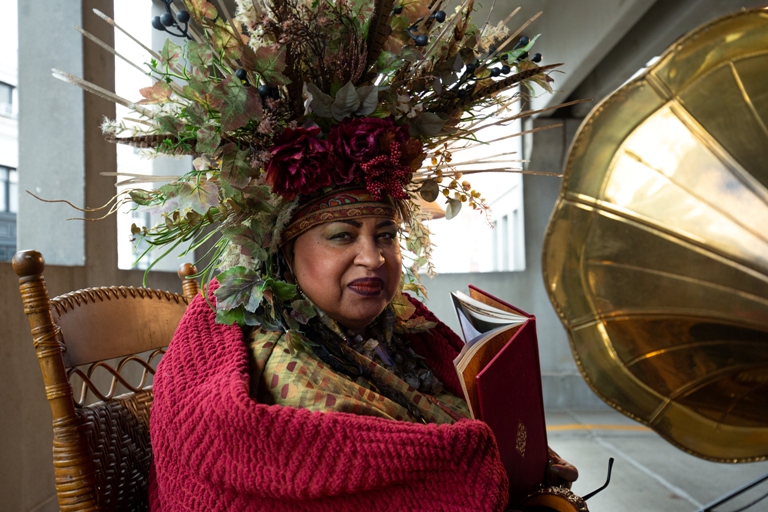 "One of my concerns was staging the cars so that they would proceed in an orderly fashion every 10 minutes," Brown said, recounting the precise logistics required to send a series of eight-car caravans through the parking garage. Each would experience the opera through a windshield and car radio, tuned to a different FM frequency for every scene. The traffic was conducted by green-masked guides. "It was like clockwork. At the end of the day, we were never more than 10 minutes off schedule."
On most days, Twilight: Gods played for a dozen 8-car caravans. Scenes ran concurrently, with performers doing the same scene 12 times, breaking for a half-hour intermission. About 150 artists, designers, and crew participated in the complex undertaking. Singers performed with various ensembles, from solo cello in Waltraute's story; to a trio of bass clarinet, electric bass guitar, and accordion for the Alberich-Hagen scene; to a nine-piece chamber orchestra in the Immolation Scene atop the garage, concluding with Goerke's Brünnhilde being driven off into the twilight in a white Ford Mustang.
All four days of performances sold out. With tickets at $79 per car, 396 cars containing about 1,200 people, drove through the opera. Almost 50 percent of the audience was new to MOT. The production cost $600,000; by comparison, Terence Blanchard's jazz opera Champion, whose Detroit premiere was canceled during rehearsals when the pandemic shut everything down, had a budget of $1.1 million. The company's projected 2020-21 budget (including Twilight: Gods) is $9 million. Its pre-pandemic annual budget was $15.5 million.
Sharon will stage his drive-through Wagner for the Lyric Opera of Chicago to run at a site-to-be-named in April. The Lyric partnered with MOT on the production, sharing costumes and props from its Ring cycle that was canceled last spring. "I think it's going to be quite different," Sharon said. "A big change is that the transitional text will be done by a Chicago poet to provide the same, inimitable sense of locality we had in Detroit."
Top: Rhinemaidens Olivia Johnson as Wellgunde and Kaswanna Kanyinda as Flosshilde
Mid: Christine Goerke as Brünnhilde
Bot: Poet Marsha Music as Queen Erda, the narrator

WHO'S BLOGGING


RENT A PHOTO
Search Musical America's archive of photos from 1900-1992.