---
MA's Free Guide to (Mostly) Free Streams, Nov 9-16
This list will be updated weekly. Note all times are in U.S. Eastern Time (ET). To calculate in other time zones or counties, British Summer Time (BST) is currently five hours ahead of ET and Central European Time (CET) is currently six hours ahead. U.S. Central Daylight Time (CDT) is one hour behind ET. Mountain Time (MT) is two hours behind ET, while Pacific Time (PT) is three hours behind. Contact editor@musicalamerica.com.
Classical music coverage on Musical America is supported in part by a grant from the Rubin Institute for Music Criticism, the San Francisco Conservatory of Music, and the Ann and Gordon Getty Foundation. Musical America makes all editorial decisions.
---
Monday, November 9
8 am ET: Wigmore Hall presents Lawrence Power & Ryan Wigglesworth. The violist and composer-pianist perform songs by Dowland, Britten's Lachrymae: Reflections on a Song of John Dowland Op. 48, Wigglesworth's Waltzes (world premiere), and Brahms's Viola Sonata No. 1 in F minor Op. 120 No. 1. Register, view here and on demand for 30 days. LIVE
11 am ET: Concertgebouworkest presents Beethoven Festival Online. On the final day of a nine-day celebration, an ensemble from the Concertgebouworkest appears in an "Empty Concertgebouw Session" performing Beethoven's Septet. View here. LIVE
1 pm ET: Copland House & CUNY present Underscored: Musto's Sextet. Derek Bermel, clarinet, Curtis Macomber and Harumi Rhodes, violins, Danielle Farina, viola, Alexis Pia Gerlach, cello, and Michael Boriskin, piano perform the Sextet for Clarinet, String Quartet, and Piano by John Musto. The Sextet runs the gamut from raucous and irrepressible to serene and decorous, embracing jazzy riffs, klezmer wails, and Yiddish folk music. Includes live Q&A. Register and view here.
1 pm ET: Wiener Staatsoper presents Puccini's Tosca. Conductor: Marco Armiliato, director Margarethe Wallmann. With: Sondra Radvanovsky, Piotr Becza?a, Thomas Hampson, Ryan Speedo Green, Alexandru Moisiuc, Benedikt Kobel, Igor Onishchenko, Ayk Martirossian, and Rebekka Rennert. Performance of February 17, 2019. Register for free and view here.
1 pm ET: Trinity Wall Street presents Comfort at One. Julian Wachner leads soloists Sherezade Panthaki, Jonathan Woody, Steven Caldicott Wilson, and Timothy Parsons with the Choir of Trinity Wall Street and Trinity Baroque Orchestra in Bach's cantatas Wer mich liebet, der wird mein Wort halten, BWV 59, O Ewigkeit, du Donnerwort, BWV 60, and Also hat Gott die Welt geliebt, BWV 68 (from May 2015). View here.
1 pm ET: Copland House & CUNY present Underscored: Musto's Sextet. Derek Bermel, clarinet, Curtis Macomber and Harumi Rhodes, violins, Danielle Farina, viola, Alexis Pia Gerlach, cello, and Michael Boriskin, piano perform the Sextet for Clarinet, String Quartet, and Piano by John Musto. The Sextet runs the gamut from raucous and irrepressible to serene and decorous, embracing jazzy riffs, klezmer wails, and Yiddish folk music. Includes live Q&A. Register and view here.
2:30 pm ET: Wigmore Hall presents Sarah Fox, Kitty Whately, Alessandro Fisher, Stephan Loges & Joseph Middleton. The vocal quartet sing solos songs and ensembles by Schubert, Purcell, Brahms, Hahn, Bizet, Poldowski, Fauré, Quilter, Vaughan Williams, and Sullivan. Register, view here and on demand for 30 days. LIVE
2:30 pm ET: Concertgebouworkest presents Beethoven Festival Online. On the final day of a nine-day celebration, the Concertgebouworkest is conducted by Iván Fischer in Beethoven's Symphony No. 9, Choral. View here.
6:30 pm ET: Orchestra of St. Luke's presents Musical Revolutionaries. OSL's Composers of Note series begins with two new chamber works, both co-commissioned and premiered by OSL in recent seasons through the Music in Color initiative. Matthew Evan Taylor's Dawn of a New Day creates atmosphere through sound, while Anjna Swaminathan's Duplicity fuses the melodies and rhythms of South Indian classical music with the Western classical string quartet form. The works are paired with Beethoven's String Quintet, Op. 29. Tickets $40 per household (suggested) but minimum donation $1 per concert. View here.
7 pm ET: Kaufman Music Center presents What Makes It Great? Beethoven's Archduke Trio. Widely considered the greatest piano trio ever written, this iconic work replaces the polite, private, amateur world of chamber music with virtuosic, public music of symphonic scope. Filmed in Merkin Hall, the Horszowski Trio explores the work. Tickets from $15 and view here.
7 pm ET: Young Concert Artists presents 2020 YCA International Auditions Winners Concert. From Cary Hall at the DiMenna Center for Classical Music, a concert by the winners of yesterday's final auditions. View here LIVE.
7:30 pm ET: Met Opera Streams presents Tchaikovsky's Iolanta & Bartók's Bluebeard's Castle. Starring Anna Netrebko and Piotr Beczala in Iolanta, and Nadja Michael and Mikhail Petrenko in Bluebeard's Castle, conducted by Valery Gergiev. From February 14, 2015. View here and for 24 hours.
7:30 pm ET: Music Mondays presents Shai Wosner & Orion Weiss. Wosner joins long-time collaborator Weiss for a special program of four-hand piano music. Together, the pianists play Schubert's Fantasy in F minor, Ravel's Mother Goose Suite, and the first three pieces in Dvorák's Legends. The artists will participate in a post-concert Q&A via Zoom. View here.
Tuesday, November 10
1 pm ET: Wiener Staatsoper presents Eötvös's Tri Sestri. Conductor: Péter Eötvös, director Yuval Sharon. With: Aida Garifullina, Margarita Gritskova, Ilseyar Khayrullova, Eric Jurenas, Boaz Daniel, and Clemens Unterrein. Performance of March 18, 2016. Register for free and view here.
2 pm ET: Austrian Cultural Forum New York presents Sain Mus. Guitar and cello duo Sain Mus perform a concert from Vienna's Belvedere Palace. As a duo, Philipp Erasmus (guitar) and Clemens Sainitzer (cello), celebrates musical diversity, from chamber music to rock, blues, folk, and jazz. View here.
7 pm ET: Kaufman Music Center presents Orli Shaham plays Mozart & Beethoven. The first of a pair of recitals exploring the deep connections between Shaham's favorite Mozart piano sonatas and other works for the keyboard. In this program, she reveals the connections between Mozart's Sonata No. 14 in C minor and Beethoven's Pathétique. An online Q & A session follows the concert. Tickets $15 and view here.
7 pm ET: Orchestre Symphonique de Montréal presents Angela Hewitt plays Ravel. Ravel's Piano Concerto in G is played by Canadian pianist Angela Hewitt. The shimmering orchestral colors of Stravinsky's The Firebird add an exotic flavor, and Jacques Hétu's Sur les rives du Saint-Maurice completes the program. Jacques Lacombe conducts the OSM. Tickets $20. View here.
7 pm ET: International Contemporary Ensemble presents Reactor. ICE's hornist David Byrd-Marrow performs solo works by himself, Jerome Naulais, and Paul Wiancko (including the world premiere of Wianko's Reactor). Visual art by Denver based painter and tattoo artist Kayla Gohm Webster accompanies the performances. Highlighting the French horn's complexities and nuances, Byrd-Marrow will also engage in live conversations throughout the program. Register and view here. LIVE
7:30 pm ET: Nightly Met Opera Streams presents Richard Strauss's Salome. Starring Karita Mattila, Ildikó Komlósi, Kim Begley, Joseph Kaiser, and Juha Uusitalo, conducted by Patrick Summers. From October 11, 2008. View here and for 24 hours.
8 pm ET: Mostly Modern Projects presents Robert Paterson's In Real Life. The world premiere chamber ensemble version of the song cycle In Real Life, featuring Jorell Williams, baritone, and Marnie Breckenridge, soprano. Music by Robert Paterson, with words by David Cote. David Amado leads American Modern Ensemble, everyone six feet apart, at New York's Dimenna Center. Suggested donation $20. View here. LIVE
8 pm ET: DACAMERA presents Conrad Tao at Tanglewood. The multi-talented pianist presents a recital with Beethoven's Tempest Sonata at its center, surrounded by compositions of Ruth Crawford Seeger, Tania Leon, Felipe Lara, David Lang, and Tao himself. The concert will be preceded by a Zoom reception with the artist at 7:15 pm ET. Register and view here.
8 pm ET: Dartmouth College presents Aga Khan Master Musicians. Pipa virtuoso Wu Man appears in a special evening of music and discussion with fellow Master Musicians of the Aga Khan Music Initiative, which supports musicians and educators working to preserve, transmit, and develop their musical heritage in contemporary forms. She is joined by doira player Abbos Kosimov, saxophonist Basel Rajoub, long-necked lute performer Sirojiddin Juraev, and qanun player Feras Charestan. Dartmouth College Professor of Music Ted Levin guides the program. View here.
10:30 pm ET: University of Idaho's Auditorium Chamber Music Series presents Neave Trio. Boston-based Neave Trio plays works by four women composers: Clara Schumann's Piano Trio in G minor, Op. 17, Amy Beach's Piano Trio, Op.150, Rebecca Clarke's Piano Trio, and Jennifer Higdon's Piano Trio, which is comprised of two movements: "Pale Yellow" and "Fiery Red." View here.
Wednesday, November 11
1 am ET: Chicago Symphony Orchestra presents Tribute to Veterans: Trumpeting the Power of Music. CSO trumpet John Hagstrom, himself a veteran of the U.S. Marine Corps, hosts an hour-long program highlighting the trumpet's role in military and orchestral music. Weaving together musical excerpts and demonstrations, interviews with U.S. Marine Band directors, and archival footage, the program features performances by Hagstrom, the CSO, and "The President's Own" United States Marine Band including Nowlin's Let Freedom Ring, Sousa's Semper Fidelis, and Solti's Beethoven Five. View here and on demand for 30 days.
12 pm ET: Hanns Eisler Academy Berlin presents Kirill Gerstein in an online seminar with Alex Ross. In his new book Wagnerism, Ross examines Wagner's broad and enduring influence on the arts, intellectual life, and politics. The book observes two contradictory tendencies in tandem: on the one hand, a wild proliferation of interpretations and reactions, including feminist, Jewish, gay, African-American, and occult/mystical Wagnerisms; and, on the other, an ideological narrowing, with a far-right, racist, nationalist viewpoint becoming ever more dominant. How can the same composer give inspiration to Theodor Herzl and Adolf Hitler, WEB Du Bois and Houston Stewart Chamberlain? Register here for the free Zoom seminar. LIVE
1 pm ET: Wiener Staatsoper presents Offenbach's Les Contes d'Hoffmann. Conductor: Frédéric Chaslin, director: Andrei Serban. With Olga Peretyatko, Gaëlle Arquez, Dmitry Korchak, Luca Pisaroni, and Michael Laurenz. Performance of September 15, 2019. Register for free and view here.
1:15 pm ET: Dame Myra Hess Memorial Concerts presents Masha Lakisova & Lyudmila Lakisova. Violinist Masha Lakisova and pianist Lyudmila Lakisova perform Mozart's Sonata for Piano and Violin in C, KV 303, Chausson's Poème, Emilie Mayer's Notturno, Op. 48, and Piazzolla's Nightclub 1960. View here. LIVE
2 pm ET: Carnegie Hall presents Master Class: Orchestral Winds. Demarre McGill, principal flutist of the Seattle Symphony, hosts video highlights from masterclasses for wind players. Flutist Karl-Heinz Schütz and clarinetist Daniel Ottensamer from the Vienna Philharmonic share insights into Brahms's Symphony No. 4 and Stravinsky's The Firebird Suite. Bassoonist Simon Van Holen from the Royal Concertgebouw also coaches a young musician through a passage from Tchaikovsky's Symphony No. 4. View here and on demand.
2 pm ET: IDAGIO Global Concert Hall presents Miloš: Beyond The Rainbow. Montenegrin guitarist Miloš Karadaglic performs an intimate program, filmed at concerts at Konzerthaus Blaibach in Germany, ranging from Bach and Villa-Lobos to Toru Takemitsu's evocative arrangement of "Somewhere over the Rainbow." Tickets EUR 9.90. View here.
2 pm ET: IDAGIO presents Classical (R)evolution with Rachel. Join soprano Rachel Fenlon as she explores what breaking the rules, embracing uncertainty, and thinking "outside the box" does for classical music-making. In this episode: composer and Professor of Music at Harvard, Chaya Czernowin. View here. LIVE
2 pm ET: Royal Liverpool Philharmonic presents Weilerstein & Hough. Joshua Weilerstein conducts a program featuring Beethoven's Emperor Concerto with pianist Stephen Hough and Bartók's Divertimento for Strings, composed just weeks before the onset of World War 2, which forced him to leave fascist Europe for a life of exile in New York City. The concert will be preceded by a live pre-concert talk on Zoom and a post-concert Zoom Q&A with musicians and conductor in a sort of post-match analysis. Tickets £10 and view here for 30 days. LIVE
2:30 pm Bournemouth Symphony Orchestra presents Lindberg & Beethoven. Kirill Karabits conducts Finnish composer Magnus Lindberg's Absence, which takes inspiration from Beethoven's private Conversation Books to peer into the mind of a genius. Beethoven's ballet The Creatures of Prometheus completes the program. Tickets £6 and view here. LIVE
3 pm ET: London Philharmonic Orchestra presents Celebrations & Revolutions. Program: Chevalier de Saint-Georges's Overture L'Amant Anonyme, and Beethoven's Piano Concerto No. 4, Ah! Perfido, and Symphony No. 4. Daniele Rustioni conducts the LPO with soloists Nicolas Namoradze, piano, and Sophie Bevan, soprano. View here and for seven days.
7:30 pm ET: Nightly Met Opera Streams presents Puccini's La Fanciulla del West. Starring Deborah Voigt, Marcello Giordani, and Lucio Gallo, conducted by Nicola Luisotti. From January 8, 2011. View here and for 24 hours.
8:30 pm ET: Dallas Symphony Orchestra presents Unity Concert. DSO, Dallas Black Dance Theatre, and Project Unity host a public concert to honor those who have lost their lives to racial violence and injustice—most recently, George Floyd, Ahmaud Arbery, Breonna Taylor, Jacob Blake, and Dallas's Botham Jean. The event supports Project Unity, an organization founded by Pastor Richie Butler of St. Luke Community United Methodist Church. Proceeds are for Project Unity's work to unify Dallas by implementing community-building programs to help heal race relationships between law enforcement and Dallas citizens. Tickets $25. View here.
Thursday, November 12
1 am ET: Chicago Symphony Orchestra presents CSO Sessions Episode 6: Prestini, Perkinson & Mendelssohn. Three works for small ensembles, opening with G-force by Paola Prestini written in 2013 for string quartet and vibraphone. The program continues with the String Quartet No. 1, Calvary, by Coleridge-Taylor Perkinson, who lived and composed in Chicago from the late 1990's until his death in 2004. The work incorporates the melody of the traditional spiritual "Calvary." Completing the program is Mendelssohn's Octet. View here and on demand for 30 days.
12 pm ET: Boston Symphony Orchestra presents Encore BSO Recitals. Poulenc's Trio for winds and piano, a model of neoclassical style and French lyricism, opens a program, which continues with four solo works. BSO principal flute Elizabeth Rowe performs Allison Loggins-Hull's Homeland, which explores racial injustice and the concept of belonging. Edwin Barker plays Henze's solo bass piece S. Biagio 9 Agosto ore 1207, which refers in its title to an ancient Tuscan church. Violist Steven Ansell plays Stravinsky's Elegy, and the program concludes with Brahms's Clarinet Trio, Op. 114. View here and on demand for 30 days.
1 pm ET: Wiener Staatsoper presents Cavalleria Rusticana & Pagliacci. Conductor: Marco Armiliato, director: Jean-Pierre Ponnelle. With Eva-Maria Westbroek, Brian Jagde, Ambrogio Maestri, Zoryana Kushpler, Isabel Signoret, Roberto Alagna, Aleksandra Kurzak, Ambrogio Maestri, Andrea Giovannini, and Sergey Kaydalov. Performance of November 2, 2020. Register for free and view here.
1 pm ET: Royal Stockholm Philharmonic presents A Portrait of Lars-Erik Larsson. Conductor and trombonist Christian Lindberg leads the RSPO and takes on the solo part in Larsson's Concertino for trombone and strings and the Symphony No. 3 from 1945. View here.
2:30 pm ET: IDAGIO Global Concert Hall presents Philharmonia Orchestra & Elim Chan: Mendelssohn & Montgomery. Streamed live from the Royal Festival Hall, London, the concert includes Jessie Montgomery's Strum for String Quartet and Mendelssohn's Concerto for Violin and Orchestra in E minor Op. 64 (with soloist Sergey Khachatryan) and his Symphony No. 4 Italian. Tickets EUR 10.90. View here. LIVE
3:30 pm ET: Academy of St. Martins in the Fields presents Re:connect, Regeneration: Love, Lies & Justice. An evening inspired by The Ratline by Philippe Sands. Program includes Brucker's Adagio for Strings, Kreisler's Liebesleid, Hindemith's Kleine Kammermusik for Wind Quintet, Mahler's Der Einsame im Herbst from Das Lied von der Erde, Mascagni's Intermezzo from Cavalleria Rusticana, and Mahler's Piano Quartet in A minor. With Simon Wallfisch, baritone, and Iain Farrington, piano and organ. Tickets £10. View here and on demand for one month.
6 pm ET: North Carolina State University Department of Music presents Lisa Bielawa's Brickyard Broadcast. A spatialized work for hundreds of musicians in a Virtual Reality environment designed by digital media teams at the NC State University Libraries. Brickyard Broadcast uses interactive technology to reinterpret the North Carolina State University Brickyard, the university's gathering area, as a virtual space in which the performance will unfold. Hundreds of audio recordings are being integrated into the work, created by student and community musicians playing and singing in isolation. Brickyard Broadcast allows musicians to create avatars that can come together in a playful, interactive common space. Viewers can experience it from start to finish or in a self-guided modular way, accessible either with VR interface or, in a 3-D stereo version, via any personal web device. View here.
7 pm ET: The Cleveland Orchestra presents In Focus Episode 3: Ax plays Haydn. Franz Welser-Möst conducts Haydn's Piano Concerto in D with soloist Emanuel Ax and Bartók's Divertimento for Strings. View here via TCO's streaming platform Adella.
7 pm ET: LA Opera presents Living Room Recital. Tenor Anthony Ciaramitaro and pianist Ben Malensek offer a warm-up ahead of Saturday's premiere of The Anonymous Lover with a recital full of songs by Joseph Bologne, Chevalier de Saint-Georges. View here and on demand. LIVE
7 pm ET: Philadelphia Chamber Music Society presents Jeremy Denk. The pianist and MacArthur Foundation "genius grant" winner plays Schumann's Papillons, Op. 2, Clara Schumann's Three Romances, Missy Mazzoli's Bolts of Loving Thunder, and Brahms's Four Piano Pieces, Op. 119. Tickets pay what you can. View here. LIVE
7 pm ET: Tulsa Opera presents 'Baseball' Rigoletto. Tulsa Opera Artistic Director Tobias Picker's re-envisioned 90-minute version of Verdi's opera is directed by James Robinson. Filmed in front of a live audience at a local baseball stadium, the jester Rigoletto is cast as a team mascot, the Duke of Mantua depicted as a cocky pitcher, and the hired killer, Sparafucile, as the umpire. The ballpark setting allowed Tulsa Opera to accommodate a larger audience than the opera house and in safer, open-air conditions with rigorous health protocols in place. The film is directed by Emmy-winning director/producer Frank Zamacona. View here.
7:30 pm ET: Live With Carnegie Hall presents Kronos Quartet & Friends. Through the power of Pete Seeger's cries for unity and moral integrity, Kronos and special guests explore the responsibility we have as members of a greater community to question injustice and develop the courage to raise our voices together both in word and song. View here and on demand.
7:30 pm ET: Concerts at Saint Thomas presents Heroic Music of Handel and Purcell. New York Baroque Incorporated returns to Saint Thomas Church Fifth Avenue for a chamber concert, directed by Jeremy Filsell and featuring mezzo-soprano Sarah Rose Taylor. The program comprises music of Handel and Purcell, important figures in English music history following the Restoration of King Charles II to the English throne in 1660. View here.
7:30 pm ET: 92nd St Y presents Anthony McGill & the New York Philharmonic String Quartet. New York Philharmonic principal clarinet Anthony McGill brings his artistry and love of chamber music to a performance with orchestral colleagues, the New York Philharmonic String Quartet. The program pairs clarinet quintets by Brahms and Samuel Coleridge-Taylor. Tickets $15. View here.
7:30 pm ET: Detroit Symphony Orchestra presents DSO Chamber Ensembles. Musicians of the DSO perform Ravel's Le Tombeau de Couperin, Barber's Summer Music, Op. 31, Jeff Scott's Startin' Sumthin', and Medaglia's Suite popular brasileria. Tickets $12 and view here.
7:30 pm ET: Nightly Met Opera Streams presents Berg's Lulu. Starring Marlis Petersen, Susan Graham, Daniel Brenna, Paul Groves, Johan Reuter, and Franz Grundheber, conducted by Lothar Koenigs. From November 21, 2015. View here and for 24 hours.
7:30 pm ET: Chamber Music Society of Lincoln Center presents Artist Series: Calidore String Quartet. Archival performances of Mendelssohn's String Quartet in F minor, Op. 80 and Dvorák's Quintet in G major for Two Violins, Viola, Cello, and Bass, Op. 77. View here and on demand for a week.
7:30 pm ET: Tassel Performing Arts Center presents Yael Weiss's 32 Bright Clouds. The concert includes performances of Beethoven's Piano Sonatas No. 7 and No. 32, newly commissioned works by Sidney Marquez Boquiren (Philippines), Ne Myo Aung (Myanmar), Bongani Ndodana-Breen (South Africa) and Adina Izarra (Venezuela), and the world premiere of a new work from Myanmar, written in the style of Burmese Sandaya from Ne Myo Aung. View here.
8 pm ET Tippet Rise presents Gluzman, Moser & Sudbin. Violinist Vadim Gluzman, cellist Johannes Moser, and pianist Yevgeny Sudbin perform Arno Babadjanian's Piano Trio in F Sharp Minor and Tchaikovsky's Piano Trio in A Minor, Op. 50. Filmed at the Olivier Music Barn on August 4, 2018. View here and on demand.
8 pm ET: The Philadelphia Orchestra presents Branford Marsalis plays Villa-Lobos. New Orleans-born Marsalis joins the Orchestra, led by Conducting Fellow Lina Gonzalez-Granados, for Glazunov's Saxophone Concerto and Villa-Lobos's Fantasia, which features improvisational-sounding phrases, syncopation, and virtuosic technique. The program also includes Dvorák's Serenade for Winds. Tickets $15. View here and on demand for three days. LIVE
9 pm ET: Grand Teton Music Festival presents GTMF On Location: New York. The first in a series of five digital chamber music concerts, recorded, and produced remotely in the home cities of Festival Orchestra musicians across the country. From New York's St. Bartholomew's Church, the program comprises Vivaldi's Piccolo Concerto in C, RV 443, Bach's Sonata No. 2 in D, BWV 1028, Beethoven's String Trio No. 5 in C minor, Op. 9, Elgar's Elegy for Strings, Op. 58, and Tonia Ko's Still Life Crumbles. View here and on demand.
10 pm ET: Cal Performances at UC Berkeley presents David Finckel & Wu Man play Beethoven. A marathon program of the complete Beethoven sonatas for cello and piano—significant artistic touchstones for a husband-and-wife duo who have been playing them together for more than 25 years. Tickets $15. Register and view here.
10:30 pm ET: Seattle Symphony presents Shostakovich Cello Concerto No. 2. Ludovic Morlot conducts Alisa Weilerstein in Shostakovich's Cello Concerto No. 2. The evening opens with Caroline Shaw's Haydn-inspired Entr'acte and concludes with Beethoven's Symphony No. 8. View here.
Friday, November 13
1 pm ET: Wiener Staatsoper presents Thomas Adès's The Tempest. Conductor: Thomas Adès, director: Robert Lepage. With Adrian Eröd, Audrey Luna, Thomas Ebenstein, Stephanie Houtzeel. Performance of June 24, 2018. Register for free and view here.
1 pm ET: Trinity Wall Street presents Comfort at One. An "at home" performance by Grammy-winning Attacca Quartet, "passing through" time with works by Beethoven and Caroline Shaw. View here.
1 pm ET: LA Phil Soundstage presents Episode 8: Chicano Batman. Since 2008, Chicano Batman has blended the many sounds of L.A. into a genre-bending mix that offers both societal critiques and an unabashed dance party. The SOUND/STAGE set features songs from the band's latest album, Invisible People, which has been called "their funkiest political statement yet." View here and on demand.
1 pm ET: Bergen Philharmonic presents Verdi's Macbeth. BPO and Bergen National Opera join forces for a new production of Verdi's opera led by Chief Conductor Edward Gardner with Roberto Frontali as Macbeth and Alex Penda as Lady Macbeth. Lenka Udovicki directs the semi-staged production. The opera will be performed to sold-out, socially distanced audiences at Bergen's Grieghallen. View here. LIVE
2 pm ET: Berliner Philharmoniker Digital Concert Hall presents Kirill Petrenko conducts Shostakovich. The Berliner Philharmoniker with Chief Conductor Kirill Petrenko perform Shostakovich's Eighth Symphony, broadcast from the Philharmonie Berlin without an audience. The music, created in the middle of the Second World War, is characterized by not only sadness and despair but also by beauty and hope. Tune in 20 minutes before the concert to hear Petrenko in conversation with Noah Bendix-Balgley. Tickets from EUR 9.90. View here. LIVE
2 pm ET: DG Stage presents Barenboim: Beethoven Piano Trios II. Daniel Barenboim founded his trio with son Michael Barenboim and cellist Kian Soltani in 2016. They first performed Beethoven's complete piano trios at the Pierre Boulez Saal Berlin in 2017 and recorded these two concerts right before the COVID-19 pandemic in December 2019. Tickets EUR 9.90. View here.
2 pm ET: Medici TV presents Herbert Blomstedt conducts Bruckner. The Bamberg Symphony, live from the Joseph-Keilberth-Saal at the Bamberg Konzerthalle, performs Bruckner's Symphony No. 8 in C Minor led by Honorary Conductor Herbert Blomstedt. Subscriptions from £9.90. View here.
3 pm ET: Live From The Barbican presents Shabaka Hutchings & Britten Sinfonia. Clarinetist, saxophonist and composer Hutchings blurs the lines between jazz and classical in Copland's Clarinet Concerto, written for the legendary Benny Goodman, and Stravinsky's Three Pieces for Clarinet Solo. Britten Sinfonia will also perform Copland's Appalachian Spring, a musical portrait of 19th-century pioneers, which brings together traditional Shaker melodies with his quintessentially American sound. Tickets £12.50 and view here. LIVE
7 pm ET: Orchestra Miami presents Beethoven on the Beach: Pastorale, FREE concert livestreamed from Miami Beach. Miami's premiere professional orchestra, Orchestra Miami, led by Artistic Director Elaine Rinaldi, performs Beethoven's Symphony N. 6 in F Major, Op. 68 and Tchaikovsky's Violin Concerto in D Major, Op. 35, with Uzbeki violinist Askar Salimdjanov, soloist. Click here to register and view.
7:30 pm ET: Middlebury Performing Arts presents Jupiter String Quartet. Recorded at the University of Illinois in Champaign-Urbana, where the ensemble has been artists-in-residence since 2012. The quartet plays Michi Wiancko's To Unpathed Waters, Uncharted Shores alongside George Walker's Lyric from his String Quartet No. 1 and Mendelssohn's Quartet in E-flat, Op. 12. Register and view here.
7:30 pm ET: Nightly Met Opera Streams presents Britten's Peter Grimes. Starring Patricia Racette, Anthony Dean Griffey, and Anthony Michaels-Moore, conducted by Donald Runnicles. From March 15, 2008. View here and for 24 hours.
7:30 pm ET: Detroit Symphony Orchestra presents Schubert's Trout. Pianist Marc-André Hamelin returns to Orchestra Hall for Schubert's Trout Quintet. The unusual instrumentation of piano, violin, viola, cello, and bass leaves room for the piano to shine with melodies, some taken from Schubert's catalog of vocal music. Tickets $12 and view here.
8 pm ET: Schwartz Center for the Performing Arts at Emory University presents Third Coast Percussion. Program: Philip Glass's Aguas da Amazonia (arr. Third Coast Percussion) and Perpetulum. Register and view here.
Saturday, November 14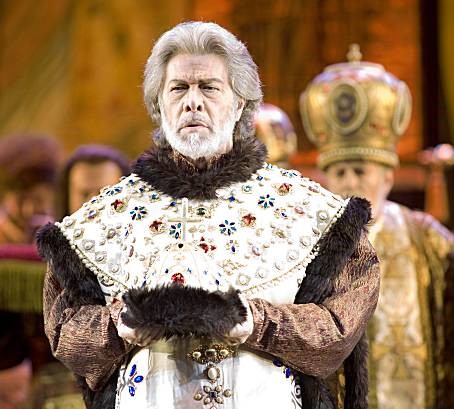 1 pm ET: San Francisco Opera presents Mussorgsky's Boris Godunov. Originally a production from Grand Théâtre de Genève, SFO's 2008 presentation of Mussorgsky's opera was the company's first staging of the composer's seven-scene, original 1869 version. Samuel Ramey takes on the title role with John Uhlenhopp as Prince Shuisky, Vitalij Kowaljow as Pimen, and Vladimir Ognovenko as Varlaam. Ji Young Yang and Jack Gorin are Boris's daughter, Xenia, and son, Fyodor. Vsevolod Grivnov portrays Grigory, Nicolai Janitzky is Shckelkalov, and Andrew Bidlack is the Simpleton. Julia Pevzner directs Stein Winge's production with Vassily Sinaisky leading the San Francisco Opera Orchestra and Chorus. View here until midnight the following day.
1 pm ET: Wiener Staatsoper presents Massenet's Manon. Conductor: Frédéric Chaslin, director: Andrei Serban. With Nino Machaidze, Juan Diego Flórez, Dan Paul Dumitrescu, and Adrian Eröd. Performance of June 9, 2019. Register for free and view here.
1 pm ET: OperaVision presents Verdi's La Traviata. Recorded on July 15, 2020. Teatro Real's semi-staged concert version was one of the first productions to be put on worldwide after lockdown. The ambitious undertaking weaves reality into its staging concept and features a cast led by Marina Rebeka, Michael Fabiano, and Artur Ruci?ski. View here and on demand for six months.
2 pm ET: The Orchestra Now presents Haydn's Maria Theresa. Leon Botstein conducts three 20th-century works that all premiered in the U.S.—including the rarely heard Scherzi musicali by Black American composer Ulysses Kay—along with Haydn's regal Maria Theresa Symphony, performed for the Holy Roman Empress in 1773. Varèse's Hyperprism and Hindemith's Concert Music for Piano, Brass, and Harps complete the program. Register and view here.
5 pm ET: Segerstrom Center for the Arts presents Woman of Broadway: Laura Benanti. Streamed live from New York's Shubert Virtual Studios, this concert features a performance by Tony® Award-winner Laura Benanti, in a concert filled with Broadway showtunes, pop songs, and personal stories from her career. Tickets from $30 and view here. LIVE
6 pm ET: Boston Camerata presents Purcell's Dido & Aeneas. Purcell's only opera features performances by live and remote musicians and media elements conceived by Peter Torpey. Artistic Director Anne Azéma leads a cast that includes Tahanee Aluwihare as Dido, Luke Scott as Aeneas, Camila Parias as Dido's sister Belinda, and Jordan Weatherston Pitts as the Sorcerer, assisted by students from Longy School of Music of Bard College and the Harvard Choral Fellows. Includes a pre-concert presentation by Ellen T. Harris (Professor Emeritus of Music, MIT) and a post-performance conversation between Azéma and Torpey. Tickets $35. View here and until November 29.
7:30 pm ET: Freer & Sackler Galleries presents Aga Khan Master Musicians. Pipa virtuoso Wu Man hosts and performs in this broadcast of new music with fellow Aga Khan Master Musicians from the Middle East, North Africa, and Central Asia. This collaborative ensemble, performing on a diverse group of instruments, is inspired by their musical roots to explore how innovation helps revitalize cultural heritage. View here.
7:30 pm ET: Nightly Met Opera Streams presents Philip Glass's Aknaten. Starring Dísella Lárusdóttir, J'Nai Bridges, Anthony Roth Costanzo, Aaron Blake, Will Liverman, Richard Bernstein, and Zachary James, conducted by Karen Kamensek. From November 23, 2019. View here and for 24 hours.
7:30 pm ET: Syracuse Friends of Chamber Music present Pacifica Quartet. Program: Beethoven's String Quartet in F, Op. 18, No. 1, Jennifer Higdon's Voices, and Beethoven's String Quartet in A Minor, Op. 132. Tickets from $25 and view here.
7:30 pm ET: The Washington Chorus presents Cantata for a More Hopeful Tomorrow. A film, by composer Damien Geter and filmmaker Bob Berg and led by TWC Artistic Director Eugene Rogers in its world premiere livestream, tells the story of one individual's journey as he grapples with recovery from COVID-19. The music is influenced by Bach, modern music, and traditional spirituals. The Washington Chorus is joined by soprano Aundi Marie Moore. Tickets $15. View here.
8 pm ET: Juventas presents The Voice of the Rain. The second of five concerts focusing on the work of living composers. Program: Stephanie Ann Boyd's, Auctumnus, Andrew Porter's Scenes from an Autumn Day, Michael Culligan's Due Northwest, Linda Chase's Wildfire Rages, River Whispers, Ingrid Stolzel's The Voice of the Rain, Oliver Davis's The Elements, and new works by Patrick Walker and Oliver Caplan. With Nick Southwick, flute, Wolcott Humphrey, clarinet, Ryan Shannon, violin, Lu Yu, viola, Minjin Chung, cello, and Julia Scott Carey, piano, and Tom Schmidt,percussion. Join at 7 pm for a pre-concert composer conversation. View here.
8 pm ET: LA Opera presents The Anonymous Lover. A neglected 1780 chamber opera by Joseph Bologne, Chevalier de Saint-Georges, a contemporary of Mozart and widely regarded as the first Black classical composer known to history. The comic romance tells the story of Léontine, a beautiful young widow who has become disillusioned with love. Much to her surprise, she receives a stream of letters and gifts from an unknown man professing his undying passion. The opera is conducted by Music Director James Conlon and directed by Bruce Lemon, Jr., in a socially distanced stage setting that blends modern film with traditional staging. Register and view here and on demand for a week. LIVE
9 pm ET: Saint Paul Chamber Orchestra presents Lamentations. A program centered on grief but anchored in hope. Richard Strauss wrote Metamorphosen at the close of World War II and quotes from Beethoven's Marcia funebre from the Eroica. Brahms's Horn Trio was written in memory of the composer's recently deceased mother. The concert opens with Coleridge-Taylor Perkinson's 1973 Lamentations for Solo Cello, subtitled "Black/Folk Song Suite." Perkinson described this work as "the reflection and statement of a people's crying out." View here.
9 pm ET: Houston Symphony presents Hilary Hahn Returns. Program:Keyla Orozco's PerpetuumM, Haydn's Symphony No. 60 in C, Il distratto, and Mozart's Violin Concerto No. 5 in A, Turkish. Andrés Orozco-Estrada conducts with Hilary Hahn, violin. Tickets $20. View here.
9:30 pm ET: Boulder Philharmonic presents The Beauty of Bach. Pianist Simone Dinnerstein leads an evening of Bach with flutist Christina Jennings. Program: Erbarm' Dich, Orchestral Suite No. 2 in B Minor, Piano Concerto No. 1 in D Minor, and Brandenburg Concerto No. 5. Tickets $40. View here.
10 pm ET: San Francisco Symphony presents Throughline. SFS welcomes new Music Director Esa-Pekka Salonen in a digital program including music by Ellen Reid, John Adams, Kev Choice, and Beethoven, and the world premiere of Collaborative Partner Nico Muhly's Throughline, written specifically for a digital medium and filmed in locations around the world. With Julia Bullock, Pekka Kuusisto, Nicholas Britell, Claire Chase, Bryce Dessner, esperanza spalding, Carol Reiley, Kev Choice, AÏMA the DRMR, Andrew Levin, Marcus Phillips, Dame Drummer, Lady Fingaz, and Yeni Lucero. View here and on demand.
Sunday, November 15
9:30 am ET: OperaStreaming presents Handel's Aci, Galatea e Polifemo. Live from the Teatro Municipale in Piacenza, a young cast includes Raffaele Pé as Aci, Giuseppina Bridelli as Galatea, and Andrea Mastroni as Polifemo. The dramatic cantata was written by the young Handel in Naples in 1708. This new production by Gianmaria Aliverta represents the first performance in modern times of the version written for the famous castrato Senesino. Luca Guglielmi conducts baroque ensemble La Lira di Orfeo. View here and on demand. LIVE
12 pm ET: The Gesualdo Six's London Sound Gallery presents Ensemble Augelletti. A program of music in reimagined forms. Many composers gave new context to their music by reorchestrating it for different performances. Featuring music by Handel, Bach, Corelli, Graun, and Schop, this concert celebrates the new beginnings that composers and their students created for their music. Tickets £10. View here and on demand until January 1, 2021. LIVE
12 pm ET: Budapest Festival Orchestra presents Chamber Concert. BPO musicians appear in a program of Hummel's Piano Quintet in E-flat minor, Op. 87, Hindemith's Kleine Kammermusik, Op. 24, No. 2, Richard Strauss's String Sextet, TrV 279a (from the opera Capriccio, Op. 85), and Mendelssohn's String Quintet in A, Op. 18. View here. LIVE
1 pm ET: Wiener Staatsoper presents Richard Strauss's Ariadne auf Naxos. Conductor: Christian Thielemann, director: Sven-Eric Bechtolf. With Soile Isokoski, Johan Botha, Peter Matic, Jochen Schmeckenbecher, Sophie Koch, and Daniela Fally. Performance of October 23, 2014. Register for free and view here.
2 pm ET: London Mozart Players presents Celebrating Beethoven. LMP performs their Autumn 2020 program online recorded in front of socially distanced audiences at the baroque gem that is London's St John's Smith Square. In celebrations of Beethoven's 250th, the program includes Beethoven's Coriolan Overture and his Violin Concerto in D, Op.61 with soloist Jonian Ilias Kadesha. Tickets £12. View here.
2 pm ET: ArtsRock presents Simone Dinnerstein. Streamed live from the Union Arts Center in Sparkill, NY, the pianist plays a concert of Schubert and Philip Glass. Hosted by Robin Quivers. Tickets from $10. View here.
2 pm ET: Peoples' Symphony Concerts presents Shai Wosner. The pianist commences his three-years as Resident Artist with PSC's virtual 120th anniversary season opening concert. Passing the baton from 2017–20 Resident Ensemble the Dover String Quartet, Wosner joins the ensemble in a performance of Dvorák's Piano Quintet No. 2 in A, Op. 81. He also performs Brahms's Intermezzo Op. 116, No. 2. View here.
3 pm ET: Friends of Chamber Music presents Fauré Piano Quartet. The German-based Fauré Piano Quartet brings fresh interpretations to mainstream repertoire and offers new insights into undiscovered repertoire. Here they turn their attention to Mussorgsky's Pictures at an Exhibition. View here and on demand for 48 hours.
3 pm ET: Oslo Philharmonic presents Beethoven's Piano Concerto No. 4. Juanjo Mena conducts the Oslo Philharmonic in Beethoven's Fourth Piano Concerto with soloist Paul Lewis. Part of Mellomspill II, a sequel to the previous lockdown's Mellomspill (Interlude) series, filmed in an empty concert hall in accordance with current infection control guidelines. View here. LIVE
5 pm ET: Old First Concerts presents 50th Anniversary Gala. A line-up of favorite OFC musicians in pre-recorded performances made especially for the day. Program TBD, but includes pianist Sarah Cahill performing Sofia Gubaidulina's Chaconne. Donations encouraged. View here.
6 pm ET: New West Symphony presents A Tour of India. Michael Christie conducts a concert as part of a weekend of activities highlighting the profound impact that Indian culture and lifestyle have had on the greater Los Angeles Region. The program includes Philip Glass's Evening Song from Satyagraha, Elgar's Sospiri, Debussy's Prelude to Afternoon of a Faun, Reena Esmail's Magan Rehna (Be Merry), Shane Cook's Ajapa Jaap, and Turina's La Oración Del Torero. The program will also include an interview with Anaheim city Mayor Harry Singh Sidhu who will discuss his experience as the only current Indian-American mayor in California. Tickets $25. View here.
7 pm ET: Celebrity Series of Boston presents Watkins Family Hour. Sara and Sean Watkins will perform a streamed concert from Fanciful Fox Studios in L.A. The concert is followed by a live chat with the artists. Tickets $20 or $90 for series of six. View here and for 72 hours. LIVE
7:30 pm ET: Met Opera Streams presents Thomas Adès's The Exterminating Angel. Starring Audrey Luna, Amanda Echalaz, Sally Matthews, Sophie Bevan, Alice Coote, Christine Rice, Iestyn Davies, Joseph Kaiser, Frédéric Antoun, David Portillo, David Adam Moore, Rod Gilfry, Kevin Burdette, Christian Van Horn, and John Tomlinson, conducted by Thomas Adès. From November 18, 2017. View here and for 24 hours.
7:30 pm ET: Close Encounters with Music, Mahaiwe Performing Arts Center presents The French Connection: Saint Saëns, Debussy, Fauré, Boulanger. Fauré's Piano Quartet No. 1, Debussy's Cello Sonata, Saint Saëns's Rondo Capriccioso, and Lili Boulanger's D'un matin de printemps are performed by Irina Muresanu, Dov Scheindlin, Mikael Darmanie, and Yehuda Hanani. View here.
8 pm ET: Long Beach Opera presents The 2020 Songbook. A 100 percent virtual UnGala with 20 world premiere music videos, commissioned by LBO supporters, featuring new works based on events and experiences from 2020. LBO has paired up-and-coming creatives with some of today's most experienced composers for mentorship and advice. Hosted by countertenor Anthony Roth Costanzo. Tickets $75 ($25 budget tickets available). View here.
Monday, November 16
8 am ET: Wigmore Hall presents Nicky Spence, Jess Dandy & Julius Drake. The British tenor performs his acclaimed interpretation of Janácek's song cycle The Diary of One who Disappeared. Register, view here and on demand for 30 days. LIVE
9 am ET: Baruch Performing Arts Center presents Alexander String Quartet. As part of Beethoven @ 250, the BPAC String Quartet-in-Residence will traverse Beethoven's early, middle and late quartets, including selections from String Quartets Op. 18, No. 1, Op 59, No. 2 and Op. 135. Register and view here and on demand until November 29.
9 am ET: Baruch Performing Arts Center presents Alexander String Quartet. As part of Beethoven @ 250, the BPAC String Quartet-in-Residence pairs Beethoven's String Quartet in A minor, Op. 132 with American composer George Walker's Lyric for String Quartet. Walker, the first Black composer to win the Pulitzer Prize in Music, wrote Lyric in response to the death of his grandmother. Its theme echoes the Heiliger Dankgesang (Holy Song of Thanksgiving) from Beethoven's Op. 132. Register and view here and on demand until November 29.
1 pm ET: Wiener Staatsoper presents Richard Strauss's Ariadne auf Naxos. Conductor: Evelino Pidò, director: Eric Génovèse. With Anna Netrebko, Elina Garanca, Ildebrando D'Arcangelo, Francesco Meli, and Elisabeth Kulman. Performance of April 2, 2011. Register for free and view here.
2:30 pm ET: Wigmore Hall presents Tamsin Waley-Cohen & Huw Watkins. The violinist and pianist play Beethoven's Violin Sonata No. 8 in G and No. 10 in G, Knussen's Reflection for violin and piano, Janácek's Violin Sonata, and the world premiere of a new work for violin and piano by Watkins. Register, view here and on demand for 30 days. LIVE
3 pm ET: London Philharmonic presents Ravel's L'Enfant et les Sortilèges. Lee Reynolds conducts a new filmed production of Ravel's opera. With an ensemble of over 80 singers, the opera tells the story of a child, being educated at home, who is punished for bad behaviour by a variety of household objects and animals coming to life. Rachael Hewer's production was conceived as a response to world events with each scene filmed by the singers in their own homes and brought to life with costumes and set added in post-production through the aid of green-screen technology. View here for 30 days.
4 pm ET: Manhattan School of Music presents Here, Now. A video performance and live Zoom Webinar with pianist Lara Downes, MSM's first Artist Citizen-in-Residence. Over the course of her residency, she will give students space and time to explore the impact of how and why designing programs with more inclusive repertoire is paramount in one's professional training—creating more collaborative, meaningful, and relevant experiences with community and audiences. View here.
6:30 pm ET: Orchestra of St. Luke's presents Connections Across Time & Space. The second concert in the Composers of Note series connects three composers whose works draw from similar sources of inspiration. Contemporary American composer Christine Delphine Hedden's Cuimhne draws on New England folk music and traditional Irish music. Florence Price combined traditional African American idioms with mid-century American classical music in her String Quartet No. 2. Written when he was 27, Brahms' First String Sextet exposes the sonic potential of the two violins, two violas, and two cellos. Tickets $40 per household (suggested) but minimum donation $1 per concert. View here.
6:30 pm ET: Chamber Music Society of Lincoln Center presents Composers in Focus I: Zosha Di Castri. Composer and pianist Zosha Di Castri talks with pianist Orion Weiss and violinist Kristin Lee about motivation, influences, inspiration and her work Sprung Testament, commissioned by Jennifer Koh as a sister piece to Beethoven's Spring Sonata. Register and view here and on demand for a week.
7:30 pm ET: Met Opera Streams presents Verdi's Don Carlo. Starring Marina Poplavskaya, Anna Smirnova, Roberto Alagna, Simon Keenlyside, and Ferruccio Furlanetto, conducted by Yannick Nézet-Séguin. From December 11, 2010. View here and for 24 hours.
7:30 pm ET: SalonEra presents Folk Influences. Three violinists—Gail Hernández Rosa, Edwin Huizinga, and David McCormick—share recent work spanning Celtic tunes, traditional music from Spain, and research focused on Black musicians at Thomas Jefferson's Monticello. Suggested donation $10, register and view here.
8 pm ET: Apollo's Fire presents Allure: The Three Amandas. In the palace of Ferrara, three ladies entertained princes with their astonishing musicianship. The "Tre Donne di Ferrara" were probably the first female professional musicians. Apollo's Fire collaborates with three Amandas—sopranos Amanda Forsythe and Amanda Powell, and mezzo-soprano Amanda Crider—in virtuoso trios written for the Ferrara ladies, alongside songs by Barbara Strozzi and Francesca Caccini and duets from Monteverdi's Scherzi Musicali. Tickets $22. View here.
Artists and Organizations Offering Free Content
The following are all accessible during the coronavirus pandemic:
Academy of Ancient Music
The most listened-to period instrument ensemble, directed by Richard Egarr, has made a number of streams available on its website. Guest artists include Louise Alder, soprano, Nicola Benedetti, violin, Mary Bevan, soprano, David Blackadder, trumpet, Iestyn Davies, countertenor, Tim Mead, countertenor, Christopher Purvis, bass, and Tenebrae, directed by Nigel Short. Explore here.
American Opera Project
First Glimpse is a video album of 20 songs created during the first year of AOP's 2019-21 fellowship program, Composers & the Voice. Originally intended as a live concert, the videos will be released every Friday beginning October 23 and for the following six weeks. The composers are Alaina Ferris, Matt Frey, Michael Lanci, Mary Prescott, Jessica Rudman and Tony Solitro, with librettists Amanda Hollander and Jonathan Douglass Turner. Videos will be free for one week following their release, after which they will be available to rent or purchase, individually or as a full set through AOP's Website. Explore here.
American Symphony Orchestra
American Symphony Orchestra releases weekly recordings from its archives with content alternating between live video recordings of SummerScape operas and audio recordings from previous ASO concerts. Ethel Smyth's The Wreckers, Richard Strauss's Die Liebe aus Danae, and Korngold's Das Wunder der Heliane, all conducted by Leon Botstein, are all highly recommended and available now. **
Apollo's Fire: Music for the Soul
The Cleveland-based baroque orchestra founded by Artistic Director Jeannette Sorrell is offering a series of video streams entitled "Music for the Soul." New episodes are posted here.
New: Austin Opera
Following its October debut at the Blue Starlite Drive-Ins in Austin Texas, Austin Opera brings its Lauren + Mark digital concert film online throughout November. Featuring Central Texas power couple, soprano Lauren Snouffer and baritone Mark Diamond, accompanied by Nyle Matsuoka, the film is directed by technology firm Subvrsive (Austin, TX) to showcase landmarks of Austin along with popular operatic songs, including selections chosen by Austin Opera fans. There will be a Watch Party on Monday, November 30 at 7:30 pm ET. View here.
Baltimore Symphony Orchestra
BSO Sessions continues to bring the stories of BSO musicians, conductors, and collaborators to life through a documentary-style narrative. In addition to the first three episodes currently available upcoming episodes celebrate a responsible return of winds and brass to the stage, as well as the series debut of Music Director Marin Alsop and Principal Pops Conductor Jack Everly. Assistant Conductor Jonathan Rush interviews film composer Michael Abels and Artistic Partner Wordsmith joins in a special holiday episode with a new rendition of "'Twas the Night Before Christmas." Explore here.
Bard SummerScape & Fisher Center
Archival works highlight Bard's wealth and breadth of programming, including performances from its SummerScape Opera and BMF archives. Recent include Bard SummerScape's 2011 production of Strauss's rarely performed Die Liebe der Danae and last year's Daniel Fish directed staging of Michael Gordon's Acquanetta. More details here.
Carnegie Hall
More than 200 teen musicians hailing from 41 states across the US came together in July 2020 as an online virtual community to form three musical ensembles: the National Youth Orchestra of the United States of America (NYO-USA), NYO2, and NYO Jazz. All three ensembles recorded exuberant virtual performance videos during the residency, directed by Emmy Award-winner Habib Azar. The first four videos—Valerie Coleman's Umoja by the musicians of NYO-USA; a unique adaptation of Grieg's Morning Mood by NYO2; and Thad Jones's Cherry Juice and Wycliffe Gordon's We're Still Here by NYO Jazz—are now available for viewing. Explore here.
The Cleveland Orchestra
The Cleveland Orchestra is offering archival videos, daily Mindful Music Moments videos, and videos from musicians performing from home. Explore here.
Cliburn Kids
The Cliburn launches its expanded, robust online music education program for elementary-school students. Created as a resource for school districts, teachers, and parents, the initiative includes 27 lesson plans to date, each with a seven- to ten-minute video, and corresponding individual and class activities that meet objectives of the Texas Essential Knowledge and Skills (TEKS). New episodes and lesson plans are released every Tuesday of the 2020–2021 school year for a total of more than 50 by May 2021. Explore here.
Detroit Symphony Orchestra
The Detroit Symphony Orchestra has made its webcast archive available for free. The collection features 200+ works going back three years, and highlights include Leonard Slatkin conducting John Luther Adams's climate change-inspired Become Ocean from 2019, several world premieres, and a host of bite-sized encores. Explore here.
Deutsche Grammophon Yellow Lounge
The German classical music giant is streaming Yellow Lounge broadcasts from its archives. Recent additions include clarinetist Andreas Ottensamer, pianists Alice Sara Ott and Chihiro Yamanaka, and cellist Mischa Maisky. Performances are broadcast in rotation, one video at a time, adding a new performance every few days. DG communicates the start of each new performance by newsletter at the start of each week. To keep updated sign up here.
Finnish National Opera
Finnish National Opera presents Stage24, a series of streamed archived performances on its website, which are then available for the next six months. Recent content includes a staged version of Sibelius's Kullervo, Stravinsky's The Rake's Progress, Caspar Holten's staging of Wagner's Der Fliegende Holländer with Camilla Nylund, and Christoff Loy's Tosca. An excellent company and some interesting and original work worth investigating ** Explore here.
Handel and Haydn Society
Boston's Handel and Haydn Society has created the H+H Listening Room where you can hear and watch H+H performances including Mozart's Requiem, Handel's Messiah, and Purcell's Dido and Aeneas filmed at New York's Met Museum. There are also more than a dozen videos of musicians performing from their homes, a special video of principal flutist Emi Ferguson teaching people how to make their own baroque flute, and a new podcast called "Tuning In". In the first episode Principal Cellist Guy Fishman interviews Artistic Director Harry Christophers about Bach's St. Matthew Passion.Explore here.
NEW: Hope@Home
With the return of restrictions throughout Europe, violinist Daniel Hope is playing live from his Berlin living room at 1 pm ET every day throughout November. "The pandemic has affected our entire world. But the effect on our cultural world has also been devastating," says Hope. "I think it is important now for established artists to use their influence to help the next generation, so that they have a chance in the future. That is why I have decided to restart Hope@Home, as well as to reconnect to people in lockdown around the world. Selected mentors will present young, freelance artists. All artists will receive a fee for their performances, and we will adhere to all COVID-19 regulations." Mentors include Christoph Eschenbach, Anne-Sophie Mutter, Renaud Capuçon, Sol Gabetta, and Sarah Willis. Explore here.
Kennedy Center
The Kennedy Center is offering a free, live digital performance initiative, Couch Concerts, to help inspire, uplift, heal, and bring the performing arts into homes across the country and around the world during these difficult times. Couch Concerts stream direct from artists' homes on the Kennedy Center website. Audiences can discover a wide range of other at-home programming through the Kennedy Center at Home webpage.
La Scala/RAI
Italy's RAI presents five productions from La Scala Milan including the world premiere of Kurtág's Fin de Partie, Daniel Barenboim conducting Götterdämmerung, Lisette Oropesa in Verdi's I Masnadieri, Montedervi's Orfeo conducted by Rinaldo Alessandrini, and Les Vêpres Siciliennes conducted by Daniele Gatti. A wide range of concerts are also available. Explore and register here.
Les Arts Florissants
Les Arts Florissants's annual Festival in Thiré, France included a series of 10- to 15-minute "Meditation" concerts recorded earlier this summer. Now available to enjoy online, the Meditations include performances by students of Juilliard's Historical Performance program in the spirit of their annual participation in the Festival. View here.
Lincoln Center Lincoln Center Passport to the Arts
A variety of virtual classes, performances, and bonus content designed for children, teens and adults with disabilities and their families. Offerings include programs with Chamber Music Society of Lincoln Center, Jazz at Lincoln Center, the Metropolitan Opera Guild, New York City Ballet, the New York Philharmonic, and The New York Public Library for the Performing Arts. Families can attend dance, music or drama classes, watch exclusive performances, check out behind-the-scenes content, and even meet performers—all from their homes. Families will receive pre-visit materials, including social narratives, photos, and links before each program. All programs take place via Zoom. Register here.
Los Angeles Chamber Orchestra
LACO AT HOME offers streaming and on demand performances, including a full showing of the orchestra's critically acclaimed West Coast premiere of Dark with Excessive Bright for double bass and strings by LACO Artist-in-Residence Missy Mazzoli. View streaming here and on demand here.
Los Angeles Master Chorale
Videos recorded as part of the "Offstage with the Los Angeles Master Chorale" series from April 24 to June 19 included interviews conducted by Artistic Director Grant Gershon and Associate Conductor Jenny Wong with notable performers—including special guests Reena Esmail, Morten Lauridsen, Anna Schubert, Peter Sellars, Derrick Spiva—as well as Master Chorale singers. Available on demand here.
Metropolitan Opera Live In Schools
The Metropolitan Opera's HD Live in Schools program has launched a new series for the 2020–21 school year, creating cross-disciplinary educational opportunities across the country. For the 2020–21 school year, students and teachers will receive free subscriptions to the Met Opera on Demand service, with a catalogue of more than 700 Live in HD presentations, classic telecasts, and radio broadcasts. Ten operas have been selected for the HD Live in Schools program, and will be presented in five educational units, with two thematically paired operas per unit. The series opens with Beethoven's Fidelio and Donizetti's La Fille du Régiment (September 28–October 16), both of which explore the intersection of music and politics. The Met will continue to offer teachers HD Live in Schools Educator Guides and access to Google Classroom materials that can be adapted for virtual learning lesson plans. In addition, the Met's National Educators Conference will be hosted on a virtual platform this year and take place on five Saturdays throughout the 2020–21 school year. Two conferences, scheduled for October 10, 2020, and October 17, 2020, will also feature live conversations with Met artists. More information here.
Minnesota Orchestra
Minnesota Orchestra at Home shares video, audio, and educational materials through the categories of Watch, Listen and Learn, including videos from the orchestra's archives and newly created "mini-concerts" directly from the homes of Orchestra musicians. Explore and view here.
National Sawdust Digital Discovery Festival, Volume One
With more than 65 events, featuring over 100 artists premiering in a four-month span, National Sawdust Digital Discovery Festival: Volume One was a bright spot in NYC's post-COVID live music world. Featuring post-COVID performances from Robert Wilson, Julian Lage, Tyondai Braxton, Emel Mathlouthi, Matthew Whitaker, Dan Tepfer, Ashley Bathgate, Emily Wells, Brooklyn Rider, Joel Ross, Conrad Tao, Andrew Yee, and Lucy Dhegrae, and recently recorded Masterclasses with Tania León, Ted Hearne, Vijay Iyer, Jamie Barton, Lawrence Brownlee, Trimpin, and Lara St. John. Archival performances include David Byrne, Lara Downes and Rhiannon Giddens, and Ryuichi Sakamoto. Explore here.
New World Symphony
The New World Symphony presents a web-based series called NWS Archive+. Michael Tilson Thomas moderates discussions with NWS Fellows, alumni, guest artists, and visiting faculty about archived recordings. Performances will be available here. NWS Fellows also play live, informal chamber music concerts from their homes in Miami Beach and broadcast via Facebook Live. In addition, the NWS online archive contains master classes, tutorials and town halls, which can be found here. Finally, for the past 10 years, the Fellows have performed one-hour concerts for local school children. These concerts and preparatory material will be available free to students and parents. NWS Educational concerts can be found here.
Opera Australia
OA | TV: Opera Australia on Demand is the Sydney-based company's new digital space. Alongside the world's largest collection of Dame Joan Sutherland on video, OA will offer exclusive content from the OA back catalogue, productions from Handa Opera on Sydney Harbour, and a new series of chat show-style interviews conducted by AD Lyddon Terracini. The first posted full show is Sutherland in The Merry Widow, and the fileted aria's in the section labelled "The Best of Dame Joan Sutherland" are even better. ** View here.
Opéra National de Paris
The Palais Garnier and Bastille Opera have made their digital stage, "The 3e Scène," free. The platform is a pure place of artistic adventure and exploration, giving free rein to photographers, filmmakers, writers, illustrators, visual artists, composers, and choreographers to create original works. Visit here. Some of Opéra National de Paris's productions are accessible on the company's Facebook Page. In addition, Octave, the Paris Opera's online magazine, is posting articles, videos, and interviews here.
Opera North
One of Britain's most respected smaller opera companies, Opera North has put its acclaimed semi-staged concerts of Wagner's epic Ring Cycle online. "Beg, borrow, or be like Wotan and steal a ticket for this show," said the UK's Times of Das Rheingold. "You'd be lucky to hear as good at Bayreuth," said The Telegraph of Die Walküre. Richard Farnes proves a seriously impressive Wagner conductor. Watch here.
OperaVision
OperaVision offers livestreams of operas available for free and online for six months. Previous offerings include Barrie Kosky's visually spectacular Moses und Aron, David McVicar's superb Die Entführung aus dem Serail from Glyndebourne, and Deborah Warner's thoughtful Death in Venice for English National Opera. View upcoming and past content here. **
Orli Shaham Bach Yard Playdates
Pianist Orli Shaham brings her acclaimed interactive concert series for kids to the internet. Bach Yard Playdates introduces musical concepts, instruments, and the experience of concert-going to a global audience of children and their families. A number of 10-minute episodes are already available for on-demand streaming. Programs and performances range from Bach's Two-Part Invention to Steve Reich's Clapping Music. Explore here.
The Sixteen
The Sixteen and founder Harry Christophers launched Quarantine with The Sixteen, a regular schedule of digital content. The Sixteen Virtual Choir's performance of Sheppard's Libera nos involved each part being recorded at each singer's home. Other features include: Choral Chihuahua, a podcast by The Sixteen and I Fagiolini; Stay at Home Choir performing Sir James MacMillan's O Radiant Dawn; Archive performances, including MacMillan's Stabat Mater performed in the Sistine Chapel and Bach's St Matthew Passion with Streetwise Opera; Recipes for isolation; Video diaries providing insight into daily lives during lockdown; Weekly playlists. Explore here.
Trinity Wall Street
New York's Trinity Church Wall Street introduces daily weekday "Comfort at One" (1 pm ET) streaming performances on Facebook with full videos posted here. Tune in for encore performances of favorite Trinity concerts, professionally filmed in HD, along with current at-home performances from Trinity's extended artistic family.
University of Colorado Boulder
University of Colorado Boulder College of Music faculty artists perform with students and colleagues in Faculty Tuesdays, chamber music recitals featuring world premieres alongside classics. Free most Tuesdays from September 2020 through March 2021. Upcoming performers include violinist Harumi Rhodes, violist Richard O'Neill, cellist David Requiro, pianist David Korevaar, harpist Janet Harriman, and more. Explore here.
Vertical Player Repertory: The Constitution
VPR is releasing of a series of videos from Benjamin Yarmolinsky's oratorio The Constitution, a work which played six sold-out live performances in 2019 and was called "an important work," and "uniformly excellent," by Musical America. First up is Voting Rights, which sets the text "The right of citizens of the United States, who are 18 years of age or older, to vote shall not be denied or abridged by the United States, or by any state, on account of age, by reason of failure to pay any poll tax or other tax, on account of sex, on account of race, on account of color, or of previous condition of servitude." Future releases will include The First Amendment (Treason), The Fifth Amendment (Self-Incrimination), The Sixth Amendment (Impartial Jury), The Eighth Amendment (Cruel and Unusual Punishment), The Thirteenth Amendment (Abolition of Slavery), and The Miranda Warning (a world premiere). Explore here.
Voices of Ascension
New York choir Voices of Ascension, which celebrates its 30th anniversary next season, is posting a daily offering of choral beauty on its website. Music is chosen by staff, members of the chorus and orchestra, and listeners. View here.
Warsaw Philharmonic
The Warsaw Philharmonic has made a selection of video recordings available on its YouTube channel. Recent offerings include Saint-Saëns's Organ Symphony and Arvo Pärt's Swansong conducted by Artistic Director Andrzej Boreyko, as well as rarities by Polish composers like Grazyna Bacewicz. It's an excellent orchestra very much in the Eastern European tradition and concerts have been master edited for posting online.
Paid Digital Arts Services
Berlin Philharmonic Digital Concert Hall
The BPO Digital Concert Hall contains over 600 orchestra concerts covering more than ten years, including 15 concerts with the orchestra's new Chief Conductor Kirill Petrenko, interviews, backstage footage.
Medici TV
Thousands of classical music videos are available by subscription, as well as hundreds of events that are broadcast live for free each year, available for 90 days. Subscriptions cost $83.85 per year. www.medici.tv **Highly recommended
Pictured: Samuel Ramey in the title role of the San Francisco Opera's Boris Godunov

WHO'S BLOGGING


RENT A PHOTO
Search Musical America's archive of photos from 1900-1992.