---
MA's Free Guide to (Mostly) Free Streams, October 26-November 2
We will be updating this list weekly. Please note that all times are given in U.S. Eastern Time (ET). To calculate in other time zones or counties, British Summer Time (BST) is currently five hours ahead of ET and Central European Time (CET) is currently six hours ahead. U.S. Central Daylight Time (CDT) is one hour behind ET. Mountain Time (MT) is two hours behind ET, while Pacific Time (PT) is three hours behind. Contact editor@musicalamerica.com.
Classical music coverage on Musical America is supported in part by a grant from the Rubin Institute for Music Criticism, the San Francisco Conservatory of Music, and the Ann and Gordon Getty Foundation. Musical America makes all editorial decisions.
---
Monday, October 26
5:38 am ET: The Crossing presents David Lang's stateless. The new-music choir launches The Crossing Votes: 2020, a series of four short films addressing issues in the national discourse leading up to Election Day. Eric Southern's film of Lang's stateless marks the English-language premiere of this setting of a 13th-century letter from Rabbi Moses ben Hachman to his children in Barcelona, written while exiled to Jerusalem. Films go live at 5:38 am ET, representing the 538 electoral college votes. View here and on demand.

9 am ET: Wigmore Hall presents Chloë Hanslip & Danny Driver. British duo Chloë Hanslip and Danny Driver play Beethoven's Violin Sonata No. 8 in G and Franck's Violin Sonata in A. Register, view here and on demand for 30 days. LIVE

1 pm ET: Copland House & CUNY present Underscored: Copland's Piano Quartet. A deep dive into a haunting, masterful, yet rarely heard work that transforms the dark, brooding rhetoric and sound world of Viennese Expressionism into a rich, refined, and lyrical idiom. With Danielle Farina, viola, Alexis Pia Gerlach, cello, Michael Boriskin, piano, and Pala Garcia, violin. Includes live Q&A. Register and view here.

3:30 pm ET: Wigmore Hall presents Pavel Kolesnikov. "One of the most memorable of such occasions London has witnessed in a while," wrote The Daily Telegraph of the Russian pianist's Wigmore debut in 2014. His program covers the entirety of the 19th century and a little more. Register, view here and on demand for 30 days. LIVE

3:30 pm ET: IDAGIO Global Concert Hall presents Philharmonia Orchestra & Santtu-Matias Rouvali: American Dreams. A trio of American composers, and one who became an American citizen, rub shoulders. Copland's Appalachian Spring tells the tender story of a young couple preparing for their wedding. Rouvali joins the Philharmonia's percussion section on claves for Steve Reich's Music for Pieces of Wood. Florence Price conjures up the Deep South in three dances, a Rag, a Slow Drag, and a Cakewalk. Stravinsky's Dumbarton Oaks is named after the Washington home of the couple who commissioned it. Tickets EUR 10.90. View here.
7:30 pm ET: Met Opera Streams presents Verdi's Don Carlo. Starring Renata Scotto, Tatiana Troyanos, Vasile Moldoveanu, Sherrill Milnes, and Paul Plishka, conducted by James Levine. From February 21, 1980. View here and for 24 hours.

8 pm ET: ADA Artist Management presents The Trial of Susan B. Anthony. A co-production with Berkshire Opera Festival, Austin Opera, Minnesota Opera, Opera Colorado, and San Diego Opera, the world premiere of Steven Mark Kohn's song cycle, The Trial of Susan B. Anthony, stars mezzo-soprano Adriana Zabala in multiple roles including the judge, the prosecuting and defense attorneys, a witness, and Susan B. Anthony herself. Myra Huang accompanies. Register and view here.
Tuesday, October 27
3:30 pm ET: Wigmore Hall presents Goldscheider, Baker & Poster. Ben Goldscheider, horn, Benjamin Baker, violin, and Tom Poster, piano play Haydn's Piano Trio in C HXV:27, Schumann's Adagio and Allegro in A flat Op. 70, and Brahms's Horn Trio in E flat Op. 40. Register, view here and on demand for 30 days. LIVE
7:30 pm ET: Nightly Met Opera Streams presents Handel's Agrippina. Starring Brenda Rae, Joyce DiDonato, Kate Lindsey, Iestyn Davies, Duncan Rock, and Matthew Rose, conducted by Harry Bicket. From February 29, 2020. View here and for 24 hours.
7:30 pm ET: Chamber Music Society of Lincoln Center presents The Art of Interpretation: Debussy Images. CMS musicians showcase how artists interpret specific musical passages and prepare to perform a piece of music. Streamed live from the Rose Studio, these events combine lecture and performance elements. Here, Gilles Vonsattel explores Debussy's Images for Piano. Tickets $13. View here and on demand for a week. LIVE
8 pm ET: New York City Ballet presents New Works Festival: Pixelation in a Wave (Within Wires). The first of five world premiere ballets filmed in locations throughout New York City. Music: pixelation in a wave (Within Wires) by Dennis Bell, choreography by Sidra Bell. With dancers Ghaleb Kayali, Emily Kikta, Mira Nadon, and Peter Walker, and musicians Michael Roth, Lydia Hong (violins), Katharina Kang (viola), and Eugene Moye (cello). The film will be followed by a discussion with the artists. View here for seven days.
8:30 pm ET: Hancher Auditorium/University of Iowa presents The Sound of Democracy. The Jazz at Lincoln Center Orchestra Septet with Wynton Marsalis will perform new music by Marsalis entitled The Democracy Suite in the online premiere of this concert. The Sound of Democracy aims to entertain, inspire, and uplift audiences with the full vigor, vision, and depth of America's music. Tickets are $20/household. Tickets and info here.
Wednesday, October 28
5:38 am ET: The Crossing presents Nicholas Cline's she took his hands. The new-music choir continues The Crossing Votes: 2020, a series of four short films addressing issues in the national discourse leading up to Election Day. Cline sets the words of Emma Lazano, on the arrest of her friend, Chicago immigrant activist Elvira Arellano, as quoted in The Washington Post on August 21, 2007, to create a journalistic, yet empathetic account of immigration, faith, and motherhood. Films go live at 5:38 am ET, representing the 538 electoral college votes. View here and on demand.

1:15 pm ET: Dame Myra Hess Memorial Concerts presents Philippe Quint & Marta Aznavoorian. Quint and Aznavoorian perform Mozart's Violin Sonata in A Major No. 22, K. 305, William Grant Still's Suite for Violin and Piano, Komitas Vardapet's Apricot Tree and The Crane and Khachaturian arr. Heifitz Ayesha's Dance from Gayane. View here. LIVE

2 pm ET: Carnegie Hall presents Master Class: Solo Piano. Video highlights from Jonathan Biss's 2017 master class focused on the late solo works of Beethoven, Brahms, and Schubert—a fascinating and informative journey for the six young pianists who participated. Biss hosts this program—which also includes a live Q&A—plus memorable moments from Richard Goode's 2015 master class exploring Debussy's Preludes. View here and on demand.
2 pm ET: IDAGIO presents Classical (R)evolution with Rachel. Join soprano Rachel Fenlon as she explores what breaking the rules, embracing uncertainty, and thinking "outside the box" does for classical music-making. In this episode: Sean Shibe, a guitarist who brings a fresh and innovative approach by experimenting with instruments and repertoire. View here. LIVE
3 pm ET: Royal Liverpool Philharmonic presents Joshua Weilerstein & Boris Giltburg. Weilerstein opens the concert conducting Stravinsky's Pulcinella Suite followed by Giltburg as soloist for Beethoven's Fourth Piano Concerto. The concert will be preceded by a live pre-concert talk on Zoom and a post-concert Zoom Q&A with musicians and conductor in a sort of post-match analysis. Tickets £10 and view here for 30 days. LIVE

3:30 pm Bournemouth Symphony Orchestra presents Thierry Fischer conducts French Delicacies. Fauré's Masques et Bergamasques, although written at the end of a long career retains a lightness and freshness. Ravel's orchestral version of Mother Goose utters a distinct melodic language fastidiously attuned to the subtlest delicacies. Saint-Saëns's Symphony No. 2 is an outright winner that deserves to be better known. Tickets £6 and view here. LIVE

3:30 pm ET: Wigmore Hall presents Francesco Piemontesi. The Swiss pianist plays Helmut Lachenmann's Five Variations on a Theme of Schubert, Schubert's Fantasy Sonata in G, D894, and Liszt's Piano Sonata in B minor, S178. Register, view here and on demand for 30 days. LIVE

4 pm ET: London Philharmonic Orchestra presents 2013: Poems Old & New. Program: Sibelius's The Bard, Magnus Lindberg's Cello Concerto No. 2 (UK premiere), Ravel's Trois Poèmes de Stéphane Mallarmé, and Schubert's Symphony No. 1. Joshua Weilerstein conducts with cellist Anssi Karttunen and soprano Sally Matthews. View here and free to watch for seven days.

6:30 pm ET: Orchestra of St. Luke's presents Stefan Jackiw plays Mendelssohn. Mozart's Sinfonia Concertante for violin and viola was transformed into the Grande Sestetto Concertante for string sextet as played here. Mendelssohn's Violin Concerto in D minor remained largely unplayed until the composer's widow bestowed the manuscript on Ferdinand David who premiered Mendelssohn's famous Violin Concerto in E minor. It wasn't until 1952 that the D minor concerto returned to the stage at Carnegie Hall. With host David Hyde Pierce. Tickets $40 per household (suggested) but minimum donation $1 per concert. View here.

7:30 pm ET: Chamber Music Society of Lincoln Center presents Musical Heritage: Rostropovich. Cellists David Finckel and Dmitri Atapine discuss the legacy of cellist Mstislav Rostropovich (1927-2007) and share never-before-seen footage and photographs. Register for the webinar and view here.

7:30 pm ET: Nightly Met Opera Streams presents Verdi's Simon Boccanegra. Starring Adrianne Pieczonka, Marcello Giordani, Plácido Domingo, and James Morris, conducted by James Levine. From February 6, 2010. View here and for 24 hours.

8 pm ET: Bang on a Can & The Noguchi Museum present Meredith Monk & John Hollenbeck. Duet Behavior 2020 features long-time friends and colleagues Monk and Hollenbeck as they expand and improvise on pieces from across Monk's 50+ year catalogue, combining her pioneering vocals with Hollenbeck's inventive percussion. The duets were performed together but from separate locations using Zoom for the visuals and Jamulus, a tool which enables musicians to perform in real-time over the internet, for the sound. Noguchi Museum director Brett Littman will join for a Zoom Q&A after the performance. View here.

8 pm ET: New York City Ballet presents New Works Festival: Solo for Russell: Sites 1-5. The second of five world premiere ballets filmed in locations throughout New York City. Music: Klingende Buchstaben for Solo Cello by Alfred Schnittke, choreography by Pam Tanowitz with Russell Janzen. With dancer Russell Janzen and Ann Kim (cello). The film will be followed by a discussion with the artists. View here for seven days.
10 pm ET: CAP UCLA presents The Tune In Festival: Kronos Quartet. Kronos has always been inspired by Pete Seeger, who spent his life singing about change and inspiring others to do the same. To mark his 100th birthday in 2019, Kronos created a multi-artist exploration of Seeger's musical legacy, collaborating with composer Jacob Garchik and a host of guest vocalists and musicians, including folk artist and storyteller Lee Knight and singer-songwriter Meklit. LA's Tonality chorus and singer/songwriter Jolie Holland also perform. Regiser and view here.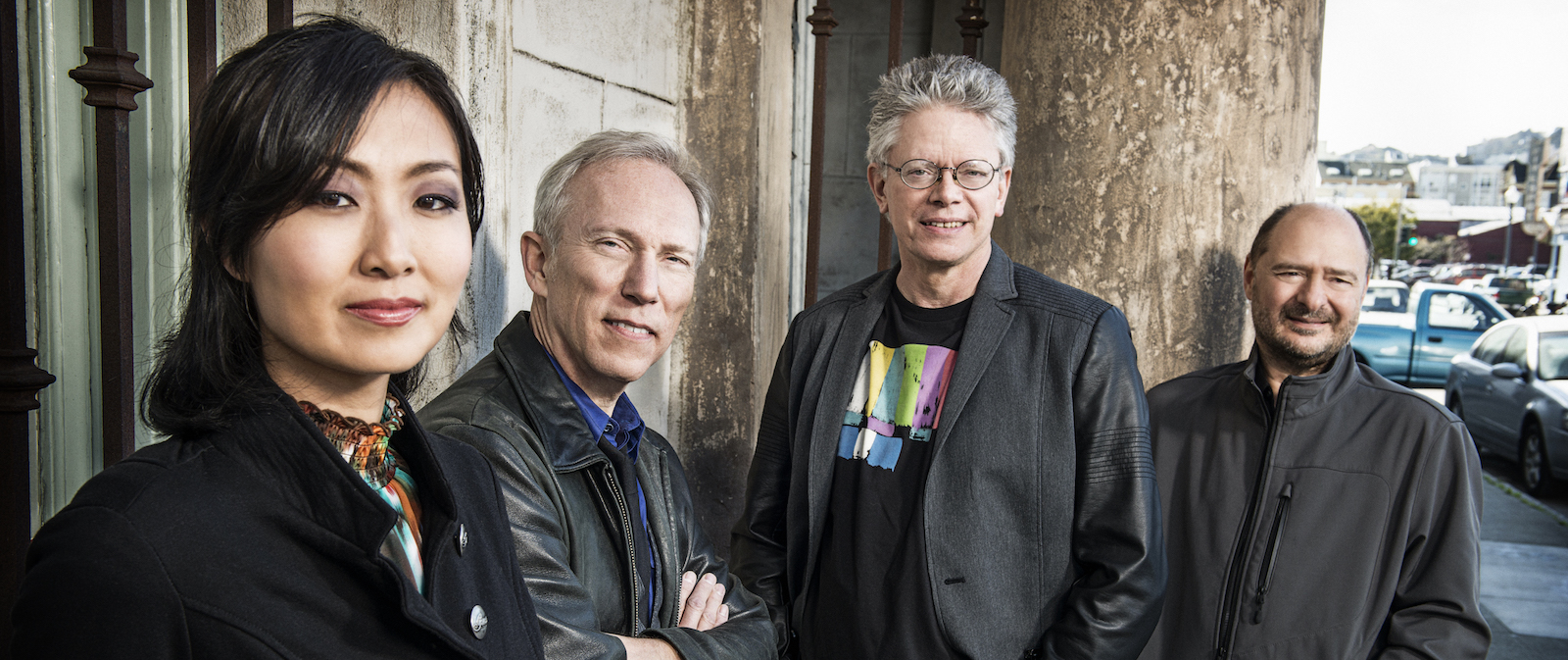 The Kronos: Sunny Yang, Hank Dutt, David Harrington, John Sherba
Thursday, October 29
1 am ET: Chicago Symphony Orchestra presents CSO Sessions Episode 5: Rossini, Dahl & Prokofiev. The concert opens with a sparkling sonata for strings written by a 12-year-old Rossini. That's followed by Ingolf Dahl's vigorous Music for Brass Instruments and an arrangement of Prokofiev's Romeo and Juliet Suite for wind ensemble. Tickets $15. View here and on demand for 30 days.

12 pm ET: Boston Symphony Orchestra presents Encore BSO Recitals. BSO violinist Bonnie Bewick has delved deeply into fiddle music from around the world. This program includes her own arrangements and compositions, as well as an arrangement by violinist Mark O'Connor and double bassist Edgar Meyer of the American fiddle tune Limerock. BSO cellist Mickey Katz performs a selection of new solo cello miniatures and the program concludes with two works for woodwind quintet by American composers: Umoja by Valerie Coleman and selections from Aires Tropicales by Paquito D'Rivera. View here and on demand for 30 days.

2 pm ET: IDAGIO presents Thursdays with Thomas. Join Thomas Hampson in conversation with colleagues, friends, and other major personalities of the classical music world. Every week, Thomas invites a special guest for a discussion around their favorite piece of the classical repertoire. View here and later on demand. LIVE

3:30 pm ET: IDAGIO Global Concert Hall presents Esa-Pekka Salonen conducts Ravel and Britten. For his final season as Principal Conductor of the Philharmonia, Salonen has invited American soprano Julia Bullock to perform Britten's Les Illuminations, a vivid setting of nine poems by Rimbaud. The Britten is framed by Ravel's Pavane and Mother Goose Suite. Tickets EUR 10.90. View here.

3:30 pm ET: Wigmore Hall presents Gould Piano Trio. Regular visitors to Wigmore Hall, the Gould Piano Trio plays Mozart's Piano Trio No. 6 in G major K564, Rebecca Clarke's Piano Trio, and Ravel's Piano Trio in A minor. Register, view here and on demand for 30 days. LIVE

3:30 pm ET: Academy of St. Martins in the Fields presents Re:connect, Regeneration. Program: Chaos from Rebel's Les Élémens, Samantha Fernando's Lost Things for solo flute, Mozart's Concerto for Flute in D, and Copland's Appalachian Spring. With flautist Michael Cox. Tickets £10. View here and on demand for one month.

7 pm ET: Kaufman Music Center presents Performance as Process with Conrad Tao. Artist-in-Residence Conrad Tao is a pianist, composer, and Avery Fisher Career Grant winner. Here, he invites audiences into his creative practice as he develops programming for his spring concert in Merkin Hall. Streamed from his home in Manhattan, the event takes a deeper look into his work in piano, electronics, composition, and improvisation. View here.

7 pm ET: The Cleveland Orchestra presents In Focus Episode 2. Franz Welser-Möst, conducts Schnittke's Piano Concerto—music filled with wry humor and Shostakovich-inspired sarcasm and beauty—performed by Yefim Bronfman. For this concert, Beethoven's Harp Quartet is expanded for an orchestra of strings. View here via TCO's streaming platform Adella.

7:30 pm ET: Chamber Music Society of Lincoln Center presents Artist Series: Ani Kavafian. Archival performances of Brahms's Scherzo, WoO 2, from "F-A-E" Sonata for Violin and Piano and Dvorák's Trio in F minor for Piano, Violin, and Cello, Op. 65. View here and on demand for a week.
7:30 pm ET: Live With Carnegie Hall presents Opening Night Revisited. The new season of Live with Carnegie Hall goes behind the scenes to show how their recent Opening Night event came together across three continents, including a full, unedited performance by Perspectives Artist Rhiannon Giddens with Our Native Daughters. Includes archival footage of artists who have graced the Hall, from Frank Sinatra and Isabel Leonard to Daniel Barenboim with the Chicago Symphony Orchestra. View here and on demand.
7:30 pm ET: Nightly Met Opera Streams presents John Adams's Nixon in China. Starring Kathleen Kim, Janis Kelly, Robert Brubaker, Russell Braun, James Maddalena, and Richard Paul Fink, conducted by John Adams. From February 12, 2011. View here and for 24 hours.
8 pm ET: City Lyric Opera presents Weill & Brecht's Threepenny Opera. 2020 has been an awakening and dismantling of the confines and structures on which our society was founded. In this timely retelling, City Lyric Opera invites you to experience power, technology, and storytelling in a live experience. Starring Justin Austin as Macheath. This performance is a two-part experience with Part Two at 8 pm ET on October 30. Tickets $12. View here.
8 pm ET: The Philadelphia Orchestra presents Yannick leads Frank & Mendelssohn. Philadelphia Orchestra Composer-in-Residence Gabriela Lena Frank's Leyendas draws inspiration from the idea of mestizaje, a mixing of ethnic and cultural groups, as envisioned by Peruvian writer José María Arguedas. As such, the piece brings together elements from the western classical and Andean folk music traditions. Mendelssohn's Symphony No. 4 Italian completes the program. Tickets $15. View here. LIVE

8 pm ET: New York City Ballet presents New Works Festival: New Song. The third of five world premiere ballets filmed in locations throughout New York City. Music: Manifiesto by Victor Jara, choreography by Andrea Miller. With dancers Harrison Coll, Unity Phelan, Indiana Woodward, and Sebastian Villarini-Velez. The film will be followed by a discussion with the artists. View here for seven days.

10:30 pm ET: Seattle Symphony presents Mendelssohn Violin Concerto. Mendelssohn's Violin Concerto is performed by Seattle Symphony Concertmaster Noah Geller. The program also includes Jessie Montgomery's Starburst and Mozart's Symphony No. 25. Lee Mills conducts. Annual passes from $12.99 per month and view here.
Friday, October 30
5:38 am ET: The Crossing presents Robert Maggio's Democracy (World Premiere). The new-music choir continues The Crossing Votes: 2020, a series of four short films addressing issues in the national discourse leading up to Election Day. Maggio sets the words of Franklin Roosevelt's "Arsenal of Democracy" radio speech from December 1940. Determined, inspiring, and relentless, FDR insists that he would ask no one to defend a democracy that would not in turn defend everyone in the nation. Films go live at 5:38 am ET, representing the 538 electoral college votes. View here and on demand.
Oct 30, 1 pm ET: Finnish Radio Symphony Orchestra plays Jukka Tiensuu's nemo and Beethoven Piano Concerto No. 1 with conductor Tarmo Peltokoski and pianist Piotr Anderszewski at Helsinki Music Centre, Finland. The concert will continue to be viewable following the live stream. LIVE View here
1 pm ET: IDAGIO presents Jean-Guihen Queyras: Bach Cello Suites. Queyras takes a journey into the secrets of one of the most famous works for cello solo. In this episode—Suite 4, Bourrées: Stretching and dancing—he explores how to overcome technical challenges and focus on the pulse. View here. LIVE

1 pm ET: LA Phil Soundstage presents Episode 6: Kamasi Washington. Washington performs an excerpt from his original score to BECOMING: An intimate portrait of Michelle Obama—a new documentary based on the former First Lady's bestselling memoir. View here and on demand.

2 pm ET: OperaVision presents Ullmann's Der Kaiser von Atlantis. Recorded on October 10, 20202. The Emperor of Atlantis declares a war of all against all and proclaims that his old ally Death will spearhead the campaign. Offended by the Emperor's insolence, Death refuses to let anyone die, wreaking havoc throughout the world. As the only surviving opera composed in a Nazi concentration camp, Der Kaiser von Atlantis is a unique memorial. Deutsche Oper am Rhein's production is ominous, disturbingly comical, and deeply human. View here and on demand for six months.

2 pm ET: DG Stage presents Grigory Sokolov. Recorded at the Haydnsaal in the Esterházy Palace in Eisenstadt, Austria, where Haydn worked for nearly 30 years, Grigory Sokolov presents a meticulously assembled program of Haydn and Schubert. Known for his dedication to his repertoire in concert, Sokolov requests the audience to abstain from applause in-between each of Haydn's Sonatas so as to allow the recital to flow uninterrupted. Tickets EUR 9.90. View here.

3 pm ET: NDR Elbphilharmonie presents 75th Anniversary Concert. Alan Gilbert will lead the NDR Elbphilharmonie in a program of Tchaikovsky's Fifth Symphony, Beethoven's Egmont Overture, and Brahms's Double Concerto for Violin and Cello, with Julia Fischer and Daniel Müller-Schott as soloists. View here.

3:30 pm ET: Wigmore Hall presents Siobhan Stagg & Jonathan Ware. The Australian soprano's program includes songs by Beethoven, Schubert, Debussy, and Richard Strauss. Register, view here and on demand for 30 days. LIVE

6 pm ET: Philadelphia Chamber Music Society presents Catalyst Quartet & Harlem Quartet. A pair of dynamic young Sphinx Competition laureates present a program featuring Mendelssohn's Octet, Shostakovich's Two Pieces for String Octet, Jessie Montgomery's Strum, and the world premiere of Kenji Bunch's the still, small voice, a PCMS-commissioned octet based on Whitman's poem Election Day, November, 1884. Tickets are pay what you can. View here. LIVE

7 pm ET: LA Opera presents Living Room Recital. Tenor Frederick Ballentine (an alumnus of the young artist program) partners with mezzo-soprano Fleur Barron and pianist Kunal Lahiry for a Halloween recital featuring songs that are creepy, kooky, mysterious, and spooky—along with the hair-raising final scene of Carmen. View here and on demand. LIVE

7 pm ET: Philadelphia Orchestra presents Halloween Celebration Family Concert. Erina Yashima conducts an orchestral adventure of chilling compositions for the whole family including Mozart's Overture to Don Giovanni, Mendelssohn's Scherzo from A Midsummer Night's Dream, Gounod's Funeral March of a Marionette, Saint-Saëns's Danse macabre, Grieg's In the Hall of the Mountain King, Falla's Ritual Fire Dance, and more. View here and for three days.

7:30 pm ET: Nightly Met Opera Streams presents Mussorgsky's Boris Godunov. Starring Ekaterina Semenchuk, Aleksandrs Antonenko, Oleg Balashov, Evgeny Nikitin, René Pape, Mikhail Petrenko, and Vladimir Ognovenko, conducted by Valery Gergiev. From October 23, 2010. View here and for 24 hours.

7:30 pm ET: Piffaro presents Jacob Van Eyck. The blind musician rang the bells of the churches of Utrecht in the early 17th century and played his soprano recorder in the courtyards of those same churches. Janet Tebbel plays carillon, while Piffaro answers on recorders and lute in music drawn from Eyck's Fluyten Lusthof. To honor the contribution of the wind bands who played in the public squares of Dutch towns, Piffaro's shawms, sackbuts and dulcians were filmed in the courtyard of the Miraculous Medal Shrine in the historic Germantown neighborhood of Philadelphia. Tickets $13. View here.

8 pm ET: Opera Philadelphia presents Verdi's La Traviata. In October 2015, Lisette Oropesa made her role debut as Violetta in a new production of Verdi's opera at the Academy of Music. The staging co-starred Alek Shrader as Alfredo and Stephen Powell as Germont. In a look back, Opera Philadelphia presents the digital premiere of Paul Curran's production preceded by an interview with Oropesa conducted by Lawrence Brownlee and featuring Music Director Corrado Rovaris. Tickets from $20. View here and on demand.

8 pm ET: DACAMERA presents Steve Reich's Different Trains. From the archives, St. Lawrence String Quartet present Steve Reich's groundbreaking Different Trains with a synchronized video by Mihai Cucu and Jennifer Tipton's lighting. The work interweaves live and pre-recorded string quartet with sounds of trains, whistles, sirens, recorded voices from the American past and fragmented memories of Holocaust survivors. Register and view here.

8 pm ET: New York City Ballet presents New Works Festival: Water Rite. The fourth of five world premiere ballets filmed in locations throughout New York City. Music: Inflatedbyspinning by Ambrose Akinmusire, choreography by Jamar Roberts. With dancer Victor Abreu and Michael Roth, Lydia Hong (violins), Katharina Kang (viola), Eugene Moye (cello), Ron Wasserman (bass), and Scott Kemsley (flute). The film will be followed by a discussion with the artists. View here for seven days.
Saturday, October 31
9 am ET: Wigmore Hall presents Steven Isserlis & Connie Shih. Isserlis and Shih's program includes Thomas Adès's enjoyable Lieux retrouvés and Franck's cello version of the Violin Sonata in A—a setting that came about after the cellist Jules Delsart heard the original and loved it so much, he asked Franck's permission to rearrange the work. Register, view here and on demand for 30 days. LIVE

10 am ET: Gothenburg Symphony presents All Saints Day Concert. All Saints Day is a time to remember those who have left us. As Swedes light candles, this concert tells stories of people who feel loss, find strength, long for, and mourn, with music by Mahler, Sibelius, Stravinsky, and other composers. Among the artists are singer Peter Mattei and the Gothenburg Symphony Orchestra's chief conductor Santtu-Matias Rouvali. View here.

1 pm ET: San Francisco Opera presents Donizetti's Lucia di Lammermoor. SFO's 2008 staging included the company debut of French soprano Natalie Dessay. The Mercury News described her performance as "almost effortless, her voice buoyant, moon-beamed and glassy as the strange, heavenly sounds accompanying her." The opera also starred Giuseppe Filianoti as Edgardo, Gabriele Viviani as Enrico, and Oren Gradus as Raimondo. The production from Florence's Teatro del Maggio Musicale was directed by Graham Vick and Marco Gandini and Jean-Yves Ossonce conducted. View here until midnight the following day.
2 pm ET: Berliner Philharmoniker Digital Concert Hall presents Kirill Petrenko conducts Strauss, Shostakovich & Norman. The BPO chief conductor leads a program comprising Andrew Norman's Sabina (arr. for string orchestra), Richard Strauss's Metamorphosen for 23 solo strings, and Shostakovich's Symphony No. 9 in E flat, Op. 70. Tickets EUR 9.90. View here. LIVE
2 pm ET: Dumbarton Oaks presents Simone Dinnerstein. The American pianist performs a recital entitled A Character of Quiet featuring études by Philip Glass and the Sonata in B-flat Major, D. 960, by Schubert. Tickets $20. View here.
3 pm ET: Concerts at Saint Thomas presents The Complete Beethoven Sonatas II. A celebration of Beethoven's 250th birthday, pianist Adam Golka presents the second part of an eight-part concert series surveying Beethoven's complete Piano Sonatas. This program: Humor and Passion. View here.

3:30 pm ET: Wigmore Hall presents Proust Day. Cellist Steven Isserlis has conceived a concert of music with links to the epoch-making French writer. Proust loved music, and chamber music in particular meant a great deal to him. Isserlis also celebrates Proust's wider fascination with individual composers and their works—not least composer, pianist and conductor Reynaldo Hahn, his long-term friend and short-term lover. He is joined by Lucy Crowe, Alina Ibragimova, Rachel Roberts, Connie Shih, and Alasdair Beatson in an evening of music and word narrated by actor Simon Callow. Register, view here and on demand for 30 days. LIVE
5 pm ET: San Francisco Symphony presents Día de los Muertos. The SFO's Día de los Muertos concert includes music by Gabriela Lena Frank—Danza de los Muñecos (Dance of the Dolls) from Milagros—as well as works by Yupanqui, Lobato, and Ponce. The celebrations also include a three-day online interactive silent auction, a virtual mixology lab, and an exclusive behind-the-scenes look at the history and traditions around Día de los Muertos. View here.
7:30 pm ET: Nightly Met Opera Streams presents John Corigliano's The Ghosts of Versailles. Starring Teresa Stratas, Håkan Hagegård, Gino Quilico, Graham Clark, Marilyn Horne, and Renée Fleming, conducted by James Levine. From January 10, 1992. From April 9, 2011. View here and for 24 hours.

8 pm ET: Cincinnati Symphony Orchestra presents Live From Music Hall: Autumn Celebration. John Morris Russell conducts a special Halloween and autumn-themed concert including movie music from Psycho, Us, a Harry Potter Suite, tunes celebrating Día de los Muertos, and Pops Principal Guest Conductor Damon Gupton narrating The Legend of Sleepy Hollow. View here.

9 pm ET: Saint Paul Chamber Orchestra presents Postcards Across the Atlantic. Bass Zachary Cohen gives the world premiere of a new composition by Ambrose Akinmusire, whose studio album Origami Harvest was born out of an SPCO Liquid Music commission in 2017. The remainder of the program travels to the U.K. with works by Bliss and Walton, as well as Five Postcards, a duo for violin and viola by Belize-born British composer and singer-songwriter Errollyn Wallen. View here.

8 pm ET: New York City Ballet presents New Works Festival: Thank You, New York. The last of five world premiere ballets filmed in locations throughout New York City. Music Thank You, New York by Chris Thile, directed and choreographed by Justin Peck. With dancers Christopher Grant, Sara Mearns, Georgina Pazcoguin, and Taylor Stanley. The film will be followed by a discussion with the artists. View here for seven days.
9 pm ET: Houston Symphony presents Haunted Halloween Pops. Grab some spirits and have an at-home Halloween party as the Houston Symphony presents a night of spooky fun. Michael Krajewski leads spinetingling classics like In the Hall of the Mountain King, music from Psycho, Harry Potter, and more. Tickets $20. View here. LIVE

11:30 pm ET: CAP UCLA presents The Tune In Festival: Kronos Quartet. Kronos and Vijay Gupta craft an interactive experience through personal testimony and music to consider how each of us has a story worth telling and hearing. Weaving: Over/Under/Around/Through creates an instance of communal music in which stories of loss, community and belonging are shared by the participants of Street Symphony, an organization founded by Gupta which serves Angelenos affected by homelessness and incarceration. Register and view here.
Sunday, November 1
1 pm ET: The Gesualdo Six's London Sound Gallery presents Helen Charlston: Abbandonata. Throughout the last six months so much has been left behind. Inspired by the delay of their new commission Battle Cry, which seeks to re-balance the obsession with female abandonment and lament in the 17th century, mezzo-soprano Helen Charlston and theorbist Toby Carr bring these abandoned heroines to life. Tickets £10. View here and on demand until January 1, 2021. LIVE

2 pm ET: The Orchestra Now presents Handel & Strauss. Leon Botstein conducts three works from the early 20th century: Richard Strauss's elegiac Metamorphosen, written in the final months of WWII, Schoenberg's Chamber Symphony No. 1, and one of Mexican composer Silvestre Revueltas's earliest orchestral compositions, Cuauhnáhuac. Handel's Water Music Suite, composed for one of King George I's royal water parties on the River Thames in 1717, completes the program. Register and view here.
2:30 pm ET: Concertgebouw & Concertgebouworkest present Beethoven Festival Online. On the first day of a nine-day celebration, the Concertgebouworkest is conducted by Iván Fischer in Beethoven's Symphony No. 1. View here.
2:30 pm ET: Wigmore Hall presents James Gilchrist & Anna Tilbrook. Gilchrist's program of Purcell, Schubert, Jonathan Dove, and Barber (the Hermit Songs) centers around the theme of loneliness and isolation, exploring through words and music how we came to be this way, what we hope to gain or fear to lose from it, what we might have to bear, and how we might know ourselves better through contemplation. Register, view here and on demand for 30 days. LIVE

3 pm ET: Caramoor presents Callisto Quartet. The Callistos—Caramoor's Ernst Stiefel String Quartet-in-Residence—begin a season-long survey of Bartók's complete string quartets with accounts of the composer's First, Fourth and Sixth quartets. Tickets $10 and view here.
4 pm ET: Live From The Barbican presents Pappano & Friends. Sir Antonio Pappano is joined by long-term collaborators Ian Bostridge and Dame Sarah Connolly for an evening of intimate chamber versions of song cycles on love, loss, nature, and nostalgia. Tickets £12.50 and view here. LIVE
4 pm ET: Indianapolis Opera presents Puccini's Madame Butterfly. A special 90-minute staged broadcast of Puccini's opera from the Basile Opera Center featuring Hayley Lipke as Butterfly, Ganson Salmon as Pinkerton, and Ian Murrell as Sharpless. Alex Paul Sheerin directs with conductor Alfred Savia. Tickets $15. View here.
6 pm ET: University of Colorado Boulder presents Takács Quartet. The Quartet will stream their sold-out performance of three works by Felix and Fanny Mendelssohn from Grusin Music Hall at the University of Colorado. Program: Fanny Mendelssohn Hensel's String Quartet in E-flat, Felix Mendelssohn's String Quartet No. 6 in F minor, Op. 80 and String Quartet No. 2 in A minor, Op. 13. Tickets $40. View here until November 29.
7:30 pm ET: Met Opera Streams presents Philip Glass's Satyagraha. Starring Rachelle Durkin, Richard Croft, Kim Josephson, and Alfred Walker, conducted by Dante Anzolini. From November 19, 2011. View here and for 24 hours.
10 pm ET: Sacramento School of Music presents Festival of New American Music: Gala Concert. The Festival opens with a Gala featuring Boston-based Hub New Music with guest harpist/composer Hannah Lash, pianist Lara Downes, and New York City-based chamber group loadbang. Each will give a 20-minute performance to be followed later in the week by a full concert. View here.
Monday, November 2
5:38 am ET: The Crossing presents Ayanna Woods' Shift (World Premiere). The new-music choir continues The Crossing Votes: 2020, a series of four short films addressing issues in the national discourse leading up to Election Day. Woods has written the words for a work in which she contemplates the reimagining of our monuments, building through layers to its climactic arrival, "bursting through the cracks in the story you tell, America." Films go live at 5:38 am ET, representing the 538 electoral college votes. View here and on demand.

8 am ET: Wigmore Hall presents Mary Bevan & Joseph Middleton. The soprano's program of Wolf, Haydn, and Schubert is woven around songs inspired by the 'muses' of the day, both mythological and divine. Register, view here and on demand for 30 days. LIVE
11 am ET: Concertgebouw & Concertgebouworkest present Beethoven Festival Online. On the second day of a nine-day celebration, fortepianist Ronald Brautigam appears in an "Empty Concertgebouw Session" performing Beethoven's Piano Sonata No. 18 The Hunt. View here. LIVE
2:30 pm ET: Concertgebouw & Concertgebouworkest present Beethoven Festival Online. On the second day of a nine-day celebration, the Concertgebouworkest is conducted by Iván Fischer in Beethoven's Symphony No. 2. View here

2:30 pm ET: Wigmore Hall presents Alice Coote & Christian Blackshaw. The British mezzo-soprano performs Schubert's Winterreise D911. Register, view here and on demand for 30 days. LIVE
7:30 pm ET: Met Opera Streams presents Handel's Rodelinda. Starring Renée Fleming, Stephanie Blythe, Andreas Scholl, Iestyn Davies, Joseph Kaiser, and Shenyang, conducted by Harry Bicket. From December 3, 2011. View here and for 24 hours.

7:30 pm ET: SalonEra presents Schubertiade. Soprano Hannah De Priest, tenor Karim Sulayman, baritone Jonathan Woody, and fortepianist Michael Pecak perform art songs infused with the supernatural, including Schubert's famous Erlkönig. With commentary from Francesca Brittan, an expert on sonic histories of the supernatural. Suggested donation $10, register and view here.
10 pm ET: Sacramento School of Music presents Festival of New American Music: Hub New Music. The Boston-based contemporary chamber trailblazers—composed of flute, clarinet, violin, and cello—perform with composer/harpist Hannah Lash. View here.
Artists and Organizations Offering Free Content
The following are all accessible during the coronavirus pandemic:
Academy of Ancient Music
The most listened-to period instrument ensemble, directed by Richard Egarr, has made a number of streams available on its website. Guest artists include Louise Alder, soprano, Nicola Benedetti, violin, Mary Bevan, soprano, David Blackadder, trumpet, Iestyn Davies, countertenor, Tim Mead, countertenor, Christopher Purvis, bass, and Tenebrae, directed by Nigel Short. Explore here.
American Opera Project
American Opera Project presents Opera Comes Home, three world premiere English-language productions. As One is a chamber opera by composer Laura Kaminsky, librettist Mark Campbell and librettist/filmmaker Kimberly Reed in which two voices trace a transgender protagonist from her youth in a small town to Norway. Three Way, with music by Robert Paterson and libretto by David Cote, is an opera on the present and future of sex and love. Harriet Tubman, with music and libretto by Nkeiru Okoye, tells how a young girl born in slavery becomes Harriet Tubman, the legendary Underground Railroad conductor. View here.
American Symphony Orchestra
American Symphony Orchestra releases weekly recordings from its archives with content alternating between live video recordings of SummerScape operas and audio recordings from previous ASO concerts. Ethel Smyth's The Wreckers, Richard Strauss's Die Liebe aus Danae, and Korngold's Das Wunder der Heliane, all conducted by Leon Botstein, are all highly recommended and available now. **
Apollo's Fire: Music for the Soul
The Cleveland-based baroque orchestra founded by Artistic Director Jeannette Sorrell is offering a series of video streams entitled "Music for the Soul." New episodes are posted here.
Baltimore Symphony Orchestra
BSO musicians are putting live-streamed concerts on the orchestra's Facebook page on Wednesday and Sunday nights "for the near future."
Bard SummerScape & Fisher Center
Archival works highlight Bard's wealth and breadth of programming, including performances from its SummerScape Opera and BMF archives. Recent include Bard SummerScape's 2011 production of Strauss's rarely performed Die Liebe der Danae and last year's Daniel Fish directed staging of Michael Gordon's Acquanetta. More details here.
Beijing Music Festival
Beijing Music Festival celebrates its 23rd edition with the theme, "The Music Must Go On" and a selected concert available each day. Highlights include the Opening Concert, which features the world premiere of Dedicated to 2020, a choral symphony composed by Wuhan composer Ye Zou, and performed by the Wuhan Philharmonic, the Beijing Symphony, and the Wuhan-born musicians of the China Philharmonic; the BMF debut of the Suzhou Chinese Orchestra; Beethoven's violin sonatas performed by 10 rising-star Chinese violinists; piano recitals by Yuan Shen and Jiayi Sun; a children's concert performed by the BMF Children's Festival Orchestra; and the Closing Concert, which celebrates China Philharmonic's 20th anniversary with the theme "We Were Born in 2000" with soloists all born that year. View here.
Lisa Bielawa's Voters' Broadcast
A participatory performance for unlimited voices and instruments. The work is directed, conceived and composed by Lisa Bielawa, with text excerpted from Sheryl Oring's I Wish to Say. Voters' Broadcast will be premiered in three virtual events hosted by the University of Michigan, Ann Arbor and Kaufman Music Center in New York on September 30, October 14, and October 28, and one day of outdoor performances presented by Kaufman Music Center and Brooklyn Public Library on October 24 at 11 am, 12:30 pm, and 2 pm. Bielawa's mission is to stimulate voter engagement, political awareness, and community participation through the act of giving voice to the concerns of fellow citizens during the lead-up to the 2020 Presidential election. All events are free and open to the public. See here for updates.
Carnegie Hall
More than 200 teen musicians hailing from 41 states across the US came together in July 2020 as an online virtual community to form three musical ensembles: the National Youth Orchestra of the United States of America (NYO-USA), NYO2, and NYO Jazz. All three ensembles recorded exuberant virtual performance videos during the residency, directed by Emmy Award-winner Habib Azar. The first four videos—Valerie Coleman's Umoja by the musicians of NYO-USA; a unique adaptation of Grieg's Morning Mood by NYO2; and Thad Jones's Cherry Juice and Wycliffe Gordon's We're Still Here by NYO Jazz—are now available for viewing. Explore here.
The Cleveland Orchestra
The Cleveland Orchestra is offering archival videos, daily Mindful Music Moments videos, and videos from musicians performing from home. Explore here.
Cliburn Kids
The Cliburn launches its expanded, robust online music education program for elementary-school students. Created as a resource for school districts, teachers, and parents, the initiative includes 27 lesson plans to date, each with a seven- to ten-minute video, and corresponding individual and class activities that meet objectives of the Texas Essential Knowledge and Skills (TEKS). New episodes and lesson plans are released every Tuesday of the 2020–2021 school year for a total of more than 50 by May 2021. Explore here.
Detroit Symphony Orchestra
The Detroit Symphony Orchestra has made its webcast archive available for free. The collection features 200+ works going back three years, and highlights include Leonard Slatkin conducting John Luther Adams's climate change-inspired Become Ocean from 2019, several world premieres, and a host of bite-sized encores. Explore here.
Deutsche Grammophon Yellow Lounge
The German classical music giant is streaming Yellow Lounge broadcasts from its archives. Recent additions include clarinetist Andreas Ottensamer, pianists Alice Sara Ott and Chihiro Yamanaka, and cellist Mischa Maisky. Performances are broadcast in rotation, one video at a time, adding a new performance every few days. DG communicates the start of each new performance by newsletter at the start of each week. To keep updated sign up here.
Finnish National Opera
Finnish National Opera presents Stage24, a series of streamed archived performances on its website, which are then available for the next six months. Recent content includes a staged version of Sibelius's Kullervo, Stravinsky's The Rake's Progress, Caspar Holten's staging of Wagner's Der Fliegende Holländer with Camilla Nylund, and Christoff Loy's Tosca. An excellent company and some interesting and original work worth investigating ** Explore here.
Handel and Haydn Society
Boston's Handel and Haydn Society has created the H+H Listening Room where you can hear and watch H+H performances including Mozart's Requiem, Handel's Messiah, and Purcell's Dido and Aeneas filmed at New York's Met Museum. There are also more than a dozen videos of musicians performing from their homes, a special video of principal flutist Emi Ferguson teaching people how to make their own baroque flute, and a new podcast called "Tuning In". In the first episode Principal Cellist Guy Fishman interviews Artistic Director Harry Christophers about Bach's St. Matthew Passion. Explore here.
Kennedy Center
The Kennedy Center is offering a free, live digital performance initiative, Couch Concerts, to help inspire, uplift, heal, and bring the performing arts into homes across the country and around the world during these difficult times. Couch Concerts stream direct from artists' homes on the Kennedy Center website. Audiences can discover a wide range of other at-home programming through the Kennedy Center at Home webpage.
La Scala/RAI
Italy's RAI presents five productions from La Scala Milan including the world premiere of Kurtág's Fin de Partie, Daniel Barenboim conducting Götterdämmerung, Lisette Oropesa in Verdi's I Masnadieri, Montedervi's Orfeo conducted by Rinaldo Alessandrini, and Les Vêpres Siciliennes conducted by Daniele Gatti. A wide range of concerts are also available. Explore and register here.
Les Arts Florissants
Les Arts Florissants's annual Festival in Thiré, France included a series of 10- to 15-minute "Meditation" concerts recorded earlier this summer. Now available to enjoy online, the Meditations include performances by students of Juilliard's Historical Performance program in the spirit of their annual participation in the Festival. View here.
Lincoln Center
From the archives of Lincoln Center's resident organizations comes a trove of video, including rarely seen footage from decades of Live from Lincoln Center, more recent performances from across campus, and live streams wherever performances are still happening. Lincoln Center Pop-Up Classroom broadcasts on Facebook Live every weekday at 10 am ET and is led by some of the world's best artists and educators. #ConcertsForKids teams up with top artists to bring world-class performances and diverse musical perspectives from their homes to yours. Explore here.
Los Angeles Chamber Orchestra
LACO AT HOME offers streaming and on demand performances, including a full showing of the orchestra's critically acclaimed West Coast premiere of Dark with Excessive Bright for double bass and strings by LACO Artist-in-Residence Missy Mazzoli. View streaming here and on demand here.
Los Angeles Master Chorale
Videos recorded as part of the "Offstage with the Los Angeles Master Chorale" series from April 24 to June 19 included interviews conducted by Artistic Director Grant Gershon and Associate Conductor Jenny Wong with notable performers—including special guests Reena Esmail, Morten Lauridsen, Anna Schubert, Peter Sellars, Derrick Spiva—as well as Master Chorale singers. Available on demand here.
Metropolitan Opera Live In Schools
The Metropolitan Opera's HD Live in Schools program has launched a new series for the 2020–21 school year, creating cross-disciplinary educational opportunities across the country. For the 2020–21 school year, students and teachers will receive free subscriptions to the Met Opera on Demand service, with a catalogue of more than 700 Live in HD presentations, classic telecasts, and radio broadcasts. Ten operas have been selected for the HD Live in Schools program, and will be presented in five educational units, with two thematically paired operas per unit. The series opens with Beethoven's Fidelio and Donizetti's La Fille du Régiment (September 28–October 16), both of which explore the intersection of music and politics. The Met will continue to offer teachers HD Live in Schools Educator Guides and access to Google Classroom materials that can be adapted for virtual learning lesson plans. In addition, the Met's National Educators Conference will be hosted on a virtual platform this year and take place on five Saturdays throughout the 2020–21 school year. Two conferences, scheduled for October 10, 2020, and October 17, 2020, will also feature live conversations with Met artists. More information here.
Minnesota Orchestra
Minnesota Orchestra at Home shares video, audio, and educational materials through the categories of Watch, Listen and Learn, including videos from the orchestra's archives and newly created "mini-concerts" directly from the homes of Orchestra musicians. Explore and view here.
National Sawdust Digital Discovery Festival, Volume One
With more than 65 events, featuring over 100 artists premiering in a four-month span, National Sawdust Digital Discovery Festival: Volume One was a bright spot in NYC's post-COVID live music world. Featuring post-COVID performances from Robert Wilson, Julian Lage, Tyondai Braxton, Emel Mathlouthi, Matthew Whitaker, Dan Tepfer, Ashley Bathgate, Emily Wells, Brooklyn Rider, Joel Ross, Conrad Tao, Andrew Yee, and Lucy Dhegrae, and recently recorded Masterclasses with Tania León, Ted Hearne, Vijay Iyer, Jamie Barton, Lawrence Brownlee, Trimpin, and Lara St. John. Archival performances include David Byrne, Lara Downes and Rhiannon Giddens, and Ryuichi Sakamoto. Explore here.
New World Symphony
The New World Symphony presents a web-based series called NWS Archive+. Michael Tilson Thomas moderates discussions with NWS Fellows, alumni, guest artists, and visiting faculty about archived recordings. Performances will be available here. NWS Fellows also play live, informal chamber music concerts from their homes in Miami Beach and broadcast via Facebook Live. In addition, the NWS online archive contains master classes, tutorials and town halls, which can be found here. Finally, for the past 10 years, the Fellows have performed one-hour concerts for local school children. These concerts and preparatory material will be available free to students and parents. NWS Educational concerts can be found here.
Opera Australia
OA | TV: Opera Australia on Demand is the Sydney-based company's new digital space. Alongside the world's largest collection of Dame Joan Sutherland on video, OA will offer exclusive content from the OA back catalogue, productions from Handa Opera on Sydney Harbour, and a new series of chat show-style interviews conducted by AD Lyddon Terracini. The first posted full show is Sutherland in The Merry Widow, and the fileted aria's in the section labelled "The Best of Dame Joan Sutherland" are even better. ** View here.
Opéra National de Paris
The Palais Garnier and Bastille Opera have made their digital stage, "The 3e Scène," free. The platform is a pure place of artistic adventure and exploration, giving free rein to photographers, filmmakers, writers, illustrators, visual artists, composers, and choreographers to create original works. Visit here. Some of Opéra National de Paris's productions are accessible on the company's Facebook Page. In addition, Octave, the Paris Opera's online magazine, is posting articles, videos, and interviews here.
Opera North
One of Britain's most respected smaller opera companies, Opera North has put its acclaimed semi-staged concerts of Wagner's epic Ring Cycle online. "Beg, borrow, or be like Wotan and steal a ticket for this show," said the UK's Times of Das Rheingold. "You'd be lucky to hear as good at Bayreuth," said The Telegraph of Die Walküre. Richard Farnes proves a seriously impressive Wagner conductor. Watch here.
OperaVision
OperaVision offers livestreams of operas available for free and online for six months. Previous offerings include Barrie Kosky's visually spectacular Moses und Aron, David McVicar's superb Die Entführung aus dem Serail from Glyndebourne, and Deborah Warner's thoughtful Death in Venice for English National Opera. View upcoming and past content here. **
Orli Shaham Bach Yard Playdates
Pianist Orli Shaham brings her acclaimed interactive concert series for kids to the internet. Bach Yard Playdates introduces musical concepts, instruments, and the experience of concert-going to a global audience of children and their families. A number of 10-minute episodes are already available for on-demand streaming. Programs and performances range from Bach's Two-Part Invention to Steve Reich's Clapping Music. Explore here.
The Sixteen
The Sixteen and founder Harry Christophers launched Quarantine with The Sixteen, a regular schedule of digital content. The Sixteen Virtual Choir's performance of Sheppard's Libera nos involved each part being recorded at each singer's home. Other features include: Choral Chihuahua, a podcast by The Sixteen and I Fagiolini; Stay at Home Choir performing Sir James MacMillan's O Radiant Dawn; Archive performances, including MacMillan's Stabat Mater performed in the Sistine Chapel and Bach's St Matthew Passion with Streetwise Opera; Recipes for isolation; Video diaries providing insight into daily lives during lockdown; Weekly playlists. Explore here.
Trinity Wall Street
New York's Trinity Church Wall Street introduces daily weekday "Comfort at One" (1 pm ET) streaming performances on Facebook with full videos posted here. Tune in for encore performances of favorite Trinity concerts, professionally filmed in HD, along with current at-home performances from Trinity's extended artistic family.
NEW: University of Colorado Boulder
University of Colorado Boulder College of Music faculty artists perform with students and colleagues in Faculty Tuesdays, chamber music recitals featuring world premieres alongside classics. Free most Tuesdays from September 2020 through March 2021. Upcoming performers include violinist Harumi Rhodes, violist Richard O'Neill, cellist David Requiro, pianist David Korevaar, harpist Janet Harriman, and more. Explore
here
.
Voices of Ascension
New York choir Voices of Ascension, which celebrates its 30th anniversary next season, is posting a daily offering of choral beauty on its website. Music is chosen by staff, members of the chorus and orchestra, and listeners. View here.
Warsaw Philharmonic
The Warsaw Philharmonic has made a selection of video recordings available on its YouTube channel. Recent offerings include Saint-Saëns's Organ Symphony and Arvo Pärt's Swansong conducted by Artistic Director Andrzej Boreyko, as well as rarities by Polish composers like Grazyna Bacewicz. It's an excellent orchestra very much in the Eastern European tradition and concerts have been master edited for posting online.
Paid Digital Arts Services
Berlin Philharmonic Digital Concert Hall
The BPO Digital Concert Hall contains over 600 orchestra concerts covering more than ten years, including 15 concerts with the orchestra's new Chief Conductor Kirill Petrenko, interviews, backstage footage.
Medici TV
Thousands of classical music videos are available by subscription, as well as hundreds of events that are broadcast live for free each year, available for 90 days. Subscriptions cost $83.85 per year. www.medici.tv
Archived Recent Performances
The following broadcast events have occurred since the start of the COVID-19 crisis and are still available for viewing:
March 12
The Philadelphia Orchestra and Music Director Yannick Nézet-Séguin performed BeethovenNOW: Symphonies 5 & 6 as well as Iman Habibi's Jeder Baum Spricht to an empty Verizon Hall for live broadcast. An outstanding concert captured in excellent visuals and sound. www.philorch.org/live
Miller Theater's Bach Collection was performed live for a virtual audience. The program included Jesu, Joy of Man's Desiring (arr. Hess), Concerto for Violin and Oboe in C minor, BWV 1060 (arr. Fischer), Chorale Prelude Ich ruf zu dir, Herr Jesu Christ, BWV 639 (arr. Busoni), and Cantata Ich habe genug, BWV 82, with Kady Evanyshyn, mezzo-soprano, Rebecca Fischer, violin, Alecia Lawyer, oboe, Simone Dinnerstein, piano, Baroklyn. View here.
March 14
Canadian pianist Garrick Ohlsson played an impressive selection of works by Beethoven, Prokofiev (the Sixth Sonata), and Chopin to an empty house at New York's 92nd Street Y. View here.
March 16
In front of an empty auditorium (very visible thanks to excellent camerawork) Melbourne Symphony Orchestra was conducted by Forth Worth Symphony Music Director Miguel Harth Bedoya in dynamic performances of Bloch's Schelomo with soloist Timo-Veikko Valve, and Rimsky-Korsakov's Scheherazade. Available here.
March 26
92nd St. Y presents Jonathan Biss playing Beethoven's last three piano sonatas. Written, as Beethoven said, "in a single breath," these pieces represent the apotheosis of his piano writing, showing his mastery of the variation form (in Op. 109), his expertise in the forms of the musical past (the fugue, in Op. 110), and an ability to be cutting-edge (considering Op. 111 as a whole, but especially the famous 'boogie woogie' moments in the second movement). Available here.
April 10
Handel's Messiah with The Tabernacle Choir and Orchestra at Temple Square and soloists Amanda Woodbury, Tamara Mumford, Tyler Nelson, and Tyler Simpson. Recorded in 2018 but archived for a rainy day such as this. Available here.
April 10
Bach's St. John Passion, performed by Bach Collegium Japan conducted by Masaaki Suzuki from the Cologne Philharmonic. View here.
April 14
92nd St Y presents Marc-André Hamelin who streamed a characteristically elegant program from his home, with the timely inclusion of Liszt's Bénédiction de Dieu dans la solitude. The repertoire also included C. P. E. Bach, Enescu, Fauré, Scriabin, and six selections from Debussy's Preludes, Book II. View here.
May 8
The Berliner Philharmoniker's European Concert. In order to comply with social distancing rules and hygiene requirements Kirill Petrenko conducts the orchestra in chamber music formation from the empty Philharmonie Berlin. Federal President Steinmeier to deliver opening address. Program: Pärt's Fratres, Ligeti's Ramifications, Barber's Adagio for Strings, Mahler's Symphony No. 4 (arrangement for chamber ensemble by Erwin Stein) with Christiane Karg, soprano. Subscribe or trial for free and view in the Digital Concert Hall.
June 28
San Francisco Symphony Orchestra presented MTT25: An Online Tribute for Michael Tilson Thomas. Hosted by famed vocalists Audra McDonald and Susan Graham, the event featured contributions and tributes by musicians of the San Francisco Symphony and Chorus, an array of distinguished guest artists, and many surprises. View here.
June 30
Live At Carnegie Hall presented Russian pianist Daniil Trifonov discussing his career with fellow pianists Emanuel Ax and Sergei Babayan and the venue's Executive and Artistic Director Sir Clive Gillinson. Interspersed with excerpts from Trifonov's performances, one newly recorded at home and others previously captured at Carnegie Hall. On demand here.
October 10
Chamber Music Society of Fort Worth presented A Bridge of Searing Beauty: Frank Bridge's Piano Quintet in D minor and Chevalier de St. George's String Quartet No. 5 played by Michael Bukhman, piano, Gary Levinson and Aaron Boyd, violins, Dmitry Kustanovich, viola, and Allan Steele, cello. View here.
**Highly recommended
Classical music coverage on Musical America is supported in part by a grant from the Rubin Institute for Music Criticism, the San Francisco Conservatory of Music, and the Ann and Gordon Getty Foundation. Musical America makes all editorial decisions.
---

WHO'S BLOGGING

PROFESSIONAL
GROWTH
FIND:
»MORE

NETWORK
FIND:
Updates to artist manager rosters
»MORE
RENT A PHOTO
Search Musical America's archive of photos from 1900-1992.