---
MA's Free Guide to Free Streams: June 29 to July 6
We will be updating this list weekly. Please note that all times are given in U.S. Eastern Time (ET). To calculate in other time zones or counties, British Summer Time (BST) is currently five hours ahead of ET and Central European Time (CET) is currently six hours ahead. U.S. Central Daylight Time (CDT) is one hour behind ET. Mountain Time (MT) is two hours behind ET, while Pacific Time (PT) is three hours behind. Contact editor@musicalamerica.com to be added to the list.
Classical music coverage on Musical America is supported in part by a grant from the Rubin Institute for Music Criticism, the San Francisco Conservatory of Music, and the Ann and Gordon Getty Foundation. Musical America makes all editorial decisions.
---
Monday, June 29

12 pm ET: Vienna Staatsoper streams Verdi's Rigoletto (Performance of January 28, 2016). Conductor: Evelino Pidò, director: Pierre Audi, with Juan Diego Flórez (Der Herzog von Mantua), Carlos Álvarez (Rigoletto), Olga Peretyatko (Gilda), Ain Anger (Sparafucile), Nadia Krasteva (Maddalena). Sign up for free and view here.
1 pm ET: The Greene Space presents Note-able Women: A Celebration of Women Composers. Watch an encore video stream of WQXR's concert featuring all women composers, recorded in March 2020 in celebration of International Women's Day. Performances by pianist Olga Kern; tenor Nick Phan singing the works of French composers Nadia and Lili Boulanger; singer Lucy Dhegrae; and the Vuillaume Trio performing a piano trio by Amy Beach. Hosted by WQXR's Annie Bergen. View here.
1:30 pm ET: Bayerische Staatsoper presents Monday Concert. With tenor Jonas Kaufmann and the Bayerisches Staatsorchester conducted by Kirill Petrenko. Schoenberg's Chamber Symphony is a turning point in his creative work; it will be performed by the Orchestra Academy of the Bayerisches Staatsorchester. In his neo-classical Pulcinella ballet, Stravinsky puts on the mask of the commedia dell'arte; Schoenberg condensed the orchestration of Mahler's Lieder eines fahrenden Gesellen for chamber ensemble; and Richard Strauss revives the world of the French baroque in his colorful music to Le Bourgeois Gentilhomme. View here and on demand for 30 days from July 2. LIVE
2 pm ET: Philharmonie Luxembourg presents Orchestre Philharmonique du Luxembourg. Gustavo Gimeno conducts Bruckner's Symphony No. 4. View here.
7:30 pm ET: Met Opera Streams presents Donizetti's La Fille du Régiment. Conducted by Enrique Mazzola; starring Pretty Yende, Stephanie Blythe, Kathleen Turner, Javier Camarena, and Maurizio Muraro. Transmitted live on March 2, 2019. View here and for 24 hours.
8 pm ET: New York City Ballet presents Tribute to Balanchine. A month after the great George Balanchine passed away, New York City Ballet threw this loving tribute to its co-founder, with dances set to Strauss, Tchaikovsky, and Gershwin. View here.
10 pm ET: Chamber Music Northwest's Virtual Summer Festival presents Chamber Stories: The Carnival of the Animals & More. Be transported by music that tells a story, from the classic Saint-Saëns Carnival of the Animals with narration by pianist Orion Weiss to contemporary works Portraits of Langston by Valerie Coleman and Bruce Adolphe's urban fairy tale Marita and Her Heart's Desire. View here.
Tuesday, June 30
12 pm ET: Orchestra of St. Luke's presents Bach at Home. Program includes dance collaboration: Sarabande from Cello Suite No. 5 with Michael Trusnovec, OSL violist David Cerutti, and choreography by Doug Varone (filmed in May 2020); Bach inspired world premieres: Nicky Sohn's Home-Body, Home-Bach for solo cello played by Daire FitzGerald and Jeremy Rapaport-Stein's Jig/saw for solo bassoon played by Marc Goldberg, Charles Peck's Cloak for solo viola played by Katarzyna Bryla-Weiss, and William Gardiner's Quarantine Fragments for solo violin played by Eriko Sato (filmed in May 2020); violinist Benjamin Bowman performing Violin Partita No. 2: Ciaccona (filmed in May 2020); Youth Orchestra of St. Luke's (YOSL) string players joined by YOSL faculty and OSL Musicians (filmed in May 2020). View here.
12 pm ET: Vienna Staatsoper streams Verdi's Falstaff (Performance of December 15, 2016). Conductor: Zubin Mehta, director: David McVicar, with Ambrogio Maestri (Sir John Falstaff), Ludovic Tézier (Ford), Paolo Fanale (Fenton), Herwig Pecoraro (Bardolfo), Riccardo Fassi (Pistola), Carmen Giannattasio (Alice Ford), Hila Fahima (Nannetta), Marie-Nicole Lemieux (Mrs. Quickly), Lilly Jørstad (Meg Page). Sign up for free and view here.
1 pm ET: OperaVision presents Sir Michael Tippett's The Ice Break. When a Russian dissident is released after 20 years imprisonment, he finds his wife in despair, his son estranged and the world sinking into racial violence. As events get out of hand, the rivalry between blacks and whites turns into a murderous mob riot. Birmingham Opera's AD Graham Vick takes up the challenge of mounting Tippett's visionary yet eccentric opera, unstaged since its premiere in 1977. A disused warehouse is transformed into an airport terminal, through which the audience is ushered by the chorus. With the City of Birmingham Symphony Orchestra conducted by Andrew Gourlay. View here and on demand for one month.
1 pm ET: Church of Trinity Wall Street presents Comfort at One. Stephen Sands leads the Downtown Voices in an account of Herbert Howell's Requiem (from March 2018). View here.
1 pm ET: IDAGIO presents Thomas Hampson's World of Song. Tune in with baritone Thomas Hampson and a special guest every Tuesday evening for insights into some of his favorite repertoire and recordings. View here and later on demand.
2 pm ET: Live with Carnegie Hall presents Daniil Trifonov. Few artists' careers are as closely intertwined with their history at Carnegie Hall as that of pianist Daniil Trifonov. Two months after winning the International Tchaikovsky Competition in 2011, he was on the Hall's main stage in a concerto performance with Valery Gergiev and the Mariinsky Orchestra. The following season he returned for his recital debut. By 2017, he became the Hall's youngest Perspectives artist, curating a seven-concert series. Join Trifonov as he discusses his meteoric rise over the past decade with the equally legendary Emanuel Ax. View here.
2 pm ET: NOSPR Katowice presents Concert dedicated to the memory of Krzysztof Penderecki. Program includes Penderecki's Fanfare for the Independent Poland and Polish Requiem, and Haydn's Symphony No. 45 in F sharp minor. With the National Polish Radio Symphony Orchestra led by Piotr Tarcholik. View here.
7:30 pm ET: Nightly Met Opera Streams presents Wagner's Die Walküre. Conducted by James Levine; starring Hildegard Behrens, Jessye Norman, Christa Ludwig, Gary Lakes, James Morris, and Kurt Moll. From April 8, 1989. View here and for 24 hours.
9 pm ET: Living Music with Nadia Sirota: Pirate Radio Edition. Award-winning violist, broadcaster and curator Nadia Sirota's new music and talk show airs from her garage in Los Angeles with special guests performing from their homes. View here.
10 pm ET: Seattle Opera Songs of Summer presents Margaret Gawrysiak. Familiar to Seattle Opera for scene-stealing turns as Berta in The Barber of Seville (2017) and Marcellina in The Marriage of Figaro (2016), Gawrysiak made her McCaw Hall debut in The Consul (2014), and was featured most recently as Madame Larina in Eugene Onegin (2020). Curating the recital as "a set of songs from a day in isolation," 'Maggie the Mezzo' will fill her program with great music (by Stephen Foster, Francis Poulenc, Vaughn Williams, Edward Elgar, Kurt Weill, and Stephen Sondheim) and plenty of personality. View here.
Wednesday, July 1
12 pm ET: Hanns Eisler Academy Berlin presents Kirill Gerstein in an online seminar with British tenor, Ian Bostridge who will discuss Schubert's Winterreise. One of the leading exponents of the piece, Bostridge says: "What did, and could, Schubert's song cycle mean in 1827/8; what can it mean for us now? And why does it have such a compelling appeal?" Register here for the free Zoom seminar with further information here.
1 pm ET: Savonlinna Opera Festival presents Karita Mattila & Ville Matvejeff. The program, fresh as the summer breeze on the Saimaa lakeside, will feature opera arias like "Song to the Moon" from Rusalka, Lieder, songs by Sibelius and Merikanto, and classics from films and musicals. The concert is a recording from the Olavinlinna Central Hall from the end of June 2020. View here and for six months.
1:30 pm ET: The Kanneh-Mason Family. "The Von Trapps of Classical Music" (Telegraph UK) go live via cellist Sheku Kanneh-Mason's Facebook page every Wednesday and Friday with a mixture of intimate family chamber performances and behind the scenes chat. Watch here.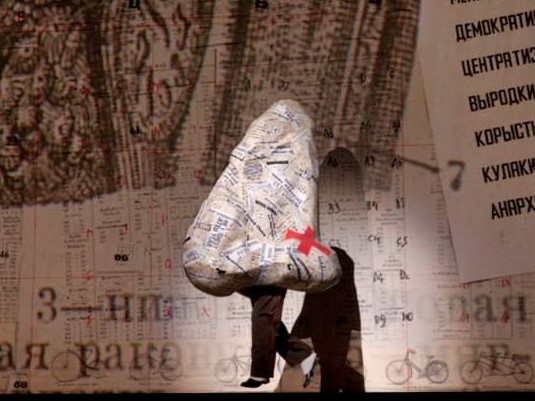 3:30 pm ET: Ravenna Festival presents Budapest Festival Orchestra. Iván Fischer conducts Wagner's Siegfried Idyll, Britten's Les illuminations, Op. 18 with Anna Prohaska soprano, and Haydn's Symphony No. 104 "London". View here. LIVE
7:30 pm ET: Nightly Met Opera Streams presents Shostakovich's The Nose[pictured]. Conducted by Pavel Smelkov; starring Andrey Popov, Alexander Lewis, and Paulo Szot. Transmitted live on October 26, 2013. View here and for 24 hours.
Thursday, July 2
1 pm ET: IDAGIO presents Thursdays with Thomas. Join Thomas Hampson in conversation with colleagues, friends, and other major personalities of the classical music world. Every week, Thomas invites a special guest for a discussion around their favorite piece of the classical repertoire. View here and later on demand.
7 pm ET: Caramoor Festival presents Inon Barnatan. "One of the most admired pianists of his generation" (New York Times), launches Caramoor's 20/2.0 season from the Music Room of Caramoor's Rosen House with a recital program offering Schubert's A major sonata and the world premiere of Barnatan's own solo piano transcription of Rachmaninov's Symphonic Dances, which he wrote during the COVID-19 lockdown. Tickets are $10 (Caramoor Members receive complimentary access) and go on sale five days before show. More info here. LIVE
7 pm ET: Detroit Symphony Orchestra Summer Sessions Watch Parties presents Je Ne Sais Quoi. Take a musical trip to the streets of Paris, conducted by James Gaffigan, Leonard Slatkin, and Rafael Payare. Program includes Gershwin's An American in Paris, Debussy's orchestral arrangement of Satie's Gymnopédies, the Adagietto from Mahler's Fifth Symphony and a little bit of John Williams. View here and later on demand.
7 pm ET: LA Opera presents Living Room Recital with Sasha Cooke. The award-winning mezzo soprano will be accompanied by Kelly Markgraf. View here.
7 pm ET: Rockport Music presents Concert Window: Parker Quartet. Inspiring performances, luminous sound, and exceptional musicianship are the hallmarks of the Grammy Award-winning Parker Quartet. Program: Mozart's String Quartet, K.499, Szymanowski's String Quartet No. 2 and Beethoven's Cavatina from Op. 130. View here. LIVE
7:30 pm ET: Kent Blossom Music Festival presents Miami String Quartet. Program: Haydn's String Quartet in D (Largo), Op. 76, No. 5, Beethoven's Piano Quartet in E-Flat, Op. 16 (with Spencer Myer, piano), and Bruch's String Quartet No. 1 in C minor. View here.
7:30 pm ET: Nightly Met Opera Streams presents Bizet's Carmen. Conducted by Pablo Heras-Casado; starring Anita Hartig, Anita Rachvelishvili, Aleksandrs Antonenko, and Ildar Abdrazakov. Transmitted live on November 1, 2014. View here and for 24 hours.
8 pm ET: San Francisco Symphony Orchestra presents MTT25: An Online Tribute for Michael Tilson Thomas. Hosted by famed vocalists Audra McDonald and Susan Graham, the event features contributions and tributes by musicians of the San Francisco Symphony and Chorus, an array of distinguished guest artists, and many surprises. View here. LIVE
8 pm ET: The Next Festival of Emerging Artists presents Collaborative Projects. Seizing the opportunity to innovate in the time of COVID-19, the Festival has undertaken two cutting-edge collaborative projects as part of its 2020 Season. Join them for a inside look at how Festival artists leverage technology and creativity to foster true collaboration and create collective art from isolation. "Broadcast from Home" with Lisa Bielawa and "Stepping with Resonance" with Derek Bermel and S. Ama Wray. Register free and view here.
9 pm ET: Living Music with Nadia Sirota: Pirate Radio Edition. Award-winning violist, broadcaster and curator Nadia Sirota's new music and talk show airs from her garage in Los Angeles with special guests performing from their homes. View here.
9:30 pm ET: Colorado Music Festival presents Sharon Isbin & Ji Su Jung: Women in Music. The Festival spotlights guest artists Sharon Isbin, whom Atlanta Journal has called "the Monet of the classical guitar," and percussionist Ji Su Jung, a rising star and master of the marimba. With Peter Oundjian, Music Director and Colorado Music Festival Orchestra Members. Program: Copland's Fanfare for the Common Man, guitar music by Granados, Lauro, Brouwer, Shemer, and Mangoré, Stevens's Rhythmic Caprice, Jarrett's The Köln Concert (Part IIC), Sousa's The Washington Post March and The Stars and Stripes Forever. View here.
10 pm ET: Seattle Opera Songs of Summer presents Tess Altiveros. Equally at home in repertoire ranging from the 17th century to the 21st, soprano Tess Altiveros is best known to Seattle Opera audiences for appearances in three ground-breaking chamber productions: The Combat (2017), O+E (2018), and The Falling and the Rising (2019). Framing her recital with selections from Poulenc's Tel jour telle nuit, Altiveros takes us from morning to evening with pieces that trace daily thoughts and rituals. Highlights include three shorts songs from Emerson Eads's Love Is using poetry by children responding to the question is "What is love?" With Elisabeth Ellis, piano, and Stephen Stubbs, lute. View here and on demand for two weeks.
10 pm ET: Chamber Music Northwest's Virtual Summer Festival presents New@Night. Discover new American classical music by Pulitzer Prize-winning composers Kevin Puts, David Lang, and Christopher Theofanidis—including two new exclusive premieres of work commissioned by Chamber Music Northwest. View here.
Friday, July 3
3 am ET: Carnegie Hall Live & Medici.TV present Alan Gilbert and the New York Philharmonic play Tchaikovsky's Piano Concerto No. 1 with soloist Evgeny Kissin, plus works by Lindberg and Ravel (Original broadcast date, October 7, 2015). View here and available for 72 hours.
8 am ET: Semperoper Dresden streams Strauss's Der Rosenkavalier. Conductor Fabio Luisi, director: Uwe Eric Laufenberg, with Anne Schwanewilms (Felmarschallin), Kurt Rydl (Baron Ochs), Anke Vondung (Octavian), Maki Mori (Sophie). Recording of the production in the NHK Hall, Tokyo in November 2007. View here until July 5.
1 pm ET: OperaVision presents Puccini's Tosca. Starring Orla Boylan as Tosca and Simon O'Neill as Cavaradossi, New Zealand Opera's acclaimed production filmed for cinema release transposes the famous plot to Italy in the 1950s, shadowed by the mafia and post WWII politics. Tobias Ringborg conducts Stuart Maunder's 2015 staging. View here and on demand for six months.
1 pm ET: Staatsoper Unter den Linden presents Schumann, Widmann & Strauss. The performance will take place on the stage of the currently closed Staatsoper Unter den Linden.
Program: Schumann: First movement from the Violin Sonata in A minor, Op. 105, Widmann's Fever Fantasy for clarinet, string quartet and piano, Richard Strauss's Violin Sonata in E-flat, Op. 18. With members of the Staatskapelle Berlin. View here and on demand "for a few days". LIVE
1:30 pm ET: The Kanneh-Mason Family. "The Von Trapps of Classical Music" (Telegraph UK) go live via cellist Sheku Kanneh-Mason's Facebook every Wednesday and Friday with a mixture of intimate family chamber performances and behind the scenes chat. Watch here.
2 pm ET: Royal Opera House presents La Bohème. Richard Jones's production of Puccini's opera tells the story of Rodolfo, a poet, and Mimì, a seamstress, who fall in love but whose happiness is threatened by Mimì's illness. The 2017 recording stars Nicole Car as Mimì, Michael Fabiano as Rodolfo, Mariusz Kwiecien as Marcello and Simona Mihai as Musetta. The Orchestra of the Royal Opera House and the Royal Opera Chorus are conducted by Antonio Pappano. View here and until July 10.
3 pm ET: WUOL Classical Louisville presents "In This Together." Louisville Orchestra MD Teddy Abrams joins Daniel Gilliam as a regular co-host. Video streaming live on the station's Facebook page, the live radio show is "a weekly segment to help bring us closer together with music and conversation when we need to be apart."
6 pm ET: National Sawdust presents A Masterclass with Ted Hearne. Acclaimed for making audacious, politically acute music for our time that traverses boundaries of style and discipline, composer and singer Ted Hearne has been heralded for producing "some of the most expressive socially engaged music in recent memory" (Pitchfork). View here.
7:30 pm ET: Nightly Met Opera Streams presents Mozart's Don Giovanni. Conducted by Fabio Luisi; starring Marina Rebeka, Barbara Frittoli, Mojca Erdmann, Ramón Vargas, Mariusz Kwiecien, Luca Pisaroni, and Štefan Kocán. Transmitted live on October 29, 2011. View here and for 24 hours.
8 pm ET: Tanglewood Online Festival presents BSO Musicians in Concert from Tanglewood. Host: Lauren Ambrose. Program: Copland's Duo for Flute and Piano with Elizabeth Ostling, flute, and Randall Hodgkinson, piano; James Lee III's Chôro sem tristeza, for solo flute with Elizabeth Ostling; Brahms's Piano Quintet in F minor, Op. 34 with Alexander Velinzon and Bracha Malkin, violins, Cathy Basrak, viola, Blaise Déjardin, cello, and Jonathan Bass, piano. Pre-recorded. Cost of event: $5. View and purchase tickets here.
9 pm ET: Santa Fe Opera presents Songs from the Santa Fe Opera: The Barber of Seville. Susan Graham hosts the Songs from the Santa Fe Opera opening night celebration of Rossini's The Barber of Seville. Program includes The Santa Fe Opera Orchestra (Overture), a series introduction by General Director Robert K. Meya, a mini-talk by dramaturg Cori Ellison, Largo al factotum performed from SFO stage by Joshua Hopkins (baritone) and Robert Tweten (piano), and other special surprises. Pre-recorded from the Santa Fe Opera stage and in artist's homes around the world, all activities are done in accordance with current safety guidelines. Free to watch here and on demand here.
9 pm ET: Tanglewood Online Festival presents Great Performers in Recital from Tanglewood. Gil Shaham plays Scott Wheeler's Isolation Rag, Max Raimi's Anger Management, Bach's Partita No. 3 in E for solo violin, and William Bolcom's Suite No. 2 for solo violin (Dancing in Place and Lenny in Spats), Prokofiev's Sonata in D for solo violin, Op. 115. Pre-recorded. Cost of event: $12. View and purchase tickets here.
Saturday, July 4
12 pm ET: Daniel Hope presents Hope@Home on Tour. As Germany relaxes its lockdown the award-winning violinist takes his popular livestreamed TV series on the road. This weekend Hope travels to Zurich for appearances with the Zurich Chamber Orchestra, of which he is the Music Director, and star flutist Sir James Galway. View here. LIVE
1 pm ET: San Francisco Opera presents Floyd's Susannah (Production from 2014). Set in New Hope Valley, Tennessee, Susannah is one of the most frequently performed 20th-century works in the American operatic repertoire. Floyd's libretto, loosely based on the biblical Apocrypha, centers on an innocent, teenage girl falsely accused by her church community. Michael Cavanagh directs, with Patricia Racette in the title role, Brandon Jovanovich as Susannah's brother, Sam, Raymond Aceto as Reverend Olin Blitch, James Kryshak as Little Bat, and Catherine Cook as Mrs. McLean. Karen Kamensek conducts the San Francisco Opera Orchestra and Chorus. View here and until midnight (PT) the following day.
7:30 pm ET: Nightly Met Opera Streams presents Donizetti's Don Pasquale. Conducted by Nicola Rescigno; starring Beverly Sills, Alfredo Kraus, Håkan Hagegård, and Gabriel Bacquier. Transmitted live on January 11, 1979. View here and for 24 hours.
8 pm ET: Boston Pops presents A Boston Pops Salute to Our Heroes. The program will include the newly released video production of John Williams' Summon the Heroes, paying tribute to the healthcare workers, first responders, and other essential service providers, and honoring the memories of those who have lost their lives during this crisis. Opening with Brian Stokes Mitchell singing "America the Beautiful" and closing with the ever-popular fireworks extravaganza, the broadcast will also honor the traditions of Boston's Independence Day celebration with performances of Tchaikovsky's 1812 Overture, "The Stars and Stripes Forever," and the annual Patriotic Sing-Along, taken from broadcasts in 2017, 2018, and 2019. Boston Pops Conductor Keith Lockhart teams up with Bloomberg's Kim Carrigan, Joe Shortsleeve, and Janet Wu to host the show. View on Bloomberg Television (available on cable/satellite and streaming services) and on Bloomberg Radio with repeat broadcasts at 11 pm ET (7/4) and 2 am ET (7/5). The show will be simulcast locally on Boston's WHDH-TV.
10 pm ET: Chamber Music Northwest's Virtual Summer Festival presents Live from Austin: Miró Plays Beethoven's Late Quartets. In this new exclusive performance from their hometown of Austin, TX, the Miró Quartet will perform Beethoven's monumental late string quartets, concluding Op. 130 as originally intended with the controversial and thrilling Op. 133 Grosse Fugue. View here. LIVE
Sunday, July 5
6 am ET: Savonlinna Opera Festival presents Aulis Sallinen's Kullervo. Recorded at the Savonlinna Opera Festival in 2014, Sallinen's gripping opera tells one of the most powerful tales from Finland's national epic The Kalevala. Directed by Kari Heiskanen and conducted by Hannu Lintu, the production stars Tommi Hakala as Kullervo, Tuija Knihtilä as his mother, Reetta Haavisto as his sister, Petri Lindroos as his father, and Ville Rusanen as Kimmo. Darkly dramatic, Kullervo is one of the 20th century's finest operas. View here and for 30 days. **
12 pm ET: Glyndebourne Open House presents Strauss's Der Rosenkavalier. A musical fantasy that tempers sweetness with satirical wit, farce with philosophy, humor with pathos. Romance is woven through every bar of a lyrical masterpiece that celebrates a world on the brink of change. Richard Jones's stylish, time-travelling production is conducted by Glyndebourne's music director Robin Ticciati. Festival favorite Kate Royal leads the cast as the Marschallin, with mezzo Tara Erraught as her beloved Octavian. (Captured live at Festival 2014). View here and until July 12.
12 pm ET: Daniel Hope presents Hope@Home on Tour. As Germany relaxes its lockdown the award-winning violinist takes his popular livestreamed TV series on the road. This weekend Hope travels to Zurich for appearances with the Zurich Chamber Orchestra, of which he is the Music Director, and star flutist Sir James Galway. View here. LIVE
2 pm ET: International Shostakovich Festival in Gohrisch presents Nine World Premieres and a Virtual Festival. Nine world premieres—of piano pieces written at the very beginning of the composer's artistic journey—will be played by three Russian pianists: Dmitry Masleev, Yulianna Avdeeva, and Daniil Trifonov. Avdeeva will play at the Hotel Albrechtshof in Gohrisch, where Dmitri Shostakovich composed his String Quartet No. 8 in 1960; Masleev will join from the Tchaikovsky Concert Hall in Moscow; and Trifonov from his house in Greenwich, Connecticut. View here and on demand for 90 days.
2:30 pm ET: Tanglewood Online Festival presents BSO Encore Performance. Jacques Lacombe leads this All-American 2015 program. He is joined by Kirill Gerstein for Gershwin's jazz-inflected Piano Concerto in F. John Douglas Thompson narrates Copland's tribute to the 16th President of the United States, Abraham Lincoln. Opening this concert is John Harbison's jazzy Remembering Gatsby. Duke Ellington's blues-tinged tone painting of New York City's Harlem completes the program. Register free and view here.
3 pm ET: Des Moines Metro Opera presents Dvorák's Rusalka. Rusalka, a beautiful water nymph, falls in love with a human prince and will do anything to escape her enchanted moonlit world to become human—but her wish comes at a very high price. Dvorák juxtaposes the mortal and the mythical with beautiful folk melodies and luminous arias. In this 2018 production, Sara Gartland is Rusalka with Evan LeRoy Johnson and Jill Grove as the Prince and Ježibaba, respectively. David Neely conducts with direction by Chas Rader-Shieber. View here and on demand until August 19.
5 pm ET: Aspen Music Festival and School presents A Tribute to Music Director Robert Spano. A benefit event paying tribute to Spano's ten years at the artistic helm of the organization. The star-studded event includes live comments from AMFS luminaries and musical tributes from a cavalcade of superstar artists including pianist Yefim Bronfman, soprano Renée Fleming, violinist Robert McDuffie, mezzo-soprano Michelle DeYoung, bassoonist Nancy Goeres, mezzo-soprano Kelley O'Connor, and clarinetist Michael Rusinek. Mercedes T. Bass hosts the evening. View here.
5 pm ET: Chamber Music Society of Lincoln Center presents Front Row: Anne-Marie McDermott. Enjoy an HD concert experience featuring pianist Anne-Marie McDermott, plus see inside her life during the pandemic and attend a live Q&A session. Program: Mozart's Piano Concerto in D minor, K. 466 (Anne-Marie McDermott, piano; Sean Lee, Bella Hristova, violin; Paul Neubauer, viola; Mihai Marica, cello; Timothy Cobb, double bass; Tara Helen O'Connor, flute), Smetana's Trio in G minor for Piano, Violin, and Cello, Op. 15 (Anne-Marie McDermott, piano; Ida Kavafian, violin; Gary Hoffman, cello). View here. LIVE
6 pm ET: Lincoln Center presents Memorial For Us All with Vanessa Williams. While many rituals we hold dear are no longer possible, Memorial For Us All is an interfaith collaboration offering unity, comfort, and healing through music, an art form intertwined with so many of our most beloved rituals around the world. Anyone who has lost a loved one during this pandemic is invited to submit the name of a friend or family member to be honored here. Following last Sunday's broadcast with The Mostly Mozart Festival Orchestra, many community members from New York City and beyond have submitted names of loved ones lost to be honored this Sunday. View here.
7 pm ET: Lawrence Brownlee presents The Sitdown with LB. In the fifth of his new Facebook live series the tenor will be discussing the unique realities and experiences of being an opera singer of African-American or African descent with tenor Levi Strauss. View here.
7:30 pm ET: Nightly Met Opera Streams presents Rossini's La Donna del Lago. Conducted by Michele Mariotti; starring Joyce DiDonato, Daniela Barcellona, Juan Diego Flórez, John Osborn, and Oren Gradus. Transmitted live on March 14, 2015. View here and for 24 hours.
Monday, July 6
6 am, 1 pm, 3 pm ET: Festival d'Aix-en-Provence Digital Stage presents Keep Creating: Innocence. Kaija Saariaho's Innocence was scheduled to premiere this summer. At 6 am ET, the composer, director Simon Stone, singer Magdalena Kožená, and Festival director Pierre Audi will examine the impact of the health crisis on the future of this kind of production and how the work can continue despite constraints. At 1 pm, Kožená will perform a recital of Brahms, Dvorák, Debussy, Strauss, Martinu and Janácek, accompanied by Sir Simon Rattle. And at 3 pm, Esa-Pekka Salonen and Katie Mitchell's production of Debussy's Pelléas et Mélisande (2016 Festival d'Aix) will be rebroadcast, with an introduction by Barbara Hannigan. View here.
7 am ET: Chamber Music Northwest's Virtual Summer Festival presents The Silver River. Chinese and Western cultures are woven into a magical operatic masterpiece of exquisite beauty. This CMNW co-commisioned contemporary production is conceived by two renowned Asian artists: composer Bright Sheng and librettist and Tony Award-winner David Henry Hwang. The Silver River updates a legendary 5,000-year-old Chinese myth of ill-fated love between a celestial being and a mortal, ultimately interpreting the creation of night and day. View here.
7:30 pm ET: Met Opera Streams presents Puccini's La Bohème. Starring Sonya Yoncheva, Susanna Phillips, Michael Fabiano, Lucas Meachem, Alexey Lavrov, Matthew Rose, and Paul Plishka, conducted by Marco Armiliato. From February 24, 2018. View here and for 24 hours.
Artists and Organizations Offering Free Content
The following are all accessible during the coronavirus pandemic:
Academy of Ancient Music
The most listened-to period instrument ensemble, directed by Richard Egarr, has made a number of streams available on its website. Guest artists include Louise Alder, soprano, Nicola Benedetti, violin, Mary Bevan, soprano, David Blackadder, trumpet, Iestyn Davies, countertenor, Tim Mead, countertenor, Christopher Purvis, bass, and Tenebrae, directed by Nigel Short. Explore here.
American Composer's Orchestra
ACO announces Volume 2 of Connecting ACO Community, an initiative to commission short works for solo instrument or voice. Each composer is offered $500 to write the work, and each performer is offered $500 to perform the work, with the rights to stream for six months. With the six commissions in Volume 2 (June 7 - July 19, 2020), ACO aims to support artists financially and to create new work that will live beyond this crisis. Premieres of the new works take place live on Sundays at 5pm ET, streaming privately for ticket-buyers on ACO's YouTube channel. The composer, performer, and a host (ACO President Ed Yim or ACO Artistic Director Derek Bermel) will hold an online chat with the attendees after the performance. The recorded sessions will be available on MUSIC on the REBOUND. For more info and to purchase $5 tickets visit here.
American Opera Project
American Opera Project presents AOPTV: Opera Comes Home. Three world premiere English-language opera productions are available for livestream on the AOP website. As One is a chamber opera by composer Laura Kaminsky, librettist Mark Campbell and librettist/filmmaker Kimberly Reed in which two voices—Hannah after (mezzo-soprano) and Hannah before (baritone)—trace a transgender protagonist from her youth in a small town to her college years on the West Coast, and finally to Norway where she is surprised at what she learns about herself. Three Way, with music by Robert Paterson and libretto by David Cote, is an opera on the present and future of sex and love comprised of three, playful one-acts. Harriet Tubman, with music and libretto by Nkeiru Okoye, is a two-act theatrical work that tells of how a young girl born in slavery becomes Harriet Tubman, the legendary Underground Railroad conductor.
NEW: American Symphony Orchestra
American Symphony Orchestra presents ASO Online. Each Wednesday, for as long as live performances are not possible, the ASO will release a recording from its archives. Content will alternate weekly between live video recordings of SummerScape operas and audio recordings from previous ASO concerts. Ethel Smyth's The Wreckers, Richard Strauss's Die Liebe aus Danae, and Korngold's Das Wunder der Heliane, all conducted by Leon Botstein, are highly recommended and available now. **
Apollo's Fire: Music for the Soul
The Cleveland-based baroque orchestra founded by Artistic Director Jeannette Sorrell is offering a series of video streams entitled "Music for the Soul." New episodes are posted here.
Australian Chamber Orchestra
ACO HomeCasts is an innovative digital content season curated by Artistic Director Richard Tognetti, and with an emphasis on content that reflects the ACO's artistry, dynamism, and sense of adventure. ACO HomeCasts encompass a mix of hi- and lo-fi content presented across a range of channels. Musicians have been equipped with a mini in-home studio and training, enabling them to record, produce, and broadcast content directly from their homes. This includes full-length ACO concerts broadcast as Facebook Watch Parties hosted by an ACO musician, intimate solo performances filmed live from musicians' homes, and "Ask-Me-Anything" Instagram interviews. Audiences can request specific performances and submit questions to musicians. Each week's schedule is announced Monday mornings here.
Baltimore Symphony Orchestra
BSO musicians are putting live-streamed concerts on the orchestra's Facebook page on Wednesday and Sunday nights "for the near future."
Bard SummerScape & Fisher Center
Each week throughout June and July Fisher Center is releasing new content, including commissions and performances from its archives. The streamed works highlight a different aspect of Bard's wealth and breadth of programming, including performances from its SummerScape Opera and BMF archives. Recent additions to the program include Bard SummerScape's 2011 production of Strauss's rarely performed Die Liebe der Danae and last year's Daniel Fish directed staging of Michael Gordon's Acquanetta. More details here.
Beth Morrison Projects
BMP announces the inaugural BMP: Producer Academy. Beginning the second week of July 2020 with free sessions for the community, BMP will delve into a number of different topics aimed at helping artists and young producers bring works to the stage. This free series of workshops will cover a variety of topics including budgeting, the different phases of the production process, different types of producers, and insights into the producing and presenting industry. Enrollment is open to the general public. Sign up here for the three-day course. Following the free workshop, a more in-depth eight-week Academy commences for a selected group of 25 students that have a deeper interest and are looking for an alternative to a full degree program in arts administration. Full details on the BMP website.
Boston Symphony Orchestra
The Boston Symphony presents "BSO at Home," which includes self-produced videos from BSO musicians and conductors featuring anecdotes, personal reflections and insights, and short informal performances to be released periodically through the BSO's social media channels. There will also be six weeks of daily curated audio offerings available each weekday morning at 10 a.m. through www.bso.org/athome. For a complete list click here.
Budapest Festival Orchestra Quarantine Soirées
Hungarian conductor Ivan Fischer has created a new concert series in response to the worldwide musical shutdown. The Quarantine Soirées are LIVE and free to view online chamber music concerts given nightly at 7:45 pm. Visit here for details of upcoming concerts.
Carnegie Hall
Live with Carnegie Hall is an online series designed to connect world-class artists with musical lovers everywhere, featuring live musical performances, storytelling, and conversations that offer deeper insights into great music and behind-the-scenes personal perspectives. In addition to live conversation and/performance, Live with Carnegie Hall programming will integrate historical or recent audio/video content drawn from concerts, master classes, and recordings. In most of the programs, artists will engage with viewers in real time via social media, building an inspired sense of community. The series will be streamed via Facebook and Instagram. A schedule will be found on carnegiehall.org/live.
NEW: Classical Movements Vox Virtual
Classical Movements will co-present an online a cappella festival from August 22 – 29 featuring nine small professional vocal ensembles from around the world. The online festival will feature daily livestreamed concerts, interviews and workshops by some of the world's most exciting vocal groups, including Cantus (USA), Insingizi (Zimbabwe), Olga Vocal Ensemble (Iceland and Netherlands), Nairyan Vocal Ensemble (Armenia), The Swingles (United Kingdom), Les Itinérantes (France), Accent (International), Ensemble Rustavi (Georgia) and Anúna (Ireland). Over the course of the week, ensembles will livestream five free concerts, each featuring two ensembles, and one finale concert featuring all nine. All of the artists will livestream all concerts and interviews on their Facebook pages and YouTube channels on a daily basis during the festival.
The Cleveland Orchestra
The Cleveland Orchestra is offering archival videos, daily Mindful Music Moments videos, and videos from musicians performing from home. For information and to view visit here.
Cliburn at Home
The Cliburn has a series of videos available online. Cliburn Watch Party relives some of the best moments of the Van Cliburn International Piano Competition, Cliburn Kids explores rhythm, storytelling, dance, and listening games in short (seven- to 10-minute), entertaining, and educational journeys. Cliburn Amateur Spotlight are performance videos submitted by the 72 who were accepted as competitors for the 2020 Cliburn International Amateur Piano Competition (rescheduled to 2022). View here.
Detroit Symphony Orchestra
The Detroit Symphony Orchestra has made its webcast archive available for free. The collection features 200+ works going back three years, and highlights include Leonard Slatkin conducting John Luther Adams's climate change-inspired Become Ocean from 2019, several world premieres, and a host of bite-sized encores. Explore here.
Deutsche Grammophon Yellow Lounge
The German classical music giant is streaming Yellow Lounge broadcasts from its archives. Recent additions include clarinetist Andreas Ottensamer, pianists Alice Sara Ott and Chihiro Yamanaka, and cellist Mischa Maisky. Performances are broadcast in rotation, one video at a time, adding a new performance every few days. DG communicates the start of each new performance by newsletter at the start of each week. To keep updated sign up here.
Finnish National Opera
Finnish National Opera presents Stage24, a series of streamed archived performances on its website, which are then available for the next six months. Interesting recent content includes a staged version of Sibelius's Kullervo, Stravinsky's The Rake's Progress, Caspar Holten's staging of Wagner's Der Fliegende Holländer with Camilla Nylund and Christoff Loy's Tosca. An excellent company and some really interesting and original work worth investigating ** Explore here.
Gstaad Digital Festival
The Gstaad Festival has moved online this year with three digital offerings. First is Swiss pianist Francesco Piemontesi with a Soirée Schubert, including the first four Impromptus. With his unique timbre, he creates an intimate atmosphere and allows us to imagine how it must have been at a legendary Schubertiade. Second is Ute Lemper with an evening of Cabaret & Chanson including two poems by the Chilean poet and Nobel laureate Pablo Neruda, her charmingly silly version of Georges Moustaki's "Milord" and ending on Édith Piaf's "Non, je ne regrette rien". Finally, tenor Daniel Behle's advice is "Make yourself rare, and people will appreciate you more." Behle gives exciting insights into the business, talks about the vital importance of having a good agency and finding the right moment to start singing Wagner.
Handel and Haydn Society
Boston's Handel and Haydn Society has created the H+H Listening Room where you can hear and watch H+H performances including Mozart's Requiem, Handel's Messiah, and Purcell's Dido and Aeneas filmed at New York's Met Museum. There are also more than a dozen videos of musicians performing from their homes, a special video of principal flutist Emi Ferguson teaching people how to make their own baroque flute, and a new podcast called "Tuning In". In the first episode Principal Cellist Guy Fishman interviews Artistic Director Harry Christophers about Bach's St. Matthew Passion. Explore here.
Duo Ingolfsson-Stoupel
Violinist Judith Ingolfsson and pianist Vladimir Stoupel are seasoned soloists who united with the goal of exploring new paths and directions in the intimate atmosphere of the violin-piano recital winning acclaim for their performances across the globe. In response to the COVID-19 pandemic, they are presenting music that is close to their hearts every Friday and Tuesday at 1 pm EST on YouTube. LIVE
Kennedy Center
The Kennedy Center is offering a free, live digital performance initiative, Couch Concerts, to help inspire, uplift, heal, and bring the performing arts into homes across the country and around the world during these difficult times. Couch Concerts stream direct from artists' homes on the Kennedy Center website at 4 pm ET every Monday, Wednesday, and Friday. Audiences can discover a wide range of other at-home programming through the Kennedy Center at Home webpage.
La Monnaie
Belgium's operatic powerhouse La Monnaie de Munt has launched free streaming of another virtual season of six operas from the archives. The new batch includes Romeo Castellucci's controversial staging of The Magic Flute, Laurent Pelly's gorgeously whacky production of Rimsky Korsakov's The Golden Cockrel, and Olivier Py's thoughtful take on Lohengrin. Details and access here on demand until June 30. **
La Scala/RAI
Italy's RAI presents five productions from La Scala Milan including the world premiere of Kurtág's Fin de Partie, Daniel Barenboim conducting Götterdämmerung, Lisette Oropesa in Verdi's I Masnadieri, Montedervi's Orfeo conducted by Rinaldo Alessandrini, and Les Vêpres Siciliennes conducted by Daniele Gatti. A wide range of concerts are also available. Click here to to register, view and for further details.
Lincoln Center
Lincoln Center at Home enables families and communities to keep the arts front and center. From the archives of Lincoln Center's resident organizations comes a trove of video, including rarely seen footage from decades of Live from Lincoln Center, more recent performances from across campus, and live streams from wherever performances are still happening. In addition, Lincoln Center Pop-Up Classroom broadcasts on Facebook Live every weekday at 10 am ET. Led by some of the world's best artists and educators, each creative learning activity utilizes simple materials found at home to help families with children explore a variety of art forms. Each classroom will remain available on Facebook after the live broadcast. Finally, #ConcertsForKids teams up with top artists to bring world-class performances and diverse musical perspectives from their homes to yours. Explore upcoming calendar here.
Los Angeles Chamber Orchestra
Los Angeles Chamber Orchestra presents free LACO AT HOME streaming and on demand performances, including a full showing of the orchestra's critically acclaimed performance last fall featuring the West Coast premiere of Dark with Excessive Bright for double bass and strings by LACO Artist-in-Residence Missy Mazzoli. View streaming here and on demand here.
Los Angeles Master Chorale
Videos recorded as part of the "Offstage with the Los Angeles Master Chorale" series from April 24 to June 19 included interviews conducted by Artistic Director Grant Gershon and Associate Conductor Jenny Wong with notable performers—including special guests Reena Esmail, Morten Lauridsen, Anna Schubert, Peter Sellars, Derrick Spiva—as well as Master Chorale singers. Available on demand here.
Metropolitan Opera Free Student Streams
Students and teachers worldwide can draw from the Met's online library of operas and curricular materials plus new live virtual conversations with Met artists and educators from the company's national education program. Resource materials will be made available weekly via the Met website starting on Mondays at 10 am ET, including extensive background information; activities to help students engage before, during, and after the performance stream; illustrated synopses; coloring pages; and audio clips. On Wednesdays at 5 pm ET, each week's performance will be made available for streaming on the Met website, where it will remain for 48 hours. An hour before each performance stream, students from around the world will have the opportunity to interact directly with a singer or member of the creative team on Zoom. More information here.
Minnesota Orchestra
Minnesota Orchestra at Home shares video, audio, and educational materials through the categories of Watch, Listen and Learn, including videos from the orchestra's archives and newly created "mini-concerts" directly from the homes of Orchestra musicians. Explore and view here.
National Forum of Music, Wroclaw, Poland
Poland's national music forum has made recordings available on its YouTube Channel from a range of NFM ensembles: NFM Wroclaw Philharmonic, NFM Leopoldinum Orchestra, Wroclaw Baroque Orchestra, NFM Choir, Wroclaw Baroque Ensemble, led by their Artistic Directors: Giancarlo Guerrero, Joseph Swensen, Jaroslaw Thiel, Agnieszka Franków-Zelazny, Andrzej Kosendiak and others. Explore here.
National Sawdust
National Sawdust has launched Live@NationalSawdust, a free digital platform offering concerts from the past five seasons and professional development programs from Renée Fleming, Meredith Monk and others, and including fundraising efforts for National Sawdust and the artists involved. Initial releases will focus on the very first concert in the venue from October 2015, including performances by Philip Glass, Foday Musa Suso, Tanya Tagaq, Chris Thile, Nico Muhly, Nadia Sirota, Jeffrey Zeigler, Eve Gigliotti, Paola Prestini, Nels Cline, Glenn Kotche, Theo Bleckmann, ACME and more. Future releases will draw from an extensive digital archive of more than 1,200 live performances, including highlights like Terry Riley's Archangels featuring the Choir of Trinity Wall Street, Du Yun's Pan Asia Sounding Festival, and more.
The Next Festival of Emerging Artists 2020
This year's Festival goes online with free events on Tuesday and Thursday afternoons from June 9 to July 2. The four-week series of workshops, mini-courses, and collaborative projects will feature over 20 guest artists and speakers, accessible online and open to the public. Student participants—young musicians, composers, and choreographers—have had their tuition waived and will take part in lessons and chamber music coaching, rehearsals, masterclasses, and talks, culminating in performances and recordings of new works. This year's festival will culminate in performances of new works created by remote collaboration. The festival will also be responding to the incidents of violence and racism that are causing pain and division across the country. Participants include: Ashley Bathgate, Derek Bermel, Fred Child, Anthony Davis, Rob Deemer, Vijay Iyer, Wang Jie, JACK Quartet, Aaron Jay Kernis, Anne Leilehua Lanzilotti, Jessica Meyer, Joshua Roman, and S. Ama Wray. Open to the public (through Eventbrite registration). More info here.
New World Symphony
The New World Symphony presents a web-based series called NWS Archive+. Michael Tilson Thomas moderates discussions with NWS Fellows, alumni, guest artists, and visiting faculty about archived recordings. Performances will be available here. NWS Fellows also play live, informal chamber music concerts from their homes in Miami Beach and broadcast via Facebook Live. In addition, the NWS online archive contains master classes, tutorials and town halls, which can be found here. Finally, for the past 10 years, the Fellows have performed one-hour concerts for local school children. These concerts and preparatory material will be available free to students and parents. NWS Educational concerts can be found here.
Olyrix
French opera streaming site Olyrix is making its content free throughout the COVID-19 crisis. Not all content is watchable in the U.S., but there are many fascinating productions and concerts from top-notch opera companies, from Cavalli's Ercole Amante from Paris's Opéra Comique and Purcell's The Indian Queen from Opéra de Lille to Korngold's Violanta from Teatro Reggio Torino. A really well-curated collection. ** Explore here.
Opera Australia
OA | TV: Opera Australia on Demand is the Sydney-based company's new digital space. Alongside the world's largest collection of Dame Joan Sutherland on video, OA will offer exclusive content from the OA back catalogue, productions from Handa Opera on Sydney Harbour, and a new series of chat show-style interviews conducted by AD Lyddon Terracini. The first posted full show is Sutherland in The Merry Widow, and the fileted aria's in the section labelled "The Best of Dame Joan Sutherland" are even better. ** View here.
Opéra National de Paris
The Palais Garnier and Bastille Opera are making their digital stage, "The 3e Scène," free and available to all. Founded in 2015, the platform is a pure place of artistic adventure and exploration, giving free rein to photographers, filmmakers, writers, illustrators, visual artists, composers, and choreographers to create original works. Visit here. Some of Opéra National de Paris's productions are accessible on the company's Facebook Page. In addition, Octave, the Paris Opera's online magazine, is posting articles, videos, and interviews here.
Opera North
One of Britain's most respected smaller opera companies, Opera North has put its acclaimed semi-staged concerts of Wagner's epic Ring Cycle online. "Beg, borrow, or be like Wotan and steal a ticket for this show," said the UK's Times of Das Rheingold. "You'd be lucky to hear as good at Bayreuth," said The Telegraph of Die Walküre. Richard Farnes proves a seriously impressive Wagner conductor. Watch here.
NEW: Opera Philadelphia Digital Festival O
Over the last several weeks Opera Philadelphia have premiered an online digital festival of new and classic works. Four of the operas are available on demand through the summer. The Pedro Almodóvar-inspired staging of Rossini's The Barber of Seville can be watched through June 29, while Daniel Bernard Roumain's We Shall Not Be Moved, Lembit Beecher's Sky On Swings (starring Frederica von Stade and Marietta Simpson), and Missy Mazzoli's award-winning Breaking the Waves are available through August 31. Explore here.
Opera Saratoga: Connect Daily
In place of its planned 2020 Summer Festival, June, July and August will see Opera Saratoga feature performances by Festival Artists, premiering every morning at 9 am ET. Each month is dedicated to a different theme with June featuring daily arias and ensembles from the operettas of Gilbert and Sullivan, including excerpts from The Pirates of Penzance, which had been scheduled to open the 2020 Festival. July will feature Beethoven art song including many of his settings of folk melodies from around the world and scenes Fidelio. August will feature songs and ensembles from musicals by Stephen Sondheim, who celebrated his 90th birthday this year. View here and on demand.
OperaVision
OperaVision offers livestreams of operas available for free and online for six months. Previous offerings include Barrie Kosky's visually spectacular Moses und Aron, David McVicar's superb Die Entführung aus dem Serail from Glyndebourne, and Deborah Warner's thoughtful Death in Venice for English National Opera. View upcoming and past content here. **
The Philadelphia Orchestra
Music Director Yannick Nézet-Séguin and The Philadelphia Orchestra are offering new ways to engage with the music and musicians of the Orchestra. Through WATCH, LISTEN, LEARN the Virtual Philadelphia Orchestra will fulfill its ongoing commitment to bring music, in video and audio forms, as well as interactive education and enrichment, to audiences. Content is available here.
San Francisco Symphony
The San Francisco Symphony's MTT25: An Online Tribute was a 25-day digital event in honor of Michael Tilson Thomas' (MTT) extraordinary 25-year tenure as Music Director. From June 4 through 28, the SFO released original and archival content daily, highlighting achievements, milestones, artistic projects, and relationships illustrative of MTT and the Orchestra's dynamic 25-year partnership. View on demand here.
Seattle Symphony
Seattle Symphony is rebroadcasting concerts on Thursday and Saturday evenings. In addition, Morning Notes on YouTube or Facebook features solo performances by individual musicians.
The Sixteen
The Sixteen, with founder Harry Christophers, has launched Quarantine with The Sixteen, a regular schedule of digital content. The Sixteen Virtual Choir's performance of Sheppard's Libera nos involved each part being recorded at each singer' home. Other features include: Choral Chihuahua, a podcast by The Sixteen and I Fagiolini; Stay at Home Choir performing Sir James MacMillan's O Radiant Dawn; Harry Christophers introducing 20 years of The Choral Pilgrimage; Archive performances, including Sir James MacMillan's Stabat mater performed in the Sistine Chapel and Bach's St Matthew Passion with Streetwise Opera; Recipes for isolation; Video diaries providing insight into daily lives during lockdown; Weekly playlists. Explore here.
Trinity Wall Street
New York's Trinity Church Wall Street introduces daily weekday "Comfort at One" (1 pm ET) streaming performances on Facebook with full videos posted here. Tune in for encore performances of favorite Trinity concerts, professionally filmed in HD, along with current at-home performances from Trinity's extended artistic family. "During trying times, music stills our souls and provides a healing grace," writes Trinity. "We hope these performances help you find a daily haven of peace and comfort."
Tulsa Opera
In light of the coronavirus outbreak, Tulsa Opera launched its Staying Alive web series, which includes virtual performances of opera, popular music, and musical theater, directly from guest artists' homes. Each week, the series features artists from around the world, including artists that have been recently heard on the Tulsa Opera stage or would have been heard in the company's new production of Tobias Picker's Emmeline, cancelled due to the pandemic. New content appears every Monday, Wednesday, and Friday at 2 pm CT. Explore here.
Verbier Festival
The cancelled Verbier Festival is presenting QuarantineConcerts, a platform where artists can perform live in the comfort of their homes as a way to keep the Festival alive. The concerts are streaming on their website but also on quarantineconcerts.tv. Archived performances include Quatuor Ebène, Gautier Capuçon, and Matthias Goerne, but Academy Artists also stream LIVE.
Voices of Ascension
New York choir Voices of Ascension, which celebrates its 30th anniversary next season, is posting a daily offering of choral beauty on its website. Music is chosen by staff, members of the chorus and orchestra, and listeners. View here.
Warsaw Philharmonic
The Warsaw Philharmonic has made a selection of video recordings available on its YouTube channel. Recent offerings include Saint-Saëns's Organ Symphony and Arvo Pärt's Swansong conducted by Artistic Director Andrzej Boreyko, as well as rarities by Polish composers like Grazyna Bacewicz. It's an excellent orchestra very much in the Eastern European tradition and concerts have been master edited for posting online.
Paid Digital Arts Services
Berlin Philharmonic Digital Concert Hall
The BPO Digital Concert Hall contains over 600 orchestra concerts covering more than ten years, including 15 concerts with the orchestra's new Chief Conductor Kirill Petrenko, interviews, backstage footage.
Medici TV
Thousands of classical music videos are available by subscription, as well as hundreds of events that are broadcast live for free each year, available for 90 days. Subscriptions cost $83.85 per year. www.medici.tv
Archived Recent Performances
The following broadcast events have occurred since the start of the COVID-19 crisis and are still available for viewing:
March 12
The Philadelphia Orchestra and Music Director Yannick Nézet-Séguin performed BeethovenNOW: Symphonies 5 & 6 as well as Iman Habibi's Jeder Baum Spricht to an empty Verizon Hall for live broadcast. An outstanding concert captured in excellent visuals and sound. www.philorch.org/live
Miller Theater's Bach Collection was performed live for a virtual audience. The program included Jesu, Joy of Man's Desiring (arr. Hess), Concerto for Violin and Oboe in C minor, BWV 1060 (arr. Fischer), Chorale Prelude Ich ruf zu dir, Herr Jesu Christ, BWV 639 (arr. Busoni), and Cantata Ich habe genug, BWV 82, with Kady Evanyshyn, mezzo-soprano, Rebecca Fischer, violin, Alecia Lawyer, oboe, Simone Dinnerstein, piano, Baroklyn. View here.
March 14
Canadian pianist Garrick Ohlsson played an impressive selection of works by Beethoven, Prokofiev (the Sixth Sonata), and Chopin to an empty house at New York's 92nd Street Y. View here.
March 16
In front of an empty auditorium (very visible thanks to excellent camerawork) Melbourne Symphony Orchestra was conducted by Forth Worth Symphony Music Director Miguel Harth Bedoya in dynamic performances of Bloch's Schelomo with soloist Timo-Veikko Valve, and Rimsky-Korsakov's Scheherazade. Available here.
March 26
92nd St. Y presents Jonathan Biss playing Beethoven's last three piano sonatas. Written, as Beethoven said, "in a single breath," these pieces represent the apotheosis of his piano writing, showing his mastery of the variation form (in Op. 109), his expertise in the forms of the musical past (the fugue, in Op. 110), and an ability to be cutting-edge (considering Op. 111 as a whole, but especially the famous 'boogie woogie' moments in the second movement). Available here.
April 5
Violinist Isabelle Faust live-streamed a solo Bach recital on from Leipzig's Thomaskirche, the church where JS Bach was Kapellmeister from 1723 until 1750. The concert is on Arte.tv and free to view until July 4. Highly recommended **
April 10
Handel's Messiah with The Tabernacle Choir and Orchestra at Temple Square and soloists Amanda Woodbury, Tamara Mumford, Tyler Nelson, and Tyler Simpson. Recorded in 2018 but archived for a rainy day such as this. Available here.
April 10
Bach's St. John Passion, performed by Bach Collegium Japan conducted by Masaaki Suzuki from the Cologne Philharmonic. View here.
April 14
92nd St Y presents Marc-André Hamelin who streamed a characteristically elegant program from his home, with the timely inclusion of Liszt's Bénédiction de Dieu dans la solitude. The repertoire also included C. P. E. Bach, Enescu, Fauré, Scriabin, and six selections from Debussy's Preludes, Book II. View here.
May 8
The Berliner Philharmoniker's European Concert. In order to comply with social distancing rules and hygiene requirements Kirill Petrenko conducts the orchestra in chamber music formation from the empty Philharmonie Berlin. Federal President Steinmeier to deliver opening address. Program: Pärt's Fratres, Ligeti's Ramifications, Barber's Adagio for Strings, Mahler's Symphony No. 4 (arrangement for chamber ensemble by Erwin Stein) with Christiane Karg, soprano. Subscribe or trial for free and view in the Digital Concert Hall.
**Highly recommended
---

WHO'S BLOGGING

Interviews with musicians who have successfully created their own opportunities.
PROFESSIONAL
GROWTH
FIND:
»MORE

NETWORK
FIND:
Updates to artist manager rosters
»MORE
RENT A PHOTO
Search Musical America's archive of photos from 1900-1992.