---
New Artist of the Month: Pianist Maxim Lando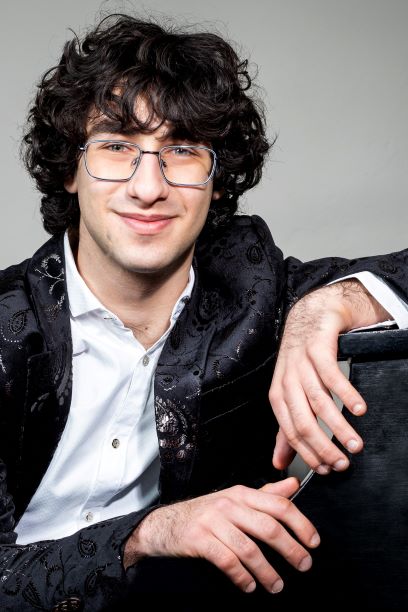 Maxim Lando may be only 17, but thanks to a newsworthy stint deputizing for the injured left hand of his mentor Lang Lang, he's already had a taste of fame and fortune. Add to that a first prize at the 2018 Young Concert Artists (YCA) International Auditions and being chosen as a 2020 Gilmore Young Artist, and it's safe to say the young American pianist is firmly on his way.
Already remarkably mature, Lando possesses an easy technique and a natural flair at the keyboard. His Gilmore Award mini-recital last October—a heady brew of Kapustin, Busoni, Lyapunov, Scriabin, Tchaikovsky, and his own transcription of Led Zeppelin's Stairway to Heaven—demonstrated excitingly eclectic tastes. Judging by his YCA supported Carnegie Hall recital last November, he's also pretty fearless. Programming Liszt's complete Transcendental Etudes as well as one of Beethoven's late sonatas, he was praised by The New York Times for his "flinty sound and infectious exuberance," along with a certain "wild-eyed danger" in his playing.
"Maxim's unbridled youthful enthusiasm is immediately obvious," said YCA Director of Artist Management Monica Felkel in an interview. "The excitement and commitment with which he approaches works he has dreamed of performing since he was much younger is captivating. He is 'all-in' and brings the listener [along] for an amazing ride."
Gilmore Director Pierre van der Westhuizen is further impressed by Lando's charisma. "Apart from the fact he has enormous facility and musicianship, he feels a deep need to connect to his audiences, something all of us in the industry really need right now."
Mom as first teacher
Lando grew up in Great Neck, Long Island, where his father, a clarinetist, and his mother, a pianist, run the local music school. "Even as a baby I would sit in on my mom's lessons," says Lando, who started on the instrument around three-and-a-half. "You either love it or you hate it when your parents are musicians, but one of the best things that's happened is that she still works with me every day. I have another teacher, but she [his mother] sits in and we learn a lot of notes together."
When he was around age ten, it was recommended that he study with Hung-Kuan Chen, then teaching at the New England Conservatory. "We would commute from New York to Boston a couple of times a month," Lando explains. "I fell in love with my teacher—he's unbelievable. Luckily for us, the next year he moved to Juilliard, so I started Pre-College and I've been there ever since."
With an excellent memory, Lando was always a quick study, although at times, he admits, he has a frustrating tendency to memorize pieces wrongly and then has to re-learn them. The emotion came easily too. "I've always felt the piano is the number one best place to express all of my feelings," he says. "If I get into a fight I run to the piano and pour it out, though sometimes I can get so caught up in my own thoughts and ideas that I forget to let the music just speak for itself."
Performing Prokofiev's 2nd Concerto at the Grand Hall of Saint-Petersburg Philharmonia
At age 11 he won a place with the Lang Lang International Music Foundation, an educational organization that has supported the majority of Lando's travels and booked many of his appearances before YCA came on the scene last year. "They sent me to Spain, Germany, Russia, England—they've let me have a chance to see the world," says Lando. Symphonic concerts have taken him from Pittsburgh and Toronto to Russia's Mariinsky and Bolshoi theaters and the Israel Philharmonic. He was invited to play at the opening of Steinway and Sons in Beijing and has performed at festivals from Ravinia to Aspen.
Lang Lang also became and remains a mentor. "He's the most easy-going guy I've ever met and one of the most likeable too," Lando says with enthusiasm. "He's like a kid at heart, which is one of the things I like most about him. He's goofy and he's fun, and he has such great ideas. Few people at that level are down to earth like that."
Lang Lang's left-hand man
In 2017 Lando won the Gold Medal at the Berlin International Music Competition. The same year Lang Lang called him up explaining that he was resting his injured left hand and wanted help with a three-hand version of Rhapsody in Blue. The show would go on the road to Pittsburgh, Hawaii, and China, as well as be on the program of the Carnegie Hall Opening Gala with the Philadelphia Orchestra and Yannick Nézet-Séguin. Jazz legend Chick Corea would join them for the three-hand version.
"It was one of the best years of my life," Lando says. "Lang Lang would listen to me practice backstage or help me out with things I was working on. Chick Corea also became a very good friend. Before I met Chick, I was very much closed off in the classical world. He opened my eyes to jazz, to improv, even to rock and roll."
When not practicing or taking online classes at Juilliard, Lando, who is still home-schooled, enjoys playing ping pong in the basement with dad and going for long walks. This month he plays the Beethoven Triple Concerto in Europe with the Zurich Chamber Orchestra, Daniel Hope (another good friend), and Lynn Harrell. Then there's chamber music with Pinchas Zukerman in Germany and performances in the U.S. in Ashburn; VA; Greensburg, PA; Fort Smith, AR; Wheeling and Birmingham, AL; and New York before heading to Kalamazoo for the Gilmore Festival in April.
"Maxim is dedicated, ambitious, dynamic, very talented, and works incredibly hard. I think he will have a long and rewarding life as a performing artist—not something I say easily of anyone!" says Van der Westhuizen. "Being a Gilmore Young Artist means he gets a lot of performance opportunities as well as the opportunity to commission a new work by a composer he finds compelling."
Meanwhile, YCA's Felkel has been booking him in recitals, concertos, and community engagement activities across North America and Europe. "I think we are going to be hearing the name Maxim Lando for a long time," she says.

WHO'S BLOGGING


RENT A PHOTO
Search Musical America's archive of photos from 1900-1992.