---
Saratoga Performing Arts Center: Someone Clicked 'Refresh'
Best known among the classical arts as summer home to the Philadelphia Orchestra, the New York City Ballet, and, more recently, the Chamber Music Society of Lincoln Center, the Saratoga Performing Arts Center (SPAC) is as rich in history as its setting is rich in natural beauty. Part of the 2,400-acre Saratoga Spa State Park ("spa" for the natural springs), SPAC is a 5,200-seat amphitheater with surprisingly good (electronically managed) acoustics, a lawn that at capacity holds some 20,000 picnickers and star-gazers, and a high-grade presenter of jazz, folk, classical, and dance. Helping pay for its fine-arts programming is a lease-agreement with rock/pop promoter Live Nation, which rents the huge venue for shows by the likes of Kiss and Peter Frampton, or a night of comedy with Steve Martin.
SPAC has had its ups and downs since Gov. Nelson A. Rockefeller broke ground for the complex in 1964. Its first performance dates to July 9, 1966: George Balanchine's A Midsummer Night's Dream by the City Ballet. The Philadelphia Orchestra has been there from the beginning, and even the New York City Opera has been on its stage from time to time. City Opera departed in the late 1990s as financial issues arose, and in 1999, the center turned over rock and pop programming to Clear Channel Entertainment, now Live Nation. Things got so bad that, in early 2004, SPAC announced it was discontinuing the City Ballet's residency after the next summer's season.
Fortunately, cooler, wiser heads prevailed. An investigation into SPAC's finances (the arts center leases the property from the Parks Department) revealed some serious mismanagement of funds; additional monies were pledged by members of the community (it's a well-heeled summer crowd), and the ballet remained, albeit for fewer performances than in the past.
President and CEO Elizabeth Sobol in the balcony of the amphitheater
By the time Elizabeth Sobol arrived as president and CEO, in Fall 2016, SPAC's finances had long been duly sorted, but at a half-century-plus-old, the Center ached for updating, both in its physical plant and its programming, not to mention record-keeping. (Among the boxes of index cards she inherited, Sobol discovered that the William Tell Overture had been programmed 11 times in 13 years, but Appalachian Spring not at all.)
Sobol's background in arts management and, just prior to her appointment, heading up Universal Classics, made her acutely aware that SPAC's programming needed contemporizing. "People talked about it as a two-headed monster: 'SPAC was Live Nation and classics,'" she says. "I really wanted to get rid of all the silo-ing of programs." She was eager to book artists who were trained in the classics but who were unafraid to explore other genres. She mentions Time for 3 and Black Violin as examples.
"I wanted to bring those kinds of artists in, but my existential challenge was [and still is] a 5,200-seat amphitheater."
She has found solutions on a number of fronts: A series titled "SPAC On Stage" turns the stage of the amphitheater into a mini night club, with the artists performing with their backs to the auditorium and the 300-or-so-member audience facing out on risers, in close proximity to the artists. "It's a party," says Sobol. "There's a bar onstage, you can move, there's dancing, video—it's been one of our hottest things."

Time for Three performs as part of the SPAC on Stage series
She has also started collaborating with Caffé [sic] Lena, an historic 100-seat folk venue in the town of Saratoga Springs that has hosted the likes of Bob Dylan, Carly Simon, and Pete Seger. A series titled "Caffe Lena at SPAC" is presented in the small Gazebo on the Art Center's grounds. This summer, the Martha Redbone Roots Project was among the featured artists.
As to SPAC's traditional stock in trade: the ballet and the orchestra, both residencies have been condensed over the years, and for sound financial reasons. Currently, the ballet presents just seven performances, of four different programs. "If you move from one to two weeks," explains Sobol of the City Ballet costs, "you double your expenses, but not your revenues. So you're cannibalizing the entire run." Fewer performances of more varied repertoire fill the house and create a better sense of occasion than a house with, say, 4,000 empty seats.
The weekend I attended, City Ballet performed the Balanchine-Danilova-Petipa Coppélia, with that oh-so-sweet score by Léo Delibes, on one program, and mixed rep on another: the Stravinsky-Balanchine classic Apollo (exquisitely executed, especially Sterlin Hyltin's turn as Tersichore) and two newer works. One, This Bitter Earth, by Christopher Wheeldon, featured a characteristically soulful performance by Sara Mearns, partnered by Tyler Angle. Mearns completely inhabited Dinah Washington's deeply poignant reading of the vocal line, "this bitter earth"; the (recorded) music was excerpted from the score for the film Shutter Island, by Max Richter and Clyde Otis.
The third work on the mixed rep evening was Justin Peck's Principia, a kind of equal-opportunity-for-a-large-mixed-gender-cast workout with a piano score by Sufjan Stevens (played by Craig Baldwin). It is a busy, technically challenging tour-de-force, no question, but its offers little in the way of artistic inspiration. It is also too long, by about 15 minutes.
Both evenings—the two hottest of the summer (July 19 and 20)—the theater appeared full.
(The City Ballet orchestra, not so incidentally, was well-miked and mixed by those at the sound board; the group is also sounding quite respectable these days under the baton of its music director, Andrew Litton.)
The Philadelphia Orchestra's season has also been shortened, to just 12 performances over a two-and-a half-week run. The core classics don't necessarily fill the house, says Sobol, but a Harry Potter film with live orchestra does.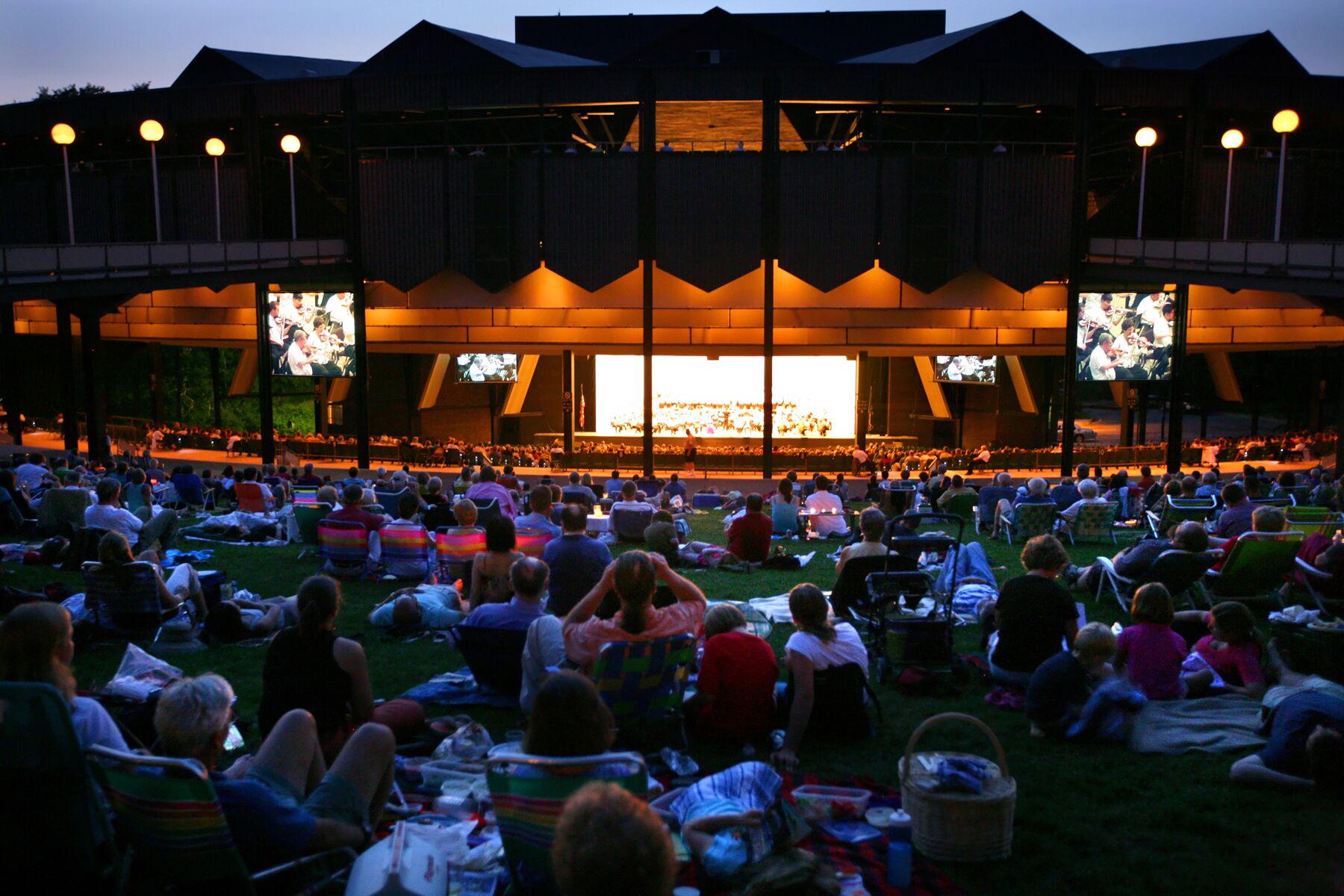 On the lawn with the Philadelphia Orchestra and Harry Potter
Sobol has major expansion plans for the future, including, someday, becoming a year-round enterprise and getting more integrated with the local community. To that end, Sobol has widened the Center's educational activities, from, she says, "reaching 5,000 kids to 38,000 kids." Plans for a "Park for the Arts," would entail major renovations to some of the abandoned buildings on the campus as well as transforming the 500-seat "Spa Little Theater," where the Chamber Music Society currently performs, from a lecture hall with no fly or wing space into a bonafide theater.
These would serve as an artistic complement to an already generous list of available amusements in the area, including, of course, the famous nearby race course, not to mention the Roosevelt Baths & Spa, the National Museum of Dance, the Hall of Springs restaurant, Olympic-size pool, and numerous other attractions the Saratoga Springs Chamber of Commerce would be happy to fill you in on.
For SPAC, the potential seems great. Says Sobol: "To me, our location in the Park is the key to what SPAC is about: the confluence of natural and manmade beauty."
The Philadelphia Orchestra continues its SPAC residency August 14-17;
Chamber Music Society of Lincoln Center is at SPAC August 18 and 20.
Photos by Lawrence White
---

WHO'S BLOGGING

Interviews with musicians who have successfully created their own opportunities.
PROFESSIONAL
GROWTH
FIND:
»MORE

NETWORK
FIND:
Updates to artist manager rosters
»MORE
RENT A PHOTO
Search Musical America's archive of photos from 1900-1992.