---
New Artist of the Month: Cellist Evan Kahn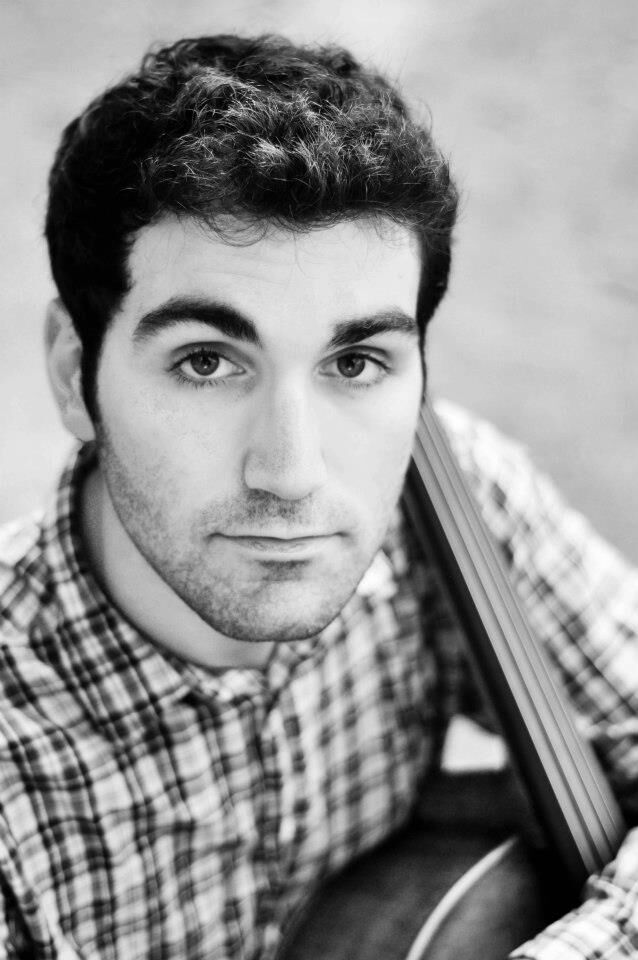 SAN FRANCISCO—Cellist Evan Kahn's career trajectory is rare for a recent music school graduate, but then so is his talent. He earned his master's degree in chamber music from the San Francisco Conservatory of Music just last May, and already the 25-year-old Los Angeles native can call himself fully employed. He's principal cellist of the Symphony Silicon Valley, acting principal with Opera San Jose, assistant principal with the San Jose Chamber Orchestra, and cellist of the Lazuli String Quartet. In his spare time, he plays in the hip hop band Ensemble Mik Nawoo.
"It's phenomenal," Kahn said in a recent interview. "I feel very lucky that I can get out of school and start earning money as a performer. I'm the kind of person that doesn't really like sitting still."
I first became aware of Kahn in a concert at the Conservatory last November, when he appeared with the Telegraph Quartet and other guest artists to play Enescu's C Major Octet for Strings. His playing was incisive and rhythmically solid throughout, his sound warm and eloquent, particularly in the lyrical third movement. It was a remarkably mature performance (he plays an instrument by Italian luthier Carlo Carletti, c. 1900).
This month, he's preparing for two South Bay appearances, one in Opera San José's revival of Jake Heggie's Moby Dick, another in works by Brahms and Dvorák with Symphony Silicon Valley. "I've never played the Brahms, and I've got that big solo in the third movement," he said. "It's a monster. I think it'll be super fun."
Kahn arrived in the Bay Area a little more than three years ago. At the Conservatory, he earned a one-year professional studies diploma. He had originally intended to transfer to another institution for an advanced degree, but decided to stay in San Francisco, continuing for two years in the Conservatory's chamber music master's program.
Today, he says the program changed his path, and his approach to music.
"I got to really hone my skills as a chamber musician, as an individual, which, for most musicians, is one of the most valuable assets you can have."
Kahn was raised with music. He attended public schools in Santa Monica, CA, where his mother taught voice. Both of his parents are musical: his father, George Kahn, is a mortgage broker with a degree in classical composition. A few years ago, the elder Kahn wrote a cello concerto for Evan, who will give its first public performance this spring with the South Bay's Livermore-Amador Symphony, a community orchestra just north of San José.
"He finished the concerto in 2015," explains Evan. "It's an amazing piece. He wrote the first movement when I was still in high school, and I played it then, with my high school orchestra for the senior gala. He said, 'I want to write this piece for you,' and a few weeks later he had the entire first movement except the cadenza. It was beautiful."
Kahn started his formal training at Carnegie Mellon University; his teachers included David Premo, associate principal cellist of the Pittsburgh Symphony. He's also studied with John Walz, principal cellist of the Los Angeles Opera.
He attended the Aspen Music Festival on a fellowship, studying with Juilliard's Darrett Adkins. While at Aspen, he mentioned that he was looking for a teacher in San Francisco, and a friend suggested cellist Jennifer Culp, former founding member of the Kronos Quartet.
Kahn is drawn to contemporary music, so she was an ideal choice. He started with her as soon as he came to the Conservatory, and says her holistic approach was essential to his progress.
"She's very conscious of how her students learn, and she talks to them based on how they listen," he said. "She's very interested in having students be aware of how they're moving. That was a big thing for me, to not overthink it, to just let your body do what it naturally does. Any instrument we play is an extension of our body, and if there's a block between our brain and our fingertips, there's a lot lost in the process. She really helped me figure out where I was holding tension, not moving in a way that helped my voice."
Other Conservatory mentors include Amos Yang, assistant principal cellist of the San Francisco Symphony. "I just recently played for him again, to help me prepare for another performance," Kahn said. "He's just so helpful for detail work. When you're out of school, finding people whose ears you can really trust is one of the most valuable things."
Kahn, who won concerto competitions at Carnegie Mellon and the San Francisco Conservatory, began signing on with Bay Area performing organizations while he was still completing his studies. He started with West Bay Opera, based in Palo Alto near Stanford University. His first production there was Salome and he is now the company's assistant principal cellist.
Kahn plans to stay in San Francisco for the time being; he has more auditions coming up. "I hope to get more solo engagements," he said. "Mostly, I want to continue to get better every day. I don't ever want to stop getting better on my instrument."
"Chamber music, in a sense, is my principal focus," he said. "Not in the sense that I want to be in a string quartet and tour the world. But it comes back to why the master's program at the Conservatory was so good for me. I enjoy working with all different kinds of personalities and players and pieces. That sort of variety is the spice of life."

WHO'S BLOGGING


RENT A PHOTO
Search Musical America's archive of photos from 1900-1992.