---
Musical America Announces 2019 Award Winners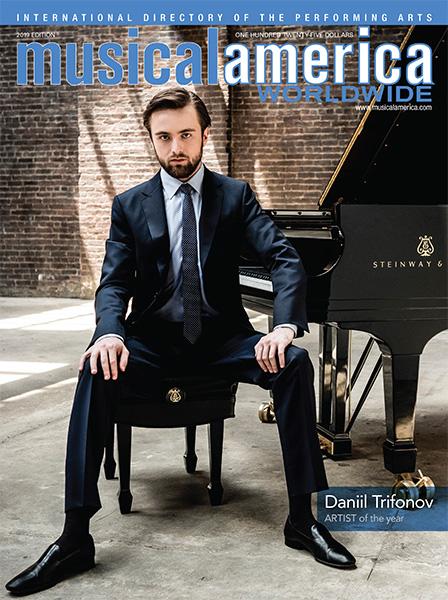 Russian pianist Daniil Trifonov has been announced as Musical America's 2019 Artist of the Year. The 27-year-old virtuoso, also a composer, leads an impressive MA "of-the-year" lineup for 2019, which also recognizes Julia Wolfe as Composer of the Year, Carlos Miguel Prieto as Conductor of the Year, Anthony Roth Costanzo as Vocalist of the Year, and the JACK Quartet as Ensemble of the Year.
The awards, which will be presented to the recipients in December at Carnegie Hall, recognize artistic excellence and achievement in the arts. Fittingly, Leonard Bernstein was the first Musical America Musician of the Year, in 1960. A full list of the top awardees since that time can be found at the end of this article.
Each of this year's artists is profiled in a tribute article in the annual Musical America International Directory of the Performing Arts, the 2019 issue of which is also out in December.
Trifonov, as Stuart Isacoff points out in his tribute, has been on a remarkable roll since winning the Arthur Rubinstein and Tchaikovsky competitions in 2011, while still a 20-year-old student at the Cleveland Institute of Music. His dazzling technique and poetic interpretations are routinely likened to pianistic titans such as Sviatoslav Richter and Martha Argerich. "What he does with his hands is technically incredible," Argerich herself has said of him. "It's also his touch—he has tenderness and also the demonic element. I've never heard anything like that." In addition to concertizing with the major international ensembles and in solo recital the world over, he maintains an active recording career and is currently recording Rachmaninoff's piano concertos with the Philadelphia Orchestra and Yannick Nézet-Séguin for DG. He's also had his own seven-concert Carnegie Hall "Perspectives" series, just last season, to which he brought a wide range of talent and repertoire.
Composer of the Year Julia Wolfe has been an important American composer long before women composers were recognized as they are today. She finally began to receive proper acknowledgement when her hour-long oratorio Anthracite Fields, received the 2015 Pulitzer Prize for Music and, the following year, she was named a MacArthur Fellow, receiving the highly prestigious $650,000 "genius" grant.
Cofounder of the pioneering new-music consortium Bang on a Can, back in 1987, and now on the faculty of New York University, Wolfe's current commissions include Fire in My Mouth, which the New York Philharmonic will premiere in January and an as-yet untitled co-commission by Carnegie Hall and the New World Symphony, which the latter will premiere in May under Michael Tilson Thomas. She is also composer-in-residence at the Dallas Symphony. William Robin has penned her tribute article.
Conductor of the Year Carlos Miguel Prieto is considered something of a celebrity is his home country, where he is music director of the Orquesta Sinfónica Nacional de México and the special-projects group Orquesta Sinfónica de Minería. He is also the artistic leader of the Orchestra of the Americas, an annual international summer ensemble of 20- to 30-year-olds, as well as the Louisiana Philharmonic, with which he has led over 100 world premieres of Mexican and American pieces.
A vibrant stage presence, Vocalist of the Year countertenor Anthony Roth Costanzo devours both classic and new repertoire with equal vigor and clarity. "With his restless intelligence, insatiable curiosity, and passion for communicating through art, Costanzo wants to do more than just insert himself into available slots," writes Heidi Waleson in her tribute. "He sees the problems faced by opera producers, recording companies, and the rest of the classical-music industry, and he wants to help remake the whole picture."
Of Ensemble of the Year the JACK Quartet, Allan Kozinn writes, "This group's fresh, energetic, and stylistically omnivorous approach to the contemporary repertoire makes it a worthy heir to the tradition of new-music quartets that goes back to the Composers Quartet in the 1960s and rivals the Kronos and Arditti Quartets of today." He calls the size and range of JACK's repertoire "truly astonishing" and, notes that, in addition to a breakneck touring and recording (34 and counting) schedule, its four members—two of them new since 2016—are also teachers, with regular residencies at the University of Iowa, the Boston University Center for New Music, and, through 2019, Duke University.
Tracing its origins to 1898, when it was a weekly newspaper, Musical America has persevered through the ages as a reliable, standard-setting resource for the performing arts. Evolving through various formats, the latest two are the International Directory of the Performing Arts, with some 14,000 listings of arts organizations and artists the world over, and MusicalAmerica.com, the subscription website launched in December 1998 that specializes in news and reviews but also carries many of the same listings as the Directory.
Musicians/Artists of the Year
1960: Leonard Bernstein
1961: Leontyne Price
1962: Igor Stravinsky
1963: Erich Leinsdorf
1964: Benjamin Britten
1965: Vladimir Horowitz
1966: Yehudi Menuhin
1967: Leopold Stokowski
1968-69: Birgit Nilsson
1970: Beverly Sills
1971: Michael Tilson Thomas
1972: Pierre Boulez
1973: George Balanchine
1974: Sarah Caldwell
1975: Eugene Ormandy
1976: Arthur Rubinstein
1977: Plácido Domingo
1978: Alicia de Larrocha
1979: Rudolf Serkin
1980: Zubin Mehta
1981: Itzhak Perlman
1982: Jessye Norman
1983: Nathan Milstein
1984: James Levine
1985: Philip Glass
1986: Isaac Stern
1987: Mstislav Rostropovich
1988: Sir Georg Solti
1989: Leonard Bernstein
1990: Herbert von Karajan
1991: Gian Carlo Menotti
1992: Robert Shaw
1993: Kurt Masur
1994: Christa Ludwig
1995: Marilyn Horne
1996: The Juilliard String Quartet
1997: James Galway
1998: Seiji Ozawa
1999: André Previn
2000: Carnegie Hall
2001: Martha Argerich
2002: Sir Simon Rattle
2003: Kronos Quartet
2004: Wynton Marsalis
2005: Karita Mattila
2006: Esa-Pekka Salonen
2007: Bernard Haitink
2008: Anna Netrebko
2009: Yo-Yo Ma
2010: Riccardo Muti
2011: Anne-Sophie Mutter
2012: David Finckel and Wu Han
2013: Gustavo Dudamel
2014: Audra McDonald
2015: Peter Sellars
2016: Yannick Nézet-Séguin
2017: Yuja Wang
2018: Andris Nelsons

WHO'S BLOGGING


RENT A PHOTO
Search Musical America's archive of photos from 1900-1992.