---
New Artist of the Month: Director Louisa Proske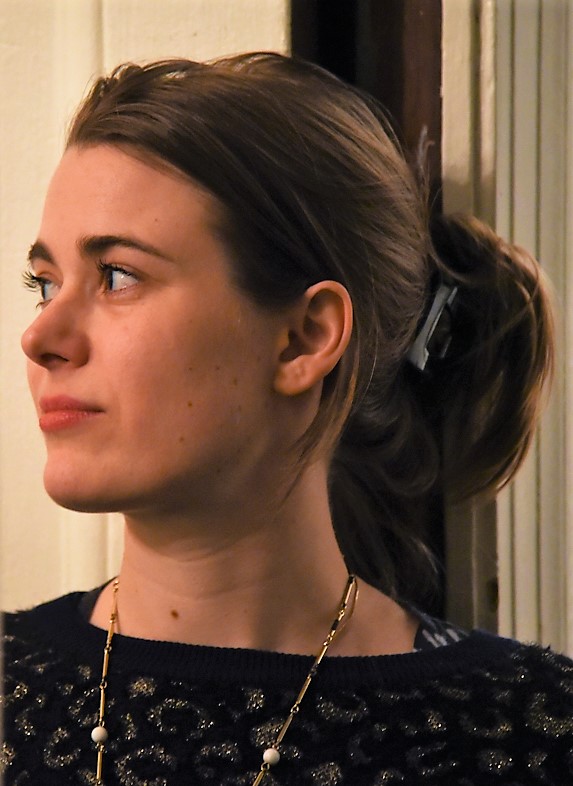 Only a week is left before tech rehearsals start for Heartbeat Opera's fourth annual spring festival, but company co-artistic director Louisa Proske remains intently focused on our conversation. One moment she's describing her passion for Mozart and Shakespeare with genuine eloquence, the next painting a vivid picture of being born in the former West Berlin and growing up just after the Wall came down, as a choir child at the Komische Oper (in the former East Berlin).
"My theatrical DNA was formed in that house as a seven- and eight-year-old watching these amazingly complex productions of Bohème or Rimsky-Korsakov. I knew that that was the only thing I wanted to do in life," Proske recalls. "But I come to opera in a circuitous way." Her family members were "music enthusiasts but not musicians. But we had a lot of operas that I was constantly listening to as a child."
Though she initially intended to become a singer, in her teens Proske drifted away from performing and became interested in opera directing. Willy Decker was one of her most influential mentors, but entrée into the profession via Germany's traditional apprenticeship system was "quite a bit harder for young women then."
Spoken theater offered a more accessible path, so Proske studied Shakespeare in Cambridge and was later accepted into the Yale School of Drama. An opera practicum there turned out to be a pivotal experience. "For me that was immediately an awakening. I realized that I wanted to do opera this whole time. We live in a society where we don't have many institutions left where we get to experience human feelings on a large scale."
Proske, now 34 and based in Manhattan, joined forces with a colleague she met at the time, Ethan Heard, to co-found Heartbeat Opera, whose artistic directorship they share. Their guiding idea for the company was "to pursue a very specific vision of opera that is intimate and more actor-driven—a vision informed by our training as theater directors and inclusive in all kinds of ways."
Heartbeat, which is currently in residence at the Baruch Performing Arts Center, has garnered substantial praise for its radical re-framings of classic repertoire. In The Threepenny Review, Wendy Lesser wrote that what prompted her to "seek out a small-scale production of Carmen … in the tiniest and deepest of Baruch College's basement auditoriums" was the fact that "it was directed by Louisa Proske." Among the "little opera companies" that have popped up in New York, according to Lesser, Heartbeat and Proske's work stand out "because her productions are full-fledged dramas, affecting their audiences as complicated, well-thought-through, emotion-packed narratives as well as occasions for expressive song."
The final scene of Heartbeat Opera's production of Carmen, directed by Proske
Proske emphasizes that the intimacy and smaller ensembles that have become Heartbeat signatures are not about "boiled-down opera. We still aim to reach for the enormity of human experience that we feel is contained in opera. The recurring question from the start has been: What can we do that the Met can't do? That doesn't mean reducing, but completely reimagining the score."
For this May's festival, for example (running May 2-13), Proske is directing Don Giovanni in a new arrangement by frequent collaborator Daniel Schlosberg. "We were drawn to Mozart's fascination with the clarinet at that point in his career, so our instrumentation is modeled on the Clarinet Quintet, with added bass and harpsichord."
It's a telling example of Proske's serious commitment to the score. Her directorial inspirations are always grounded in this deep-rooted knowledge of the music. "The clarinet is a kind of star performer in our production. We see parallels between the character and the instrument. Like Don Giovanni, the clarinet can blend in and disappear or it can stand out."
In Heartbeat's production of Lucia di Lammermoor in its second season, "the meaning of the instrumentation became embodied onstage. We showed Lucia as she starts to hear the music filtered through her imagination. That was the moment we realized we can stage opera by tying together a special instrumentation and the director's concept so that people hear and see these scores in new ways. These new arrangements are tied to radical directing concepts—not radical deconstruction but taking the essence and exploding it outward."
Proske is intrigued by the current sense of unease that Don Giovanni triggers. She refuses to settle for clear-cut, ideologically driven judgments. "Mozart has written an opera very much about sexual desire. On the one hand, Don Giovanni is the great liberator and has this genius of unearthing desire. In some ways he is a feminist who wants all women to be liberated. But the world he claims for himself is a world without consequences. That world does not hold true for the women, because they have to deal with the backlash of society."
While Proske has become closely identified with Heartbeat, her career as a freelance director is expanding to further horizons. Her first full production of a Mozart opera, for example, happened while "moonlighting" for LoftOpera's Così fan tutte in a Brooklyn warehouse.
My own first encounter with Proske's extraordinary talent was when she directed Handel's early opera Agrippina at Juilliard in 2017. She displayed a sense of purpose that made it immediately clear Proske thought of her role as involving a true synthesis of music and drama. From the score she sought hints to flesh out her understanding of the characters, and she found explanations in their behavior for Handel's musical choices.
In July Proske will make her regional opera debut with La bohème at Pittsburgh Festival Opera. For all her commitment to working on the intimate scale with Heartbeat, she is eager to have an opportunity to direct at larger venues. "It's exciting to work with singers who are so specific and detailed in their acting, but I do hope to move on to larger scale and bigger canvas."
And Shakespeare and the spoken theater remain enduring passions as well. Last fall she directed Patrick Hamilton's freshly relevant play Gaslight for Barrington Stage Company in the Berkshires. Proske's Off-Broadway debut is on her calendar for next spring with a production of John Webster's revenge tragedy The White Devil at Red Bull Theater. "It has me thinking a lot now about surveillance and voyeurism and a society that lives through images, about misogyny and the representation of women," Proske says. "I really like cooking on a slow fire and taking time with something that is complex and doesn't have easy answers."
See also Heartbeat Opera's Practical Use of Prison Outreach.

WHO'S BLOGGING


RENT A PHOTO
Search Musical America's archive of photos from 1900-1992.