---
ROH's First-ever Dead Is Suitably Devastating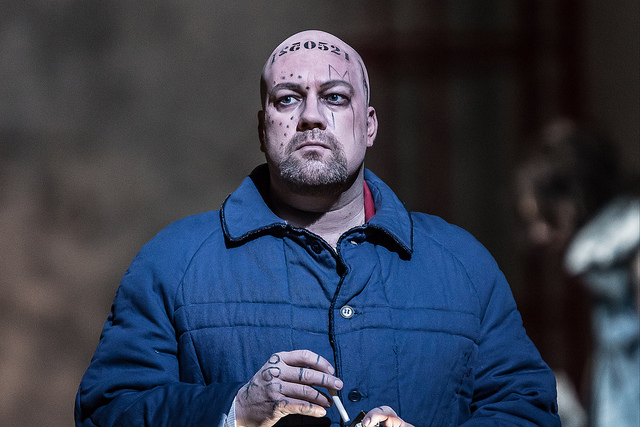 LONDON—The setting is a modern prison exercise yard, but before we see it there's the matter of an overture. Insofar as I could tell, Mark Wigglesworth conducted it thrillingly. It's not possible to be more definite than that because the director of From the House of the Dead, the Royal Opera's first-ever staging of Janácek's final opera (seen at its opening performance on March 7), has overlaid the music with archive footage of the late Michel Foucault addressing the question "What function does a judge fulfill in society?". There follows a video outburst of social philosophy, as wide as the stage, that only serves to smother the music. Yes, the voice is silent, but the subtitles distract alarmingly.
It's the kind of interpolation that seems to go down well in France where Krzysztof Warlikowski (the director in question and a U.K. debutant) is a regular visitor, but it annoyed a restless London audience for whom music is king. Happily, once the video was over and a lone basketball player had dropped a few practice shots upstage, there were few other impediments to the appreciation of some dazzling musicianship both onstage and in the pit.
Wigglesworth's credentials as a Janácek conductor were cemented during his brief tenure as music director at English National Opera with a searing 2016 account of Jenufa. Here, just as relentlessly, he carved his way through the composer's uncompromising late score with authoritative command. Musical sparks flew as the ROH Orchestra responded to his urgent interpretation. Even the reflective passages throbbed with pent-up energy, just as the prisoners in the opera struggled to channel their own. Wigglesworth's achievement (he used John Tyrrell's new revision of a score that the composer left in an incomplete state when he died) was to make his forces sound lean and decongested for lengthy periods, despite a weighty instrumental contingent that spilled over into side boxes. Then when Janácek unleashes Sinfonietta-like explosions of power he had reserves aplenty to fatten the sound.
A large cast of remarkable range and accomplishment, all male apart from Allison Cook's Prostitute (an uncomfortable role that the Polish director struggles to integrate in any useful way; she is, sadly, just a cowgirl in hot pants), inhabited designer Malgorzata Szczesniak's dehumanizing penitentiary, a geometric square overlooked by a surveillance gallery and lit by harsh neon. The visual monotony was broken by a dominant mobile element that initially represents the reinforced glass office of the Prison Governor (Alexander Vassiliev) but later shifted on its axis to become a stage for the prisoners' chaotic "play."
Within this harsh world the inmates, modern-day equivalents of source author Dostoyevsky's gathering of damaged souls, fight and share stories. They are, inherently, small boys whose emotional wiring has gone wrong; they are no more able to control their overgrown bodies than walk on eggs without breaking them. If there is a leading character it is Šiškov, a broken cuckold whose climactic monologue is an impotent howl of rage. Danish baritone Johan Reuter, his face wrecked by tattoos, performed this dark portrait with formidable intensity and a voice of strange, dangerous beauty.
Reuter was one of many fine singers who populated the opera's enclosed world. Willard White lent his generous bass tones, still striking after all these years, to the relatively fortunate figure of Gorjancikov, and Pascal Charbonneau was notably affecting as the illiterate young Aljeja. Czech tenor Ladislav Elgr gave a scorching portrayal of Skuratov, a man on the verge of insanity; but it was Nicky Spence who dominated the opera's first section. He played the impulsive Nikita as a volatile ball of nerves, close in mood to Lenny in Of Mice and Men, who compounds his guilt but is tortured with remorse. The young Scot's voice has grown lately into a wondrous thing and he is en route to becoming a world-class dramatic tenor.
Warlikowski's achievement is to link Janácek's opera to our current crisis in masculinity. Men whose testosterone is out of control lock antlers at the drop of a hat. They strive to maintain their dignity while under lock and key, but the odds are against them because in the past they have all transgressed and violence is in their blood. Sport may be an outlet for their aggression but so is killing.
If only the staging were not so fragmented. Masks and symbolic costuming appear within the literal world, and movement director Claude Bardouil tacks on some energetic body-popping to represent frustration, but it is poorly integrated. Yet, despite its shortcomings, the urgency of Warlikowski's concept was mesmerizing and the opera's 95-minute running time held Covent Garden in a visceral grip. This production of From the House of the Dead transfers to La Monnaie in Brussels later this year. It may annoy audiences, it certainly frustrates in places, but it is conceived with an integrity that makes it well worth seeking out. When the going gets tough a flicker of light always pierces through.
Pictured: Johan Reuter as Šiškov
---

WHO'S BLOGGING

WHO ELSE IS BLOGGING
Interviews with musicians who have successfully created their own opportunities.
PROFESSIONAL
GROWTH
FIND:
»MORE
NETWORK
FIND:
Updates to artist manager rosters
»MORE
RENT A PHOTO
Search Musical America's archive of photos from 1900-1992.