---
Was DC 'Concert for Unity' Russian Propaganda?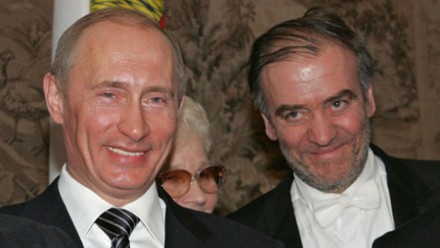 In a strongly worded article in Newsweek, Diane Francis, a Senior Fellow at the Atlantic Council's Dinu Patriciu Eurasia Center and editor at large with Canada's National Post, has savaged a November 13 "Concert for Unity" at Washington's National Cathedral as "an affront to American values."
The program of music by both Russian and American composers featured Russian maestro Valery Gergiev leading the Mariinsky Orchestra, with pianist Denis Matsuev as the soloist. Both men have openly supported President Vladimir Putin's use of military force in Ukraine, signing a letter that said, in part, "We firmly declare our support of the position of the president of the Russian Federation in regard to Ukraine and Crimea." Gergiev has also spoken out in favor of Putin's anti-gay stance.
In excoriating the concert and its supporters, Francis reports, "Putin's 'position' has so far killed 10,000, displaced 1.6 million Ukrainians, destroyed Ukraine's industrial base, killed 298 passengers aboard Malaysian Airlines Flight 17 . . ., injured hundreds of thousands more, and currently is murdering an average of sixty-five Ukrainian soldiers per month. This performance," she continues, "is not about art, but propaganda."
Gergiev himself has thumbed his nose at critics such as Francis, claiming he is "allergic" to the western press, which he accuses of manufacturing false narratives critical of his homeland. In light of his dismissive attitude, Francis asks, "Why would American sponsors aid and abet this performance?" Sponsors include David Rubenstein, chairman of the Kennedy Center and founder of the Carlyle Group and the Wilson Center's Kennan Institute, the latter of which is supported in part by federal funds. Kennedy Center and Washington Performing Arts both "supported" the event, but emphasize that they did not do so with funding.
"We have offered statements of support for the concert's stated goal of cultural unity through artistry. This is where our institutions' involvement in the 'Concert for Unity' begins and ends," the two said in a statememt issued after the November 13 concert.
The chair of the Washington Cathedral event, Susan Carmel Lehrman, is an international philanthropist and founder of The Carmel Institute of Russian Culture and History who in late 2016 received the Russian state award, the Order of Friendship, from President Putin. Lehrman told TASS, the Russian news agency: "In challenging times it is increasingly important to maintain cultural dialogue. Without dialogue there is no hope, and without hope there is no future, because only person-to-person dialogue can resolve issues so prevalent in this environment."
These laudable sentiments pale when placed beside the November 2016 decision by the International Criminal Court to recognize Putin's policies in Ukraine and Crimea as war crimes.
Why Are US Taxpayers Funding a Russian Propaganda Concert in DC?
Mariinsky Orchestra to give Concert for Unity at Washington National Cathedral
---

WHO'S BLOGGING

WHO ELSE IS BLOGGING
Interviews with musicians who have successfully created their own opportunities.
PROFESSIONAL
GROWTH
FIND:
»MORE

NETWORK
FIND:
Updates to artist manager rosters
»MORE
RENT A PHOTO
Search Musical America's archive of photos from 1900-1992.