---
MA 30 The Influencers: Jerald Miller

Managing Director
Nu Jazz Agency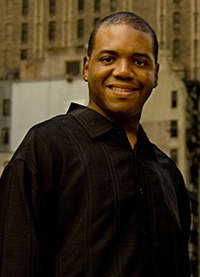 "Classical, jazz, and world music are perennially behind the times in everything," argues Jerald Miller, founder and managing director of Nu Jazz, a digital and traditional music marketing and distribution company for independent artists and labels. From progressive new artists like Jimmy Greene to legendary icons like Duke Ellington, Nu Jazz discovers new music and refashions classics, connecting the best of both to today's consumers using contemporary recording and distribution tools. Since its inaugural release in 2004, Nu Jazz has become the recording industry's leading digital jazz label with an impressive list of firsts, such as launching the first jazz iTunes "LP" and making all recordings available on pre-paid digital download cards.
Miller says he's helped many organizations transfer catalog material to the digital medium. But it's not been easy to move clients out of their comfort zones and into more contemporary business strategies. One example, Miller said, is that most people who want to bring their music before the public don't have Tumblr or Snapchat accounts. Nor do they make their social media posts in any language other than English.
Miller is also trying to help his clients make better use of music streaming services. He is especially excited about the global possibilities of marketing music and encourages his customers to see that "we really are a global market place." There's no reason, he argues, why a small chamber orchestra in Nevada shouldn't connect with fans in Russia, or a homegrown jazz group in Oregon can't sell albums in Turkey.

WHO'S BLOGGING


RENT A PHOTO
Search Musical America's archive of photos from 1900-1992.