---
MA 30 The Influencers: Afa Sadykhly Dworkin

President and Artistic Director
Sphinx Organization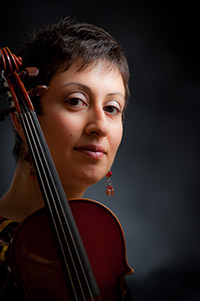 In March, Afa Sadykhly Dworkin began the sometimes daunting task of taking over as the head of an organization from its founder. As president and artistic director of the Sphinx Organization, which champions diversity in classical music, she succeeded her husband, Aaron Dworkin, who is now dean of the University of Michigan's School of Music, Theater, and Dance.
The Detroit-based Sphinx addresses the scant representation of black and Latino musicians in American symphony orchestras, which is only about four percent today, up from less than half that when Aaron Dworkin founded the organization in 1996.
A violinist trained in Azerbaijan, Afa Dworkin previously had been executive and artistic director of Sphinx, overseeing all fundraising and programmatic aspects of the operation. When the change was announced, Aaron Dworkin pointed out that his wife (they have two sons) was the organization's first employee before they had a personal relationship, and that she was the architect of many of its programs. Away from Sphinx, she once served as a tri-lingual interpreter and executive assistant to the president of ARCO, the gas and oil company in Baku, Azerbaijan.
The Sphinx Competition, open to all junior high, high school, and college-age black and Latino string players in the United States, is the organization's flagship event. (The 19th annual competition will be held Feb. 3-7 in Detroit.) Alumni winners of the event make up the elite Sphinx Virtuosi chamber orchestra, which received a glowing New York Times review for its Carnegie Hall performance in October, on its annual tour.
The group also does outreach, and its presence in schools in underserved urban areas where classical music is unfamiliar can be galvanizing. "They are always greeted as rock stars," Afa Dworkin says of the Virtuosi. "You'd think it was Jay Z coming in. There is this sense of coolness when the music actually happens."

WHO'S BLOGGING


RENT A PHOTO
Search Musical America's archive of photos from 1900-1992.