---
[Off The Beaten Path]
Festival Mozaic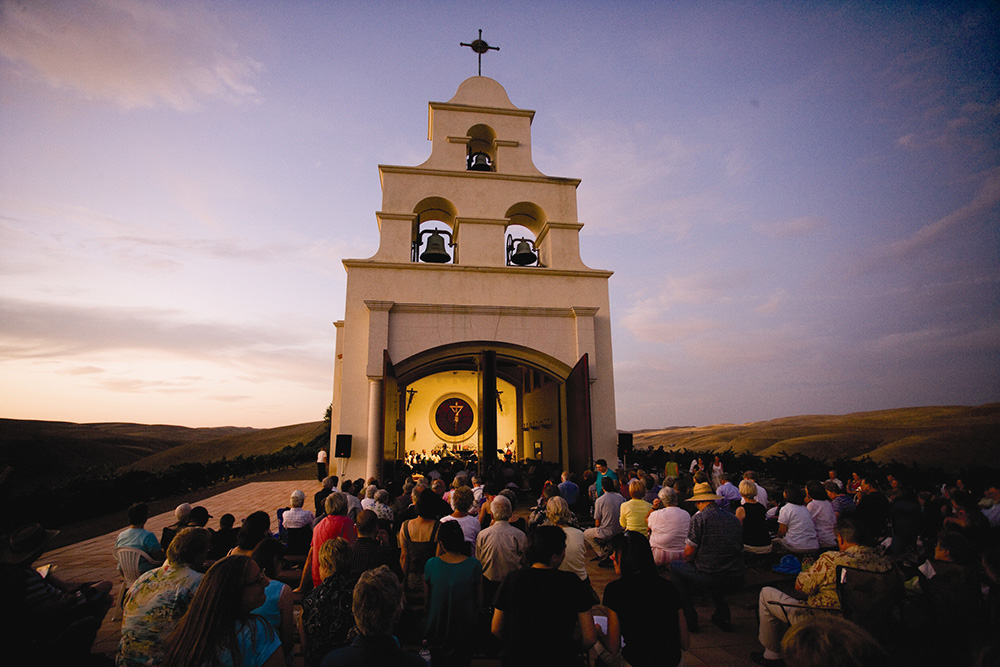 San Luis Obispo, CALIFORNIA
July 16-26, 2015
California Central Coast's Festival Mozaic was originally known as the San Luis Obispo Mozart Festival; the new name reflects its expanded mosaic of music.
Launched in 1971, the festival experienced a brief moment in the headlines in 1981 when Maxim Shostakovich and his son Dmitri, Jr., made their first formal concert appearances there after defecting from the Soviet Union three months prior––accompanied by a cellist friend named Mstislav Rostropovich. But generally, the festival has kept a fairly low profile.
Nonetheless, it sports a very high caliber of music-making from a mix of local musicians, young graduates, and seasoned pros from major orchestras such as the Los Angeles Philharmonic, San Francisco Symphony, and the Cleveland Orchestra. Conductor Scott Yoo, who also plays violin in the chamber ensembles, has been the music director since 2005, and his programs can stray outside the usual repertoire into intriguing esoterica. The festival has a $560,000 annual budget—55 percent of it earned income and 45% donated–with some support from the city and county of San Luis Obispo.
For its 45th-anniversary season, July 16-26, Festival Mozaic will be building around the theme of J.S. Bach and his influence upon Western music, culminating in two performances of the B minor Mass, which Yoo conducts from memory (July 24-25). There will be 22 events in all–including baroque and all-Mozart orchestra concerts, chamber concerts, open rehearsals, and a "fringe" series where humor, pop, folk, jazz, and the avant-garde lurk.
Most enticingly, Festival Mozaic takes place in concert halls, historic missions, homes, and other locales throughout San Luis Obispo County near the Pacific coast-–a good place to be when it's sizzling elsewhere. The festival has also been latching onto the region's newly burgeoning reputation as a wine connoisseur's destination; several local wineries offer a 20 percent discount for ticket holders. It may not have a low profile for long. —Richard S. Ginell

WHO'S BLOGGING


RENT A PHOTO
Search Musical America's archive of photos from 1900-1992.