---
A Fearless Violinist Who Enjoys Jolting Audiences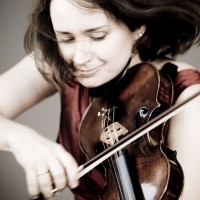 BERLIN -- The first time I saw violinist Patricia Kopatchinskaja perform, it was at Volkswagen's Gläsener Manufaktur in Dresden. She was standing beneath a row of half-built sedans with their engines exposed, playing a program of gypsy-inspired music ranging from Ravel to Bartók. With her mother on violin and her father on cimbalom, she offered a welcome distraction in the sterile setting, even as they tapped their feet to variations on the Balkan dance melody Hora Staccato.
Kopatchinskaja brings the same unselfconscious virtuosity and bittersweet quality to more contemporary music. When she came to Berlin last spring to perform Peter Eötvös' violin concerto Seven with the Deutsches-Symphonie Orchester, she played an encore of selections from Kurtág's Kafka Fragments, in which she seemed to lock eyes with everyone at the Philharmonie as she recited poetry over swirling violin motives.
If she managed to jolt some people, it wasn't a coincidence. "The audience has become a bit deaf," she said last September at a café on Berlin's Gendarmenmarkt. "That's why one has to even provoke them sometimes, so that they can really listen again.
"Music should move you and force you to think. And think again, and ask—what does that really mean? But many people listen to what they've been told is good and have lost the ability to judge themselves."
The 36-year-old violinist, sometimes described as an "enfant terrible," is one of today's most exciting performers—particularly in the Eastern European repertoire that she holds so dear. Late last month, she made her second American orchestra appearance, performing Bartók's Second Violin Concerto with the Boston Philharmonic. When we met, her Naïve Classique album of Bartók, Ligeti, and Eötvös—with Eötvös conducting the Frankfurt Radio Symphony—had just been named the Gramophone Recording of the Year.
Kopatchinskaja did not make any recordings until age 30, blaming the recording industry for an illusion of perfection in the minds of today's audiences. But she says the award was a nice surprise. "The Ligeti and Eötvös Concertos should be part of every violinist's repertoire. I am happy that they will reach so many people because of this."
Evoking the poetry and immediacy she brings to these pieces, Kopatchinskaja compares the album to a spaceship where Eötvös was the pilot; she the co-pilot; Bartók "a passenger with his folk music and earthly roots"; and Ligeti the engineer. "He makes sure that the ship flies," she says with childlike enthusiasm. "And we are in the Hungarian cosmos."
Born in Moldova and raised in Vienna from the age of 13, Kopatchinskaja grew up to the sounds of her parents' folk music, only to first appreciate its qualities later on. "When I played the Enescu Sonata for first time, it opened my eyes," she recalls. "I eventually understood that it's the lost homeland."
She points out that everyone from Haydn to Ives would have been creatively limited without the folk tradition: "We have forgotten where classical music comes from. It should be approached with much more respect."
One of her upcoming commissions, by Spanish composer Maurizio Sotello, will be for strings and a Flamenco dancer named La Monetta. "When I played with her for the first time, I understood what rhythm is," she says. "If I played un-rhythmically, she almost fell over because the balance wasn't right."
What many critics have interpreted as a radical approach to performance is in fact grounded in almost primitive values. A section of Kopatchinskaja's website entitled My Kitchen  compares the spontaneity of music-making to cooking. "I bring some ingredients with me, others I find on stage and then I try reinvent my cake for those present," she writes. "Sometimes it turns out better than imagined."
She also includes a Trash Bin for her responses to negative criticism. "I can strongly recommend the multitude of well-raised, well-coiffed girls who take the stage with a seductive air and play the violin perfectly, without any deliberation, reflection or surprises," she writes to a reviewer who mentioned her unglamorous appearance on Concerto.net.
Kopatchinskaja's education began at a specialized music school in Chi?inau, the Moldovan capital. When the fall of the iron curtain caused public support for the arts to dwindle, her family looked west for better prospects. "The entire east block was broken into pieces," she says. "If we had stayed in Moldavia, I might not have become musician."
She continued her studies at conservatories in Vienna and then Bern, where she became a student of Slovenian violinist Igor Ozim. She recalls that, although the education she received up till then by Russian professors was essential, Ozim allowed her to shed a certain dependence. "He taught me how to attain something in a friendly but distanced way, with clear steps about how to work. Later on, when there were new problems to solve, I felt strong enough to do it on my own."
She continues to reside in the Swiss capital with her husband and eight-year-old daughter, whom she admits she doesn't get to see often enough. In addition to her packed performance schedule, she recently formed the Quartet-Lab ensemble with cellist Peter Wispelwey, violinist Pekka Kuusisto, and violist Lilli Maijala. She also composes, which she says allows her to drain the pent-up musical energy from outside commissions; she is currently working on a violin concerto.
For Kopatchinskaja, contemporary music demands a level of personal engagement from both the performer and audience that is antithetical to today's norms of haste and depersonalized communication. "One can't just lean back. It demands achievement and participation." But virtuosity alone will not suffice to hook younger listeners. "Ability is admirable but eventually boring. What excites people is fantasy. If we communicate something that speaks, then they will listen."

WHO'S BLOGGING


RENT A PHOTO
Search Musical America's archive of photos from 1900-1992.