---
Winners Tell Their Stories:
Nadja Salerno-Sonnenberg

Nadja Salerno-Sonnenberg, Violinist
Winner 1983 Walter W. Naumburg International Violin Competition, New York, NY (Photo: Christian Steiner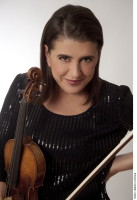 Why did you enter the Competition?
It was a time for me to decide what I wanted to do with my life. For about seven months prior to entering that Competition I would go into my lessons with Dorothy DeLay without my violin. I was quite lost and Dorothy helped me through that period. I was 20 years old, asking myself, "Do you want to be a violinist and what kind of violinist do you want to be or can you be?" It was a last-ditch effort to decide my future. If I got to the finals I figured it would confirm that I should stay in the business.
How did you prepare?
I hadn't played the violin in months. I looked at the list of repertoire, most of which I didn't know, and I only had three months to prepare. I went into a mode of focus I've never duplicated since. I was like a hermit. I practiced ten to 12 hours a day. I wore the same clothes every day, I didn't do laundry. All I ate was fried sausage, every day. This was a journey for my salvation.
What was the atmosphere like at the Competition? Did just being there help your career?
When the Competition started, I came out of my cocoon and realized there were other people involved. I think the atmosphere was competitive and collegial. There were three rounds. I made it to the finals. I was so relieved, because that had been my goal, and I achieved it. My journey was done. I got out of my gown and went to lunch and had a beer. But then I thought, "What if there are
recalls?" And I flipped out. But back at Carnegie Hall, the contestants and audience were told that for the first time there would not be a Second or Third Prize. At that point I was just hoping maybe I'd get "Miss Congeniality" or something, and when my name was called as the First Prize winner I was shocked, absolutely shocked. Then very quickly the world was in living color again, and I was overwhelmed with this sudden desire to go farther with my career. Even if I hadn't won, I think I would have stuck with the instrument.
How did winning impact your career?
I was fortunate because the prize winnings were not overwhelming and I was not thrown into the frenzy of the solo world. I was given one recording and about five good concerts, so I was able to go back to school and also play those concerts. It allowed me to grow and adjust to pressure. My management was wise, and my fee went up incrementally each season, but not a lot, and I was constantly working. I'm proud of the longevity of my career. As they say, you have to keep reinventing yourself.
What are your thoughts today about competitions?
What's good about a competition is it's like boot camp. The training is tough. In other ways it's horrible to be judged when you have only a teeny amount of time to play, to prove who you
are musically, to assert yourself as an individual. But the training and the prep are phenomenal. In that sense competitions are fantastic because if you can do that, you can do anything.
---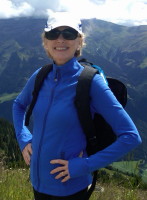 Eugenia Zukerman, flutist, is also a writer, arts administrator, TV journalist, educator, and Internet entrepreneur ( ClassicalGenie.com). In demand worldwide as a soloist with orchestras, as a recitalist, and as a chamber-music player, she has recorded more than 20 CDs. As a writer, she has published two novels and two non-fiction books, and from 1998 to 2010 she was the artistic director of the Vail Valley Music Festival in Vail, Colorado. In the summer of 2011 she performed at the Verbier Festival in Switzerland, where she also created Eugenia Zukerman's Verbier Vlog for MusicalAmerica.com.
Additional Winner Stories
Joshua Weilerstein, violinist/conductor

WHO'S BLOGGING


RENT A PHOTO
Search Musical America's archive of photos from 1900-1992.