---
Choosing the Best Competition for YOU

Exhilarating. Stressful. Rewarding.
Nerve-wracking.
These are just a few of the descriptions frequently used by artists, judges, and managers to characterize competitions. But regardless of how you feel about them, entering competitions can be greatly beneficial to your career and your growth as a performing artist—as long as you choose the ones that are right for you.
Why Enter Competitions?
Your reasons for deciding to compete might be personal and different from those of other artists. It's critical to understand your motivations and potential rewards before traveling this exciting and
demanding road. Though generally only one top prize is awarded in any competition, there are many advantages to participating.
Here are some:
Raise your performance level and increase your self-confidence
Expand your repertoire
Gain experience as a performer in pressurized environments
Win cash prizes and career development awards
Gain media exposure, possibly including live streaming or delayed broadcasts of your performance. These may significantly enhance your name recognition and lead to increased career opportunities, including management
Network with and receive feedback from a wider circle of listeners, including invited guests, journalists, the jury, and audience members
Where to Find Information about Competitions
The world of music competitions is much wider than you may realize. Your best resource for information will be your teacher, who will undoubtedly possess extensive knowledge and may even have firsthand experience serving on juries. There are also comprehensive sources such as The World Federation of International Music Competitions, which provides the most detailed information for all member competitions. Listings can also be found at www.musicalchairs.info, which includes competitions that are not members of the Federation. The Alink Argerich Foundation primarily addresses piano competitions. In addition to offering much of the above information, it lists the results of recent competitions, as well as interim results for those already in progress. Another well-known source is MusicalAmerica.com, which lists the details for over 400 U.S. and international competitions.
How to Evaluate Competitions and Make Choices
Before jumping in, assess your goals. Then look at all aspects of how the prospective competition is organized and what it offers you. Fortunately, there are enough of them to fit whatever stage of development you may be in. Here are some things to think about as you evaluate:
Dates and location
Eligibility: In addition to age limits, some competitions, such asthe Honens, exclude performers who already have commercial management in a major territory
Amount of required repertoire and flexibility within it; make sure you can be heard to your best advantage
Nature and number of prizes; concert opportunities are particularly attractive
Expenses: Some competitions will pay for travel and lodging Composition of the jury, which ideally will consist of recognized performers, pedagogues, and industry professionals from a variety of geographical locations. (The jury is usually, but not always, announced in advance.)
The judging system, if you can find out. Some of the most respected competitions preclude jury members from discussing any of the performances until their votes are in The competition's intention and capacity to broadly publicize the outcome
Previous winners and their backgrounds; this can provide a clue as to the level of the competition
There are times when you might choose a competition that only meets a few of these criteria, but it might be perfect for you. I'll give you an example. Have you ever heard of the Meg Quigley Vivaldi Competition? Probably not, unless you are a bassoonist. I learned of it from Alex Zdanis, a student in my career development class at the Colburn Conservatory of Music, a few years ago. The Competition is open to female bassoonists in the Americas. Its website states: "By providing an experience for women to develop and hone their talent at a younger age, the Competition hopes to build confidence and create a vehicle towards professional performance careers."
I was fascinated by this mission statement, because it seems to emphasize building over winning. I was also very pleased to see the "Audience Engagement Component" of the Competition, which requires all finalists to speak to the audience about the works they are performing. Alex entered the first time because many of her friends were entering competitions and she was curious to see what it was like. She made it to the semi-final round. She entered again two years later because she wanted to learn more about herself and reflect on her growth in the interim. She won Third Prize!
The First Competition Experience
Before you start fantasizing about having a few gold medals on your résumé, start small. Very small. Find out how your nerves hold up under pressure. Check into local and/or community orchestra competitions that only require a limited amount of repertoire. For a violinist, the next step up might be The Irving M. Klein International String Competition. Violinist Francesca dePasquale made her first foray into the world of competitions with this one, at age 20. She felt that the repertoire was just right for her and liked the idea of learning a commissioned work on which she could put her
own personal stamp.
Another plus was that the grand prize included a variety of opportunities, including solo dates with orchestra, recitals, chamber music, and community engagement events. She went on to win it, and now feels the competition's nurturing environment greatly contributed to her success. Encouraged by that experience, she recently entered the Queen Elisabeth Competition and was accepted as a quarterfinalist.
The Calidore String Quartet met while students at the Colburn School and decided to enter the Fischoff Competition, even though they had only played together for one year. They walked away with the 2011 Grand Prize and Gold Medal (together worth $10,500), a Midwestern tour of the U.S., and appearances at the 2012 Emilia Romagna Festival in Italy. This gave them the confidence to proceed down the path of becoming a professional ensemble. Now they continue to enter competitions, to strengthen themselves as artists, and gain additional exposure. (The group recently won the Gold Medal in the 2012 Chesapeake Chamber Music Competition.)
Higher Stakes Competitions
The generous cash prizes, concert engagements, and international media exposure offered by the Van Cliburn, Queen Elisabeth, and Tchaikovsky Competitions lend them undeniable prestige. However, they are not for everyone. The Queen Elisabeth Competition clearly states that it is for "musicians who have completed their training and who are ready to embark upon an international career." This is designed to ensure that participants have time to properly prepare the extensive repertoire, fulfill the pre-arranged concert commitments, and withstand the media spotlight, while having hopefully begun to develop an artistic voice of their own.
Just as runners probably would not choose to make the New York marathon their first long-distance experience, you might want to take a look at other high-level competitions that offer an impressive array of prizes and performances but that are not accompanied by the same level of media hype, thereby helping you learn from the experience and possibly prepare for that top tier.
[One caveat, speaking of marathons: While there are many people who enter them just to see how far they can get, this may not be advisable in a music competition. One participant in a wellknown music competition had to disqualify himself from the Final round because he never expected to get that far and hadn't learned the required concerto in its entirety.]
Here are two slightly less famous high-level competitions:
Joseph Joachim I nternational Violin Competition (Hannover, Germany; October 2012)
First Prize of 50,000 euros
A Guadagnini violin on loan for three years
A CD recording with Naxos
A small number of concert engagements for the First Prize winner
All rounds streamed on the Internet
Finalists to play with the Munich Chamber Orchestra. Gala concert with the NDR Radio Philharmonic
Queen Sonja International Music Competition (For Voice; Norway, August 2013)
First Prize of 20,000 euros
Highly distinguished international jury
Concert engagements for the top three winners with leading Norwegian orchestras
If you are a clarinetist, you probably already have your eye on the 2013 Carl Nielsen International Clarinet Competition, whose top prizewinner is given worldwide representation for two years with
Nordic Artists Management. If you are a conductor ready to compete in the international arena, you will want to look at the 2013 International Gustav Mahler Conducting Competition in Bamberg, Germany, whose very first winner was Gustavo Dudamel!
When Prizes Include Career Enrichment
Most competition winners still need considerable guidance and help with the practical aspects of their careers. The Van Cliburn Competition has been offering this to its top winners for many
years, but it is the Canadians who have found particularly creative ways to build meaningful career training into the competition experience. Each of the following has added a career development package that is custom-designed for the top winner. The package includes concert opportunities which may be strategically arranged to include markets where the winner might need exposure.
The Honens Competition also provides its top winner with access to professional mentors such as Emanuel Ax, Stephen Hough, and Angela Hewitt. The Banff Competition invites the winning quartet to make a recording with the expert team in the Banff Centre's Music and Sound program. The Montreal Competition's package has included a photo or video shoot, website development, media training, and a fashion consult. Hopefully, more competitions will follow these fine examples and make such opportunities available to more than the top prizewinner.
Competitions in a Class All Their Own
No article on competitions would be complete without mention of three organizations dedicated to developing the careers of young artists and preparing them for commercial management: Young Concert Artists, Concert Artists Guild, and Astral Artists. All three identify the artists for their roster through a competitive process. While they only take a very small number of those who apply, they are worth considering if you are a serious artist or ensemble ready to enter the profession. In addition to career advice, each provides professional engagements, outreach training, collaborative projects with composers, and possible recording opportunities at reduced or no commission.
While the artistic quality of your audition will be the primary consideration for the jury, its members will be impressed if you've already done some thinking about the place(s) you feel you might
occupy in the performance world. Working on your communication skills, especially as they relate to working with diverse audiences, will also be seen as a plus. For young Black or Latino string players residing in the U.S., the Sphinx Competition, is worth serious consideration. It offers cash prizes, concerts, career opportunities and significant publicity to its top prizewinners, some of whom have already embarked on major careers.
Is There a Downside to Entering a Competition?
For the most part, competitions are wonderful opportunities to get a wider glimpse of the performing arts world and to develop the discipline we all need in order to get ahead. But you and your teacher must be in agreement that you are ready. The distinguished clarinet teacher Yehuda Gilad told me that it is detrimental for young performers to enter competitions at a time when they still need to address technical shortcomings or elements of their musical growth, as it can distract them from a critical phase of their development.
For the more experienced artist already concertizing, there is always the risk of not performing at your best in a competition. These days, the world truly is watching—especially via live feeds on the Internet. Perhaps you do not need to go this route at all.
Happily, it has become universal practice for competitions to add categories such as "audience favorite" or "best performance of a commissioned work," thereby enabling more people to return home as winners. There also are opportunities during some competitions to attend career workshops and master classes, and for finalists and semi-finalists to perform special concerts during and after the competition. It is rare that anyone returns home truly empty-handed. Plus you can win new fans, gain exposure through performances streamed on the Internet, collect useful business cards, meet colleagues with whom you might collaborate in the future, and receive valuable jury feedback.
If you don't capture a top prize, you should not view it as a failure. There are many aspects of competitions that are beyond your control. As Professor Gilad said: "Whatever you can control, do something about it; whatever you can't control, don't worry about it." You may go on to win top honors in the next competition you enter, or captivate audience members and viewers to such a degree that you go on to a major career without the benefit of a top prize. If you have your heart set on winning a position in an orchestra, perhaps even becoming a concertmaster, the competition experience will help to build your confidence in auditions and enhance your leadership skills.
The eminent violin pedagogue, Robert Lipsett, shared the following advice with me: "The competition experience is about learning, which is more important than winning. If you don't do well in one competition, there is always another one to enter. If you do win, it is a badge of honor for you in your chosen profession. If you decide to compete in the bigger competitions, enter two or three, rather than putting all your eggs in one basket. In the end, the most important thing is to do one's best. That is the greatest reward."
---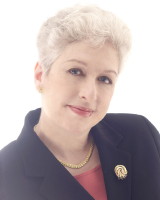 Edna Landau has become a household name in the world of artist management. After completing a 23-year tenure as managing director of IMG Artists, she has chosen to share her considerable career insight by venturing into institutional and individual consulting and writing a widely read weekly column for MusicalAmerica.com entitled Ask Edna.

WHO'S BLOGGING


RENT A PHOTO
Search Musical America's archive of photos from 1900-1992.