---
Four Digital Campaigns That Worked (#1):
Composer/Soloist Tracy Silverman

Composer/Soloist Tracy Silverman wanted to raise $12,000 in donations to rescore Between the Kiss and the Chaos for smaller forces that are easier to tour.

Methods: Email and online campaign through 3rd party vendor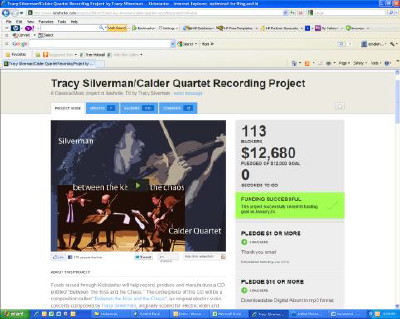 Effort: Using Kickstarter, an online service for attracting donations for particular projects, an escalating ladder of incentives to reward donors was established: at the low end, $10 scored a download of a Silverman; at the high end, $3,000 earned a private house concert by Silverman. Messages were sent to Tracy's e-mail list, updates were posted on his Facebook page—most of which included video segments from the tour—and printed postcards were handed out at appearances.
When: November 24, 2011 to January 24, 2012

Cost: $1,000

Results: Four primary results:
120 contributions, ranging from $10 to $3,000
Silverman has reworked the score of Between the Kiss and the Chaos
Silverman will record the string quartet and electric violin version with the Calder Quartet in June, to be released in October—just in time for fall tour dates
Silverman's email list was increased over the course of the campaign and can be used more effectively to promote his Carnegie Hall debut with the Nashville Symphony on May 12, 2012, as part of the Spring for Music Festival.
What Didn't Work: Half the expense went into printing the postcards, which Tracy's PAC Booking & Tour Manager Doug Wood of Modern Arts and Music considers the least effective part of the campaign: "It's hard to get people to make the jump from print to the Internet. Clicking through is simply more convenient."

Tips: No more than one in 10 messages to an audience should have a call to action, i.e., solicit a contribution. Create more interaction with your social media contacts and make the communication entertaining—after all, Tracy was reaching out to fans who enjoy his performances. (Suggested by Social Media Consultant Jessica Dover)


---
Other campaigns from Special Reports' Four Digital Campaigns That Worked

#2: Increasing Fan Base & Participation—Pianist Jim Brickman

#3: Selling Tickets, Discovering New Talent—The Jerome L. Greene Performance Space / 'Battle of the Boroughs'

#4: In-Concert Information: The New World Center WALLCAST Concerts
---

WHO'S BLOGGING


RENT A PHOTO
Search Musical America's archive of photos from 1900-1992.