---
Anthony Davis's X: All Is Well, Until Things Get Preachy
DETROIT – Why did it take so long for X: The Life and Times of Malcolm X to receive its first major revival? After all, the opera on the iconic Nation of Islam (NOI) civil rights leader, with pulsating music by Anthony Davis and a libretto by his cousin, poet Thulani Davis, played to sold-out audiences and got good notices for its 1986 world premiere by New York City Opera. Davis went on to compose seven more stage works, including The Central Park Five, which won the 2020 Pulitzer Prize in music.
But apart from a small 2006 production in California, concert performances here and there, and a recording that is no longer available, X had not been presented in full since its premiere until Detroit Opera produced a freshly revised version of the opera for three performances last week. And thanks to a consortium that includes four other U.S. opera companies, the work will be widely seen in coming years.
Detroit's championing of Davis's innovative work, with its politically charged subject matter, is a reflection of the bold direction the company (which recently shed its longtime name as Michigan Opera Theatre) is taking under new Artistic Director Yuval Sharon and President and CEO Wayne Brown. The X cast was headed by bass-baritone Davóne Tines, Musical America's 2022 Vocalist of the Year, who seems born to play the charismatic Malcolm.
A special day
The atmosphere was electric on May 19 for the second performance of X at the Detroit Opera House, because that day would have been the 97th birthday of Malcolm, who had deep roots in Lansing, the Michigan capital city where he spent his hardscrabble childhood during the Great Depression, and Detroit, where the Nation of Islam was founded in 1930. As a minister with the NOI, Malcolm spent lots of time in Detroit.
In many ways, this production of X was a thrilling triumph in portraying Malcolm's ever-evolving identity, structured as a series lifetime vignettes and unfolding over three hours, including intermission. They included young Malcolm Little experiencing the trauma of the death of his preacher father (a follower of Black separatist Marcus Garvey), which his mother believed came at the hands of a white mob; Malcolm's time as a street hustler in Boston, where a string of robberies he masterminded landed him in prison for six years; his joining the NOI and claiming "X" for a name; the fame and controversy that came with Malcolm's passionate promotion of Black nationalism; his breakaway from the Nation and pilgrimage to Mecca, after which he took the Arabic name El Hajj Malik El-Shabazz; and his assassination in 1965, at age 39.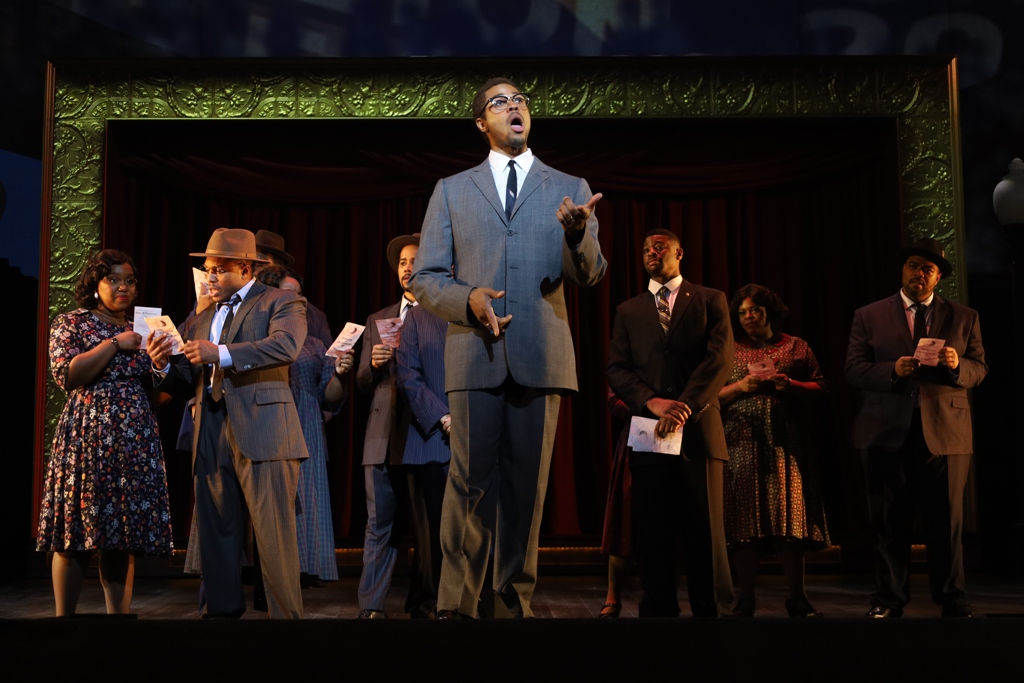 Davone Tines as Malcom X in Detroit Opera's new production of Anthony Davis's no longer neglected opera
X most excelled in briskly paced scenes covering Malcolm's early years. As his mother Louise, soprano Whitney Morrison set the virtuosic tone in an aria foreseeing her husband's death in a wide-ranging lament, punctuated by a bluesy trombone solo. Mezzo-soprano Ronnita Miller, playing Malcolm's half-sister, Ella, was sublime in her song celebrating Boston's oppressed Black community, accompanied by soulful double bass. As Malcolm's mentor, a character called Street, tenor Victor Ryan Robertson channeled his inner Cab Calloway to embody the raffish life of an after-hours operator.
At the heart of the opera is Malcolm's aria, introduced by wailing clarinet, with Tines alone under a spotlight at stage center, handcuffed in a chair during interrogation by police. "My truth is white men killed my old man, drove my mother mad," he sang, leaning into the phrase with a fury that was striking in such a nuanced, expressive voice. "You want the truth, but you don't want to know." For much of the opera, Tines's adult Malcolm was shadowed by Young Malcolm, gracefully danced and sung by 12-year old Charles Dennis.
Preachy and disappointing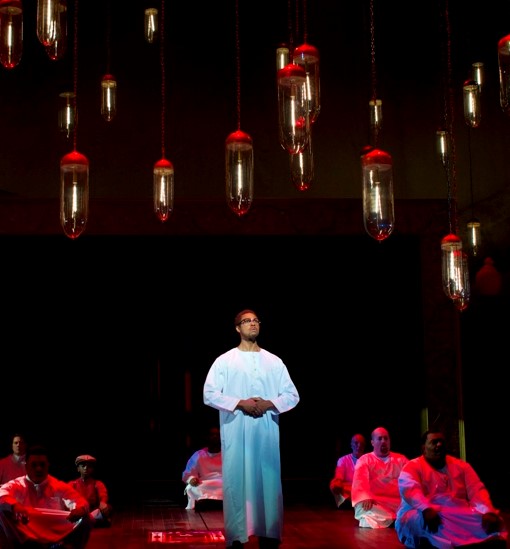 Unfortunately, X lost momentum after intermission, because Malcolm grew more preachy and didactic as he clashed with NOI leader Elijah Muhammed (sung by Robertson, who, like several cast members, had multiple roles). As Malcolm turned toward traditional Islam, following Allah became more of a focus in his life – and in the opera, sometimes to its dramatic detriment. In a program note, librettist Davis said that "the opera today is tighter than it was in 1986," but the changes were not extensive. I wonder if further revisions might fix some of the dramaturgical problems for future productions.
Throughout the evening, Davis's score was a marvel that paid homage to music that might have been created by great Black artists like Duke Ellington, Thelonious Monk, John Coltrane, Charles Mingus, and countless others who never had the chance to do opera. Davis credits Wagner, Richard Strauss, and Stravinsky as influences, but I also heard echoes of Prokofiev in his brilliant deployment of keyboard and percussion as the rhythmic foundation of his complex sound. The nine-member jazz band embedded in the orchestra constituted a virtual honor roll from Detroit's rich jazz scene, including double bassist Marion Haydn, reed players Andrew Bishop and Marcus Elliott, and trombonist Vincent Chandler. Conductor Kazem Abdullah kept it all together.
For director Robert O'Hara, X was his first foray into opera, and there was a bracing polish to the staging. An ensemble of a dozen singers assumed a variety of roles and styles, from a Black nationalist anthem to a hard-driving dance-hall number to the chant of morning prayer in a mosque. Rickey Tripp's choreography for a quartet of male dancers was an integral part of the story. Dede Ayite's costume design was well thought-out, with some flashy touches, such as the technicolor zoot suits worn by Malcolm and Street.
Clint Ramos's set entailed two pieces. One was prosaic: a proscenium stage that suggested the Audubon Ballroom in Harlem, where Malcolm was murdered. The other was wild: a large overhead piece meant to represent Garvey's back-to-Africa steamship line as a spaceship, or perhaps the science-fiction mythology of the NOI. It served as a canvas for Alex Jainchill's lighting design and projections by Yee Eun Nam. (These effects looked dazzling from a seat in the orchestra section, but after intermission I moved upstairs to the balcony where my view was obstructed.)
Racism in the opera world is what caused the neglect of X, which had its final Detroit performance yesterday. But now, propelled by the Black Lives Matter movement and Detroit Opera's initiative, a form of redress and even reparation is under way, with this production's co-commissioners: Lyric Opera of Chicago, the Metropolitan Opera, Opera Omaha, and the Seattle Opera. The next performances are Nov. 4 and 6 in Omaha, where Malcolm was born. The Met plans to present the work in fall 2023, Seattle in 2023-24. and the Lyric remains unscheduled. Boston Modern Opera Project and Odyssey Opera will present the work in concert June 17, with much the same cast, including Tines, at the Strand Theater, not far from Malcolm's Boston home.
Classical music coverage on Musical America is supported in part by a grant from the Rubin Institute for Music Criticism, the San Francisco Conservatory of Music, and the Ann and Gordon Getty Foundation. Musical America makes all editorial decisions.

WHO'S BLOGGING


RENT A PHOTO
Search Musical America's archive of photos from 1900-1992.