---
Gehry-designed YOLA Center Is Another Feather in LA Phil's Cap
The opening of the Judith and Thomas L. Beckmen YOLA Center in downtown Inglewood this September will represent an exemplar of architectural adaptive reuse and adds another feather in the cap of the Los Angeles Philharmonic. The first permanent space for the Phil's 14-year-old Youth Orchestra Los Angeles, the Beckman Center is the result of a Frank Gehry-led $14.5 mn, three-year-long renovation of a bank branch dating from 1965.
Located adjacent to the city's civic center, the low-slung, flat-roofed structure has housed not only the bank for which it was originally designed, but several other entities such as a nonprofit academic learning center and a Burger King. It also sat empty at various times. "It's not a precious building," Gehry tells The Los Angeles Times. "But it's precious in what it does." It provides a community learning center for about 300 students ages 5 to 18—160 of them from Inglewood—with free instruments and intensive musical training.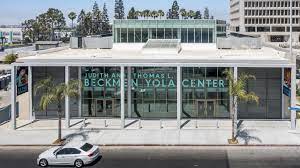 At the core of the Center is a nearly 4,500-square-foot performance space that features a resonant sprung oak floor and ten rows of wooden, stadium-style seating for 272 spectators. The seats can be collapsed along one side of the room and retractable plywood walls deployed to divide the hall into two rehearsal or teaching spaces.
Ringing the main performance hall are two stories of rooms to be used as rehearsal spaces or green rooms. The addition of a skylight, the only change to the building's profile—suffuses the interior with daylight. The acoustics are by Nagata Acoustics International, which worked on Walt Disney Concert Hall.
Gehry's supposition that "the building wants to be part of the community" is borne out by its physical connections to the surrounding streets as well as the intrusion of street sounds into the space and the sounds of music audible to passers-by. "This is in no way a building that is in the community but apart from the community," the architect continues. "It's not necessary to build a bright, shiny object that everybody looks at. The programming and the effect on the community — that is the issue."

WHO'S BLOGGING


RENT A PHOTO
Search Musical America's archive of photos from 1900-1992.