---
Chicago Lyric's Twilight: Gods,
'A Theatrical Triumph'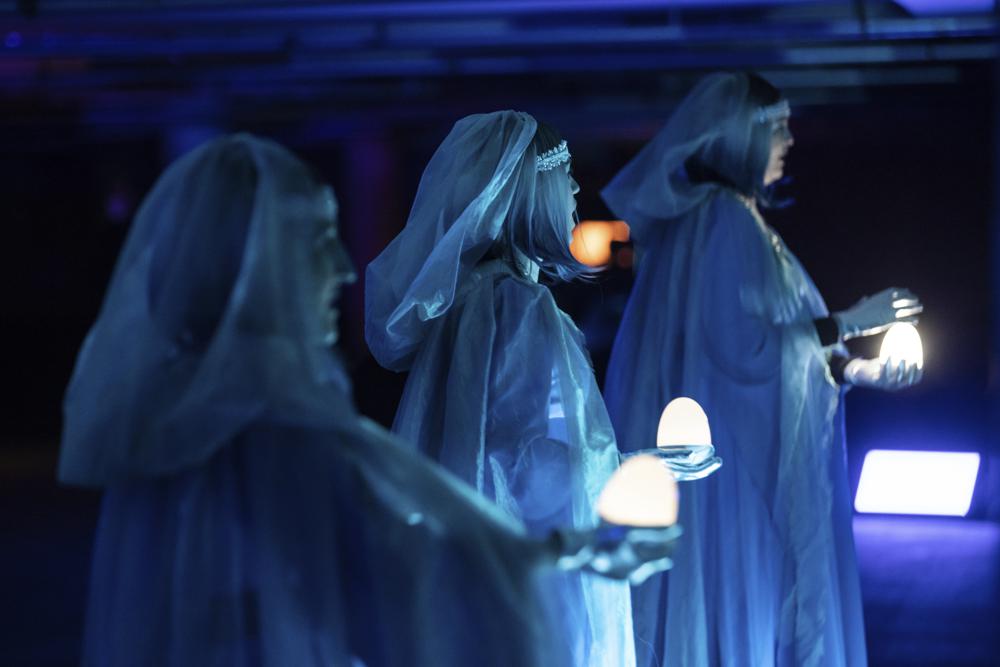 Yuval Sharon's concise deconstruction of Richard Wagner's Götterdämmerung is perhaps the ultimate realization of Wagner's command: "Children, make something new," although it probably isn't exactly what Wagner had in mind.
The pandemic is clearly the force that led Sharon and Lyric Opera of Chicago to stage Twilight: Gods, a coproduction with the Michigan Opera Theater (where it premiered last fall) inside a darkened parking garage this week. With patrons safely inside their cars, the Chicago staging had us driving from scene to scene in groups of nine and tuning into different frequencies on our car radios for each of the six scenes, all attended to by a vast army of guides.
But it is Sharon's genius that made this and other choices appear less as compromises and more as innovations. The running time has been shrunk to about a quarter of the original: at the dress rehearsal I attended, it took about 90 minutes. The score is drastically re-arranged with different tiny ensembles for each scene. The singers are miked. Filling in the back story of the prior Ring operas, and the missing links in this one, was, on this occasion, avery r. young (who eschews capitalization of his name) serving as narrator, and quite a bit more.
For the Norn scene, which was pre-recorded, the text from Götterdämmerung was replaced with a mix of Mr. young's own narration and poetry that recasts the Ring almost entirely in terms of racial justice. The heroes are Alberich, "the leader of magical beings"; Brünnhilde, the "Princess of Valhalla" who "burnt all the Gods down"; and of course Siegfried, here a proxy figure who has suffered racial injustice. "Like him know rope… like him know hand(s) behin(d) him bac(k); like him know cuff(s) round him wrist(s)… like him know the weight of de patella bone on him cervical vertebra."
Waltraude's narration featured the estimable Catherine Martin, accompanied by a solo cello. The Alberich/Hagen confrontation seemed poorly matched: Morris Robinson's powerful Hagen overwhelmed Donnie Ray Albert's Alberich, but perhaps that was the point.
On the cutting-room floor
Some scenes, including the great Act One Siegfried/Brünnhilde love scene, all the Gibichung scenes, and the Hunt, have been eliminated entirely. But the Act Three encounter of Siegfried (Sean Panikkar, in a greatly reduced role) with the Rhinemaidens does make the cut, setting the stage for his murder and funeral procession. The latter was cleverly staged, with our cars instructed to slowly follow the hearse carrying his body as it traversed a gigantic area of the garage filled with 2,880 candles. A corps of 15 black-clad dancers from the Joffrey Academy performed carrying large lanterns, and Siegfried's Funeral Music played on our car radios in a jazzy, percussive arrangement featuring marimba, solo violin, horn, and trumpet.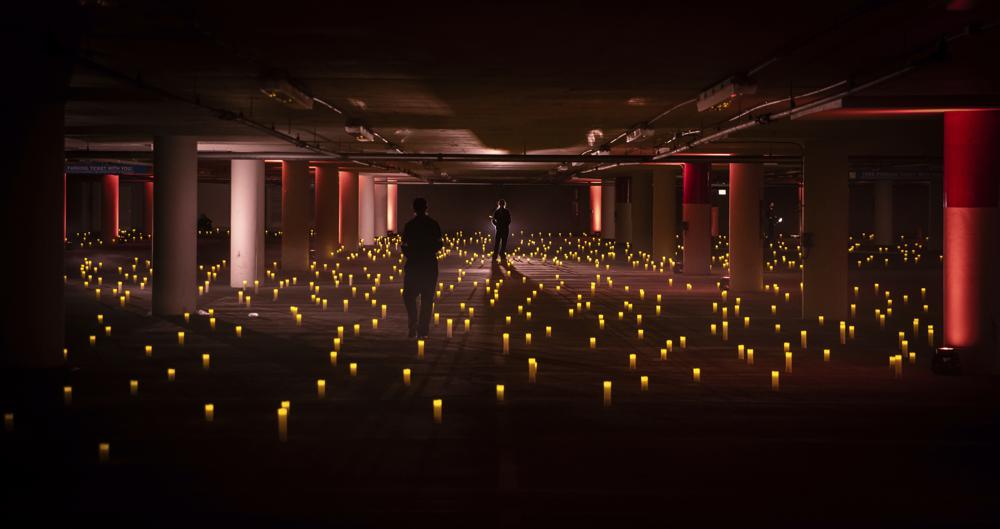 A scene along Siegfried's funeral procession
The funeral procession arrived at a pulpit, where Mr. young delivered a sermon in the style of an African American preacher, and then to a sort of junkyard with parked, wrecked cars. Brünnhilde, the excellent Christine Goerke, arrived and sang an abbreviated version of Wagner's legendary finale, this time with a (remotely placed) orchestral accompaniment and a sound that resembled that of a full-scale Wagner performance, with Goerke in excellent voice. At the end, the wrecked cars went up in smoke and Brünnhilde's horse, Grane, arrived in the form of a classic Mustang convertible to whisk her away.
Mr. young had the last words. Siegfried (here referred to as "zigg.free") "him coffin clean." As for Brünnhilde, "her doin her ministry all boss gang on a mustang high note amons(t) de cinder!" As we drove out of the garage, the graffiti on the wall read: "The Gods' destruction brings a new day."
For last fall's Michigan Opera Theater performances, the narrator was Marsha Music, a well-known Detroit poet who also wrote her own texts, which apparently differed substantially from young's. His contribution was clearly the most controversial element of this production. Wagner's Ring is one of the most open of artworks, lending itself to a large and fascinating array of interpretations, from socialism to environmentalism to family dynamics and much more.
A bit of a stretch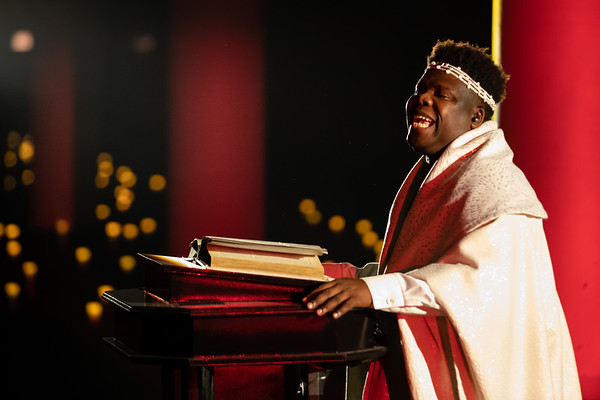 But to the extent that it deals with race at all, it is to frame Wagner's own historically tragic and significant racism. Wagner described the Nibelungs, here depicted by Alberich and Hagen, in crude anti-Semitic terms. So their heroic portrayal here is a subversive inversion of Wagner's own poisonous view, not unlike the 2007 Bayreuth production of Die Meistersinger von Nürnberg staged by Katharina Wagner in which Beckmesser, whom her great-grandfather had lampooned, became the hero. Siegfried's portrayal as an oppressed black man is a stretch, but it kind of worked on its own terms here.
Perhaps, after a dry spell of over a year, any live, in-person opera would be a magical experience. But Sharon and his team have created a theatrical triumph that could hold its own in any era. It was an extraordinary adventure; one that we will not soon forget. Unfortunately, performances only run through May 1 and sold out quickly, each limited to 126 total cars. The performance was filmed however, and will be available this summer, streaming from the Lyric Opera website.
Pictured: Mr. avery r. young as the narrator

WHO'S BLOGGING


RENT A PHOTO
Search Musical America's archive of photos from 1900-1992.