---
At Prototype, Rev. 23. Why?
The greatest operas are those in which outstanding music is wed to a powerful, poetic libretto. Contemporary examples include John Adams's work with Alice Goodman (Nixon in China, The Death of Klinghoffer), or George Benjamin's collaborations with Martin Crimp (Written on Skin, Lessons in Love and Violence). So, what to make of two hours of audacious, often thrilling music hobbled by a lame text in service of a half-baked concept? Such is the case with Rev. 23, composer/conductor Julian Wachner's brave new work receiving its New York premiere at the Gerald W. Lynch Theater on January 17 as part of the 2020 Prototype Festival.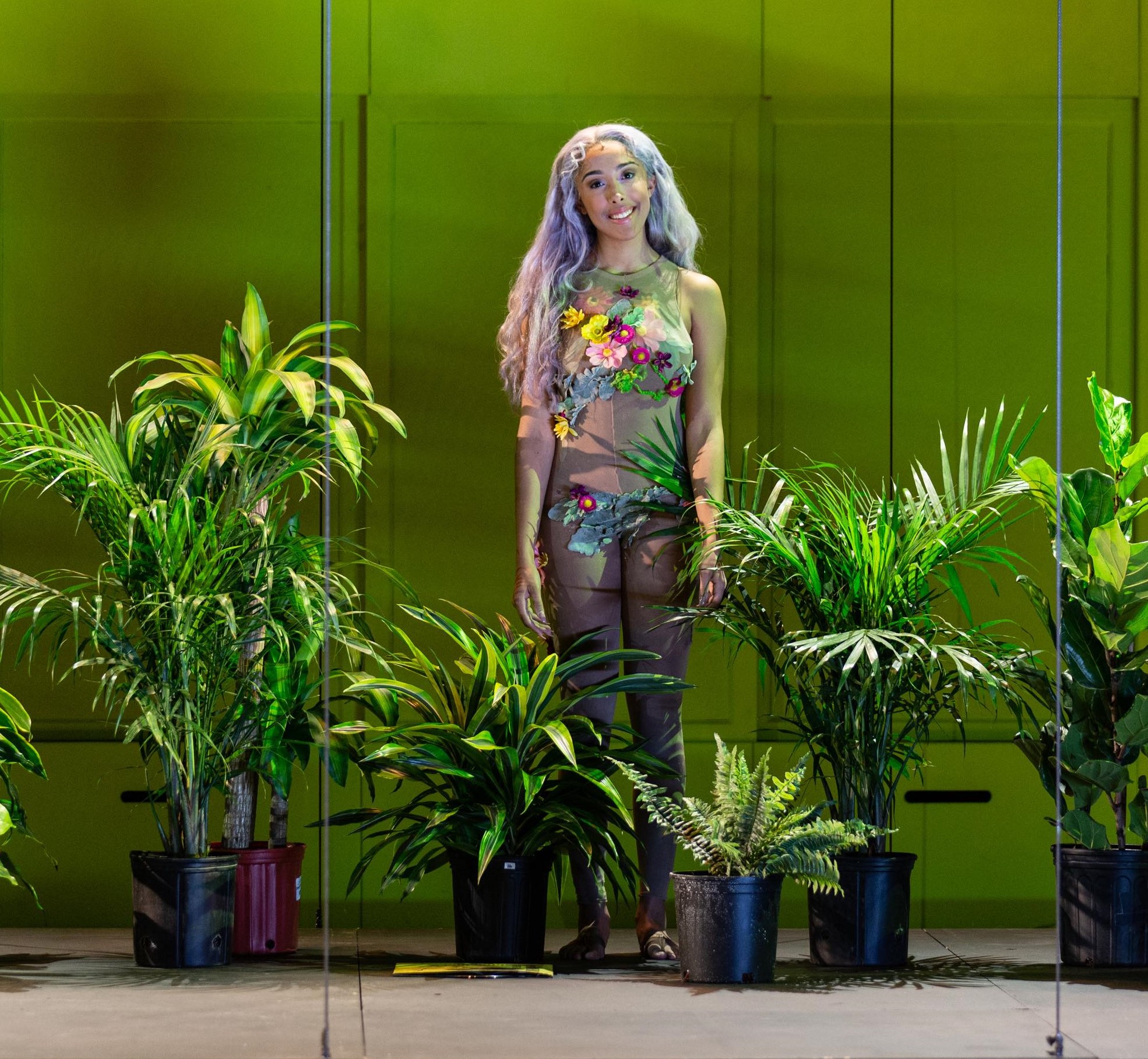 Sophia Byrd as Eve in Rev. 23
We are in some future time. God has restored Eden on Earth and Lucifer is furious. Plotting with Hades and his wife Persephone—for some unexplained reason Greek myths exist alongside Christian ones—to bring back "darkness" and "winter" to the world, they call up the shade of Sun Tzu (545-470 BCE), the Chinese military strategist, philosopher, and author of The Art of War. On his advice they strew Paradise with corrupting "stuff"—in this case books (Romeo and Juliet, Anna Karenina, Mein Kampf), popular music (Sinatra, The Beatles, Bruce Springsteen), and a slew of pornographic magazines. Adam and Eve are duly seduced, but the Archangel Michael foils the plan and attempts to "re-educate" the fallen. Infiltrating his class, the Satanic crew joins in a grand book-burning that culminates in Eve destroying the sacred Book of Life before voluntarily choosing to leave Paradise and embrace the unknown.
Wachner is an accomplished composer who also happens to be director of music at Trinity Wall Street, conducting the world-famous choir as well as NOVUS NY, which provides the 32-strong orchestra for this event. His score for Rev. 23 is breathtaking, a highly accomplished polystylistic blend of ancient and modern with a little jazz and blues thrown in. Channeling the heady brilliance of early John Adams and the crazy soundscapes of Michael Daugherty, the music teems with interest, bending pastiche and parody to witty ends. One moment it's a wildly optimistic minimalist racket with racing scales, slashing brass, and soaring lyrical phrases, the next tuned percussion and harp lend a hipster vibe to a meditative aria. Vocal lines are challenging but singable and include extensive use of madrigalian techniques and coloratura. On the minus side, the the orchestral writing is often unsympathetically loud, only rescued by radio mics and Scott Lehrer's excellent sound design. Daniela Candillari's firm hand in the pit creates a welcome sense of structure out of potential chaos and her players are first class.
A "semi-poetic mishmash of a libretto"
Billed as "a misadventure that blurs myth, legend, and the sacred," Rev. 23 essentially puts a handful of timeless themes through a blender to produce something far less than the sum of its parts, served up by way of Cerise Lim Jacobs's semi-poetic mishmash of a libretto. Yes, it's playful, yes, it's occasionally droll, but Proust it ain't. The fall of Satan, the expulsion from Eden, the rape of Persephone, each is reduced to the level of everyday soap opera. By realizing hell as a classroom and Paradise as something resembling a suburban garden center, James Darrah's admittedly slick staging does the rest, stripping proceedings of any residual sense of mythic grandeur.
Darrah does what he can, staging matters effectively and building tension when the opportunity arises, though directorial demands often outstrip the acting abilities of his cast. At three acts and nearly two hours it's too long, the story losing focus and momentum toward the end of act two and never really getting back on track. Adam Rigg's scenic design, Molly Irelan's costumes, and Pablo Santiago-Brandwein's lighting generate sufficient visual interest to keep you engaged most of the time.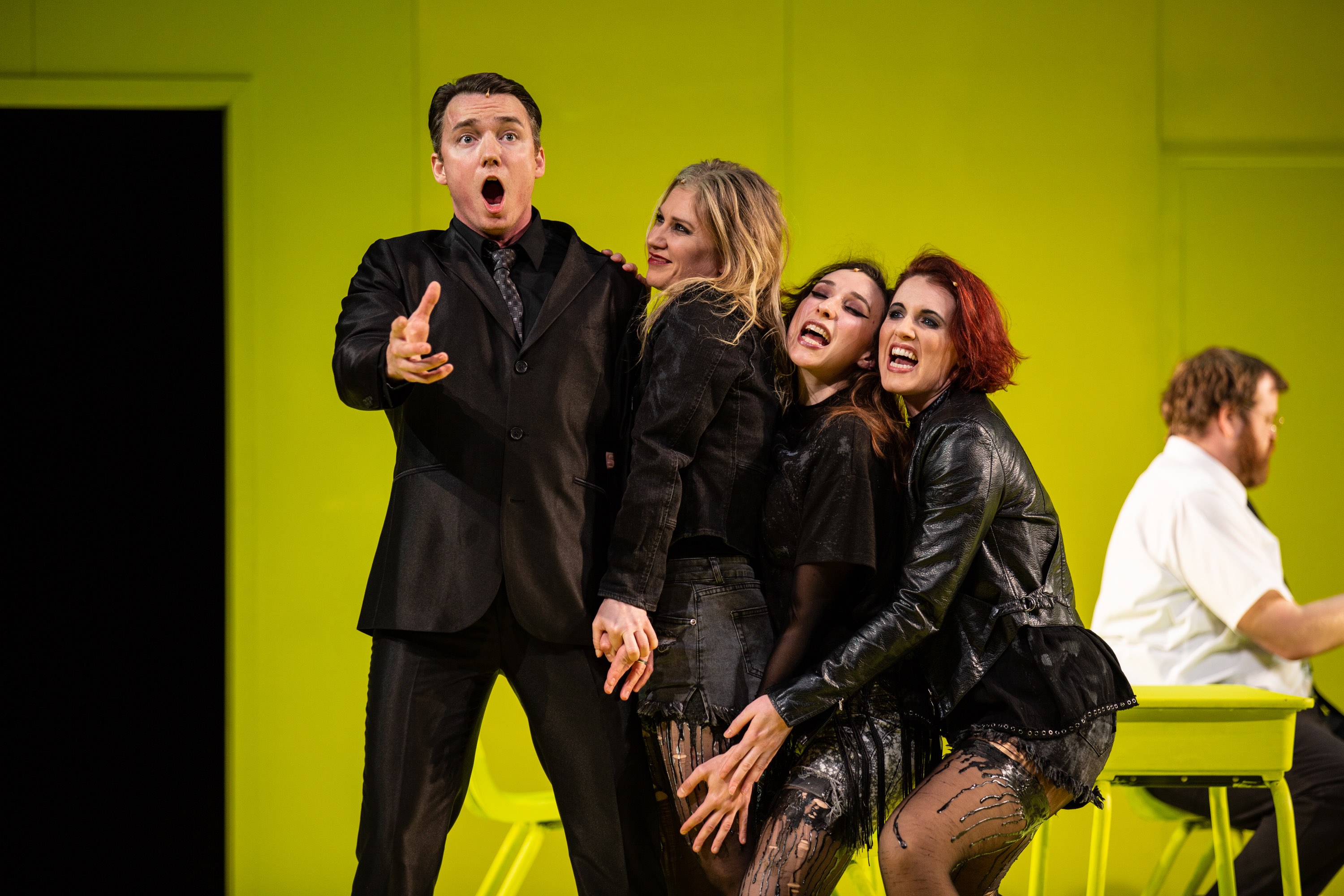 Alexander Elliot as Lucifer, with Anna Schubert, Naomi Louisa O'Connell, and Melanie Long
Heading up the vocally impressive cast was the engaging Lucifer of Alexander Elliot. Although reduced to the status of pantomime villain, he succeeded in using his smooth yet thrusting baritone to handle Wachner's demands with skill and daring and he's a watchable actor. Kyle van Schoonhoven was less successful as Hades, though his bright tenor had plenty of cut-through. With limited dramatic chops he had little to do but lurk and whine about missing Persephone. Colleen Daly as his power-suited wife fared better, her pearly soprano caressing the vocal lines. Persephone's arias are among the score's finest—"Blood rubies" is the standout—and Daly captured the dramatic tension inherent in the librettist's unconventional view of a character usually portrayed as victim.
Paul An displayed a ripe lower register as Sun Tzu, though—like everyone in the show bar Adam and Eve—his role is given zero character arc. As Michael the Archangel, countertenor Michael Maniaci camped it up effectively while curiously dolled up like a cartoon version of the Emperor Caligula. Anna Schubert, Naomi Louisa O'Connell, and Melanie Long played The Furies, here reduced to a trio of surly, skanky schoolgirls who pout, scowl, and occasionally wriggle their pelvises. As a vocal trio they have little to actually do, but nevertheless did it very well. Brian Giebler displayed a light, attractive tenor as a body-stockinged Adam, well paired with Sophia Byrd's lyrical Eve. The latter's "I don't know what's beyond Paradise," is the score's most memorable moment and her bright soprano carried it off in style.
After two hours in the company of Rev. 23, you can't help asking yourself a big fat "why"? Wachner is clearly a serious talent. It's to be hoped someone finds him a serious drama on which to lavish it.

WHO'S BLOGGING


RENT A PHOTO
Search Musical America's archive of photos from 1900-1992.