---
Tulsa's Trans Don Delivers, and How
TULSA, Oklahoma--If ever proof was needed that opera can still surprise, provoke and even have something to say, the Act One Finale of Opera Tulsa's Don Giovanni is it. Updated to America (ish) and sometime in the 1950s (ish)—neither are entirely clear, or indeed that relevant—this Don is all of a sudden revealed as the life and soul of his own party, strutting his considerable stuff in full drag—or is he? For a moment, our gender compass goes haywire, for this production stars the impressive trans baritone Lucia Lucas. What we are watching is a woman who has been playing a man, now playing a man who is dressed as a woman—and loving it. Confusing? For a second, perhaps. But it's a glorious moment in Denni Sayers's occasionally uneven production that received its premiere by the 71-year-old Tulsa Opera at Tulsa Performing Arts Center on May 3.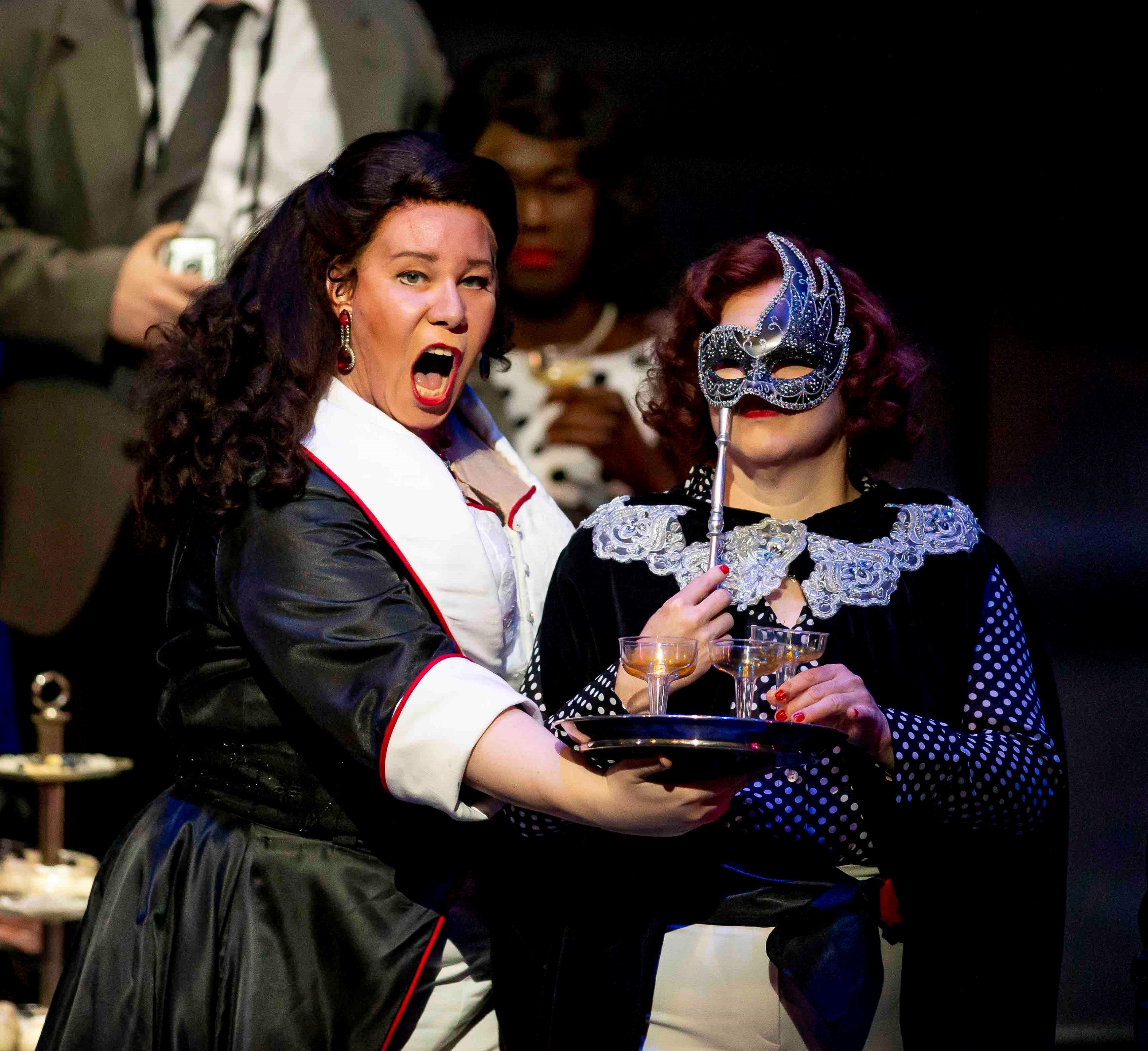 Lucas is not just making her role debut as Mozart's #MeToo malefactor, she's making her U.S. opera debut having earned plaudits all over Europe both before and after transitioning in 2013. She's also the first out transwoman to perform a principal role on a U.S. stage and the shattering of that particular glass ceiling has earned the company international media attention. Her Don is a proper bad boy, a bored sensation seeker who'll stick a false moustache on a memorial photo of the Commendatore for the transgressive buzz of crossing a line. He's also a man on the verge, one whose appetite has become dangerously numbed. If he can't find the next sensual novelty to pique his flagging interest, he might blow his brains out, just for a kick. By the end, with no pleasure left untried—his jaded curiosity even flickers briefly at the idea of necrophilia—all that remains is a lipstick-smeared shell, gazing lifelessly out at a stale, sensationless future. For him, this is far worse than the fiery pit of hell to which Don Giovannis are traditionally consigned.
Vocally, Lucas is the real deal, possessing a firm, virile baritone with bags of stamina—for once, "Fin ch'han dal vino" doesn't flag—and plenty of heft up top. Just occasionally there's a slight intonation issue in the lighter, lyrical numbers, but nothing disastrous, and emotionally she's always on the money. It's a bravura performance, one that grows as the first act develops and bursts into full flame in the two finales. Here, you feel, is a man who just wants to have fun, when society and all around him—and here, the 1950s setting pays off—say "no dice." For all that this Giovanni still deserves his comeuppance, Sayers's reading has the curious effect of making the rest of the company, and Donna Anna and Don Ottavio in particular, seem prurient bores. It also makes the endlessly vacillating Donna Elvira even more fascinating than usual.
Sayers's production is at its clearest and best when it comes to these intriguing issues of gender fluidity, but not everything makes complete sense. Why is Leporello in high heels at the opening, and where did his trousers go? Da Ponte's Giovanni is a Don, or at least has a social status that all the other characters recognize, yet here he's ill-defined, at best merely a dodgy nightclub owner. Disguising himself as a priest is a fun touch, but Anna's subsequent interaction with him doesn't bear logical scrutiny. And making the denouement work without Giovanni being carried off to hell requires an awkward cut in the final sextet. On the other hand, there are considerable gains. Both funerary scenes for the Commendatore add psychological tension and there are plenty of comic touches: the nightclub denizens include a conga line, a naked lady in a sheet, and a man in a tutu with a lampshade on his head.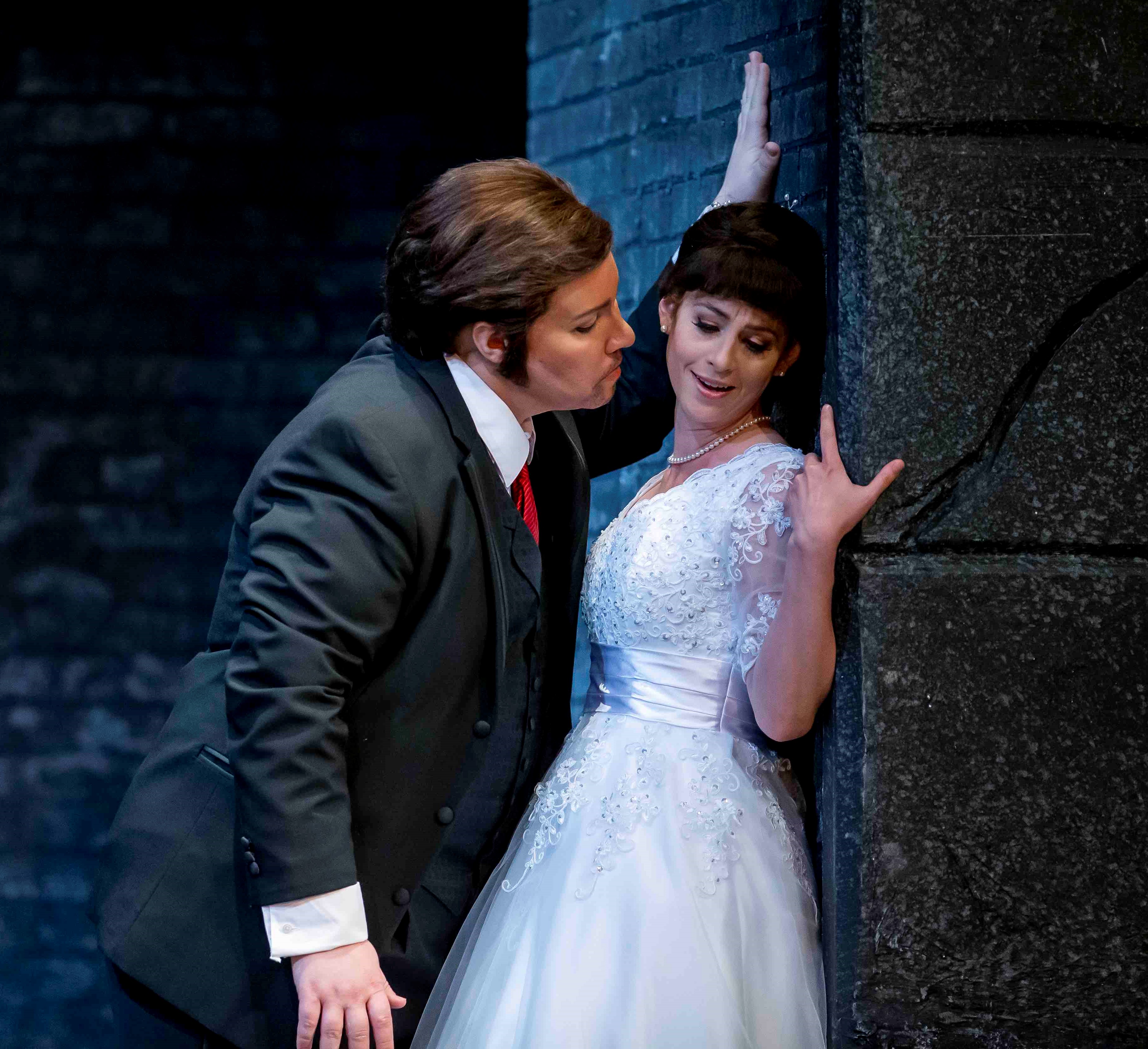 Scenery (R. Keith Brumley) and costumes (Mary Traylor) are more functional than sumptuous, but the set works effectively, managing more changes of location than called for by the libretto. On the downside, Erich R. Keil's lighting design is rudimentary and low on atmosphere.
Of course, Don Giovanni isn't just a one-man (or in this case, woman) show, and Tulsa Opera has assembled a mostly successful cast. Top of the bill is the excellent Pamela Armstrong as a flame-haired, chain-smoking Donna Elvira. Carrying herself with a natural, classy bearing, she runs the emotional gamut in a series of finely executed arias, the voice flexible and strong. Anthony Clark Evans is her vocal match as a down-in-the-mouth, sardonic Leporello. His "Catalogue Aria" is a wonderful presentation of the Don's sexual snapshots, and he's got the negatives to prove it. A compelling baritone, he makes much of the musical comedy, even if his dramatic characterization never quite catches fire to the same degree. He and Armstrong carry off the comedy well, the latter casting a looks-could-kill glare at Leporello's sly reference to Giovanni's conquests of "old women." As Don Ottavio, Michael St. Peter displays a light, lyric tenor of considerable appeal. Following the Prague tradition, he delivers a beautiful and carefully negotiated "Dalla sua pace" though "Il mio tesoro" is here cut (as it was for Mozart's first Vienna version).
Both Karlye Whitt as Donna Anna and Jana McIntyre as Zerlina have powerful voices, each with its own appeal, but both are inclined to push, the results sometimes edgy on the ear. Whitt starts stridently but grows into the role, her powerful top carrying effortlessly over the orchestra. Her final aria, "Non mi dir," culminates in an impressive display of effortless coloratura. McIntyre is a sympathetic performer with a solid technique and a strong upper register, though the voice sometimes feels one-dimensional. Both artists are Tulsa Opera Resident Artist Alumni, and both will likely fill out into these roles over the next few years. The two other men are likewise Tulsa Opera Alumni. Michael Gracco makes a good, Elvis-quiffed Masetto, the voice and personality well-suited to the role. Hidenori Inoue works hard but is really too young, both vocally and dramatically, to carry off the Commendatore.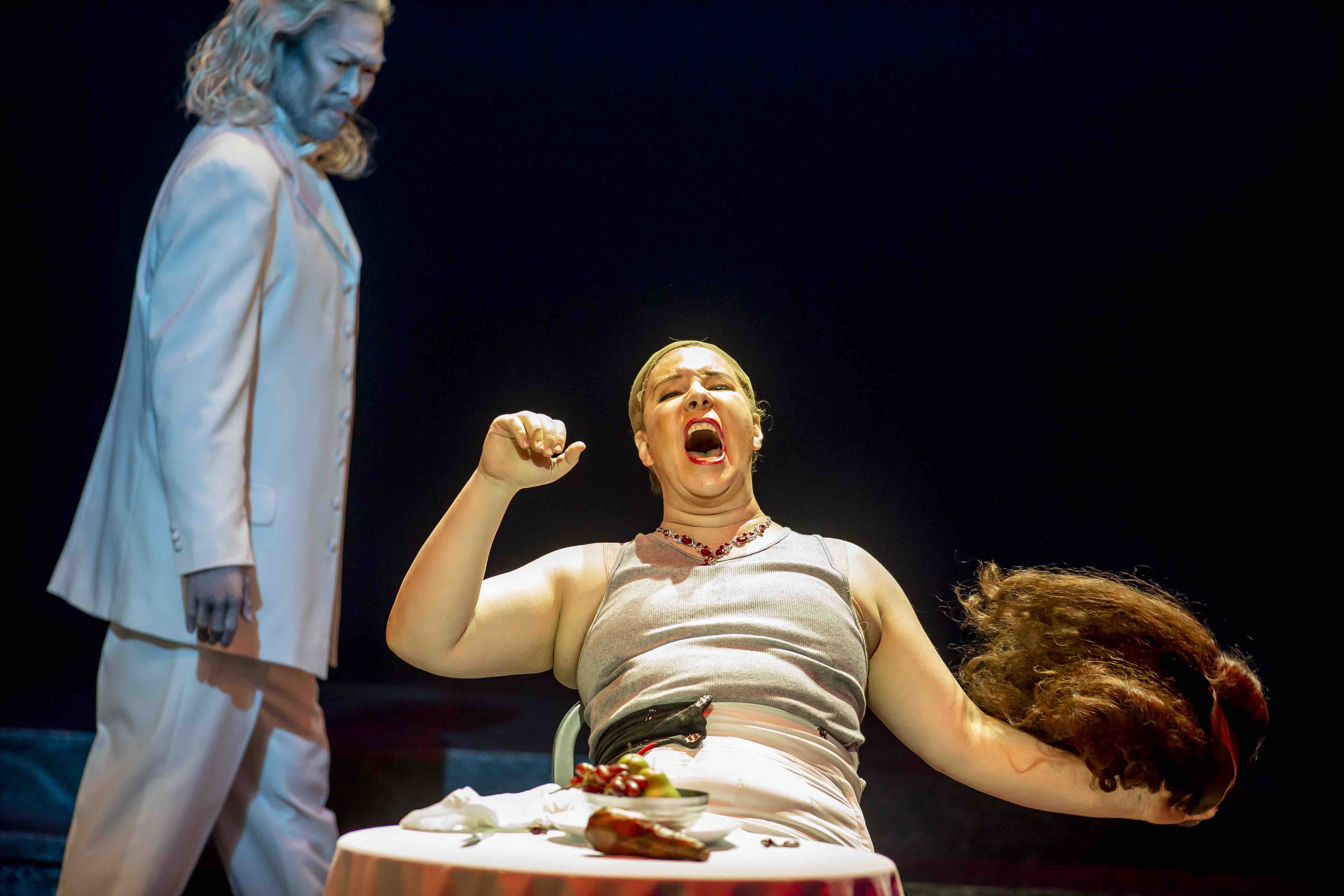 In the pit, Uruguayan conductor Andres Cladera has his moments with tempos generally solid and some nicely highlighted obbligato instrumental contributions. Occasionally things can fall flat—the drama of the Overture, for example, feeling oddly routine—but at his best he can deliver a charge, the urgent act one finale being a good case in point.
Of course, with its tradition of women being cross-cast as men, opera is well-placed to respond to current gender debates (though Lucia Lucas would make a good Don, whatever the production!) In this instance, however, Tulsa Opera's intriguing take on Mozart's moralistic comedy is a grand example of opera maintaining its relevance in 2019.
Photos: Lucia Lucas as Don Giovanni with Pamela Armstrong as Donna Elvira (top); Jana McIntyre as Zerlina (middle); Hindenori Inoue as the Commendatore.
All photos by Shane Bevel
---

WHO'S BLOGGING

Interviews with musicians who have successfully created their own opportunities.
PROFESSIONAL
GROWTH
FIND:
»MORE

NETWORK
FIND:
Updates to artist manager rosters
»MORE
RENT A PHOTO
Search Musical America's archive of photos from 1900-1992.