---
MA Top 30 Professional of the Year: Naoyuki Miura, Mari Ono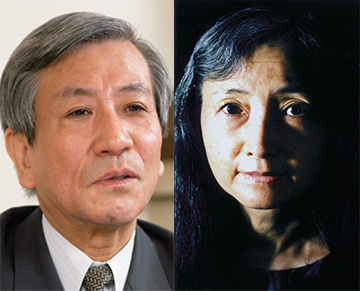 Artistic Director
Executive Director/Associate Artistic Director
Music From Japan
Music From Japan has been presenting Japanese music in New York and elsewhere in North America since 1975. "We had no idea we would be doing this for so long," says Mari Ono, whose husband, Naoyuki Miura, was a double bassist with the New York City Opera Orchestra when they started the organization. She was a member of the Lar Lubovitch Dance Company. "Yuki (Miura) just felt that you didn't hear much Japanese music then, and there was a lot of contemporary music from Japan that he wanted to introduce to audiences here."
MFJ has an impressive record of commissioning that includes 92 world premieres, mainly by Japanese composers. Many of the works have received repeat performances around the world, such as the quartet For You I Sing This Song by Yuji Takahashi and Guardian Angel for string orchestra by Karen Tanaka. A consistent theme has been the incorporation of traditional Japanese instruments into modern scores.
Miura and Ono were both born in Japan, he in Fukushima, she in Nagano. Miura still spends much of the year in Fukushima City, where he is the mayor's music and culture adviser and professor emeritus at Fukushima College. In July, MFJ presented concerts in Tokyo and Fukushima as part of U.S.-Canada-Japan "Encounters in Music," a cultural exchange that brought to Japan music critics and composers from the U.S. and Canada.
Music From Japan undertook an ongoing artistic project to remember the 2011 earthquake, tsunami, and nuclear meltdown at the Fukushima Daiichi power plant, and has commissioned works that draw attention to the predicament of surrounding communities. Miura has family ties with the village of Iitate, where the entire population was evacuated because of radiation. "We feel that people should not forget about what happened," Ono says. "The nuclear problem is far from taken care of."
MFJ's Festival 2019, held in March in New York, will showcase music of composer-in-residence Yumi Saiki as well as works by Japanese composers influenced by John Cage.
PHOTO: (R) Mark Berghash

WHO'S BLOGGING


RENT A PHOTO
Search Musical America's archive of photos from 1900-1992.