---
MA 30 Movers & Shapers: Yuval Sharon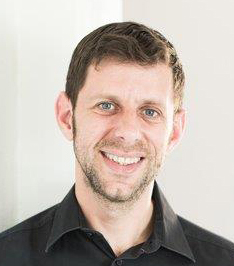 Founder, Artistic Director
The Industry
When he founded an experimental production company called The Industry in Los Angeles in 2012, the Chicago-born director Yuval Sharon was intent upon shaking up the conventional wisdom of what opera is and where it can be performed. It didn't take long.
Sharon started attracting attention in 2013 with a production of Christopher Cerrone's Invisible Cities, which operagoers heard through wireless headphones in L.A.'s historic Union Station. His reputation grew in fall 2015 when coverage of Hopscotch went viral. This "mobile opera," as he describes it, with a score by six composers, called for patrons to ride in 24 limousines through the streets of L.A. witnessing performances in the limos and in scattered public places.
A 2017 MacArthur Genius Grant recipient, Sharon has been affectionately called a "disrupter-in-residence" by former Los Angeles Philharmonic President Deborah Borda, who signed him on as artist-collaborator with the orchestra in 2016. Last season, Sharon brought his iconoclastic bent to Walt Disney Concert Hall with his juxtapositions of Schubert and Samuel Beckett on a March 21 program, and his staging of Lou Harrison's Young Caesar on June 13 that actually made cogent sense of this problematic opera.
This season, after staging Janácek's The Cunning Little Vixen with the Cleveland Orchestra in September, Sharon returned to L.A. November 12 with the world premiere of Annie Gosfield's War of the Worlds, staged at Disney Hall and simulcast at the sites of three reactivated air raid sirens left over from World War II. Borda called it "a fascinating commentary on disinformation or alternative facts." On April 5, 2018, Sharon will stage Mahler's Das Lied von der Erde with Gustavo Dudamel and the LA Phil.
Sharon is drawing attention worldwide as well. His Vixen went to Vienna in October as the first fully staged opera to take place in the Musikverein, and he will become the first American stage director to work at the Bayreuth Festival when his production of Wagner's Lohengrin runs in summer 2018.
"He is highly musical, which you can't say about every opera director," Cleveland Orchestra Music Director Franz Welser-Möst told the New York Times. "He has a way of going right to the core, the essence of a piece, and not just putting an idea onto a piece."

WHO'S BLOGGING


RENT A PHOTO
Search Musical America's archive of photos from 1900-1992.