---
Tippet Rise Art Center Part II: A Special Kind of Presence
Following is a followup to Part I, posted August 15.
John Luther Adams has said that no two performances of Inuksuit (2009), "for between 9 and 99 percussionists," can ever be the same. The one at Tippet Rise Art Center, on a blisteringly hot afternoon in July, used 50 players, gathered up from both local and imported forces by Douglas Perkins, who has had ample experience with the piece since its inception. To start, all 50 players stood together in a tight grouping at the base of Satellite No. 5: Pioneer, a site-specific sculpture of mostly wood by Stephen Talasnik, situated in the pit of a natural bowl.
Their heads down, the players appeared as if praying, about to embark on a spiritual journey. With about 200 audience members scattered in and around the bowl, the piece began in absolute silence, but for the sound of the wind coursing the mountainous landscape, in and of itself worth listening to. Then the sound of a human blowing air into a lone conk shell was heard, then a pitched conk, followed by another, then another—forming a triad. As the conks continued, a shaker entered the mix, then another and another, then sandblocks, hand drum, whirlytube, etc. All the while, the players were moving out of their original formation, very slowly, up the sides of the huge, natural bowl. Some eventually arrived at full drum kits; some at gongs; there were whistles, sirens, triangles; keyboards, xylophones, cymbal crashes and occasional "thwack"s from several strategically placed bass drums.
The volume and density of the sound increased; spectators moved, as previously instructed, around within the bowl and among the players. Off in the distance a cowboy sat taking it all in from atop his horse; overhead, the sun beat down mercilessly as the piece became louder and louder. Eventually, brief silences starting to creep in—gaps of quiet among blocks of sound. Then a general denouement until, after about 75 minutes, the humans relinquished all their noisemakers and the stillness of the natural landscape returned. It was a stunning effect.
The Tiara Acoustic Shell at Tippet Rise Arts Center in Montana
Tippet Rise describes two performance venues in its literature; the outdoor Tiarra shell, for larger groups, and the 150-seat Olivier Music Barn, whose architecture and acoustics were both designed by Alban Bassuet, also the director of Tippet Rise. The barn is part concert hall, part fully equipped recording studio, and is said to accommodate electronic playback as well—occasional Royal Shakespeare and Glyndebourne HD videos are screened there. I can only testify to the suitability of the acoustics for solo (concert-grand) piano, heard on two different occasions by two wildly different pianists.
The good news is that for most of Stephen Hough's program of Schubert (Sonata in A minor), Franck (Prelude, Chorale and Fugue), and Hough (Sonata III, Trinitas), the small, intimate wood-framed space is indeed ideal. Hough's impeccable ear for the inner voice, his way with line, the sheer musicality of his approach came through with crystal clarity. He's truly an exquisite player. He used two actions in the piano: one that was made in the U.S. for the Schubert, seeking a warmer sound, and then, for the Franck and his own piece, a new Hamburg Steinway action, seeking a more distinctive, percussive tone.
(Hough declared Tippet Rise's collection of ten concert-grand pianos "the best in the world," and said it was "a shame to come all this way and not play all of them.")
The less good news is that once past forte, or even mezzo-forte, the sound in the Barn tended to get muddy. Thus passages in Liszt pieces—Valese oubliees Nos. 1 and 2 and Transcendentals 10 and 1l—at times became a loud blur. One marveled at the sight of Hough's brilliant fingerwork, but much of that carefully calibrated detail was lost in the mud.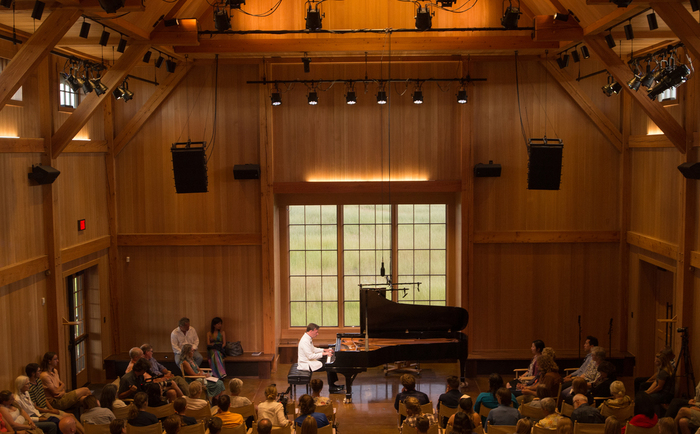 Stephen Hough performing in the Olivier Barn at Tippet Rise
That said, the large picture window behind the piano offered a fabulous view of Mother Nature's evening thunderstorm, and the subsequent double rainbow that emerged from it.
On another occasion, Konstantin Lifschitz's performance of the Bach Goldberg Variations revealed an apparently rising pianist who favors the heroic approach. His pounding grew tiresome very quickly, especially after a last-minute pre-intermission insertion of piano works by William Byrd, in which Lifschitz failed to make much differentiation among inner voices. It was a long evening.
The inaugural summer's concerts came to a close last weekend with a duo recital by Anne-Marie McDermott and Christopher O'Riley, Tippet Rise's music director. Also programmed was a recital of fourth-prize Tchaikovsky winner Luca Debargue, in his U.S. debut.
Tippet Rise Art Center will close for the season September 25, although there are Royal Shakespeare Company HD screenings scheduled through November. There is much talk about future seasons, including artist, composer, and performer residencies, and the Center is very committed to bringing its programs to the community and vice-versa. It is already a contributing power source to the town of Fishtail, thanks to its elaborate solar-energy and water conservation and capture systems.
Having not yet completed its first year of operation, Tippet Rise is already making good on co-founders Peter and Cathy Halstead's initial promise, to unite art, music and nature, and to give back.
It's a rare and wonderful gift.

WHO'S BLOGGING


RENT A PHOTO
Search Musical America's archive of photos from 1900-1992.