---
Tippet Rise Art Center Part I: A Special Kind of Presence
Ten concert-grand Steinways, one of them the preference of Horowitz and Istomin. Eight square miles of unencumbered mountain landscape. Six enormous sculptures by name artists and architects. One 150-seat acoustically idyllic concert hall built to look like a barn. You can just see the roof of it over the rise, as you drive through the entrance off an unmarked dirt road in Fishtail, Montana.
Welcome to Tippet Rise Art Center, the just-opened realization of something akin to a spiritual quest on the part of its founders, Peter and Cathy Halstead, philanthropists extraordinaire and two of the most down-to-earth humans you'll ever encounter. He is a pianist; a serious one. She is an artist; ditto. Look to him as being behind the pianos, and to her for the sculpture, although they credit each other for "Finishing the Hat," as Sondheim would say.
"I pushed the music," Cathy Halstead told me on a visit at the end of July, "and Peter pushed the art."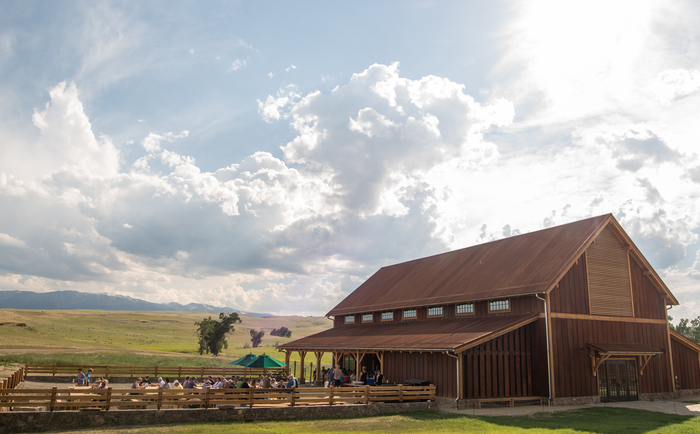 Artist's rendering of the Olivier Music Barn
Tippet Rise has been six years in the planning and only two in the building. It is powered entirely by solar; its water supply comes from the snow-capped mountains and rain water. Double rainbows like the kind viewed after a recital by Stephen Hough (using two different pianos, three different actions) in the Olivier Music Barn are hardly uncommon. If you want cell service, you have to climb the hill where Two Discs, one of the two Alexander Calder sculptures on loan from the Hirshhorn Museum, resides. This is another world, unencumbered by cell towers.
The Halsteads have spared no expense. Chatting with them you find that they've known each other since they were teenagers, both from New England, from backgrounds of extreme privilege. Ask them what their goal is with Tippet Rise and they essentially say, "to give back, to give young people today what we had growing up." The opportunity to hear great music, see great art, and be engulfed by nature.
A buffet dinner outside the barn, open to the public, is prepared by a Cordon-Bleu-trained chef and costs $10—for all you can eat. Concert tickets cost $10. There is no entrance fee; the only thing required if you want to visit Tippet Rise is a reservation. Park your car under the solar panels to keep it in the shade and board one of several battery-powered buses to tour the 11,500-acres. Hiking's OK, but keep an eye out for the herds: Tippet Rise leases some 500 cows and 3,000 sheep to keep the grass cut; a couple of cowboys on horseback keep the livestock in check.
In addition to piano recitals in the Olivier Barn by Konstantin Lifschitz and Stephen Hough (about which more later), John Luther Adams's Inuksuit (2009) receives a performance by some 50 percussionists, gathered up by Douglas Perkins, for whom mounting the piece, and finding the performers, has become something of a specialty. It was performed at Satellite No. 5: Pioneer, a site-specific sculpture of mostly wood by Stephen Talasnik, situated in the pit of a natural bowl.
Tippet Rise Part 2 will be posted later in the week.

WHO'S BLOGGING


RENT A PHOTO
Search Musical America's archive of photos from 1900-1992.