---
R.I.P. San Diego Opera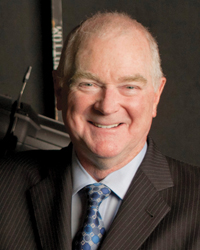 On the eve of its 50th-anniversary season, one day before a sold-out performance of Verdi's Requiem, the San Diego Opera  decided to close its doors; its last performance will be Don Quixote, on April 13. Operations cease by June 30.
Yesterday afternoon's announcement has taken everyone—including the San Diego Symphony, which has been its pit orchestra—by complete surprise. The company has had balanced budgets for the last 28 consecutive years. With an operating budget of $15 million, it is the third largest cultural institution in the city, behind the Old Globe Theater and the Symphony, and the tenth largest opera company in the U.S. It employs 117 at its seasons' height.

In a statement, CEO and General and Artistic Director Ian Campbell [pictured] said, "We saw we faced an insurmountable financial hurdle going forward.We had a choice of winding down with dignity and grace, making every effort to fulfill our financial obligations, or inevitably entering bankruptcy, as have several other opera companies.
"Our board voted today to take the first choice."
The vote was 33 to 1.
The issue was money. Ticket sales were under projection for this season and, at that, they only account for only a third of the budget. Raising $10 million every year from a donor pool that was apparently already exhausted just got to be too much.
"It's such a sad day," board member and key donor Iris Lynn Strauss tells the San Diego Union-Tribune. "But this has to happen. We have tried everything. I've gone to so many people that I don't have any friends left." She added that the audience was shrinking as costs were going up.
Other companies that have closed their doors in recent years include the New York City Opera (2013), Opera San Antonio (2012), Opera Boston (2011), the Baltimore Opera (2009) and Orange County's Opera Pacific (2008).

WHO'S BLOGGING


RENT A PHOTO
Search Musical America's archive of photos from 1900-1992.