---
Wiener Konzerthaus Names New Director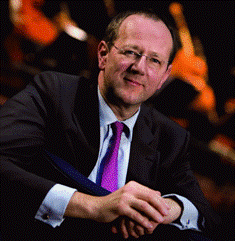 VIENNA -- Theresa Jordis, President of the Wiener Konzerthaus, announced on Monday that Matthias Naske was unanimously approved as director of the venue beginning on July 1, 2013. On that date, Naske will also terminate his current position as director general of Etablissement Public Salle de Concerts Grande-Duchesse Josephine-Charlotte (less formally known as the Luxembourg Philharmonie) and head of the Orchestre philharmonique du Luxembourg.
"The management was impressed with the outstanding qualifications of Matthias Naske," said Jordis. "His record for uncompromising, high-quality artistry and programming will further ensure the economic success of Wiener Konzerthaus."

Bernhard Kerres, the current director, will retire at the end of June. The two will work together to ensure a smooth transition. Jordis pointed out Kerres' contributions over the last six years, including "revolutionary" music education programs and an increase in audience size.
Naske reports a longtime connection with Konzerthaus. "In my youth, Wiener Konzerthaus and many of the other cultural institutions of Vienna were privileged habitats that significantly contribute to making a city livable and lovable. What makes these venues so special is the focus on artistic quality and the accessibility….Much of my work in the past ten years, especially during the construction of the Philharmonie Luxembourg, tailored me to work for this place and for this society."
A native of this city, Naske, 49, graduated from its university with a degree in jurisprudence in 1987. He subsequently worked extensively with the Jeunesse concert series, the Wien Modern festival, Claudio Abbado's Gustav Mahler Jugendorchester, and was General Secretary of the Camerata Academica Salzburg. He took up his current position in Luxembourg in 2003, overseeing the opening of the new Philharmonie in 2005, a venue that, like the Konzerthaus, has a main hall and several smaller spaces for chamber and experimental music.
---

WHO'S BLOGGING

PROFESSIONAL
GROWTH
FIND:
»MORE

NETWORK
FIND:
Updates to artist manager rosters
»MORE
RENT A PHOTO
Search Musical America's archive of photos from 1900-1992.