---
Met's Macbeth Not Quite Creepy Enough
NEW YORK--Verdi once said of his Lady Macbeth, "She shouldn't sing at all … I would rather her voice were rough, hollow stifled," and these unwary words have been used to justify all manner of vocal mayhem. It is unusual to hear the role sung by a lyric soprano in her prime, as Anna Netrebko did for the first time Sept. 24 at the Met Opera. Macbeth is a tale of apparitions, hallucinations, diabolism, and devouring guilt. The opera, like Shakespeare's play, has always been a creep show.
Netrebko filled the house with brilliant sound, though the occasional croak suggested she did not have the part entirely within her grasp. Her voice is larger than ever, with none of the pinching nasality Russian sopranos sometimes bring to the western repertory. She sings trills and triplets where the composer requests trills and triplets, details that dramatic sopranos often fake. Her soft singing for the great post-regicide duet and when commencing the serpentine "Le luce langue" was lovely, though a loveliness curdled by the noxiousness of her character. When her voice is loud, it can grow strident, and this Lady is outgoing. Sleepwalking, Netrebko never seemed upset, wracked by guilt or even asleep. There was no eeriness to her voice, no veiled quality, but an air of triumph when dwelling on her misdeeds. It was an exultant but unruly performance, attractive but lacking in nightmare. The crowd went wild.
Some of her over-the-top portrayal may derive from requirements of this staging. Adrian Noble's 2007 production places the story in post-Soviet Eastern Europe, the "bloodlands" as they have been called, ruled by tasteless oligarchs (Netrebko's blond wig and bosomy costumes suit the style) and run by murderous thugs who break out the AK-47s when the libretto calls for the boughs of Birnam Wood. Around the festive "civilized" scenes on their turntable lies a dank gray wood, and the Witches who emerge from it are bag ladies, screeching their waltzes (as Verdi directed) and swatting each other with pocket books. They do not "fit" with the rest of the characters in this story, but that's just the point: They dwell in a different world.

With Macbeth, his tenth opera, in 1847, Verdi set the Italian lyric stage on notice that he intended to transform the art, to introduce new themes and ways of tackling them. He was the first Italian composer to have read actual Shakespeare, first translated in 1838. Macbeth was a curious play to choose, its supernatural elements more familiar to German audiences than to Italians. Too, famously, this is an opera without a love story or a (principal) tenor. But opera back then required a prima donna, so Verdi's Lady Macbeth becomes far more malevolent than her Shakespearean model. Her double aria in Act I sets the scene for regicide splashily than do Macbeth's nervous soliloquies, and hers, too, is the exultant meditation on power attained, "Le luce langue," in Act II.
To hold his own, Macbeth must be a true Verdi baritone, with enough voice and enough hues in it to imply power-lust and terror at the same time, whether confronting Banquo's ghost or the Witches' apparitions. He must warm us to his despair at the last, when Verdi finally gives him a melody worth filling the house. Željko Lucic possesses such a voice, sturdy and soaring, his arching phrases expressing the self-questioning of a man who commits crimes while knowing better.

This "bloodlands" fable becomes most moving in the great chorus of refugees that opens Act IV. The huddled masses' plea for peace in their despairing melody will strike a chord with anyone who reads today's headlines. The Met's chorus gave the story a bleak, appealing universality with their restrained, beautiful performance.
René Pape tossed off Banquo's apprehensive music with suave technique but little feeling. Joseph Calleja singing Macduff's "Ah, la paterna mano" -- a father mourning his murdered family – drew our sympathy and demonstrated a natural command of the line, sung with easy power and melancholy beauty.
Fabio Luisi led the opera with an urgency, a disinclination to dwell on Verdi's careful orchestration and subtle changes of mood, that was thrilling to experience but undercut the tale's spookiness, notably during the Sleepwalking Scene. This aria-that-is-not-an-aria is unlike anything else in Italian opera: We wander through Lady Macbeth's tormented thoughts; she herself never quite grasps the thread of it, never actually sings the uneasy melody. Luisi's conducting and Netrebko's singing seemed to overlook the neurotic side of the affair.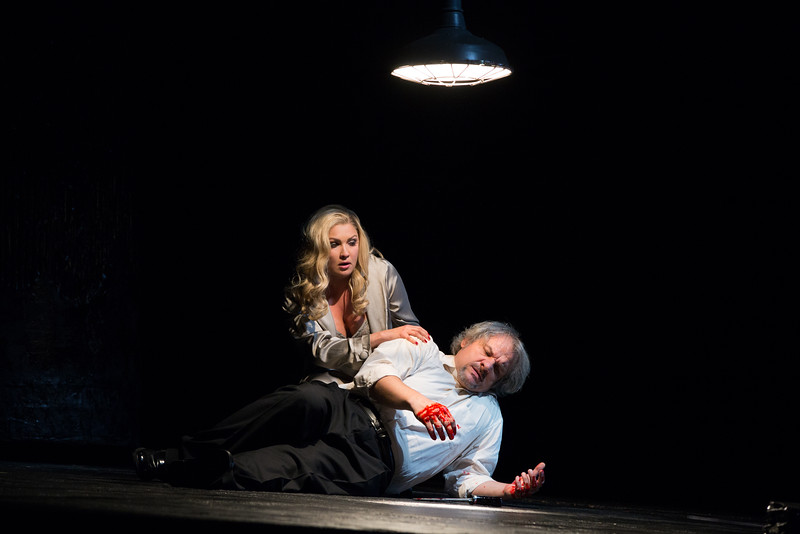 Anna Netrebko and Željko Lucic are Mrs. and Mr. Macbeth


WHO'S BLOGGING


RENT A PHOTO
Search Musical America's archive of photos from 1900-1992.