---
Leaping Tall Buildings in a Single Bound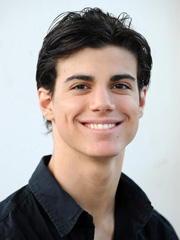 VIENNA -- The diehard audience for every dance company – ballet or modern – has its favorite boy in the corps de ballet: the one whose technique is maybe a little more polished than the others without overtly showing off, whose smile captivates both sexes and whose charisma and presence light up the stage.
ast fall at the first performance of the new Wiener Staatsballett (a much-needed modernization of the old Wiener Staatsopernballett), a dark beauty dominated the corps in Balanchine's "Rubies." His name, I later learned, is Davide (pronounced DAH-vee-deh) Dato. Throughout the season, which ended June 28, the young man has demonstrated an amazing versatility, confidence, respect for his craft and that certain inexplicable spark that makes a performer a star.
He has clearly won the hearts of the public, easily demonstrated by the increase in applause and cheering at curtain calls. Professionals are impressed with his technical acuity, particularly the height of his jumps as well as his ballon: that rare ability to hang in the air. One of the company's brochure covers features him executing a jump on a U-Bahn platform.
Bounding from the door of his new apartment overlooking the Danube Canal, Dato immediately ushers me past a pile of unpacked boxes into a bare studio furnished only with a mattress, a table and two chairs and a large flat-screen TV tuned to a pop music video channel with the volume barely audible. "The furniture is coming. They said it will take five weeks," he says, without sounding particularly upset about it.
Before I can sit down, he asks my favorite question from any native-born Italian: "Have you eaten?" (Even if I had, I would have said, "No.")
While this stunningly handsome young man clad in shorts and a T-shirt sets to work his culinary magic in the tiny kitchen, we talk about his life and career.
Now just 20 years old, Davide was born into a working class family in the small village of Biella in Italy's Piemonte region. Surprisingly, he had no muse: there was no precedent for classical music or dance in the Dato household. He just had to dance.
"As soon as I heard some music on the radio or TV I would start dancing. I would feel like moving and I always loved the atmosphere in a theater – the performance, the show, the public – this is really exciting to me.
"My parents didn't force me at all. I have a sister three years younger, and when she started to study dance when she was six, I asked my mom to bring me to ballet school, too. Both my parents were psychologically and financially supportive. I was very lucky, because my father's family comes from the south of Italy where the mentality wouldn't accept a boy as a dancer."
Dato began with modern dance, salsa and merengue. "I started ballet very late, at age 15," he says. "I think it is easier for a boy to start later than a girl. I entered an Italian dance competition and it gave me a vision of dance that led me to start serious ballet. I think my modern dance helped my musicality."
That year, Davide moved to Milano to attend a bigger dance school, but was told that he was too good. "My teacher thought a theater school would be a better place for me to learn and have more competition. They would push me to work more. I sent a videotape to Wiener Staatsopernballett (as it was then called) but I also auditioned for Maurice Béjart's school in Lausanne. I was offered the chance to study there, but one week later I got a call from Vienna offering me a scholarship at their school. Because of my economic situation I choose Vienna because it would help my parents."
While studying dance every day, Davide completed high school, learned English and German and graduated in three years. After only two years at the ballet school, he graduated with highest honors in first place.
But he had begun to have second thoughts. "Vienna gave me a better classical base, but I didn't want to stay here. I thought maybe I should go back to modern dance. I didn't think I was good enough, but when I was 17 they offered me a contract."
While the youngest member of the company and technically still in the corps, he was given featured roles in "Coppélia," "The Nutcracker," "Max und Moritz" and "Mayerling" where he danced opposite Robert Tewsley.
Suddenly, there is a plate of farfalle al dente with a fresh tomato and garlic sauce garnished with basil sprigs and a sprinkling of parmesan in front of me. "See? It's so simple," he says.
His dream roles? The virtuoso lead in "Rubies," Lenski in John Cranko's "Eugene Onegin" and one of the solo parts in Willliam Forsythe's "The Vertiginous Thrill of Exactitude."
Despite a dizzying calendar of guest performances throughout Europe and ten major awards including the Wiener Staatsopernballett Club Award for 2010, Davide is thrown when I ask my usual closing question (normally directed to opera singers who have immediate, well-planned responses): Where do you see yourself in five years?
"In five years? I don't know. I feel like I can stop in two years. The way I manage my life doesn't really make sense. I just want to be somewhere where I feel good and happy and if that's with dance, then it's dance. I don't know if I will just keep doing classical, or modern, or something new, or a musical, or… I don't know! I would love to act. I would love to make a movie one day or do something on TV or whatever because I love the camera and the cinema. I feel I will be doing something with performing."
I ask about influences on his life and career and he immediately responds, "Nureyev! But it's not the performances on video. Today dancers are stronger technically than before, but it's the way he lived his life. He was also an actor, a director and he wanted to be an orchestra conductor. This was special; not the way he was jumping or turning. He lived his life at its maximum in every aspect. He wanted to learn so much. I admire that a lot."
Due to contractual restrictions, a video of Davide performing with Wiener Staatsballett may not be posted on this Web site. To view a video of MusicalAmerica.com's New Artist of the Month dancing a variation from "Raymonda" at age 18, click here.

WHO'S BLOGGING


RENT A PHOTO
Search Musical America's archive of photos from 1900-1992.