---
New Artist of the Month: Ward Stare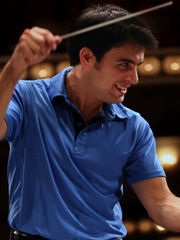 ST. LOUIS – Ward Stare exudes charm as he bounds on stage and bows to the audience from the podium. He's a good-looking guy, not tall, but with an athletic build, a full head of black hair and blue eyes. And once he picks up the baton, he's all about the music.
Music, he says, chose him. At the age of five, entranced with Beethoven's sonic world, he started piano lessons. At nine he began trombone lessons; a year later, he became a working musician, playing trombone in parades with a uniformed firefighters' marching band for $20 a pop.
At 16, he finished high school and entered Juilliard; two years later, he won the principal trombone's chair in the Lyric Opera of Chicago Orchestra. Three years ago, he became resident conductor with the St. Louis Symphony Orchestra, covering the subscription concerts and taking on other projects. Now, at 29, Stare is an up-and-coming conductor with a burgeoning international career.
"I have some engagements already in 2015," he says, "believe it or not."
Believe it.
In 2009, when the SLSO took H.K. Gruber's "Frankenstein" to Carnegie Hall, bad weather slowed air traffic; Gruber couldn't get off the ground in Chicago. Robertson filled in as chansonnier for Gruber, and Stare took over as conductor for Robertson, both on about three hours' notice. Robertson had the more central role, but he could do it because he knew Stare had his back.
Ward Stare grew up in Rochester, N.Y., in a family of music- lovers. His mother, Susan, is an elementary school teacher; his father, Daniel, is a retired chemical engineer and amateur trombonist. His younger sister Stephanie grew up playing string bass and piano. Despite a flirtation with Little League and a lifelong love of baseball, young Ward's life was primarily music-based.
Stare studied at Juilliard for 18 months before becoming the youngest member of the Lyric Opera Orchestra. (He was still the youngest when he resigned, seven years later.) LOC's season runs just 26 weeks, so he spent the off-season in places like Paris, Finland, Moscow, London and the south of France, working on his languages and taking master classes in conducting.
Once he had some experience conducting orchestras – and some videos to demonstrate his prowess on the podium – Stare applied to the Aspen Music Festival's American Academy of Conducting. Studying there during the summers of 2006 and 2007, he won both the festival's top conducting prizes: the Robert J. Harth Conductor Prize in 2006 and the Aspen Conducting Prize the next year.
He spent the 2007-08 season with the Los Angeles Philharmonic as a League of American Orchestras' Conducting Fellow; the next year, he divided his time between St. Louis and his old stand, Lyric Opera of Chicago. There, he assisted the Lyric's music director, Sir Andrew Davis, with Alban Berg's "Lulu."
In St. Louis, he conducts a subscription week each season with the SLSO, has some assignments in the "Live at Powell Hall" pops series, leads the Family Concerts series, serves as music director for the St. Louis Youth Symphony Orchestra, and just became adjunct faculty at Washington University in St. Louis when he accepted a four-concert orchestral gig. He shares conducting duties for the Pulitzer Foundation's avant- garde series with David Robertson.
"My professional life has changed in the last four years," Stare says. "I like the pace. The arc has been a steady increase, both in experience with different orchestras and in repertoire; it's expanding in a nice natural way."
His work with the St. Louis Symphony Youth Orchestra, where the players range in age from 12 to 22, has done everyone good. On their first-ever New York City trip in 2010, Vivien Schweitzer wrote in The New York Times, "Mr. Stare inspired the musicians to impressive heights."
"They still continue to impress and astonish me," he says of the Youth Orchestra. "We had 40-something people turn over this year, and I didn't know what the orchestra would be like – but right from start, they were really good."
The challenges include getting as many people to every rehearsal as possible in the face of overcrowded schedules, and a different approach to learning the music than is required with professionals. "They don't have the same depth of experience and knowledge as a professional orchestra does, but sometimes that can be good: they don't know a particular piece is supposed to be hard. They don't come with the same expectations of how good it will be. I expect them to give their best, and they do."
The rewards include "the really special feeling when a moment in a great piece clicks for the first time, when it finally works, and there's this collective sense of awe and exhilaration, 'Oh, that's what that's supposed to be like. I feel lucky to be a part of it."
In all of his conducting, Stare has deliberately taken on a wide array of musical styles and eras; with the SLSO, he conducts everything from movie soundtracks and the annual Holiday Concerts to hot-off-the-printer new music. "I would say there's certain music I really love, but I've tried to make my range really broad. This year, my subscription concerts are (music of) Vivaldi and Schubert."
He adds, "I think it's important for a conductor, especially a young conductor, to work in every genre, because they inform one another. For the same reason, I'm happy I've been able to have opportunities both in opera and symphonic music."
Whatever the genre, "I always try to find music that speaks to me. If it speaks to me, I'm ready to dive in with the orchestra," Stare says.
He's doing an ever-increasing amount of guest conducting, some of it planned, some of it last-minute. Last spring, Stare got the call to lead a production of Britten's "The Rape of Lucretia" at the Norwegian Opera in Oslo. "That was set for years, and then the conductor canceled," he says. "I just jumped in."
Most of the guesting is scheduled, of course; when we spoke, in mid-October, Stare had just returned from his debut with the Madison Symphony Orchestra in Wisconsin, where he conducted the Lalo Cello Concerto with Lynn Harrell, the Overture to "The Barber of Seville" and Sibelius' Symphony No. 2. He debuted with the Deutsches Symphonie-Orchester Berlin last summer, and performs with the Toronto Symphony Orchestra in the spring. Next year, he'll return to Lyric Opera of Chicago as a guest conductor.
This season marks the finale of his four-year contract in St. Louis. "We've been able to maintain the balance until this point, which is great for me," says Stare. "I have a home orchestra, but at the same time, I can really go out and stretch my legs as a guest conductor. It's made me grow as an artist even more; it's been four fantastic years."
Although he hasn't kept up with the trombone, Stare says he is "working more on my violin and piano chops right now." Not long ago a patron brought of a bag of what he calls "junky old violins" to the security guard at Powell Symphony Hall, with instructions to give them to SLSO concertmaster David Halen.
"I asked for one, and David said 'Why?' I told him I thought I should have at least a basic working knowledge of every instrument in the orchestra. I know a lot about winds and brass, and very little about strings. So he gave me a pretty crappy violin and a pretty good bow; I bought a bunch of books, and I'm working away at it."
Starting the violin and getting reacquainted with the piano is, he says, "part of my overall learning curve. I'm someone who really likes orchestral colors and sounds, and I'm trying to deepen my knowledge," so he knows what to ask for. He credits the musicians of the SLSO as being crucial to his education in conducting. "I think having worked with such a world-class orchestra at this point in my career is something I'll always be grateful for."

WHO'S BLOGGING


RENT A PHOTO
Search Musical America's archive of photos from 1900-1992.