---
New Artist of the Month: Behzod Abduraimov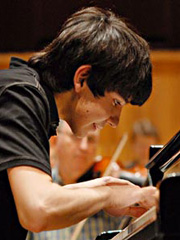 KANSAS CITY, MO -- Behzod Abduraimov almost didn't become a pianist. At age six he failed his first big test, getting stuck in the middle of Schumann's "The Wild Horseman" several times before his teacher finally told him to stop.
"After that my teacher said I would never be able to play a piece from beginning to end without making mistakes – ever," laughs the 21-year-old native Uzbek. She told him to quit music.
But he didn't quit: In fact, whenever an obstacle came between him and the piano, it inspired him to work harder. "I wouldn't feel happy that, 'Oh, now I can go play with my friends outside.' Instead I would feel bad, because I couldn't imagine life without music."
In recent years that very determination has led Abduraimov to the top of the piano world, his rapid ascent capped by a relatively easy victory at the 2009 London International Piano Competition. That immediately led to major management, a recording contract with Decca and worldwide concert engagements: His 35 or so bookings this season include concerts in Japan, Australia, Hong Kong, Switzerland, France, Greece, Italy, Malta, Canada and the UK. And he's still in school.
Kansas Citians have known of Abduraimov's artistry since the time he arrived in the U.S. at age 16 to study with 2001 Van Cliburn Competition Gold Medalist Stanislav Ioudenitch, a faculty member at Park University in Parkville, MO, where Ioudenitch is now enrolled as an undergraduate. His frequent recitals and other concert appearances at the school's International Center for Music quickly made the young Uzbek into something of a local celebrity.
But it was not until the victory in London, before a wide array of influential managers, conductors and others, that the rest of the world began to catch on. The London Daily Telegraph described his final performance in the competition as "the most enthralling roller-coaster ride of a Prokofiev Third Concerto imaginable. Recalling it, my knuckles still go white." Shortly after his victory, he stepped in for an ailing Martha Argerich in a performance of the Prokofiev with Charles Dutoit and the Royal Philharmonic.
Suddenly the music world was abuzz with word of this cherubic powerhouse, and in subsequent months conductors like Vladimir Ashkenazy took him under their wing. Three powerful management firms fought over him. (He finally went with London-based Harrison Parrott.) Later he would play an acclaimed Wigmore Hall recital and make his debut with the London Philharmonic. His recording of music by Liszt, Prokofiev and Saint-Saëns is due out in the spring on Decca.
Born in Tashkent, Uzbekistan, Abduraimov studied first with his mother, Gulsun, a significant pianist in her own right, who also taught his siblings. She quickly recognized the boy's gifts. "She had the dream that one of her children would become a musician and pianist," he says. Later he studied with legendary Tashkent teacher Tamara Popovich (also teacher to the late Alexei Sultanov), who helped to lay the foundation for his prodigious technique. At age 15 he went to Italy's International Piano Academy in Lake Como for his first lessons with fellow Uzbekian Ioudenitch, who by then had won the Cliburn.
"He has supported me and believed in me from the beginning," Behzod says of Ioudenitch. "For me it's always about the discovery of music, and from the first lesson when we met in Italy, he showed me many different things."
Ioudenitch recalls those first lessons too, and likened the young Abduraimov to a newborn Arabian colt, "awkward and with its legs too long – with this huge potential but not really developed." He remembers Abduraimov playing Liszt's "Mephisto" Waltz, on which "his tendency was to play faster and faster and faster. It's normal, I was the same way. 'Let's see how fast we can play it.' … Then we started talking about the composer's intentions, and the musical text; it was complicated for him at first."
When it came time for college, Abduraimov could have enrolled at a prestigious conservatory such as the Juilliard School, but he knew he had already found his teacher, who was at Park. "The whole reason is Stanislav Ioudenitch. … If I were to have chosen to go to Juilliard at that time, I would be the biggest fool. Coming to study with Ioudenitch was the most 'right' decision I ever made."
As the young artist's pianism has matured, so has his working relationship with Ioudenitch: Now he brings more of his own ideas to the lessons, he says, and discussions ensue. "The process is much faster than it was two or three years ago," Abduraimov says.
Ioudenitch is both teacher and mentor. "I'm trying to give him all that I know," says Ioudenitch, "not just the piano but the career, the planning for the future, the logistics, trying to record a better CD, a lot of things. It's really like a family. I am always with my students, we are always in my home, we like to gather and talk about all kinds of different things."
When asked about Abduraimov's potential for the future, Ioudenitch doesn't hold back: "Somewhere between Horowitz and Cortot. … He makes a very big impression with an audience –- with this incredible energy, this unbelievable force he has, he just shines from the stage."

WHO'S BLOGGING


RENT A PHOTO
Search Musical America's archive of photos from 1900-1992.