---
A Violinist Full of Surprises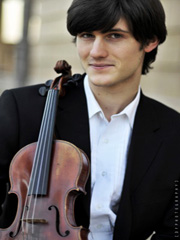 "I wrote a work that should show the abilities of the competitors, and not their teachers, and also demonstrate the keenness of their ear for music," John Corigliano explained to a group of journalists last June in St. Petersburg. Corigliano, whose late father was for 23 years the concertmaster of the New York Philharmonic, knows a thing or two about violins. The 2011 Tchaikovsky Competition commissioned him to write a concerto for its six top contenders to conquer. Titled "Stomp," it not only requires the players to stomp their feet, dance-hall style, but also to temporarily lower the tuning of the outer strings. "It's supposed to be fun for the audience," Corigliano said.
"Stomp" is a showpiece, but no one knew just how much of one Nigel Armstrong was going to make it. From the video account of this tall, lanky 22-year-old's performance, he seems to jump head-first into another world, far away from the venerable Small Hall of the St. Petersburg Conservatory, perhaps even in the Appalachians. Soon he stomps his feet, as per instructed, and then, standing on the stage of one of the world's most prestigious music competitions, he tucks the base of the violin in his armpit, leaving the strings exposed (although upside down), twists his bow arm around behind his back and saws away.
The behind-the-back trick is a gimmick of old-time fiddlers. Armstrong looks more like a contortionist than a serious violinist, but his playing remains unchanged. The only difference is in his face, which takes on a huge grin.
"I really didn't know how that would go down," he said in a recent interview. "There's always this perception about competitions that in general you want to stay on the safe side because you don't want to offend anyone."
Armstrong placed fourth in the competition, but he won the award for "Best Performance of the Commissioned Work" with his rendition of "Stomp," surely the event's most memorable performance.
"I was lucky because I had done fiddling in the past…it was up my alley in a way." If Armstrong won the 2000 Cloverdale Old Time Fiddle Contest in California at age ten, he also came in fourth at the Tchaikovsky -- the only American to place (there was no gold) -- and the silver medals at the 2010 Yehudi Menuhin International Competition in Norway and the First International Violin Competition of Buenos Aires. Clearly he is on the brink of a major career.
Soft spoken and congenial, he seems uncomfortable talking about himself. Instead, he expresses gratitude toward colleagues, audiences and an impressive roster of instructors: Zaven Melikian at the San Francisco Conservatory of Music, Robert Lipsett at The Colburn School in Los Angeles, and now Arnold Steinhardt and Shmuel Ashkenasi at the Curtis Institute of Music in Philadelphia.
Growing up in Sonoma, CA, Armstrong began playing the violin at age five. Within a year of lessons with Leta Davis, who specializes in teaching music to young children, he informed his parents that he wanted to become a professional.
"Nigel was just like all the other kids in the beginning," she says, "but I noticed something very different when I started teaching him notes.
"The minute he could read, he started gulping down the written music," she remembers. "He just had a tremendous intellectual capacity. There was no limit to what he wanted to do."
When Davis began teaching her five-year-old charge the basics of rhythm, she gave him a primer filled with theory exercises to work on at home. At his next lesson, he returned with the workbook and looked up at Davis in tears. "My mother made me stop," he cried. Armstrong had completed 92 pages of rhythm exercises in one week.
He began study with Zaven Melikian at the San Francisco Conservatory Music when he was nine. Melikian, now 82, remembers his "incredible musical imagination." Around this time, Armstrong met Steinhardt, longtime first chair of the now retired Guarneri String Quartet, which was touring in the San Francisco Bay area.
"He was unquestionably talented but still a work in progress," recalls Steinhardt. "Inevitably we hear lots of people along the way, and, frankly, most of them sort of drop out of my memory. But I always remembered Nigel."
After undergraduate studies at Colburn, Armstrong auditioned for the Curtis Institute at Steinhardt's urging. His teacher now recalls how, one by one, the panel members stopped writing on their notepads. Enraptured, they simply sat back and enjoyed the music making.
Armstrong's playing matches his demeanor; never flamboyant (except when fiddling behind his back), he has a deeply personal style with an unmistakably individual voice.
"You notice him right away," says Steinhart. "You think, 'Oh my gosh, I didn't think that that phrase could be played that way.'"
Davis, who has known Armstrong the longest, puts it more succinctly: "A lot of musicians play what they think other people want to hear. Nigel plays what Nigel wants to hear."
Asked about career aspirations, the young musician is noncommittal. "For the time being I really want to focus on solo work, and I feel like now is the time to do it. But really, I have no idea what the future will hold." With so many promising young musicians in the world today, he is probably right to be cautious. But if his "Stomp" performance is any indication, there are many more surprises to come.

WHO'S BLOGGING


RENT A PHOTO
Search Musical America's archive of photos from 1900-1992.